A Closer Look: Taylor Builder's Edition
Published on 15 July 2020
Do you love beautiful guitars?
Do you appreciate innovative ideas? Top class materials? Unparalleled workmanship?
Then you need to know about Taylor Builder's Edition guitars.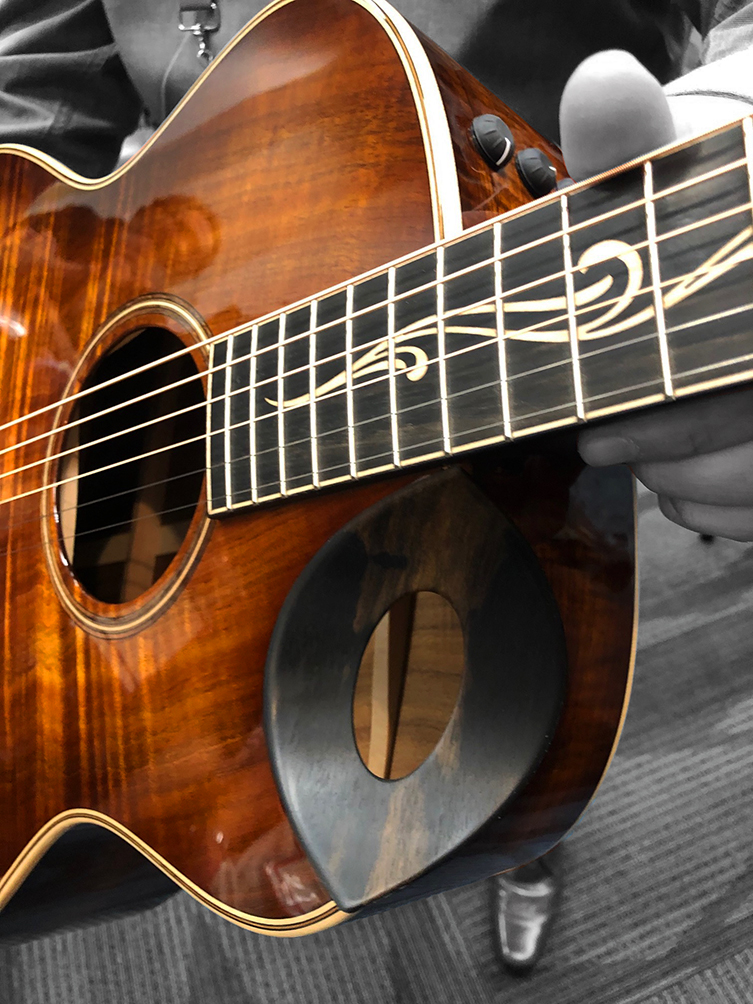 As you already know, Taylor make some of the loveliest, most satisfying acoustic guitars on the market. They have a real vibe and brand identity, and a big part of that identity is based on invention. Their innovative models like the GS Mini have proved to be game-changers in the industry, as have inventions like their ES-2 Expression system.
These developments have 'upped the game' of acoustic guitar players across the board. Many of Taylor's designers and staff have played a part in the company developing this reputation apart from owner Bob Taylor, though the most visible is Andy Powers. Powers is a Master Builder who is now one of the Directors of the company, such is his importance to Taylor guitars. His clear-headed thinking and preference for practising the playing experience over other factors has meant that his designs and decisions have been unilaterally successful with guitarists who appreciate finer details. Powers has become something of a poster boy for the company, and whilst the Builder Edition isn't entirely his baby, the range has his knowhow plastered all over it!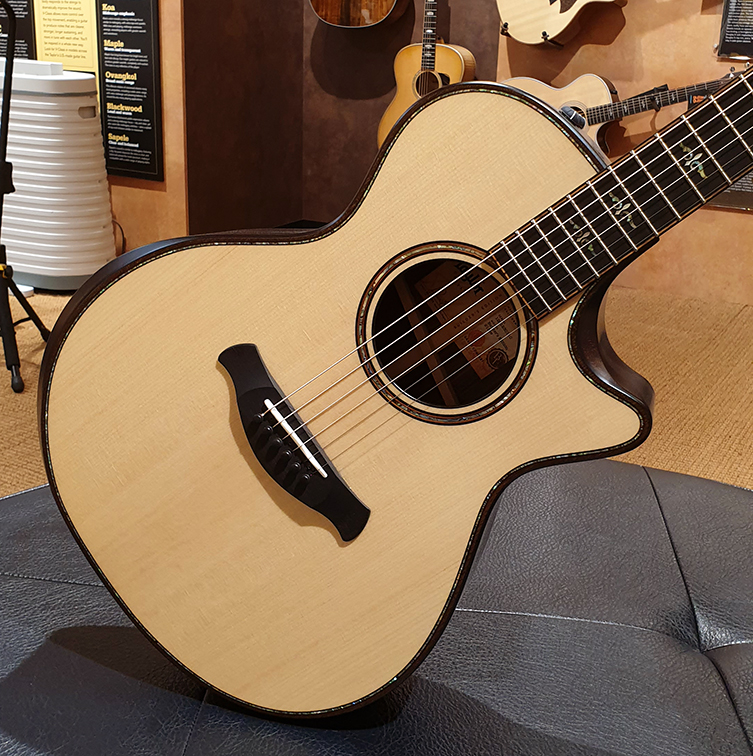 The premise behind the Taylor Builder's Edition is to offer a range of instruments that operate at the very zenith of Taylor's creative design attitude. Comfort is foremost, along with superbly rich tones and quietly dazzling visuals. Whilst being a step forward in these areas, the Builders Edition guitars retain that signature Taylor look and feel, whilst offering a myriad of sounds, sizes, details and finishes to enthral one and all. Body shapes are re-imagined, tone woods are premium, and contouring is very much in abundance. As we say, these are relatively diverse instruments, though all have the player firmly at the fore.
The Taylor Builder's collection is an ongoing, ever-evolving range. Today, we've decided to draw attention to three of these guitars. It could have been any three, to be honest: there is no one model in particular that exemplifies 'Builder's Edition', since they all have their own qualities, but these three are useful at illustrating the type of creative thinking that's involved throughout the range.
Taylor Builder's Edition 816CE
We'll start with the most eye-catching one first! We first saw the Taylor 816CE Builder's Edition at Winter NAMM in January and were pretty bowled over by that most unusual extra soundhole! Wow!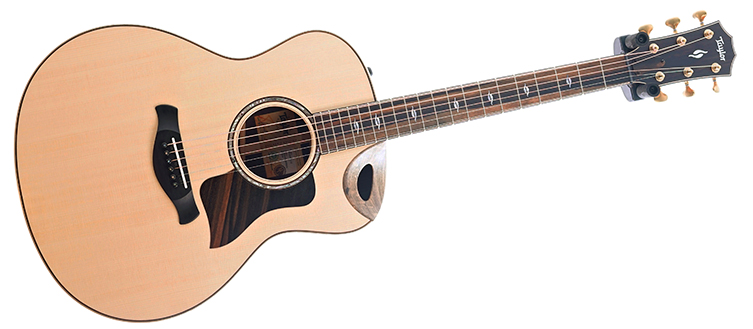 The idea behind this soundhole – what Taylor have termed a 'soundport cutaway' – is to bring both player and immediate audience a more immersive, multi-faceted sound experience. It's kind of like your surround sound system on your TV: the frequencies are travelling in different directions at slightly different times due to the size of the extra sound-hole, giving this impression of a bigger sound. It works amazingly, too! There is a lively of sound quite distinct to this instrument, and is promotes lots of 'explorative' playing, just to see how things sound! We think players of all persuasions will be pretty enthralled by this when they experience it...
Aside from that innovation, the 816CE is a wonderful beast in other areas. As a '16' style Taylor guitar, this means that this instrument is a Grand Symphony. This body size is larger and promotes lots of natural volume and projection. Typically, the notion with such guitars is that they make great strummers. This is very much the case here, but we found that picked arpeggio leapt and sprang from the 816CE beautifully, too! We found that sound to be very confident and 'moreish'. This is perhaps also due to the perfect tone wood pairing of Lutz Spruce and Rosewood: it's one of those combinations that is time-honoured in its ability to bring top-end sparkle and robust body with a low end that really moves!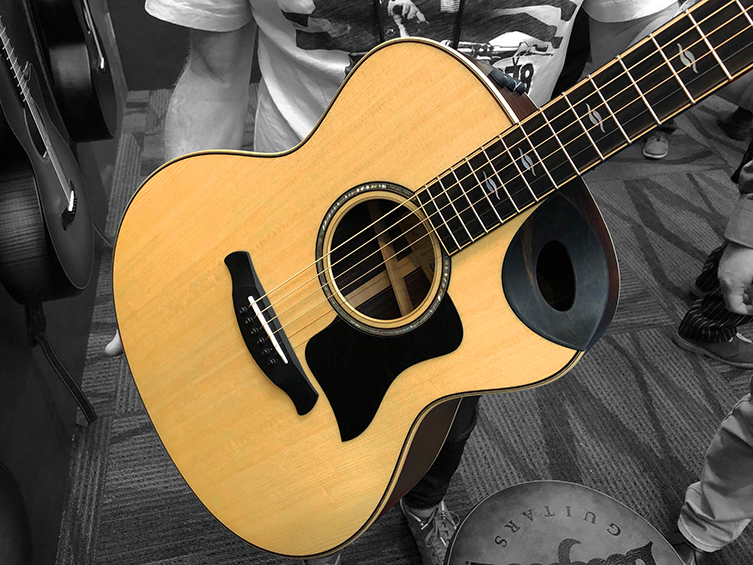 The body and neck have been chamfered and rolled to take away all of the hard edges, making this a comfortable machine to play, in spite of its larger size. That size plays a big part in the sound, and trust us, it's worth it!
Do you want to sound spectacular when you strum? It's simple. Buy the Taylor 816CE Builder's Edition.
Taylor Builder's Edition 912CE
The stunning 912CE Builder's Edition, developed by Andy Powers, has lots of signature Taylor details included in its gorgeous design.
The 912CE is a Grand Concert shape, which is more compact and perhaps portable than shapes like the Grand Symphony. Because of this, guitars made with Grand Concert bodies tend to be great for fingerstyle players, or any type of playing where touch sensitivity and a certain player finesse is required.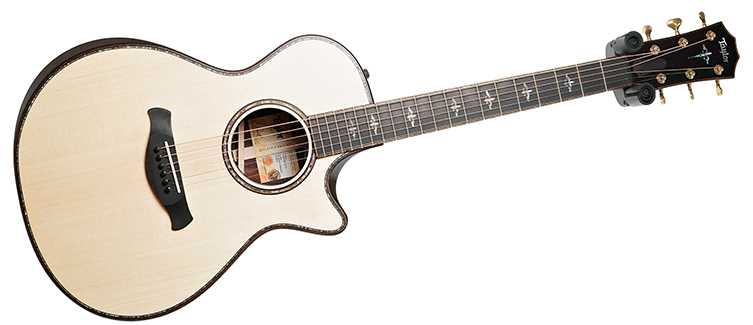 This lovely Builder's Edition 912CE is also made with Lutz Spruce and Rosewood. This time, it's luxurious East Indian Rosewood, which is revered as the finest in the world. This combination gives that characteristic balance and body to the 912CE, which has a correspondingly more intimate voice than the clearly bigger 816CE we looked at earlier.
It's worth noting that Lutz Spruce is in fact a hybrid of Sitka and White Spruce. This results in a very powerful sounding timber with lots of volume, so even though the 912CE is a (relatively) smaller bodied guitar, it still has the ability to project its voice extremely well! We are talking relatives, here, after all, and every acoustic guitar can largely be used well in every playing style.
Other fine details include the ES2 Expression System and Mother of Pearl 'Bellefleur' inlays on an Ebony fingerboard. Delicious!
324CE Builder's Edition
Our final choice today, the 324CE Builder's Edition, is interesting in many ways! This lovely Grand Auditorium model represents the shape that we associate most closely with Taylor as a brand. It's a really useful 'Swiss Army Knife' of a design that works equally with fingerpickers and chordal strummers. Our magnificent example today contains much opulence, not least a bevelled armrest, bevelled cutaway and rolled fingerboard edges, compass inlays on the Ebony fingerboard and a 'Curve Wing' bridge!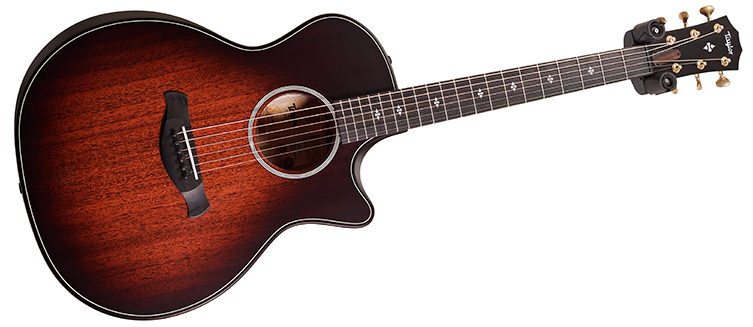 However, there's more...
The wood used to construct the guitar's back and sides is 'Urban Ash'. Urban Ash is Ash that has been reclaimed as back of 'urban forest management' and has been rescues from ending up in landfill! Basically, trees that are planted in city parks, highways, shopping centres and so on occasionally need removing for a variety of reasons. Through eco-friendly enterprise, Taylor assesses the tone-wood potential of these timbers and rescues what they need from local municipalities around Southern California. This is a highly responsible and ingenious use of otherwise wasted materials. We love this thinking!
So, as a tone wood, this Urban Ash has plenty of rich midrange tonality, and has been partnered up with a fantastic Tropical Mahogany top. This combo brings that classic all-Mahogany sound to bear: strong, focussed and warm. V-Class bracing is used here (and on the 912CE) to make more out of the movement and vibration of the guitar's top. It all adds up to produce a guitar that has its own look, voice and story. The Taylor 324CE Builder's Edition stands proud alongside the other Taylor masterpieces here as an equally fantastic instrument.
Final Thoughts
As you can see from our choices, the Taylor Builder's Edition range is quite diverse! This is where Taylor's designers can dream large and have those dreams created for people to see, hear, play, own and enjoy. We love the wealth of innovation, the flowing of ideas, and the pushing of boundaries, within Taylor's 'House-style', as it were. Each model is quite distinct, and there are many, many more guitars in the Builder's Edition that we've been able to show you today, including many stunning Grand Pacific designs and more!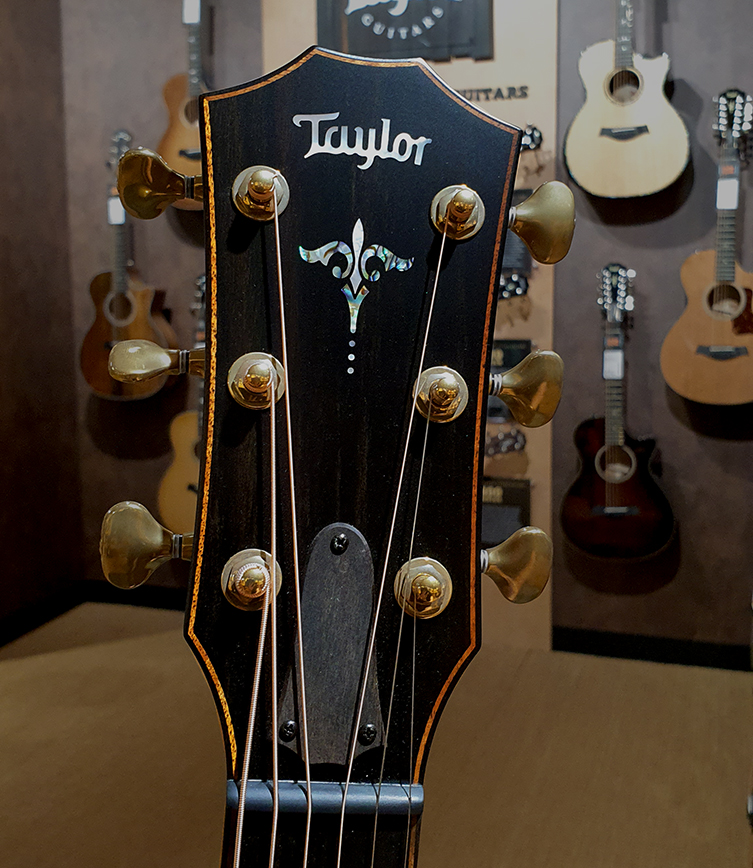 The three we picked out have helped us to explain some of the more interesting and eye-opening features you may see across the range, but we encourage you to joyfully dive into the range for yourself, revelling in all that is there to be enjoyed.
Acoustic guitars are amongst the most personal purchases we make as guitarists. Make sure you do it right, and pick something special.