A Closer Look: Santa Cruz Guitars (Updated for August 2022)
Published on 03 August 2022
Santa Cruz is a picturesque coastal city just over an hours' drive south of San Francisco.
Blue whales sometimes swim up to visit, splashing their tales in the bay around the local surfers.
Ageless vampire biker gangs hang around the historic Boardwalk funfair with its century-old rollercoasters and cable cars.
It's a beautiful place, and it's home to some of the best handmade acoustic guitars in the world.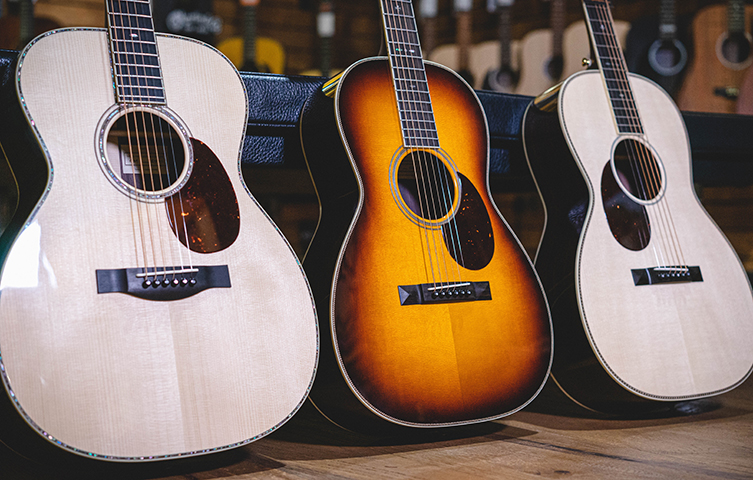 Okay, that's all true apart from the vampires bit, though Joel Schumacher did use Santa Cruz as the location for awesome his 80s horror The Lost Boys. It's a party town during the Summer and has a pleasingly eerie 'Stephen King-ness' during the off season. High cliffs shape the coastline and the town itself is almost completely surrounded by a thick evergreen forest.
It's evidently a wonderful place to build guitars.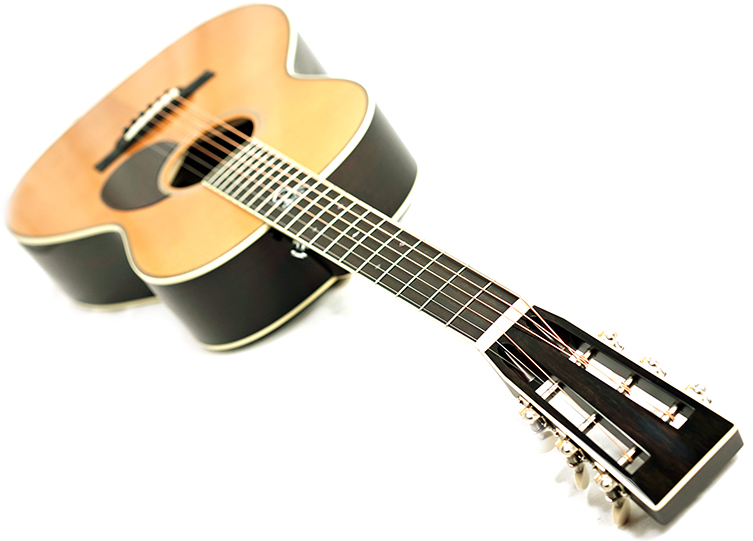 Santa Cruz Guitar Company
Santa Cruz Guitars, or the Santa Cruz Guitar Company, as they are properly known, have been building guitars since 1976. They are a small bespoke outfit, employing 22 staff and building 400 guitars a year. For perspective, reports suggest that Fender do these numbers in little over a single day! Santa Cruz are a true Custom Shop, with every single instrument fastidiously crafted by hand from the ground up. The SCGC (the acronym for Santa Cruz Guitar Company, which you'll see on many of their headstocks and inlays) are well-known as one of the world's top-tier guitar makers.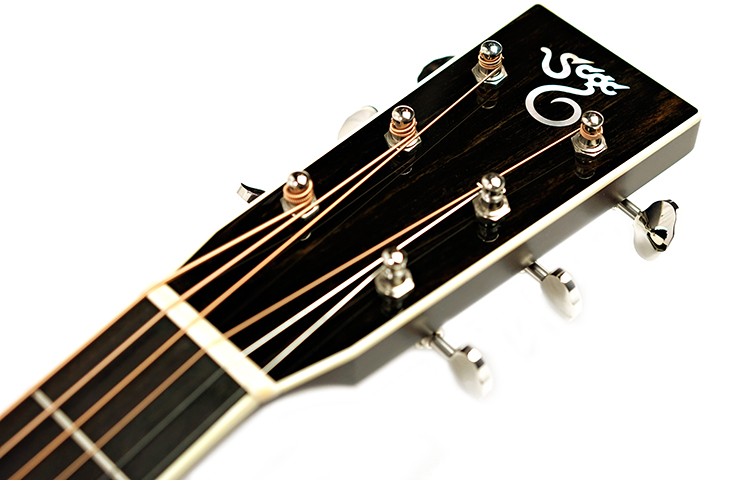 Company owner Richard B Hoover is one of the most respected and revered Luthiers in America. He has not only built some of the greatest acoustic guitars on the planet, but also taught some of the greatest luthiers on the planet! Who better to go to for your dream instrument? Hoover is still very much involved in the company's day to day machinations, and the SCGC's legendary after-sales service makes a big difference to players, collectors and investors alike.
The Santa Cruz Difference
One of the big talking points about Santa Cruz guitars is the build quality. Hand-made can mean a variety of things, but in this case, it means hand-tooled shaping of tone woods, with critical assessment of wood thickness determined to allow for a lightweight instrument that does not compromise in terms of strength or structural integrity. The majority of 'first generation' Santa Cruz guitars from the mid 70s are still out there happily in active service, which is proof enough of their stability.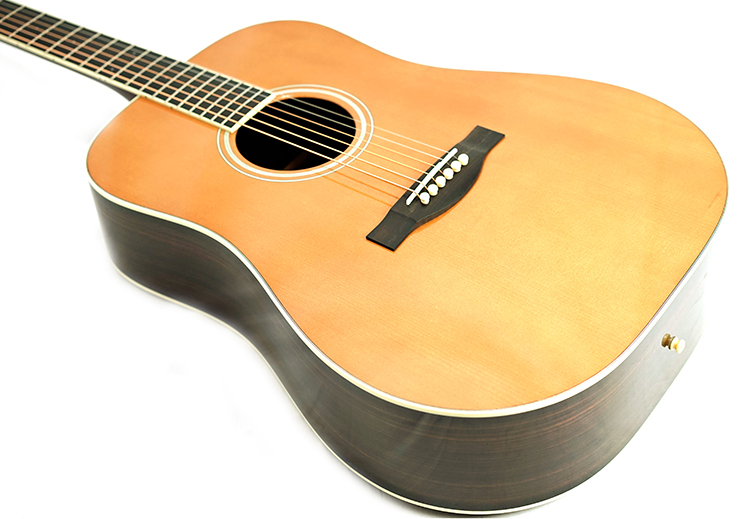 Lots of the building knowledge, know-how and sensibility of Santa Cruz guitars has actually been learned from the world of Master-Luthier-made violins, rather than just from the world of guitars. The disciplines learned from violin making is carried over into the voicing and tuning of each Santa Cruz guitar via the hand-shaping and carving of the tone wood as much as with gluing techniques, all of which is worked on and refined throughout the building process.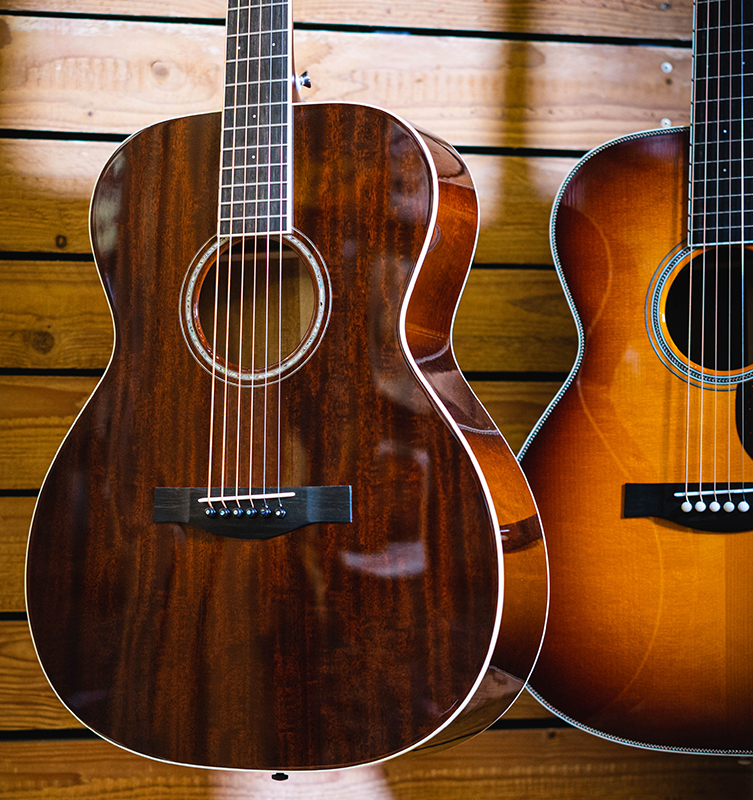 Through hands-on experience, Santa Cruz's Luthiers are able to shape the tops, sides and backs to promote the harmonious overtones of an instrument, increasing resonance, and eradicating all unwanted frequencies. This is partly what makes Santa Cruz guitars really sing when they are played!
As you can see from our photos, Santa Cruz use a variety of woods in their guitars. You can select all-Mahogany, for example, or a classic combination of Spruce and Rosewood. Whatever you look for in an acoustic guitar, Santa Cruz are able to offer it.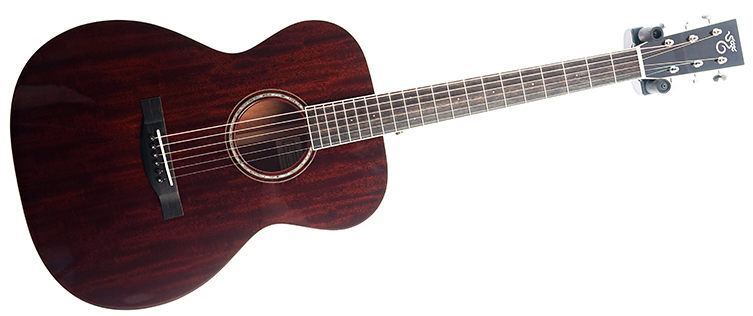 Details
Richard Hoover and his team have found that dovetail neck joints objectively sound better than bolted (or any other type) of join. Santa Cruz guitars exclusively use this type of join: indeed, it has become crucial to the signature sound of SGCG instruments, not to mention important to the company's ethos of having their guitars be repairable. It's all about the lifetime purchase with Santa Cruz, as they want their masterpieces to be instruments you develop long and fruitful relationships with.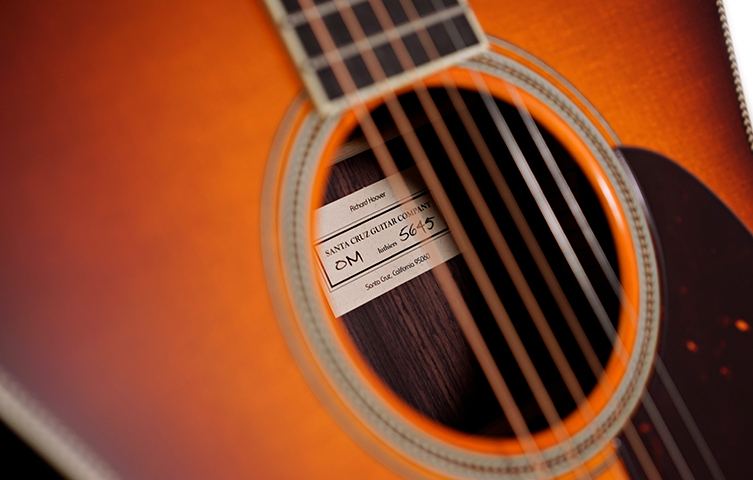 Similarly, the inner bracings are significant. Santa Cruz use parabolic and radiused bracings in their guitars to push more sweet tones out, and a higher level of articulate projection from the instruments. This type of bracing increases structural strength, too, so it's a firm win-win for this decision!
Wood Sourcing and Finishing
Two extra details that we feel are worth mentioning relate to materials and finishing methods. Firstly, Santa Cruz guitars make extensive use of reclaimed wood. This may be from old buildings, or from trees that have naturally fallen in the forest. It may also be what's known in the industry as 'sinker' wood; that is, harvested and logged pieces of timber which have been recovered after sinking into rivers, swamps and bayous en route to their destination. Such finds are considered real prizes to the guitar-making industry, since the timbers will have soaked in lots of nutrients from the riverbed and will hopefully sound even better as a result.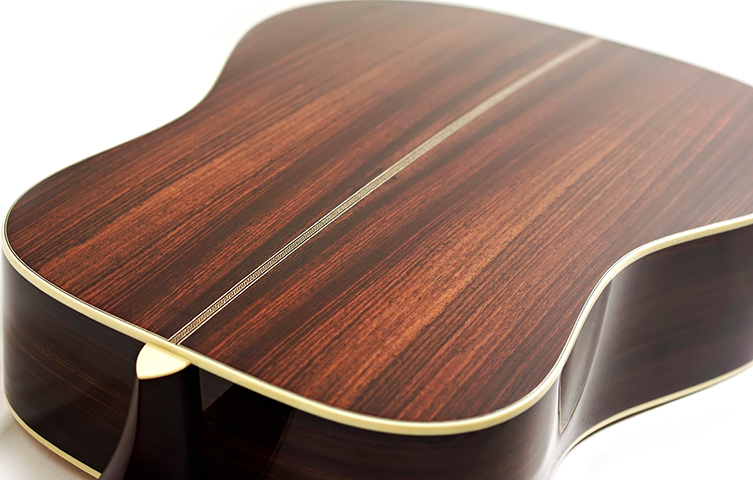 Santa Cruz assess all reclaimed woods for superior guitar-making material and use the best examples they can lay their hands on. Then the carving and tuning business begins, and a guitar starts to form. It's ethical and responsible, as well and smart and effective.
Another small but crucial detail is the finish. On all guitars, Santa Cruz use plant-derived nitrocellulose. It's beautiful to the touch and the eye, it ages wonderfully, and, importantly, it is easy for repairers to work with. A nitro finish is a given on many top end guitars, but it's surprising how many still use thick coats of polyester-based spray. Nitro is the vintage choice, and Santa Cruz guitars will age that much more beautifully than similar guitars without this special finish. Nitro finishes take longer to apply, since they must be sprayed in multiple thin coats in well-ventilated areas. Thus, it is a more time-confusing and expensive option, but the results speak for themselves.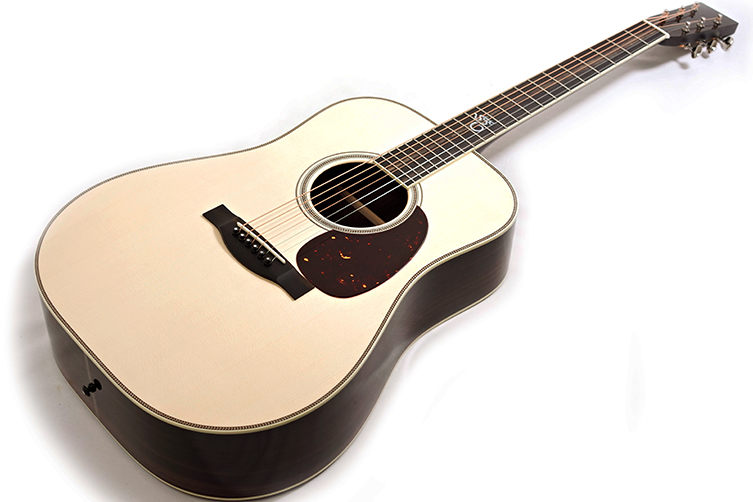 New Shipment! Currently in Stock
Now it's time to perhaps highlight one or two beautiful Santa Cruz models that we've just had delivered to us from California!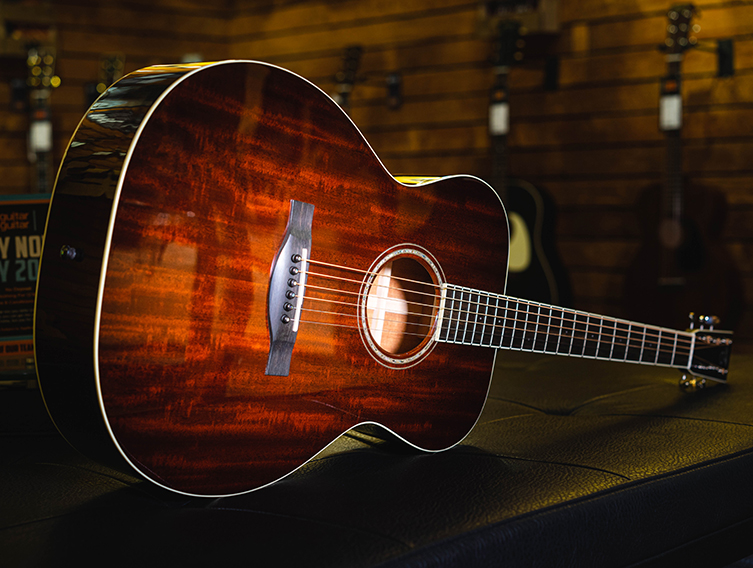 First up is a delicious Santa Cruz Orchestral model in Mahogany. Mahogany brings a thicker, more sustaining quality to your notes, which makes it a perfect choice for an OM body such as this. Orchestral models sit somewhere between parlours and dreadnoughts in size. They are both slightly narrower and shallower than a dreadnought, and this normally means that notes are more toppy and 'separate', an excellent thing for fingerpickers. The addition of top grade Mahogany restores some of those all-important midrange frequencies too, without taking the intrinsic folky sound away in the slightest.. We love the slightly wider nut width too, since this Santa Cruz OM is an absolute delight to play arpeggios and fingerpicked passages.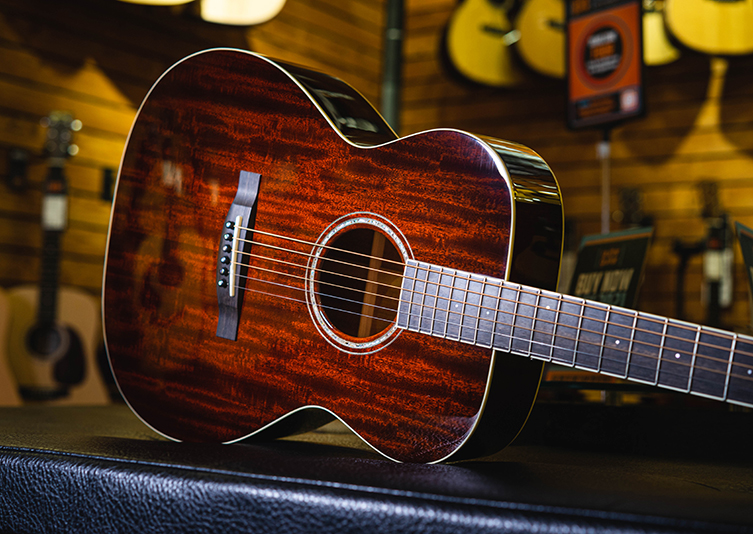 Another choice of ours today is the Santa Cruz Vintage Jumbo. Like all Santa Cruz instruments, this has been completely handmade, and the quality on display is quite magnificent. Santa Cruz calls this a 'vintage jumbo' and we'd refer to it additionally as a round shouldered (or slope shouldered) dreadnought, since there's a clear 'J-50' influence in the overall design here!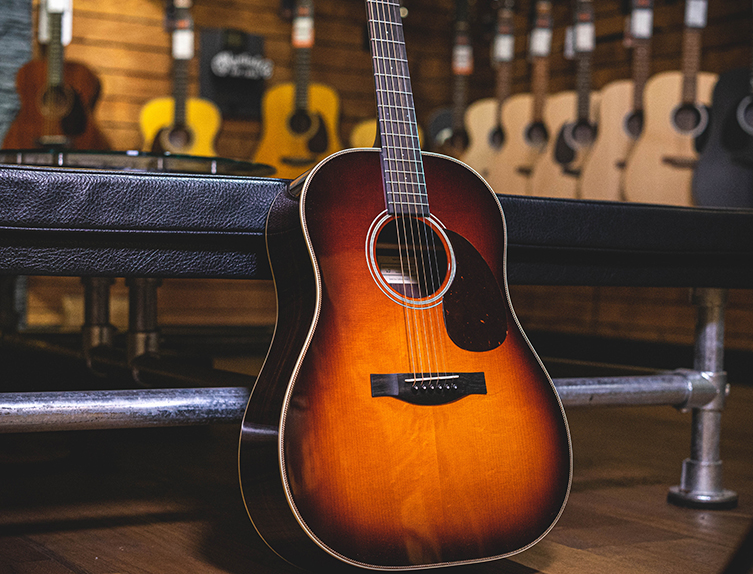 One of the all time great wood combinations has been chosen out for this model. Spruce and Rosewood are almost definitive choices in delivering a strong clear sound, so Santa Cruz has gone for the best of the best on both counts: Adirondack Spruce for the top and Indian Rosewood and the back and sides. We're talking champagne cocktail stuff here! This combo delivers a powerful punch, with a tone that's balanced well for all playing styles. An ebony fingerboard and a stunningly vivid sunburst finish are the icing on an extremely tasty cake.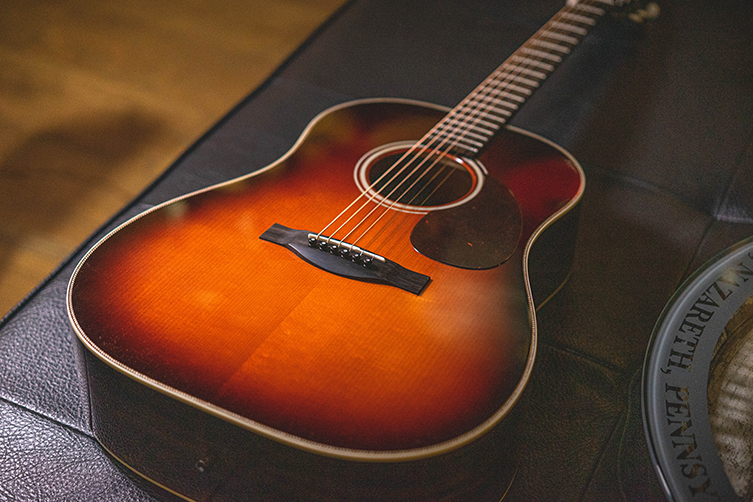 Final Thoughts
A quality acoustic guitar is something to cherish and treasure forever. It can be your songwriting companion, your travel partner and a great way to relieve stress and have fun. Acoustic guitars are about that special touch sensitivity, that dynamic range produced directly by your fingers and translated by the instrument into sound. The higher in quality that instrument gets, and the more time and effort spent on creating that instrument, the greater that connection from player to instrument becomes.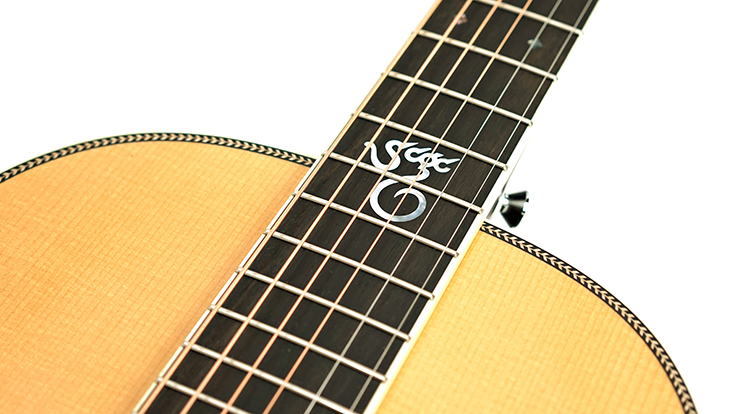 Santa Cruz excel at this. Theirs are some of the very best acoustic guitars in the world. We invite you to try for yourself and experience the difference.