A Closer Look: Fender Vintera Road Worn Series
Published on 27 August 2020
We do love a good busted-up looking, vintage styled Fender.
Fender has been doing this to Custom Shop guitars since the mid 90s, but of course those Time Machine 'Relic' masterpieces came with Custom Shop price tags attached. For those who wanted the distressed vibe on a leaner budget, it was a case of get lucky with a second hand guitar or get busy with the sandpaper yourself!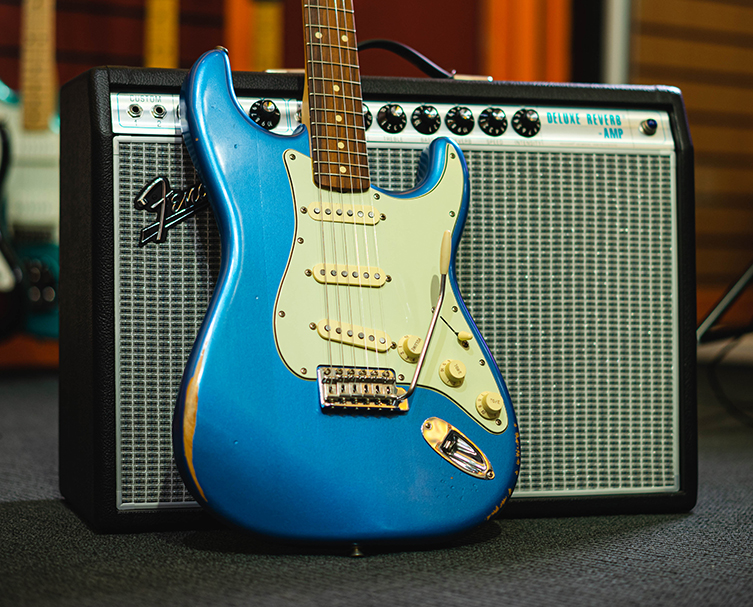 It's not as easy as it looks, to get results that convince. We seriously don't recommend it...
Now, before you head out to your garage to deface that pristine Stratocaster, let us show you some of these brand new Fender Vintera Road Worn guitars!
Vintera
Vintera is a made-up word. Yes, it's an amalgamation of Vintage and Era, which not only provides Fender with a handy new Google-proof word, it also rather succinctly explains the entire concept of the range. These are vintage-influenced instruments for this new era of music. You see?
Within the range, you'll find period-referencing guitars with 50s, 60s and 70s-style appointments. You'll no doubt have seen these already, since they've been a huge hit with guitar fans since they were released. Without being slavish to minute detailing, the Vintera range brings the overall vibe of certain beloved Fenders into a marketplace that never tires for some of that Leo magic.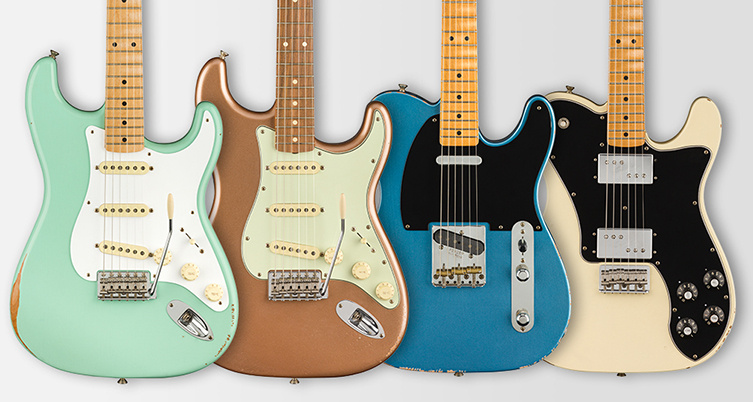 In general terms, each Vintera model has a more vintage neck (models differ but it could be the radius, profile or fret size), vintage-correct colours (including those irresistible Dupont hot-rod colours) and pickups that favour tone over output. Furthermore, each guitar is finished in nitrocellulose, something that's key to the whole Roadworn principle...
Distressed Nitro
So, nitro is used to finish the whole series. This is a thin, plant-based spray that was used back in the day all the time, and only on top dollar guitars today. Why? Well, it's expensive compared with polyurethane finishes, and frankly less protective, too. It's also dangerous when used in badly ventilated places (no, don't buy some for your DIY relic project!) and therefore is more time-consuming for any company using it.

So why bother with it? Good question, and the answer is easy. It looks amazing, feels great to the touch and ages remarkably well. This is really the main reason why all homemade relic jobs end up looking monstrous: poly finishes (nearly all sub-£1000 guitars are poly, as are a huge amount that cost a lot more) are super thick and you need to hack away at them like Hercules to get through to the actual paint underneath. Practically speaking, poly finishes do their job much better than nitro, but they just don't have that look or feel, nor do they age and discolour in the way that nitro finishes do. All of those actual old guitars look that brilliantly battered way specifically because nitro finishes 'give it up' relatively quickly.

Road Worn
So, these are 'Road Worn' and not Time Machine Relics? Yes. This is how Fender distinguish their Mexican-made guitars form their USA-made ones. The Road Worn term applies to Mexican Fenders only. Fair enough! Touring professionals happily play Mexican Fender guitars, such is their quality. The Vintera range are already amazing sounding and fantastically playable, so it's an obvious move to build on that. Their nod to the past also makes 'thematic' sense, given that these Road Worn guitars are supposed to simulate vintage instruments.
In terms of the 'relic debate', we've addressed that elsewhere (you missed it? Click to read the article here), but suffice to say, guitarists love distressed guitars for a number of reasons, so they aint going anywhere!
The bodies here are all Alder, and have been distressed with sensible levels of wear, checking, discolouration and tarnishing. It's realistic stuff, and the slightly matte nitro patina makes a huge difference to the 'believability', as it were.
Strats
The Stratocaster is available as a 50s or 60s model, as has been the case with most reissues. Fender fans will know the drill by now: the 50s model has a maple 'board and cleaner, low output pickups, whereas the 60s variant has a darker board (Pau Ferro here, just as ol' SRV would prefer) and ever so slightly hotter single coils. This remains much the case here, but a few differences creep in...

The 50s Vintera Road Worn Strat has a soft v-profile neck and a rounded, 'fully-retro' 7.25" radius fingerboard. It's a very authentic feel indeed, and will provide something specifically different for those reared on more contemporary axes. Although the pickups are indeed cleaner than on the 60s Strat, we'd say they are still wound a little hotter than some 50s-era Strat pickups we've heard, so there's scope for more versatility here. This model is available in Fiesta Red and Surf Green.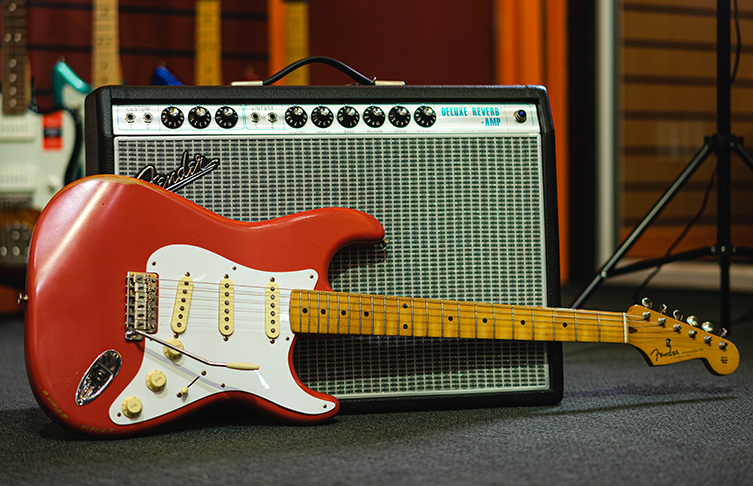 The 60s Vintera Road Worn Strat surprises us by keeping the 7.25" radius (normally we'd expect 9.5" for those big Blues bends) but changes up the profile from the soft V to a very comfortable C, which has a little more heft to it than a modern Strat neck. This Strat, as we mentioned, goes for a bit more oomph, but remember, both Strats can be tamed with a little jab at the volume control! This lovely number can be had in Firemist Gold or Lake Placid Blue.

Teles
For the Telecasters, Fender have snubbed the 60s in favour of the decade after, bringing perhaps more diversity to the group. The 50s Tele is here in all of its timeless, evergreen charm, and it's been twinned with a 70s Tele Deluxe, a double humbucker-ed model that has seen increased popularity since its adoption by the mainstream Alternative crowd of the last 15 years or so.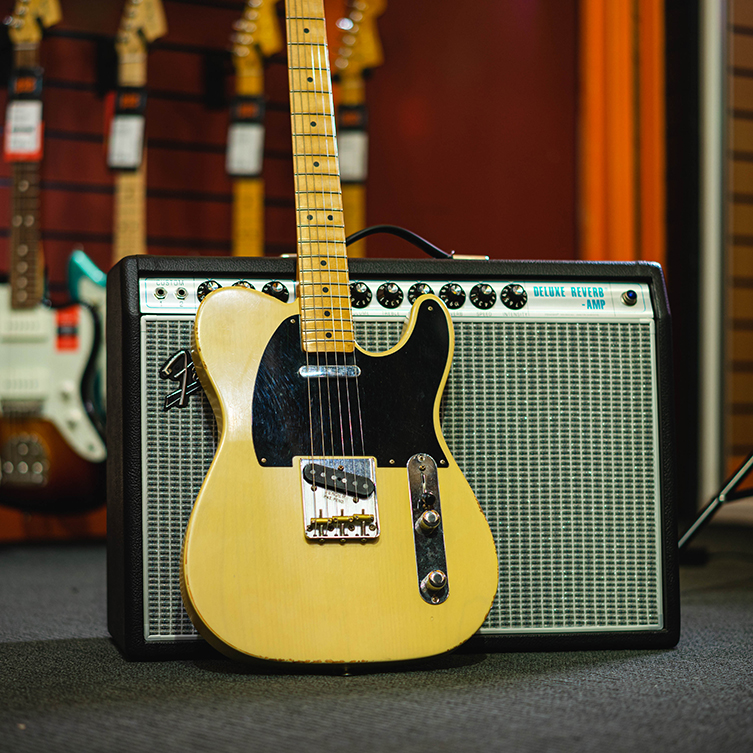 For the 50s model, it's classic stuff indeed: a thick, U-shaped neck lets you know who's the boss, with a set of brass saddles at the bridge helping to deliver the characteristic twang than sets a great tele apart. Fender have wisely included the ubiquitous 'blackguard' look here, with a single-ply black pickguard on a Vintage Blonde finish. This is where it all started, folks! Lake Placid Blue is another option, and we actually think this one looks the best! Whichever you pick, it's great to have such a difficult choice to make!

The 70s Telecaster Deluxe Road Worn Vintera is the perfect vehicle for those players who need more muscle than a standard Fender model, but aren't into the feel of a Gibson Les Paul. It's clear that this is middle ground, from the pair of covered humbuckers to the flatter radius fingerboard and the very LP-alike control layout.
Sonically, the Deluxe definitely kicks more and carries thicker sustain than Fender's normally do. Those Wide Range humbuckers still bring a little of that famous Fender twang, though: we are definitely not in PAF-country with this guitar! For more muscular Rock rhythms and leads, this guitar makes your job smooth and easy. Choose between Daphne Blue and Olympic White.

Final Thoughts
Is this the coolest range that Fender currently have? Could be! We like the dedication to vintage feel and tone over and above the (admittedly awesome) cosmetics. After all, you need your guitar to look super cool or you'll never play it, but once you have it strapped around your neck, it needs to deliver on the sounds and feels or it'll not last long!
We think Fender have bulleseyed their target here. The model choices are spot on, the colours are a mix of obvious and bold, and there are no face-palm decisions with the spec.
Which Vintera Road Worn will you pick? Well, bear in mind that if you're after a 'vintage; experience, it should be somewhat 'other' from your regular instrument, so why not try a Fender style you've never had before? The thick 50s Tele neck is vastly different to many modern guitar necks, for example, and the soft V of the 50s Strat, mixed with its rounded radius makes for an equally unique playing experience.
Dive in and try them all: wonders await.