A Closer Look: Martin Reimagined
Published on 11 September 2020
Heritage. Glory Days. Authenticity.
You hear this a lot, especially in guitar circles. Some guitar brands can be described as futuristic, or forward thinking, but the most revered and loved are the ones that have been with us for a while. The brands that have made musical history are the ones we associate with the most and aspire to owning more than brands who don't have such cultural connections. We're talking, of course, about Fender, Gibson, Gretsch, Rickenbacker and Martin. It's no secret that these brands make full use of their historicity, and why not? They are told time and again, by those who buy and play their instruments, that they want 'em just the way they used to build 'em!
Fair enough! Heritage is an important thing, but you also have to move with the times.
Even a company like Martin, who have more history under their belts than nearly every one of those other manufacturers, understands that the needs of players change. Adapting to that is what helps these companies thrive. As much as players want that time-honoured, authentic vibe, they'd prefer a modern pickup system and a modern neck carve, too.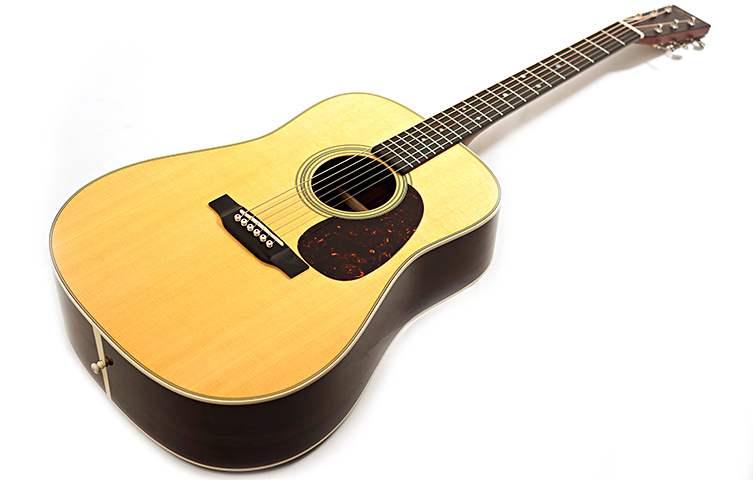 Martin understand this. Just over two years ago, they announced a major update of their Standard line of guitars. This 'Reimagined' line was heralded as the most significant reassessment of Martin's main line-up in a very long time, making it big news to guitar fans! As company CEO Chris Martin himself said:
"I challenged my co-workers to help me with the significant task of modernizing guitars whose origin go back to the 1930s (and earlier). As you might imagine, the discussions were quite animated. Fortunately, we all knew we were working toward a common goal; how can we modernize traditional Martin Guitar models while continuing to honour our rich history and heritage? Well, together we met that challenge head on, and the results far exceeded my expectations."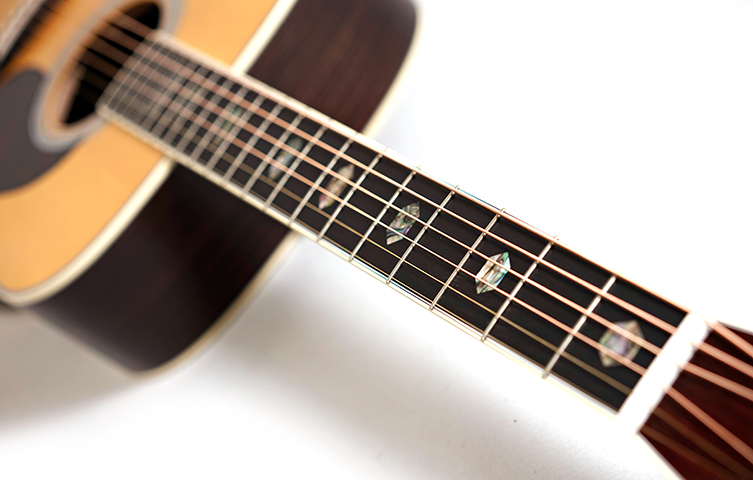 As you know, we are very passionate, committed Martin dealers. We love the brand and we love the mythos, just like everybody else. The idea of a 'reimagined' series of Martin guitars was initially a little unnerving for us, especially as it was replacing the Standard line up rather than co-existing alongside. We weren't sure of what to expect, but we needed have worried: the changes are player-based, subtle and certainly don't play fast and loose with these beloved guitar designs.
Fred Greene, Martin's Senior Director of Product Management, had this to say about the task: "Changing this many models that are so iconic to the company and music industry all at once was a real challenge, but our team did an incredible job in choosing appointments and improvements that make these instruments even better."
The idea wasn't to reinvent the wheel, but to evolve some much-loved designs and have them Spring-cleaned for a new generation of players. So, what are the differences? Let's have a quick look, and then briefly display a few of our favourites from the range...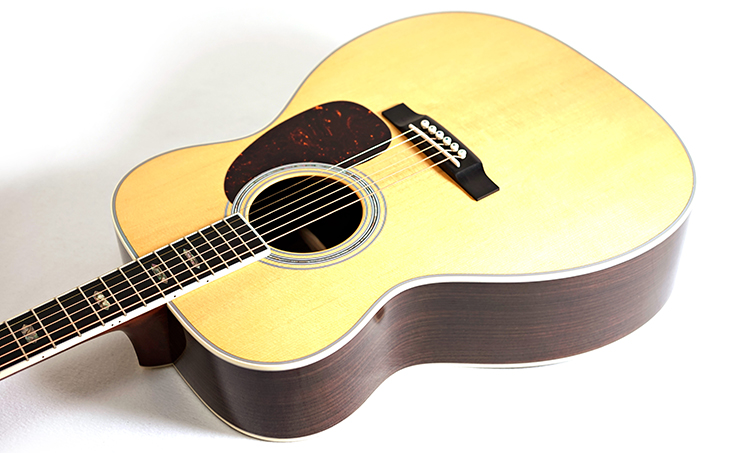 The Changes
We've mentioned pickups, but those are additional to the task, rather than anything else. After all, Martin have offered quality electronics in their guitars for decades. So, suffice to say that Fishman and LR Baggs are taking care of the 'plugged' elements for the Reimagined series, and we are all familiar with their quality levels.
There are really three main changes to the range, when taken as a whole. Firstly, the neck has been redesigned. The new carve, called the High Performance profile, is slimmer and more comfortable. These are the easiest-ever Martin guitars to play. The High Performance neck combines a tapered fingerboard width with an 'Modified Low Oval' profile. This is a sort of redrawing of the previous Performing Artist Taper neck than Martin used on many guitars. That neck is now gone, in favour of this new carve. Some other Martin guitars retain older neck carves, but all of the Reimagined models (and all 17 series, most 15 series and others...) use this neck. It's slinky and easy to play, making each instrument more accessible and 'addictive' once you get going!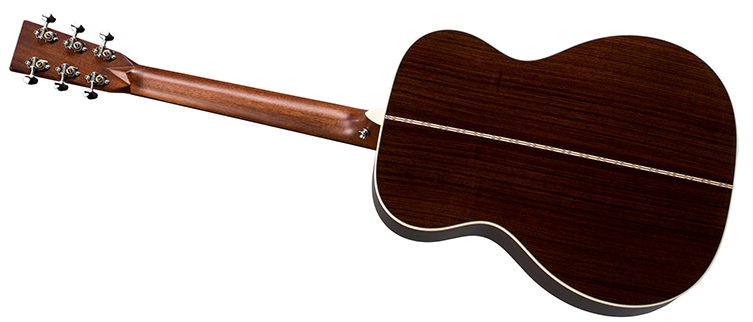 Aged Toner and Open Gear Tuners
These cosmetic changes are featured on most of the Reimagined range, and are there to put each instrument in line with its historical brethren. The Aged Toner is used in the finishing stages, of course, and helps to give the timbers a beautiful vintage appearance. The open gear tuners are something that certain Martin acoustics have had in the past, but all of the Reimagined range now sport them. The tuners themselves differ from model to model, and include beautiful examples from both Schaller and Grover, the two most-respected names. A small detail perhaps, but small details are as significant as larger ones, especially when we appreciate the minutia and tactility of an acoustic instrument.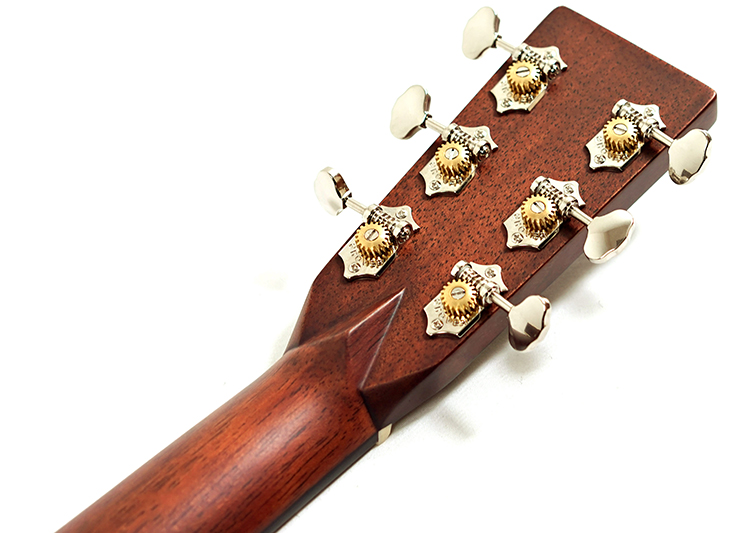 Bracing
Depending on the model, the inner bracing has also been repositioned. Dreadnoughts like the D-41 and the D-20 feature forward-shifted X bracing, which is also scalloped. Martin, of course, invented X-bracing, but it's the moving of position here that makes the tonal difference: forward shifted bracing allows for greater vibration of the guitar's top. This in turn brings greater resonance and volume, allowing you more space in your dynamics and a bigger overall sound.
Martin D-41 Reimagined
It's a favourite model for a great many artists and professional players. The Martin D-41 is well balanced mix of elegance and opulence, from a company who typically don't go for 'attention-grabbing' looks. Abalone abundantly decorates the edges of this classic dreadnought, in a way that's more than subtle, but less than overt. It's just right! An Ebony fretboard with large hexagon inlays, a large vertical heritage headstock logo, abalone-inlaid rosette and binding all add up to make this a stunning example of Martin artistry.
In terms of the build, it's classic stuff here, with Indian Rosewood making a welcome appearance, topped with Sitka Spruce. This is the Martin sound, basically, and now it's better than ever.
Martin D-42 Reimagined
We are on similar, but ever-so-slightly flashier ground here, with the D-42. Still a dreadnought, still with that unbeatable combo of Sitka Spruce and East Indian Rosewood, the D-42 delivers on all tonal and playing fronts. That forward-shifted bracing makes its case here, bringing volume and liveliness to your performance, as it does with the D-41, too.
Where the two models differ is in the decoration. Thick ivoroid binding, an abundance of abalone and beautiful, intricate snowflake inlays combine to make the D-42 a spellbinding vision of Pre-War Martin greatness. It's a spectacular instrument with a lush, slightly darker tone.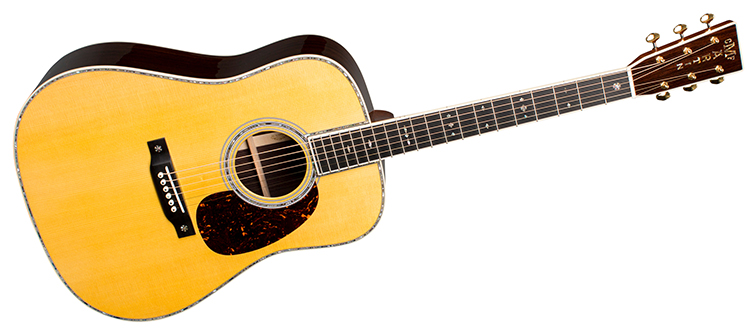 Martin OM-28 Reimagined
A favourite of Blues players and fingerpickers, this Orchestral model impresses with herringbone purfling and bags of charm. The OM-28 Reimagined is classic Martin, with our familiar Spruce & Rosewood combo, small snowflake inlays and an Ebony fingerboard. The smaller body makes this more intimate to play, and has a classy, understated vibe that very much typifies the brand.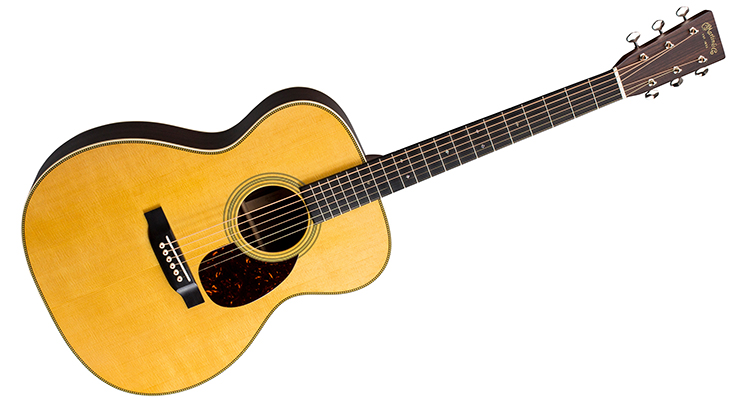 Martin 000-42 Reimagined
Another smaller bodied instrument, the 'triple oh' uses a similar body shape to the OM. Size-wise, it's situated in between the smaller parlour size and the larger dreadnought size, and has proven itself to be massively popular for a wide range of players. Originally conceived for fingerpickers of the Blues and Folk persuasions, the fact is, a Martin 000 can handle any style you want it to, with a sound that projects well without being 'large'.
This Reimagined 000-42 model brings the bling, as you'd expect! We've already seen the D-42, and this 000 iteration matches that for opulence. From the old-style vertical headstock logo to the wonderful amounts of abalone on the top and rosette, this is a compact masterpiece.

Final Thoughts
We are glad that Martin's factory in Pennsylvania is back up and running again after COVID lockdown: we were afraid that we wouldn't be seeing any of these beauties for quite some time! As it is, delivery is by no means a certainty, but we currently have good stock levels of these wonderful guitars.
Think about the Reimagined range as a sort of 'Best of' of Martin guitars, and you're close to knowing what to expect. Each model has been 'powered up' with features that benefit it, and each benefit is sympathetic to the style of the instrument. The range, which spans styles 28-45, is a treasure trove of Martin's finest features and ideas. These guitars breathe history but bring that all into the now. If you love guitars, this fact alone will mean a lot to you. Visit us, try one or two for yourself, and you'll fully understand the 'Reimagined' difference.
Thanks for reading
Ray McClelland