Just Announced: PRS Private Stock Paul's 85 Limited Edition!
Published on 22 October 2020
So, PRS are renowned for using spectacular pieces of wood with their guitars, right?
And they are also highly regarded for their wonderful finishes, aren't they?
That's on top of their game-changing reputation for guitar design, innovation and build quality...
So, all in all, it would take quite a special set of timbers and finishes on one of these guitars to make us do a double-take. After all, as authorised PRS dealers, we see a lot of their instruments coming through our stores! They are all gorgeous: we know that.
Well, we did know that. Until we saw this one. The PRS Private Stock Paul's 85 Limited Edition.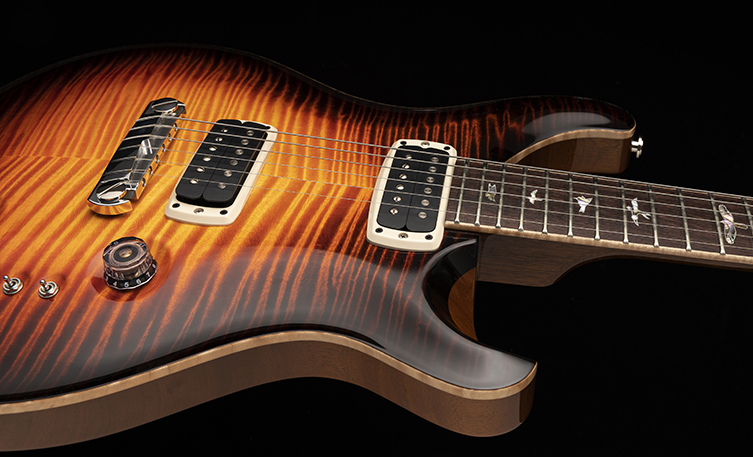 Paul's Guitar
See what we mean?
Yes, as you know, 2020 is the 35th Anniversary of Paul Reed Smith guitars, and we've seen some beautiful instruments canter out from the Stevensville stable already, but this one is surely the jewel in the crown. It almost looks too amazing to be true, like an artist's rendering of an idealised PRS guitar. We guarantee you though, that these pictures are from real PRS guitars that you can buy and own.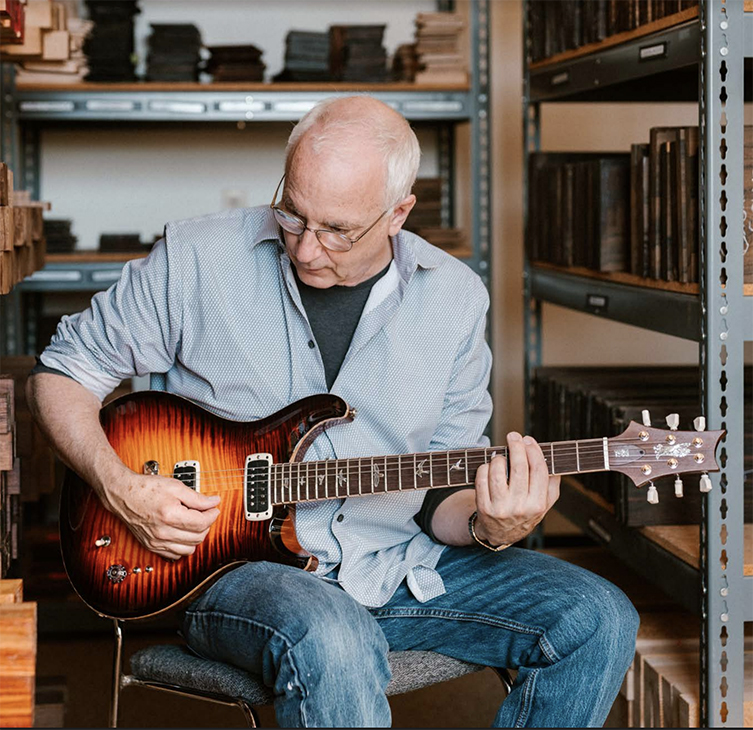 So, this stunning creation is a special take on Paul's guitar, the PRS model that bears the preferences and specs of Mr PRS himself. It's his preferred neck carve, his favourite pickup windings and his own choice of hard tail bridge, but it doesn't stop there.
Because this is a special guitar even for a top-grade Private Stock instrument, Paul has picked out all of the tops, selected the wood combination, assisted on the shaping of every neck and even sat down to playtest and tweak each and every one of these models before they leave the PRS facility. Now, that's dedication! When he says special, he means it! It's Paul's intention to make these Private Stock Paul's 85 Limited Editions the best sounding PRS guitars that have ever been made.
The Wood & Inlay Work
As you can see, the timbers selected for use here are breath-taking. That incredible top is a handpicked piece of Wide-Curl Private Stock Maple, and has come from a small stash of wood that had been set aside by Paul himself for a special occasion.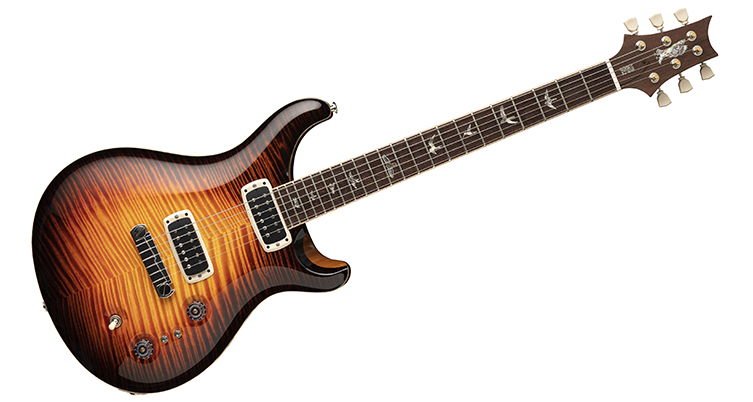 The necks are made from Dark Peruvian Mahogany and feature Honduran Rosewood fingerboards. This really is wood at its absolute finest. Paul has selected a Pattern neck carve for these guitars, along with PRS' trademark 25" scale length.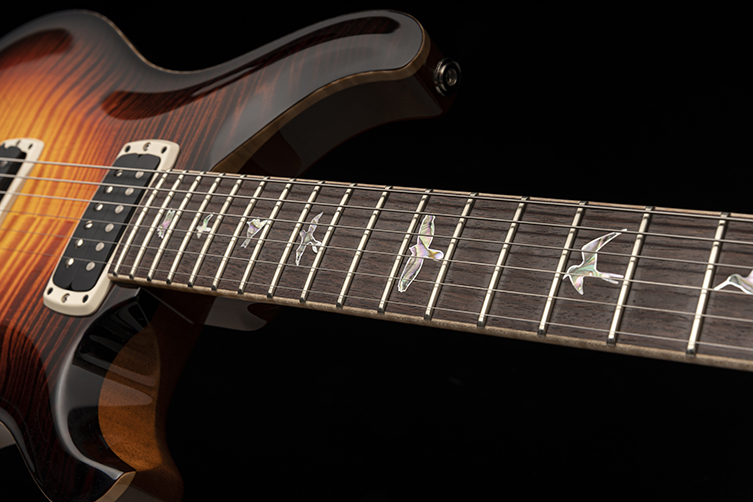 The Honduran Rosewood used on the fingerboard is also used on the headstock veneer, which features a finely detailed abalone and Mother of Pearl Eagle inlay and inlaid Mother of Pearl '1985' truss rod cover.
The Abalone continues on the customary PRS bird fingerboard inlays, again outlined in Mother of Pearl for a more beautiful and visually arresting appearance. Give yourself a second to really take it all in: the accumulative effect of all of this opulence is quite overwhelming.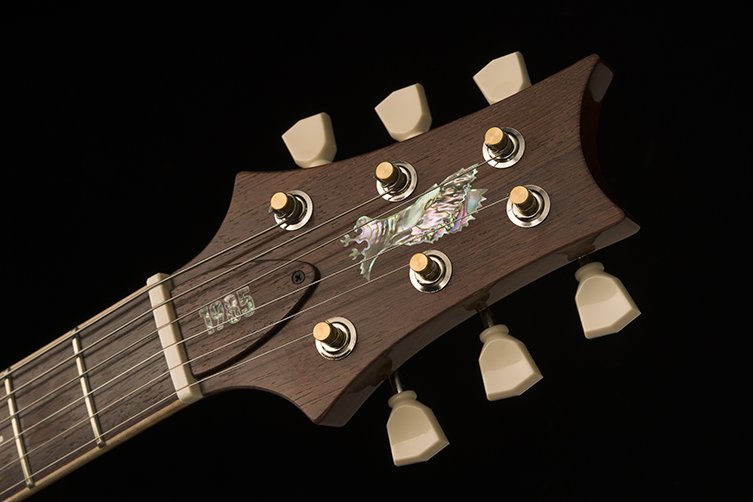 The Finish
We've seen sunbursts before, but never like this! Part of it is down to the star turn made by that wide-curl Maple, but the actual colouring is a masterclass in graduation and tonal depth. Compare the pictures you see here with most any other dark-sunburst finish and you'll be convinced that these are the finest burst finishes on the planet. It's called Electric Tiger Glow and is actually a blend of both staining and spraying, though the precise techniques are something of a trade secret.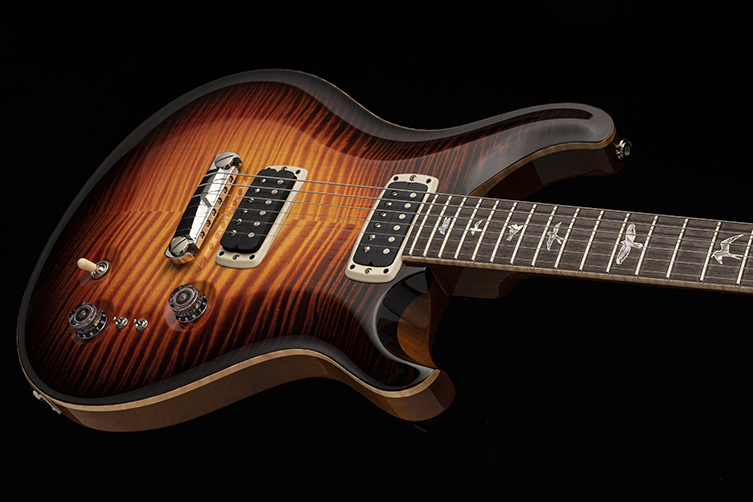 On top of this, PRS have gone for a hi-gloss nitrocellulose finish. This, interestingly, has been partly chosen by PRS because the finish will eventually, years down the line, age and crack like a beautiful old heirloom violin or cello. This is a guitar for the ages, and is designed to reflect that heritage on its finish. Nitro finishes, in most guitar lovers' opinion, looks by far the best, too, as well as having a feel like no other finish. It's a suitable coat for such an impressive wood and colouring combination.
The Pickups & Electrics
As this is 'Paul's Guitar', we have a pair of hand-wound TCI pickups with individual mini-toggle switches for coil tapping. For those who are new to TCI pickups, the acronym stands for Tuned Capacitance and Inductance. It's actually more of a process than a description of the pickups themselves. Basically, it means that each pickup is individually wound, set and 'tuned' to not only every guitar but each location within the guitar. PRS understand that factors such as neck joints play a part in the overall sound made by the pickup, and therefore consider this as part of the process. You'll hear more clarity, and you'll enjoy some of the best coil-tapped tones you've ever experienced with these pickups.
Here's Paul's words on it himself: "TCI stands for Tuned Capacitance Inductance. When you wind a pickup, the coils are capacitors, resistors, and inductors simultaneously. Our more refined ability to be able to tune those factors is what we have incorporated into TCI pickups. To our ears, the results are very musical. We are very proud of how far we've come in the understanding and making of pickups. It's been a fun process."
Extremely Limited Edition
Fittingly, for a celebration of something that began in 1985, there will be only 85 of these instruments ever made. Each is hand signed by Paul Reed Smith, after playing it and tweaking it to his satisfaction. Remember, each of these guitars has had input from Paul every day, and are of course built by the Private Stock team. This is the highest level of skill and attention to detail that PRS offer, meaning in effect some of the highest build and finishing levels in the world. These guitars are obvious pieces of art, and wonderful examples of PRS' craft and heritage. Each hand-signed and numbered guitar comes in a paisley hardshell Private Stock case.
We have, at time of writing, two of these incredible guitars available. We do not anticipate having access to more, so please make sure you act fast if you want this historical guitar in your life!
Celebrate 35 years of PRS with a guitar that's as close to its maker's heart as it's possible to be.