A Closer Look: BRAND NEW Gibson Custom Shop Jimi Hendrix guitars
Published on 17 November 2020
Yes, totally! We know, you think of Hendrix and the first image you associate with him is a white Strat, but he did in fact play quite a few guitars throughout his brief, explosive career. As a lefty in the sixties, we get the feeling that quality guitars were somewhat harder to come by than today! The amount of upside-down instruments seen in the hands of the maestro would attest to this, certainly!
In addition to his endless supply of Fenders (which he routinely used to give away to friends after shows), Jimi Hendrix played a wide range of models, including Les Pauls, SGs, Flying Vs and even the odd Danelectro! Today we'd love to show you a pair of very special tribute instruments made by Gibson's prestigious Custom Shop, to honour one of the greatest practitioners of the guitar there has ever been.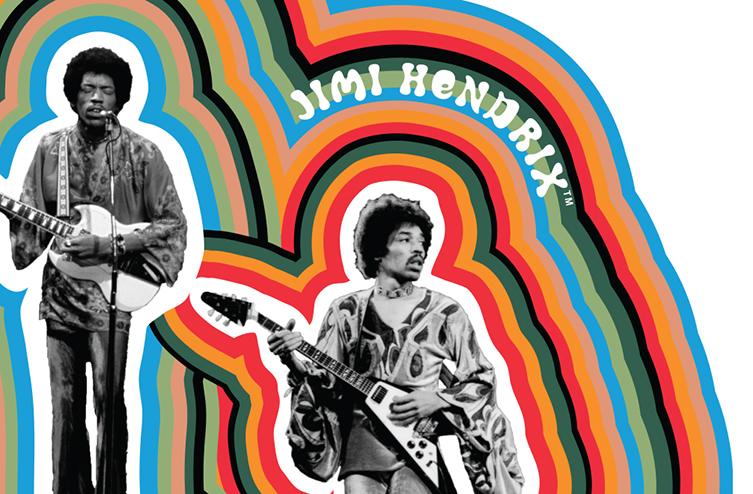 Jimi and Gibson
Whilst at first it seems strange to consider Hendrix alongside Fender's biggest rival, there is more than enough evidence to back up Gibson's claims. As you can see below, Jimi chose a wonderful 3-pickup SG Custom for his performance on the Dick Cavett Show, one of the few times he performed in a TV studio and was interviewed.
This footage is from September 1969, and may (or may not) suggest a change in allegiance from Fender to Gibson, given that the other Gibson we are looking at is from the same time period as well...
Whether that is or isn't the case, Jimi certainly nails his signature tone when jamming out on the TV Show. A proto Machinegun can be heard here, ahead of its release on the Band of Gypsys record the following year. This very instrument is the basis for the first special model we'll be looking at today.
Gibson Custom Shop 1967 SG Custom
How beautiful is this guitar? It's a guitar fit for a master player, surely! Gibson Custom Shop have gone to town with this SG Custom in order to replicate exactly the instrument Hendrix brought on TV with him.
As the name suggests, Jimi's guitar was a 1967 model, turned upside down as was his custom. This right-handed model (lefties will be served well in a second but may want to get authentic and play this upside down too?) features a host of period-correct appointments, including a 60s Slim Taper neck carve, an Ebony fingerboard and tulip-head tuners.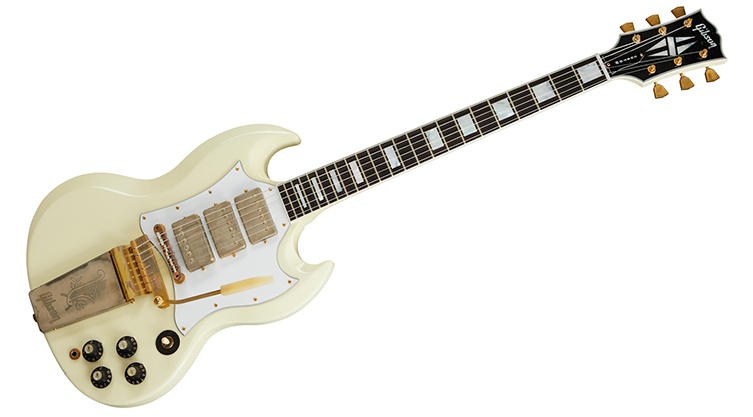 The wonderful Polaris White finish and gold hardware have all been realistically roughed up by ace-distresser Tom Murphy's Murphy Labs in order to simulate five decades of wear and tear. It's in the checking of the finish, the tarnishing of the gold and a general discoloration of the separate elements that altogether make for a convincing relic job. As usual, the work done by the Murphy Lab is expertly carried out and looks entirely authentic.
That striking trio of gold humbuckers laid across the middle of the body are specially wound '68 Custom Humbuckers, made to capture bite and sizzle as well as sustain and depth. Under the hood, you'll find top-quality 500k CTS pots (for extra brightness and clarity) and ceramic capacitors. A Switchcraft input jack & 3-way toggle switch complete the top-grade line-up of hardware aboard this lovely SG.
As this is a special Hendrix tribute, an equally special Hendrix hard case is included, as is a Hendrix truss rod cover (a plain one is supplied, too), 5 Hendrix picks and even a 5x7" archival print of the man himself, signed by Jimi's long-time studio engineer Eddie Kramer. There are only 150 of these Hendrix SG guitars being made in total.
Gibson Jimi Hendrix Flying V
It wasn't just an SG that Jimi turned to in 1969. Presumably getting tired up having to play upside-down guitars after all, he finally commissioned Gibson to custom build him a left-handed Flying V. Though not the 'Red House' Flying V (he recorded that back in 1966, so it couldn't have been), this wonderful Black model was played at the Isle of Wight festival in Aug 31st, 1970. That is a good year after he ordered the instrument from Gibson, so he obviously enjoyed it and played it for a relatively long time! Here's some footage:
The Flying V design seems to really befit such a radical and pioneering guitarist as Hendrix! At this point, the Jimi Hendrix Experience was largely done, so this instrument could be seen as part of his next logical artistic progression into Band of Gypsys and who knows what else!
Being that the original was a left-handed instrument, we are glad that Gibson have decided to pay proper tribute here and recreate a lefty Flying V as well as the (now backwards, we suppose) right-handed model. It's hard enough for southpaw players to find a good selection of guitars anyway, never mind being snubbed by a famous guitar recreation that was a lefty to begin with, so this move by Gibson makes us happy!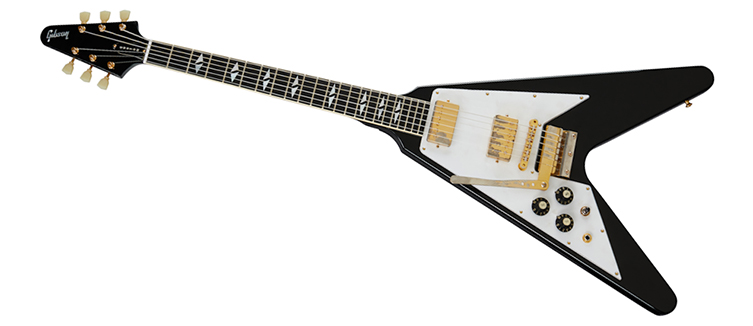 Like the SG, these Hendrix Flying V's have been meticulously built by the Gibson Custom Shop and then masterfully aged by Murphy Labs. The effect, once again, is very realistic and rewarding to look at. The work has been sympathetically done to resemble actual ageing, instead of a perhaps more heavy-handed approach, though the wear and tear is still very clear to see!
We have a mahogany body and neck here, with an ebony fingerboard. The fingerboard has some very cool (and authentic) split diamond inlays, which we do not often see on any Gibson models today! There's a gold maestro tremolo on here too, though this has no tailpiece, sensibly, since the V body leaves no room for such! The white pickguard is of the larger '67 style too, just as you'd hope.

The same high standards of hardware used on the Hendrix SG are applied here, too. The pickups, however, are specially made Custombuckers, again fitted with gold covers and aged by Tom Murphy's team. This really is a stunning instrument, and begs to be played loud and long!
As with the SG, a custom Hendrix case is included, as is very similar case candy, with the pleasing exception being a slightly larger 8x10" archival photo this time! In terms of numbers, Gibson's Custom Shop will hand-make 25 of these as left-handed models, and 125 for righties.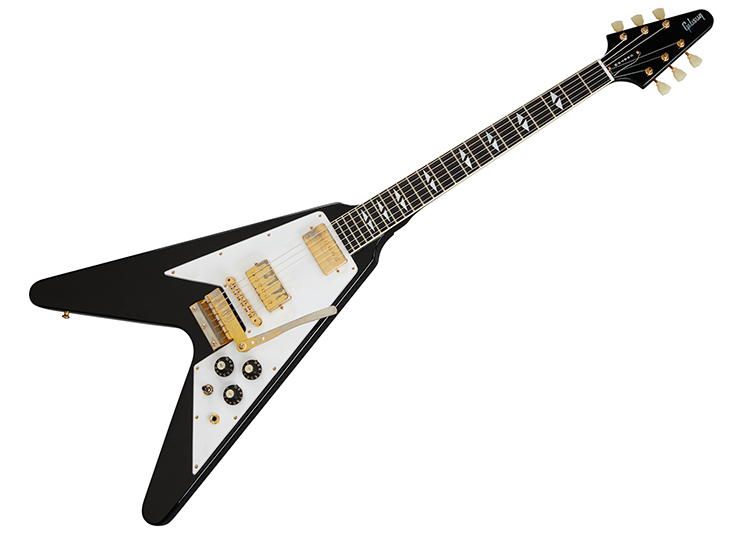 Final Thoughts
Who knew where Hendrix was really going? Such a mercurial and creative spirit could never reasonably be tied down, so your guess is as good as ours. His increased use of Gibson guitars in this stage of his life (he wasn't to know it would be the last stage, really) does indicate a desire on his part for a thicker, more sustaining sound, so it's lovely to dream about 'what could've been' in this regard.
These two instruments from Gibson Custom Shop represent a detailed and loving tip of the hat to the biggest game-changer in guitar music. They are stunning, top-grade instruments in their own right, and the relevant association only deepens the attraction. Seeing Hendrix unleash his miraculous playing on a Gibson guitar is a fresh, liberating experience, and with one of these guitars in your possession, you can enjoy a little of that passion and magic for yourself. It's been fifty years since he died, but he's still changing lives for the better every day.