Yamaha BBPH Peter Hook Bass with WORLD EXCLUSIVE Peter Hook Interview
Published on 01 December 2020
Joy Division are easily one of the most influential British bands ever.
New Order are easily one of the most influential British bands ever.
So, it follows that any musician being in not only one, but BOTH of these bands, would themselves be massively influential, right?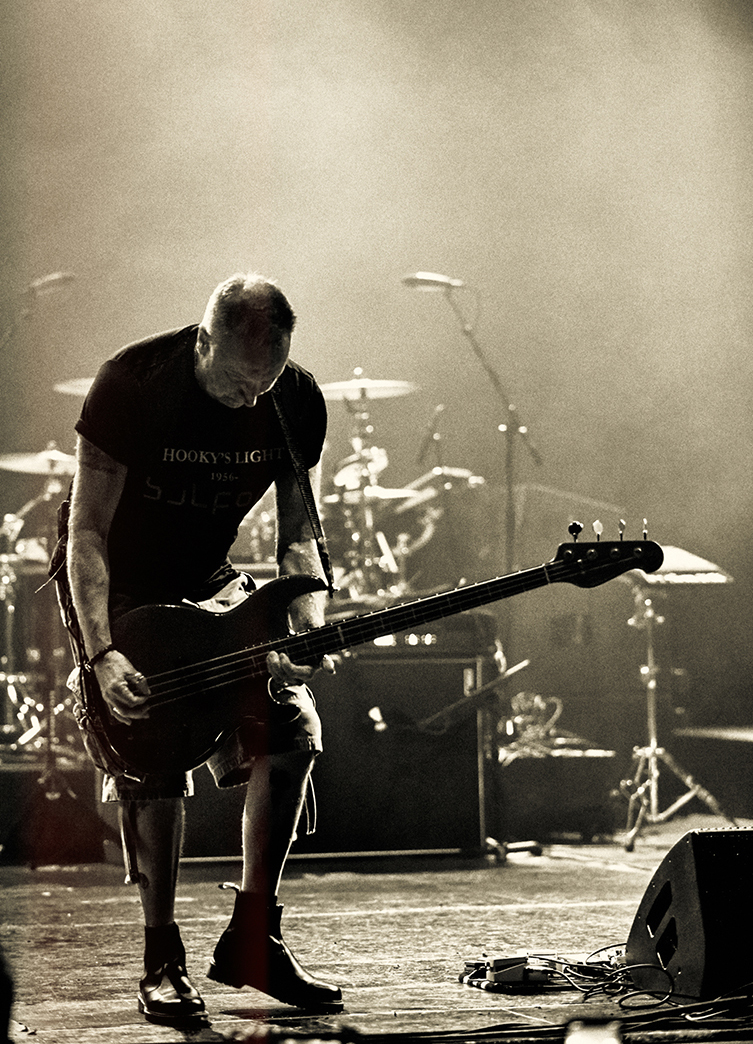 So it is with Peter 'Hooky' Hook, bassist and founding member of Joy Division and New Order. He's as famous for his irascible personality and quick wit as he is for his genre-creating bass style and game-changing attitude to sound. His approach to bass playing – using high register, melodic phrases and riffs with tons of Chorus added – has made his style as recognisable as any six-string guitar hero's. People hum his riffs without thinking about them being basslines, since they integrate and identify the songs so well. His work across Joy Division and New Order's catalogues have changed and then re-defined what constitutes New Wave bass playing, not to mention the perceived 'job' of a bass guitar in general!
A lot of this has been abundantly noticed but largely uncommented upon over the years. It may be partly due to the inherently supportive nature of bass within a band context, but Hooky's 'lead bass' style deserves to be justly hailed and celebrated.
Peter Hook and Yamaha
Throughout his career, Hook has used Yamaha basses. Actually, one in particular – the BB1200S – has been used on almost every single recording the man has played on. That's almost every iconic Joy Division bassline (Love With Tear Us Apart, Dead Souls) and every New Order lead bass moment (Thieves Like Us, Everything's Gone Green) as well as many of his collaborations and side projects over the years. That's a lot of classic music! That's also a lot of love thrown towards Yamaha. You'd think it would be time for them to honour him with a signature bass then, wouldn't you?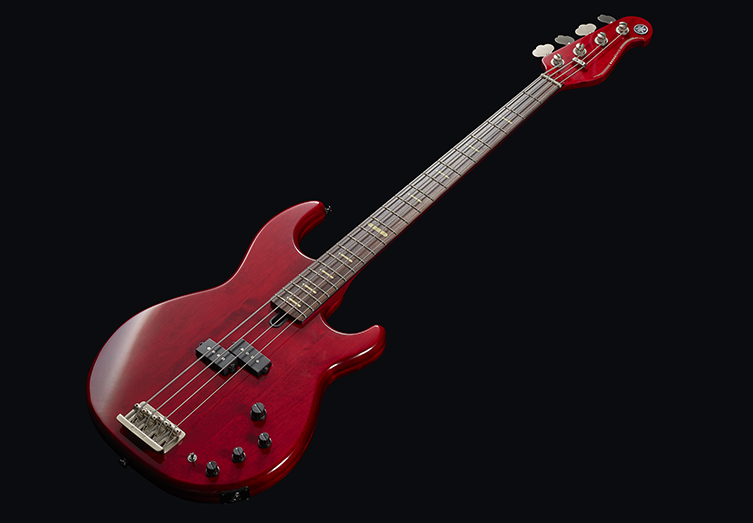 You wouldn't be wrong! This year, behind the scenes, Yamaha have been working with Peter to create something worthy of this pioneer's name. We heard rumblings a few months ago when we were lucky enough to speak on the phone with Peter himself, but he had to remain tight-lipped on the subject of his signature bass! Not any more though!
Exclusive Interview with Peter Hook
Here, then, is a previously held back extract from an exclusive conversation we had with Peter Hook earlier this year. If you'd like to read the whole piece, please click through to the guitarguitar Peter Hook Interview. Here, the interview extract picks up the conversation just a touch before we ask some questions about the (at that point unannounced) signature bass, when Peter is sharing about how he has been talking to the guys at Yamaha...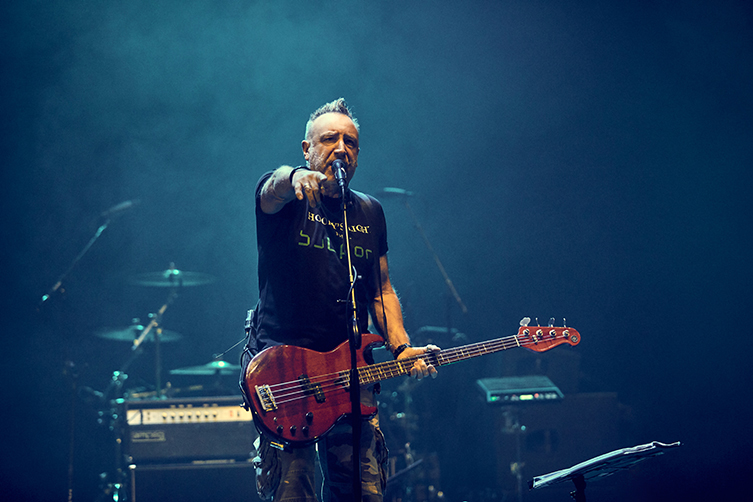 Peter Hook: But, of course, I've got Yamahas. It's quite funny, from a Yamaha point of view. It's through me telling my son (Jack, bassist for Smashing Pumpkins) ...it wasn't me meeting the Yamaha guys, it was my son. He's much more personable than me! Bit more outgoing. He was telling the Yamaha guys that every single track that I've ever recorded, up to the last one I did which was the Gorillaz about a month ago, was on a Yamaha BB1200S!
Guitarguitar: Wow!
PH: So for 40 years, almost, maybe just a bit less, 37, 36 years, I've used the same guitar for every track.
GG: Goodness!
PH: Yeah, and I'm not too sure that there's many a boast can be said, you know, about that!
GG: No indeed, that's extraordinary!
PH: That started certainly with Closer, and then ended up a month ago with the Gorillaz.
GG: That's amazing!
PG: So yeah, the 1200S has had, and in fact, I keep meaning to get a discography of New Order's for Yamaha and just star every track. Cuz it's the same Yamaha bass, the same one! I use my original BB1200, I've got a couple of them that are the same, but I use the same one. Since they gave me the new one, the new BB1200S Peter Hook signature model, I've been using that because it sounds exactly the same, if not better than the original.
GG: So, is that what the Peter Hook Signature is going to be? A reissue of the BB1200S?
PH: They aren't reissuing it as a BB1200S, they're issuing it as a different guitar. But it's a copy of the BB1200S: it has the same electrics, the only difference is that nowadays they don't do the straight through necks, so they had to modify the guitar to give it the stability, the rigidity, of a 1200S.
GG: Here's something that's really interested me since learning of it: was it the BB1200S's electronics that you put into the semi acoustic guitar?
PH: Yep, I bought them off Yamaha.
GG: Ah, right, so here's one for you, Peter. I was speaking to Jack Gibson, the bassist from Exodus, and he loves the old BB electronics from the 80s. He said he was buying them up whenever he came across them online, but he now can't find any available. Might those be the same electronics you like?
PH: Yes, it is! And I had one set made into a last guitar that's in my practice room now.
GG: Wow, the last one?
PH: I had the last set! The last one. There are no more.
Since they gave me the new one, the new BB1200S Peter Hook signature model, I've been using that because it sounds exactly the same, if not better than the original.
GG: Jesus. And this new Yamaha signature bass, how close does it get to the sound?
PH: It's really, really close! The top end is exactly the same, but low and behold, good old Yamaha, they've actually given me more of the bottom end, so it has an enhanced bottom end. But the top, for me, sounds exactly the same. I must admit, I've been using the same BB1200S right the way through, and I switched to the new guitar because it sounds exactly the same. So Aries, by the Gorillaz, was done on the new one.
GG: Cool!
PH: So, I've started using my new signature guitar and the Yamaha BB1200S is getting a well-deserved rest! (laughs)
GG: Fair enough, I think it's put in a good tour of duty, hasn't it?
PH: Mm, definitely! Bloody hell, it must've done...oh my god, a hundred tracks! A hundred and twenty, maybe, maybe even more than that over the years. I must do that list for Yamaha, because on a social media thing, it would look fantastic: these are aaaaall the tracks that it has played on. You know, that only one it didn't get on, which is quite sad actually, is Blue Monday. (laughs) That was the Shergold!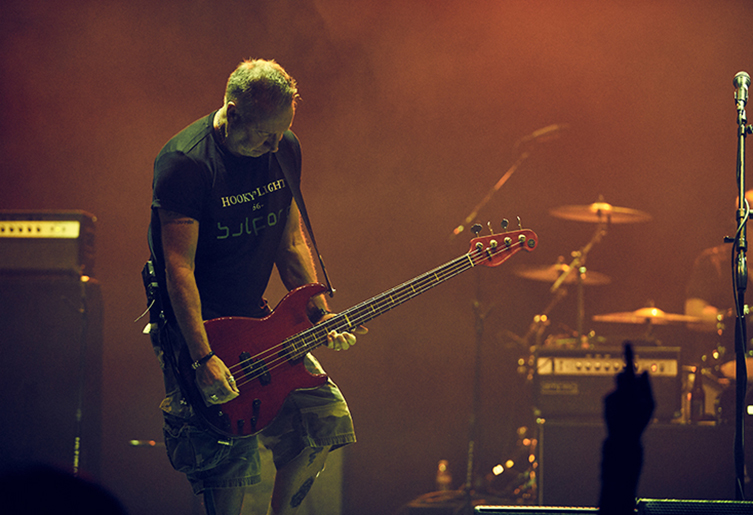 GG: Aw man! That's weird! So, that's an interesting point, because Blue Monday was when New Order was starting to get more overtly into sequencers and drum machines. On those records that came after that, did the fact that a synth often played the bassline free you up to play more of that signature high register style?
PH: No, I mean, the thing is, d'you remember somebody once said, 'why did somebody invent bass sequencers?' And it was so the lead guitarist and the singer didn't have to talk to the bass player. (I laugh) And that was the same reason with drum machines, so they didn't have to talk to the drummer! So, it was interesting that you had a bassline that you could play over. Some of the early New Order tracks, there was a four-string bass playing the low bit – which wrote the low bit, actually – which transferred to the sequencer. I would play high over it. I was sort of in charge of it for a while, but then, when someone discovers they could do it without you...(laughs)...it went that way! So, in a funny way, it helped, then it hindered. Yeah, so, sometimes it was a struggle, and sometimes it wasn't.
GG: Yeah, fair enough.
PH: But, I suppose, it's a lot like life, isn't it?
GG: Yeah, very much so!
There you are, from the man himself. He knows that original bass better than anyone on the planet, and this new signature model sounds the same (if not better) to him, so recommendations cannot come higher! Now, shall we have a quick look at the bass?
Yamaha BBPH Signature Bass
It's a good looker, for sure! Peter Hook's bass is designed and assigned to deliver a strong tone from low to high notes, a super-comfortable feel and a high level of endurance. Peter Hook and The Light are known for regularly playing 3-hour sets, and Hooky often sticks to one instrument for long periods, so any bass bearing his name has to be up to the task!
The Yamaha BB Peter Hook Signature is a cross between his beloved BB1200S, heard throughout his career, and the BB734A model he's been using on recent tours. It's instantly recognisable, especially finished in that classic Gloss Red that fans will know. Hook's printed signature can be found on the back of the headstock. So, what else makes this bass unique?

The Sound of Joy Division and New Order
The Yamaha BBPH bass has a 'Maple Sandwich' body (Alder/Maple/Alder), to help get closer (no pun intended) to the through-neck tone of his original BB1200S. The neck is a bolt on, like the BB734A, and uses a 6-bolt join for a much tighter fit and better transfer of tone, not to mention better access to those Hooky-esque high notes! The satin finish neck is a 5-piece build of Maple and Mahogany, so between that, the neck join and the sandwich body, there is tone and sustain available here for days.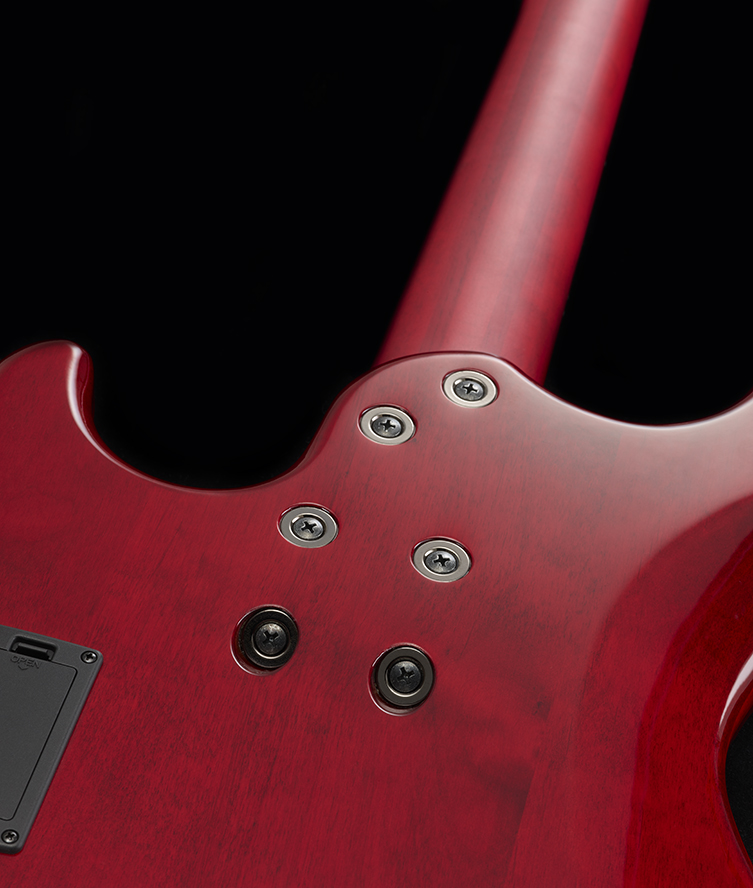 The single split-coil pickup is a reversed VSP7N model. Why reversed? It allows more of a balanced output across all of the strings, essential when you have to cover low notes and high notes often within the same song. Lead bass is no problem here!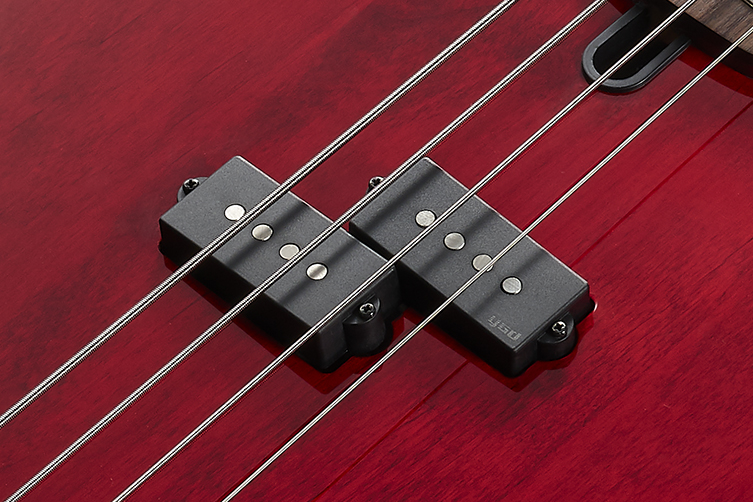 Peter's preferred active preamp (see the interview segment above for more) is incorporated in a redesigned guise, and features controls for Treble, Middle and Bass. Sculpt your tone how you want it and use the toggle switch to decide on active or passive operation.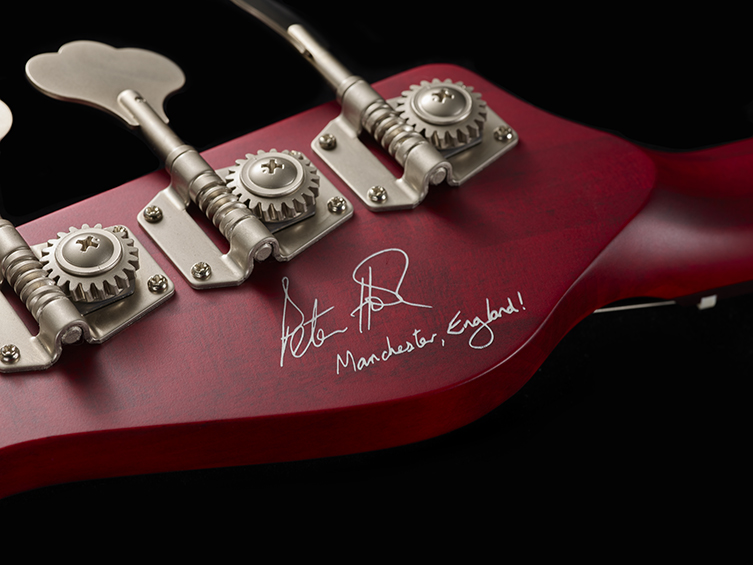 Other features include a Vintage Plus bridge with brass saddles, and a set of lightweight tuners for balance and performance. It's strung with 45's and comes in a quality gig bag.
The takeaway from all of this is that the Yamaha BB Peter Hook is built for great tone, endurance, clarity, solidity and above all, playability. This is for players who want to get the job done with style and confidence. It's the signature instrument of one of our most innovative and underrated musical legends, and you can have the opportunity to have yours very soon! Whether you play low or high, the Yamaha BB Peter Hook model has your back.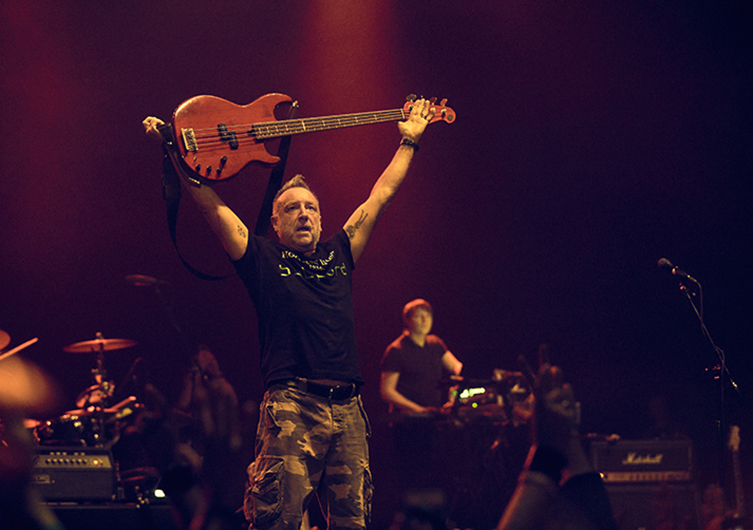 Click to View the Yamaha BB Peter Hook Signature Bass