Meet Your Maker: B&G Guitars
Published on 31 December 2020
You like classic guitars?
Guitars with that special, gilded patina of the Golden Age about them?
Do you like timeless design, but yearn still for something a little different? Something that meets those indefinable design needs you love, but still carries its own fresh, unique vibe?
Not easy to find, is it?
It's kind of 'the ultimate quest' for a lot of players, really: to find a guitar that looks and feels like it's emerged from some glorious misty past some 70-something years ago, but also one that you've never actually seen before.
We think we've found something for you...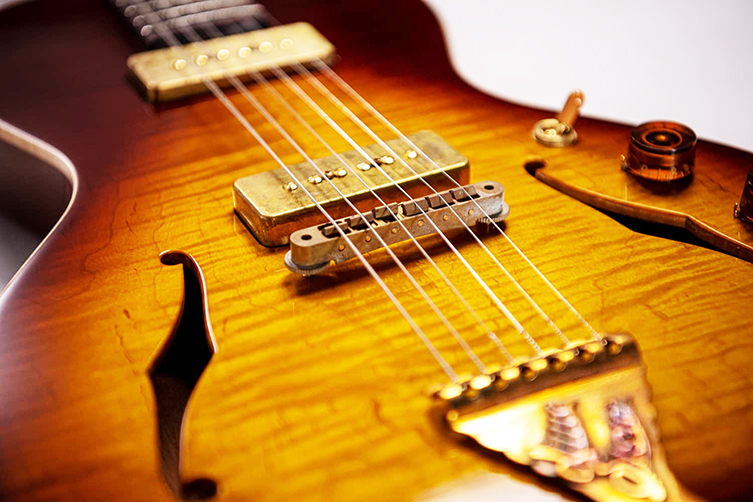 B&G Guitars
Coming to you from Israel, but with more than a hint of the Wild West about them (without it being overtly obvious), B&G guitars are a relatively new brand. Their guitars are positively dripping with references to the rich heritage of the electric guitar. We've recently taken delivery of a selection of their Little Sister models, and we feel like some of you will really take to these inspired axes!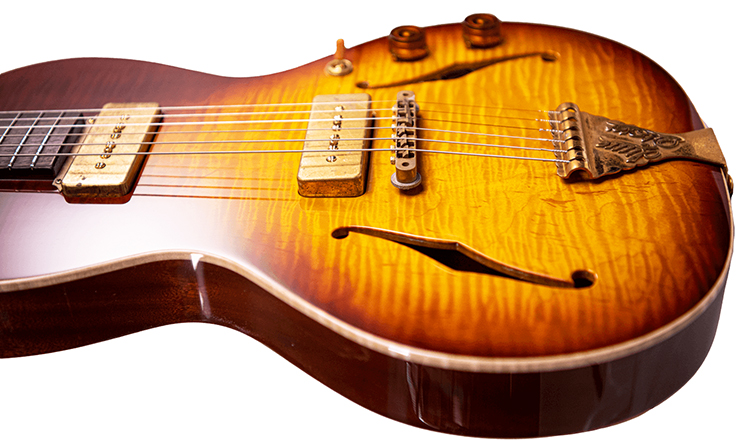 If you like f-holes, slot headstocks, brass hardware and P90 pickups, then you owe it to yourself to get acquainted with this brand!
Like Forgotten Classics
B&G guitars have been dreamt up and design by a team of guitar lovers who wanted to create a new line of instruments that felt like they could be long-lost forgotten classics from what they call the 'golden age'. There's a very deliberate and conscious effort here to evoke wistful vibes from a halcyon, bygone age, long before the days of locking tremolos, active pickups and sustainers. The B&G designs are steeped in guitar mythology and embrace certain specific hardware and finish choices to enhance that idea. Rich ambers, subtle bursts and lots of brass help to really sell this aesthetic, and the instruments are carefully built to offer an accordingly appropriate feel and sound.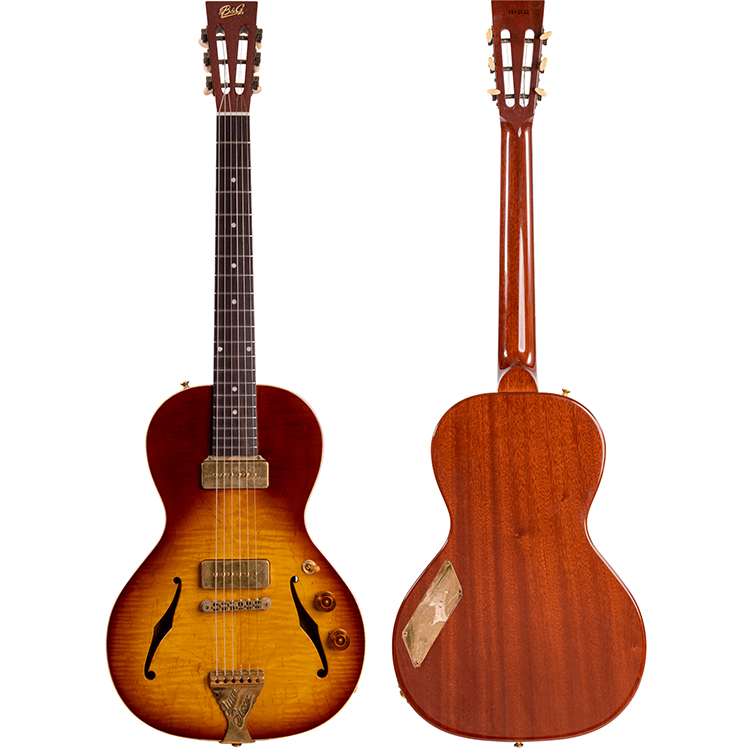 Interview with Kiki
Recently, we managed to get in touch with Yotam 'Kiki' Goldshtein, one of the 3 men behind B&G guitars (the 'G' of the name, in fact) and asked him a few questions about the brand. Here's what he had to say...
Guitarguitar: Thank for talking to us, Kiki! First off, I suppose a good place to start would be: what brought you into the world of guitar making? What made you want to do this to begin with?
Kiki: Well, we are 3 founders at B&G, and two of us are guitar builders – Eliran and myself. As for myself, I was always interested in how things work. I was playing guitar for a long time, and it was quite natural that I would look into building it. So I took a guitar building course, and this is where I met Eliran – who was also curious to learn the inside of the guitar. We both shared the love for vintage instruments, Eliran was playing mostly electric, and I was playing mostly acoustic, so the match was pretty perfect.

GG: What makes B&G guitars unique?
Kiki: Starting from the design – we are great traditionalists when it comes to guitars but also like to innovate and renew. Our guitars' look and feel is old, while the design is actually unique and fresh. As for the guitars themselves – we build them using traditional methods which were used in the golden age of the electric guitars, techniques which are quite rare today due to low efficiency in manufacturing.
GG: B&G guitars are instantly recognisable. Where did you go for inspiration in terms of design and influence? 'Golden Era' seems to be a suitable phrase...
Kiki: I would say it's a combination of the Golden Era and pre-war acoustic guitars (mostly Stella). While the Little Sister concept was designed by David Weizman, we added the playability and tone of the Golden Age electrics to make it a true mix of both Eliran's and my own passion.
GG: Could you tell us about the benefits of brass hardware over other metals? Is the process to create, say, the Private Build brass bridges a difficult one?
Kiki: The process is pretty difficult and expensive because brass is not an easy material to work with. However, the tonal qualities are much better than any other material we tried, and definitely make it worthwhile.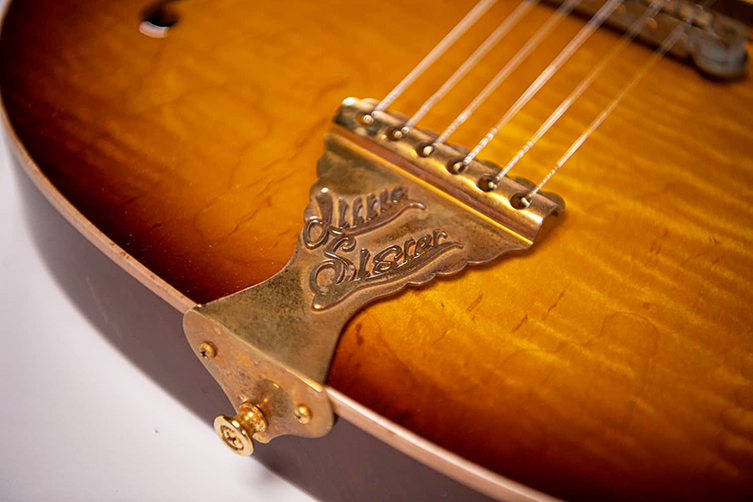 GG: B&G make their own pickups, too. Are there particular goals in terms of magnets, output and windings that help bring out that 'B&G sound'?
Kiki: In pickups we follow some insights that we have learned from pickups made in the 50s and stick to them, for that earthy, airy tone with some crunch and sparkle. The materials also make a huge difference, and we source each piece from a different supplier, to make sure that end result is exactly as we desire.
GG: Your Kikbucker is hum-free isn't it?
Kiki: Correct, this is my own pickup design (and I'm proud of it) hence the name Kikbucker. It's hum-cancelling and sounds like singles. That's the twist.
GG: Following from that, are there any particular specs – timbers, neck dimensions, finishes etc – that really sum up the B&G experience for you?
Kiki: When it comes to guitars, I've always been and will always be a traditionalist. Tobacco burst with a cut, Indian rosewood or Ziricote for the board, and a simple figured curly maple for the top is the guitar I would get for myself. Mahogany is an excellent tonewood for guitars and for that reason most of our instruments utilize that wood for the body and neck. As for the neck shape, a soft V shape for that bluesy feel when squeezing a string was our go to when we first voiced our design. That is just my personal taste, and because each personality is different, the juice of the B&G experience is that if you can dream it, we can make it. We take our customers' requests very seriously and do whatever it takes to hit that spot. That is why we keep in stock many exotic woods, special tops, playful finishes, and offer personal customer service for each of our Private Build orders.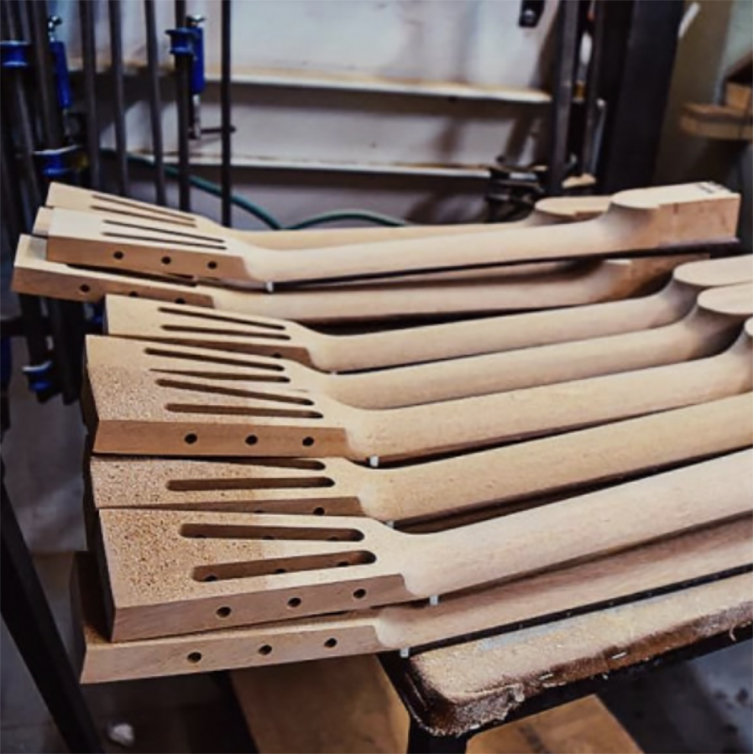 GG: What type of person is a B&G player?
Kiki: Someone who connects to the roots of rock & blues. Someone who has played guitar for a while and looking for inspiration for the instrument. A player who isn't afraid to be different.
GG: Generally speaking, what would be the main differences between a Standard guitar and a Crossroads? Is the level of hand-building and finishing different?
Kiki: The first major difference is the country of manufacturing. The Crossroads series is made in China, under strict B&G regulation and supervision, resulting in the highest level of an Asian manufactured instrument. Each piece from the Standard Build series is made by an elite team of luthiers in our Tel Aviv workshop. Our chief-luthier Eliran and myself are an integral part of the process, and the care and attention each Standard Build guitar receives is at a custom shop grade, just like in our Private Build series.
GG: I heard on the grapevine that a new B&G series may be getting released soon! Could you give us any hints about what to expect?
Kiki: You are talking about the Standard Build series! Still super new, we launched this series less than a month ago. There was indeed a buzz around this series for some time: It is something that we dreamed about creating a while ago - making it possible for the professional player to get a top-notch premium instrument at a reasonable price.
B&G Little Sister Crossroads
To wrap things up, we thought we'd show you a pair of models from the B&G Crossroads range. As you've read from our interview with Kiki, these are made in China to stringently high quality control levels. The two we have here are both 'Little Sister' models, and whilst both share a lot of the same specifications, there are a couple of important differences, too.
Both guitars have semi hollow, f-holed bodies made from African Mahogany with a figured maple top. As you can see, a very tasteful, traditional Tobacco Burst finish has been sprayed on the non-cutaway model, before a super thin coat of UV finish is applied. The Midnight Ocean finish of the Cutaway model brings a totally different, and equally classic, vibe.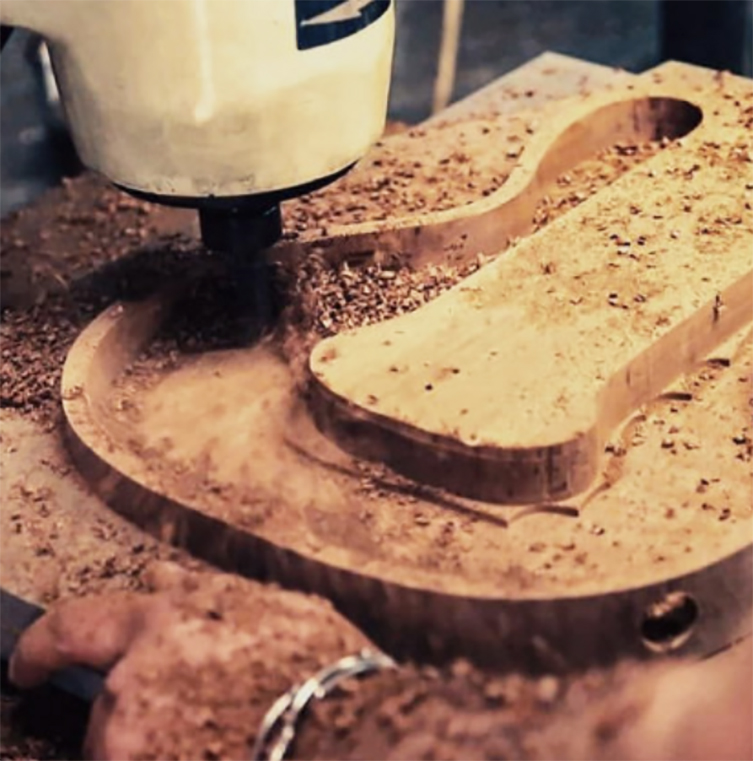 Solid Mahogany is used for the necks, too, which references guitars of the past with a soft V-shaped profile being used on both. A distinctly 'Kalamazoo' approach has been taken with the other specs of the neck" we are talking 24.75" scale length here, and a 12" fretboard radius. Speaking of fretboards, the ones used on these B&G Little Sister guitars are made from 'Katalox', a species of wood otherwise known as Mexican Royal Ebony. Nice!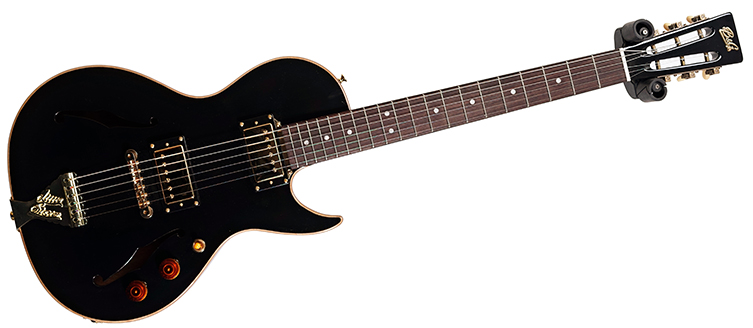 As we learned from talking to Kiki, the pickups used by B&G are designed by them to classic, lower output specs. Our non-cutaway guitar has beautiful P90 pickups, wound to B&G's spec and controlled with a simple 3-way switch, with a master volume and tone to accompany.
The cutaway model here comes fitted with covered humbuckers, specially designed for a timeless PAF-style sound.
Those specially made brass tailpieces add much to the aesthetic, but also the sound. Brass imparts a clarity in the top-end, and also carries sound well, so these tailpieces are useful for sustain. It's all about tone, interaction, touch response and subtlety with these instruments, so players who appreciate such things will be excited by the prospect of handling these B&G Little Sisters guitars!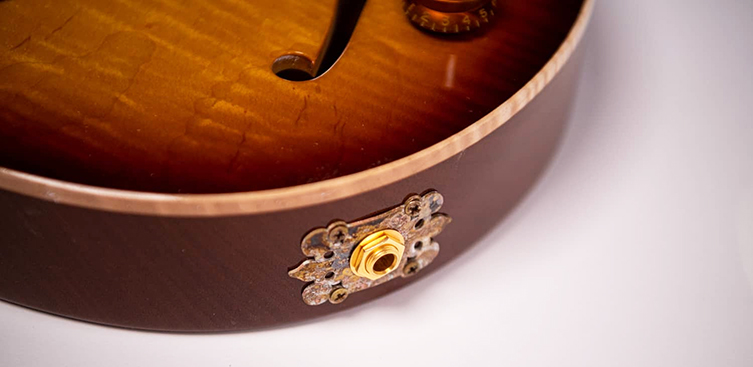 Something Classic, Something Different
We all love our Les Pauls, Teles and 335s, but there is always room at the table for one more, especially if they bring their own special atmosphere and experience. After all, that's half of the fun! We think B&G's re-rendering of classic shapes and styles fits in well with what guitarists typically want, whilst giving them something they've never had before. As we've said before, it's a difficult trick, but when it's done right, you just know it!
We'd like to thank Kiki Goldshtein for taking the time out to talk to us about his company, and we invite you to take a close look at B&G guitars.
Click to View our selection of B&G Guitars