Jackson JS24 DKAM
Published on 15 April 2021
Well, call us impressed.
We see a lot of great guitars here at guitarguitar, but even we had to look twice at the price tag on these new Jackson guitars!
It's easy to be wowed by an instrument that costs £3000+, but how about one that's ten times cheaper? Not so often! It's true to say that the majority of electric guitars these days, regardless of price, are 'decent', but the Jackson JS24 DKAM has left quite an impression. Let's spend a little time getting to know it, shall we?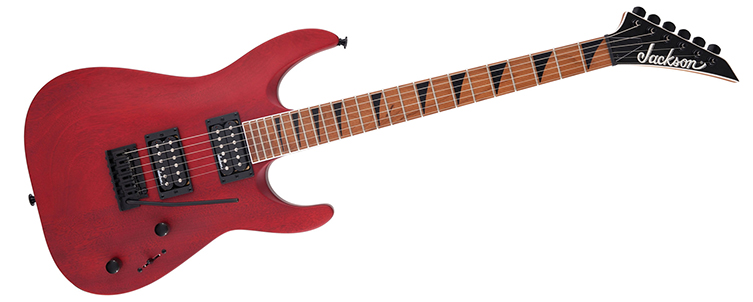 Shred Icon
Now, let's be fair from the off: not everybody is a fan of pointy headstocks. The era of Shred may well be looked upon as a classic time for guitar music, but it's still an acquired taste; beloved by some, detested by others. Okay, accepted. But if you are into the speed machines of the 80s, this little gem will have you grinning from ear to ear! The level of spec on this is amazing for such an affordable guitar. First things first, though: this is a Jackson, with the proper pointy headstock shape, that famous logo and, excellently, those iconic 'sharkfin' inlays. This combination is so evocative, so heraldic of a time when guitars ruled the planet. This guitar even has binding on the fingerboard and headstock, bringing a real sense of the 'expensive' to proceedings.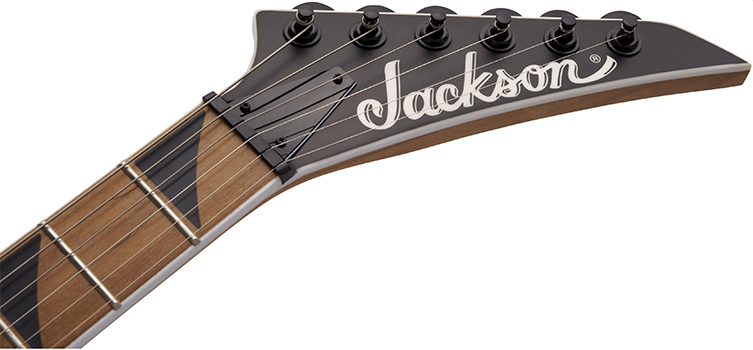 We have this guitar available in two finishes, and we'd say that they are more of a nod to now than the rest of the styling. You can have a black or a red stain finish, both of which are matte and understated. No stripes or neon crackles here, but the finishes themselves are well applied, look great (and expensive) and hit the correct vibe for the tastes of the heavier players of 2021.

Good Foundations, Good Details
So, in the parlance of Jackson, the body is a 'Dinky' style, which is their name for a bolt-on Superstrat. These ones are made with mahogany bodies, which we didn't expect, given that most examples of this style are built from alder or basswood. Mahogany gives the body some density, both in sonic and actual weight. It also has a contoured, arched top, which adds to both the visuals and the comfort. This is a good start!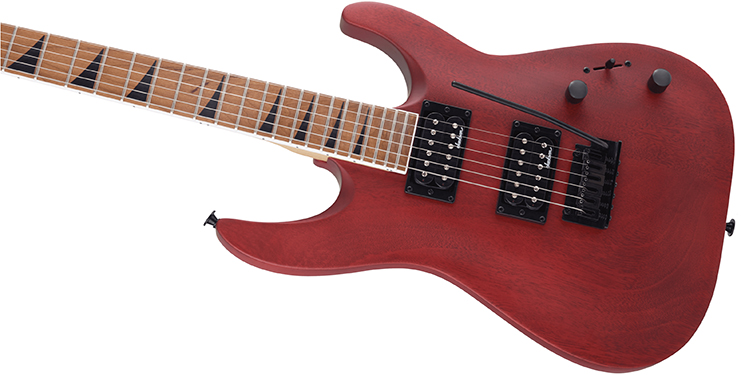 The bolted-on neck is perhaps the star of the show. Jackson have included a torrefied maple neck here, which was, up until recently, quite an expensive upcharge on certain guitars. Jackson call it 'Caramelised', but it's another name for roasting the maple until all moisture is dried out of the timber. The result is a stronger, stiffer neck with a lovely 'tan' from the heat. Torrefied necks feel great, look great and have more strength within them. On a sub-£300 guitar? This is pretty ace!

We've already spoken of the excellent headstock, binding and sharkfins, but the beauty of this neck is not skin deep. Jackson have seen fit to deliver a proper 'speed neck' here: we're talking an actual 12-16" compound radius fingerboard with 24 jumbo frets here! The jumbo frets make faster playing easier since you don't have to push down so much to 'sound' a note. The compound radius fingerboard basically gets flatter the higher up the frets it goes, which is essential if you want to master the more complicated shred techniques that exist, such as sweep picking and string skipping. This Jackson JS24 DKAM is built for performance!
Big Nasty Rock Sounds
Jackson have made the most of that thick mahogany body by pairing it with a set of high output ceramic humbuckers. These are Jackson branded, and have a tight, loud sound with an edge that's softened a little by the thick tone of the body. It's a fact that pickups are often the element that lets down an affordable guitar, but Jackson haven't dropped the ball here. For stock pickups, we think these create more than enough crunch and harmonic goodness to satisfy most rockers. Bear in mind that many popular aftermarket replacement pickups utilise ceramic magnets anyway, so these are a good starting point for quality lead tones. A pickup replacement in the future may well improve the instrument (it often does), but the point is, there is no immediate need at all.

A traditional tremolo system sensibly replaces what in the past would probably have been a locking Floyd Rose system on this type of guitar. Don't get us wrong: we love a good Floyd, here at guitarguitar, but they are not the easiest of mechanisms to work with or look after. Given that this guitar is aimed at the affordable/entry-level market, it makes sense to supply the end user with something that offers some of the function but far less of the hassle.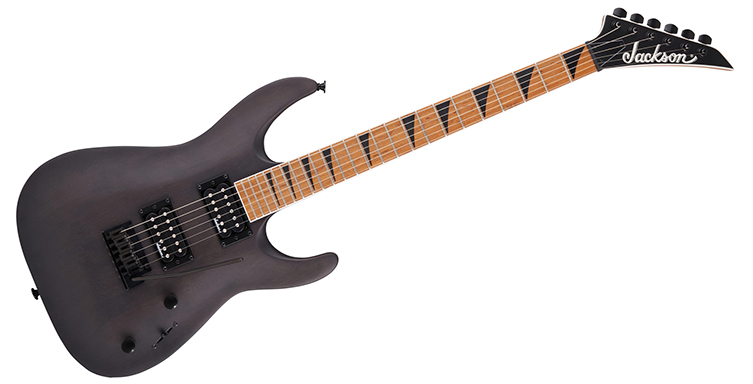 What are You Waiting For?
This Jackson JS24 DKAM is, as you've no doubt noticed, punching squarely above its weight! Having this level of quality available at such a low price is wonderful, and well worth celebrating. Let's face it: how many guitarists don't want to know about a well-made, solid, reliable, attractive instrument that plays well and sounds good? Add to that the huge inherent value involved, and the iconic provenance of the brand, and you have possibly the best deal on an affordable electric guitar we've seen in a long time.