Cole Clark 1 Series Guitars
Published on 16 April 2021
Cole Clark, in one sentence:
Amazing, Australian-made acoustic guitars with one of the world's best pickup systems.
Easy.
We've been stocking Cole Clark guitars for a couple of years now. We're fans of their distinctive style, their attitude towards sustainable building, and of their flat-out brilliant sounding instruments. For a detailed run down, check out our 'Meet You Maker' blog. We've recently taken delivery of a fantastic selection from their 1 Series, so we thought we'd spend five minutes with you checking them out today!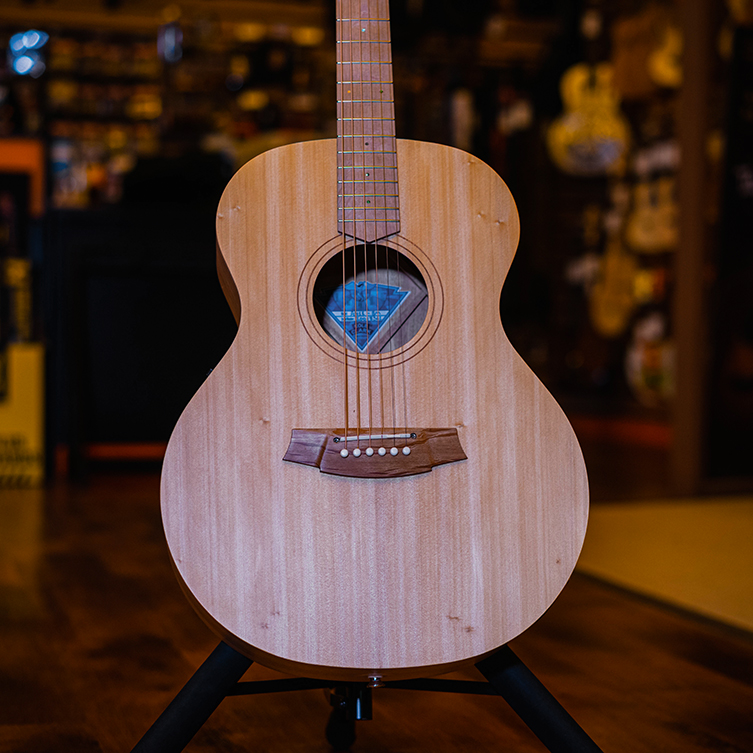 Used by big hitters like Jack Johnson, Cole Clark have slowly and steadily claimed their own area of the acoustic guitar world, based chiefly on their game-changing electronics. As they say themselves, they "invented a pickup and built a guitar around it". It's a catchy, pithy phrase, but it holds true: these instruments truly shine when placed in a live performance context. What makes the Cole Clark plugged-in sound so different?
The Cole Clark Pickup
Generally, acoustic guitar pickup systems make use of one of three main types of technology: the most prevalent is a piezoelectric (normally shortened to 'piezo' and no, nobody ever agrees on how you're supposed to pronounce it) strip under the saddle. More sophisticated systems have mini microphones located inside the soundhole, for capturing a natural, more realistic tone. A few companies, notably Taylor, use sensors built into the underside of the guitar's top, for grabbing vibrations directly from the timber. Each of these methods has its benefits and drawbacks. Piezo systems can sound 'quacky' and have a 'ping' to the sound that can sometimes sound pretty nasty. Mic systems sound wonderful but can be prone to feedback. Body sensors are generally stable but miss some of the 'air' and atmospheric detail that a good mic can bring to an acoustic tone. No matter which you choose, you will have to compromise.
Okay, so how have Cole Clark gotten around all of this?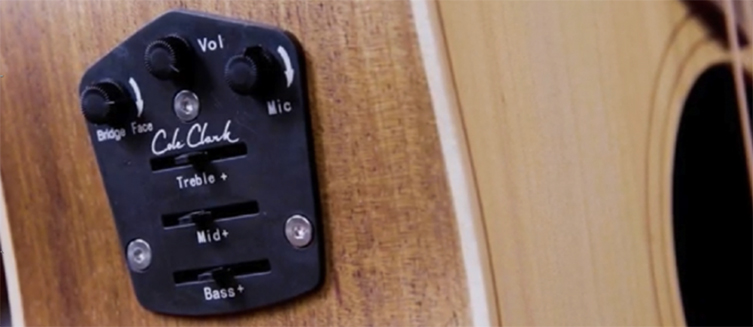 They've used all three systems at once. Yes, each Cole Clark guitar is armed with a proprietary system that combines an undersaddle piezo, a condenser mic and Cole Clark's own patented 'face sensor' technology, all blending simultaneously to produce a unparalleled acoustic guitar tone. Each part of the system is separately EQ'd for a specific 'shelf' in the audio spectrum, meaning that, for example, the mic part is EQ'd to hear only higher frequencies (it simply doesn't pick up lower frequencies), so it can add that air and detail to your tone without being plagued by pesky feedback-inducing lower frequencies. The face sensor takes care of the mids in a similar manner, and the piezo handles the low end of the overall sound, thus providing a full spectrum of tone and avoiding that unwanted piezo 'quack'.
Each part of the pickup system plays to its own strengths and contributes to an overall sound that just cannot be had otherwise. Now, that's something that's worth writing about, and it's certainly worth experiencing for yourself!
What is the 1 Series?
Cole Clark organise their instruments into three series: 1, 2 and 3. Today, we are checking out a couple of models from the 1 Series, but briefly, the differences within the ranges are roughly as follows...
The 1 Series have 'A' grade timbers, no decorative binding or purfling, no headstock fascia. The fingerboard inlays are Mother of Pearl dots and the guitars ship with a heavy-duty gig bag. The 2 and 3 Series use 'AA' and 'AAA' grade timbers respectively, they have increasingly more in the way of decoration and come in hard cases.
The take away from that is that all of the guitars use high quality woods and they all feature the Cole Clark pickup system! Now, we've always felt that part of the Cole Clark appeal is their stripped-down, functional vibe anyway, so the 1 Series kind of makes a lot of sense to use! Let's have a little look at two of their main styles, the Angel and the Fat Lady.
Cole Clark 1 Series Angel
First up is the Angel, which is available from the 1 Series in both cutaway and non-cutaway forms. 'Angel' is the company's Grand Auditorium shape, and is perhaps their calling card. The rounded design is slightly more compact than a dreadnought, but it retains plenty of size in its sound. Projection is impressive too, thanks to Cole Clark's special bracing.
The timbers used on this particular example are Bunya (you can also have Silky Oak) for the top and Queensland Maple for the back and sides (Blackwood is also available). As with all Cole Clark guitars, a large amount of these woods are responsibly sourced and sustainable, not to mention native to Australia and grown locally. It's refreshing to see and also a reminder that you don't always have to have Spruce and Rosewood available in order to make a great sounding acoustic.
Bunya is a relative of the Monkey Puzzle tree and takes around 80 years to mature (compared with 300 for Spruce...) so it's a better bet for responsible builders. Lots of people talk about Bunya having an 'evocative' sound, as if that means something. We'll be more prosaic in our description and say it has a strong midrange, matched with a balanced treble and bass response. This makes it a very good 'top' wood: you'll see lots of Bunya on Cole Clark guitars for this reason. Fun fact: the cones that grow on the Bunya tree can weigh a terrifying 10kg! Mind your head, mate!
Queensland Maple, at least in terms of tone, has a misleading name. Hailing from the rainforests located in Northern Queensland, Queensland Maple actually has tonal properties much closer to Mahogany, to the extent that it's a very agreeable substitute for it. Queensland Maple has a strong tone with an equal spread of frequencies, making it a useful 'amplifier', which is really what an acoustic guitar's back and sides are for, when you think about it. They take the vibration and energy from the top and push it into the space inside the body and then out via the soundhole. Queensland Maple is very good at doing this.
The Cole Clark 1 Series Angel has a satin nitrocellulose finish, like all Cole Clark guitars. Nitro finishes offer a specific feel and touch, whilst also ageing and beautifying as time marches on. These Angels are simple, effective and lovely, in a uniquely understated way.
Cole Clark Series 1 Fat lady
It's an unusual name for sure, but the Fat Lady is Cole Clark's name for the dreadnought body shape. It's the most popular design in the business and is famous for being equally good at chordal strums and detailed fingerpicking.
As with the Angel, the Fat Lady is available with and without a cutaway, so it's down to your own preferences on that one. The Series 1 Fat Lady is available with those same tonewoods we just mentioned, but as it's also available with Blackwood for the back & sides, let's investigate that a little.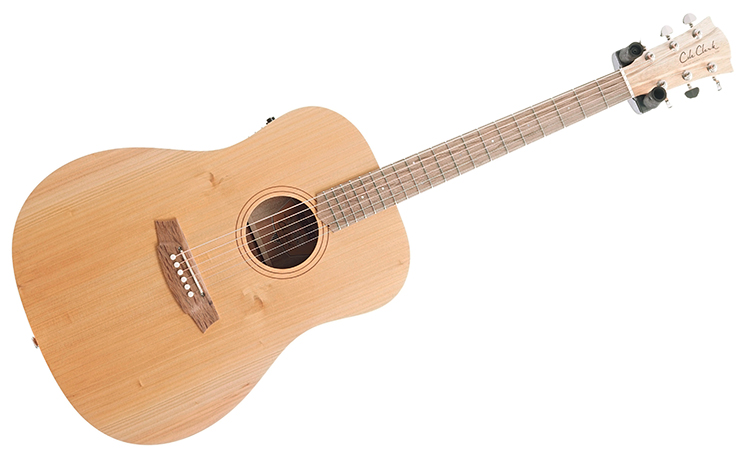 Blackwood is Native to Australasia and is sourced by Cole Clark from both Victoria and Tasmania. Visually, Blackwood can be pretty stunning, often showing lots of figuring. It's Cole Clark's number one wood for guitar bodies (i.e. the back and sides) since it's so warm and clear sounding. Think of Koa and you're close to being there.
The Fat Lady is as versatile and useful as you'd expect from an all-solid timber dreadnought built with precision and care. This is the type of guitar you'll take with you everywhere you go, almost willing it to begin showing signs of battle damage as it accompanies you on countless adventures. Indeed, that is very much the case with both of these guitars, and the 1 Series in general: there's a real tactility to them, a desire to constantly pick them up and play something. That, as we know, is everything, really.
Cole Clark 1 Series
So, the Cole Clark 1 Series offer something different to the usual traditions. These are not museum pieces, nor are they facsimiles of famous century-old acoustic guitar designs. They do not conform to the usual practices of tonewood combinations, nor do they claim to be all things for all players. Instead, they follow their credo – "Made Different to Sound Different" – and actually deliver on that.
These are a serious and legitimate alternative to the usual choices you get in acoustic guitar land, and as such, they are a breath of fresh air. We love the clean, stripped back 'desert' look, the playability and the dedication to providing a world-class plugged voice for performers. If you are out gigging a lot with acoustic guitars, and you want to treat your audience to a superlative sound, you should already be looking at Cole Clark guitars. If you appreciate value and performance, then you'll love the 'ready to rock' nature of these 1 Series guitars.
Click to View our Cole Clark 1 Series Guitars