Josh Smith Facebook Live Takeover
Published on 17 June 2021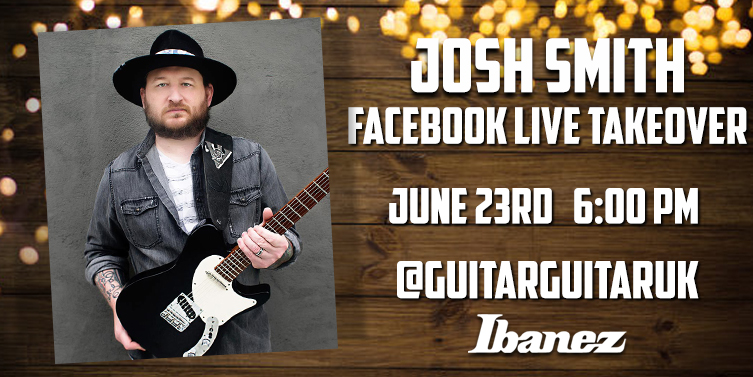 Combining blues, rock and jazz to create a hypnotising playing style that's totally his own, Josh Smith is one of the most exciting guitarists in the game right now. Also an accomplished songwriter with a fantastic singing voice, his music has an undeniable swagger that we absolutely love. Let's face it, if Joe Bonamassa calls you one of his favourite musicians, you're doing something right. We've had our eye on Josh for a while now and since he's a proud Ibanez player, we thought we'd invite him to take over our Facebook live stream. We're happy to now be able to announce that, of course, he was well up for it and we're all in for a real treat next week. Read on for how you can tune in...
How to Get Involved
On Wednesday the 23rd of June from 6:00PM, Josh will be joining our friend and Ibanez Ambassador Lee Wrathe to dish out some blues secrets, give us a run down of his signature model and answer any burning questions you have for him. Whether you're a blues fan, an Ibanez enthusiast or just a general guitar geek, this is an absolute must and we can't wait to hang out with you all.
In fact, we were so excited that we thought we'd throw in a few of prizes for the good folks tuning in... On the night we'll be giving away an ES-3 Echo Shifter Delay and two OD850 Japanese Made Overdrive Pedals! We know how you lot love turbo charging your pedalboards so tune in and get involved. All you have to do to be in with the chance of winning is ask a question on the stream. If your question gets chosen you'll be entered into a draw where three winners will be chosen at random and announced on the night - simple!
We cannot wait to catch up with Lee, Josh and all the rest of you so don't miss the stream. It's going to be a fun one!