Sophie Burrell Clinic and Live Stream
Published on 02 August 2021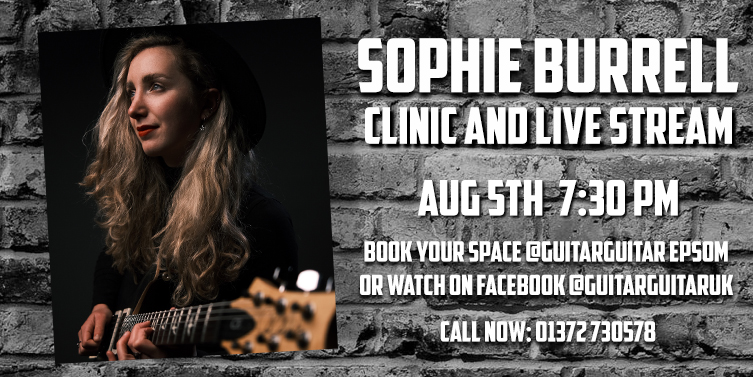 We love finding up and coming new guitarists who are lighting the scene on fire. In fact, the only thing we love more is having the chance to share them with you lot! Sophie Burrell has been knocking about our 'Ones to Watch' list for a while now, amassing an enormous following online thanks to her gobsmacking playing. Sophie is a fascinating player, combining a wide variety of influences to create a unique playing style and sound that's ever evolving. Although well known for technique and tutorial videos, along with imaginative guitar covers, she's recently released her first single and it's safe to say it's lived up to our (very high) expectations. We've been dying to catch up with Sophie and learn a bit more about her techniques, so what better excuse than our Epsom store's 10th Birthday celebrations? It's only right...
How to Watch
This Thursday (05/08/21, 7:30PM), Sophie Burrell is joining us at guitarguitar Epsom for an exclusive clinic in association with our friends at D'Addario. We're absolutely buzzing to meet her and pick her brain about all things guitar, so make sure that you join us. On top of that, the D'Addario experts will be with us during the day to hook y'all up with free restrings so give the store a ring to get yourself booked in and give your guitar the TLC it deserves.
If Epsom isn't your local store, don't worry, we're live streaming the full event so none of you will have to miss out! Tune in live on our Facebook page or give us a call on 01372 730578 to book your place for the restring or the event in store - be warned though, spaces are very limited so be quick!
Head to our Facebook page now.
Check out the rest of guitarguitar Epsom's 10th Birthday activities.