SCHECTER: The Most Versatile Guitar Brand?
Published on 20 October 2021
What images spring to mind when you say 'Schecter guitars'?
Loud finishes? Metal? Gothic-looking inlays? Mock-Satanic model names?
We'd also say 'yes' to all of the above, given how well Schecter cater to the 'Spooky n Heavy' demographic, but there's a whole lot more to the story than just that.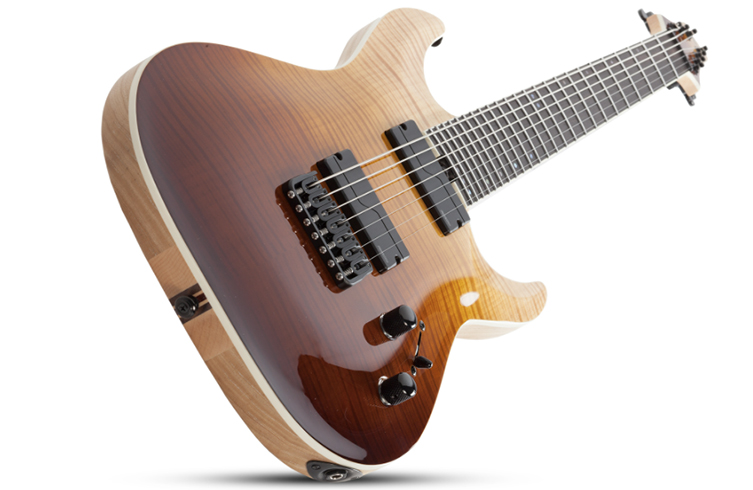 We've been big on Schecter for a very long time now here at guitarguitar, and we all have our favourite models. Today, we thought we'd go off-piste slightly and show you some less obvious Schecters, models that perhaps owe a little less to HP Lovecraft and a little more to the company's roots as one of the original Californian boutique guitar companies. You know, the guys who made guitars for Mark Knopfler and designed the PT with Pete Townshend? Those guys. We'll see today that Schecter actually offer some of the most diverse and versatile electric guitars available from any stable. That being said, we'll be keeping with the 'weirdness' on occasion, as some of Schecter's new guitars are just too fun not to include! And yes, maybe we'll have some time for a dark gothic rock monster guitar or two as well! Henceforth!
Schecter Jack Fowler Traditional Ivory
First up, we have this somewhat alternative take on one of the oldest designs in the book, the classic S-type. This model is the signature axe of Jack Fowler, not the 'musical artist' from Love Island but in fact guitarist with Sleeping With Sirens. His tasteful redrawing of the perennial template includes switching out the expected trio of single coil pickups for two USA-made Schecter Pasadena humbuckers, with a push/pull function on the tone pot to 'skinny up' those beefy units.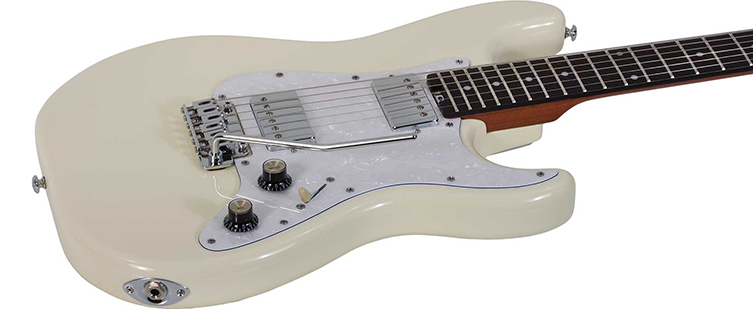 As with many current guitar models, the Schecter Jack Fowler comes with a roasted maple neck. This is a process you'll all be well-versed in by now, but for a recap, the timber is subjected to extreme temperatures in order to remove all moisture and strengthen the very molecular structure of the wood itself. Sounds crazy but it works, and the benefit for the guitarist is a lightweight, super-strong neck. This one has an Ebony fingerboard too, with 22 humongous frets and a modern 14" radius, meaning you can fly on this thing as if you're riding Pegasus himself!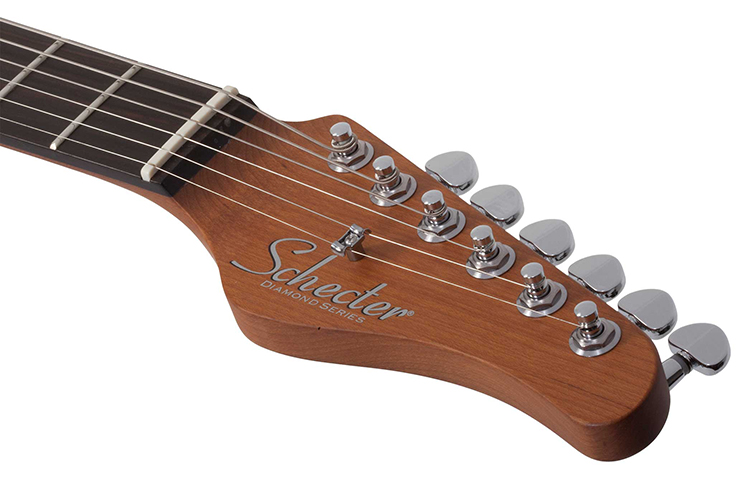 Schecter PT Special Aqua Burst
From the Classic S-type to a fresh update on the T-style, this PT Special is a feast for the eyes and the ears. This is a great example of what Schecter can offer: a classic looking guitar with a bit of a twist and some well thought-out hardware added in to the fun.

This PT has a bound swamp ash body, and they've made the most of that wonderful timber's giveaway grain by using a translucent finish. It's pretty gorgeous, and isn't the kind of colour you'd normally find on a guitar like this! The neck is maple, and the rosewood board is also bound in the same cream plastic as the body for a refined look. Here is where Schecter 'go modern', with a flat 12" radius on the board and, once again, extra jumbo frets. It makes playing easier and more fun, so we're on board!
You'll have noticed the P90 in the neck position, a nice change from the norm. It's neither a typical tele choice nor a humbucker, but it sounds wonderful and gives this guitar its own voice. This voice is further enabled by a push/pull series/parallel control in the tone knob, so you can thicken up the tone as required!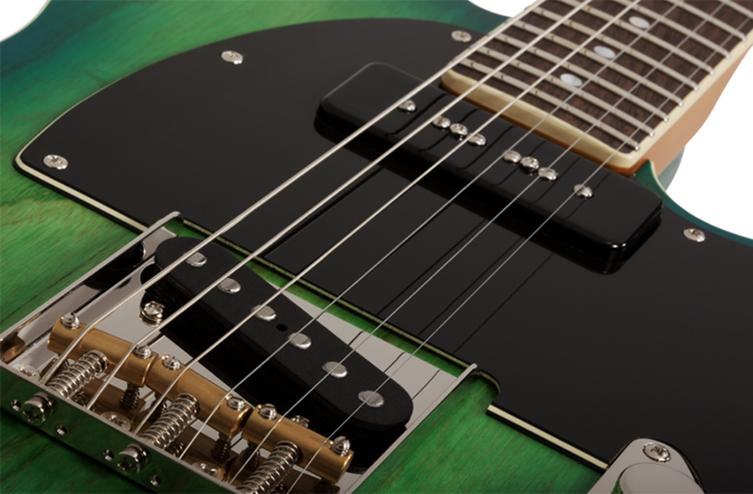 For the more traditional player who wants to stand out from the crowd, this PT will see you right and then some.
Schecter Corsair Gold Top
Sticking with the slightly more retro feel for this next one, we couldn't pass up an opportunity to slide this magnificent beast under your nose! This Schecter Corsair is clearly one pirate who's found the treasure chest, judging by that gorgeous gold finish! The inspiration is obvious here but what's cool is the fact that the Corsair is no mere copycat: it inhabits its own authentic vibe.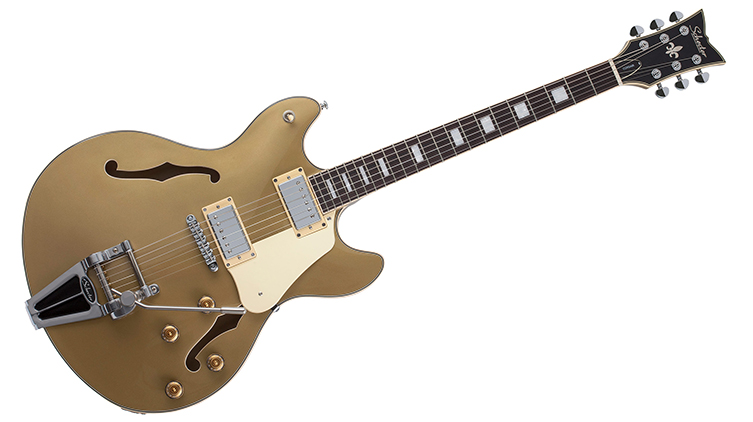 It's straightforward 'class' across the board here: vintage voiced humbuckers (with the standard push/pull that Schecter are always good enough to include), an Ebony fingerboard with lovely big block inlays, a 14" radius and, in a somewhat shocking move, MEDIUM frets! We know! We applaud the brand for not just idly throwing the same hardware on every model, but instead judging what's the best for each model. This guitar is defiantly 'vintage' in approach, so medium frets really helps sell that feel.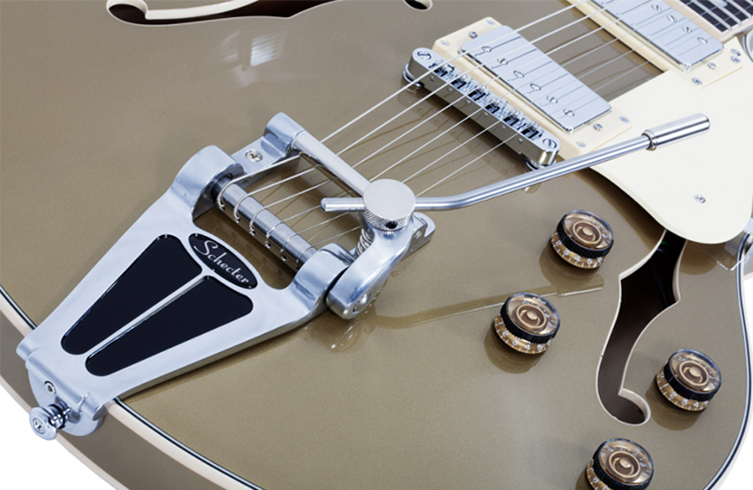 You'll notice a suave looking tremolo system, too. That is Schecter's own take on the famous Bigsby, and this version offers the same smooth wobble and accompanying cool-factor. We can see this Schecter Corsair appealing to a large cross section of guitar players, from rootsy blues fans to the more alternative Cure/Cult/Killing Joke-influenced crowd. It's cool to be cool, after all.
C-7 SLS Elite Antique Fade Burst
Now we move into a territory perhaps slightly more obviously 'Schecter' with this impressive 7 string. The Schecter C-7 SLS Elite uses the 'chunky superstrat' body familiar to millions of Schecter fans, and is spec'd up for some real musical fireworks.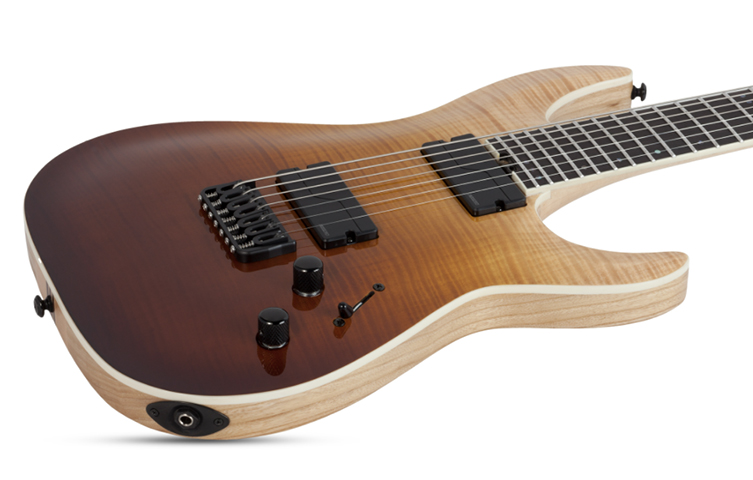 The first thing to marvel at is the beautiful gradient finish, known as Antique Fade Burst. This type of colour fade is currently de rigeur and suits the forward-thinking vibe of the guitar well. It's nice and bright, which a new generation of technical players seem to be taking to. It's not all matte-black any more for the heavy brigade!
The wonderful flame maple top hides a gorgeous through neck build, made with maple, walnut and padauk. It's beautiful to look at for sure, but it also means that the neck is extra strong and secure. The body itself is constructed by adding to pieces of swamp ash to this central part. It's a wonderful, lavish build indeed.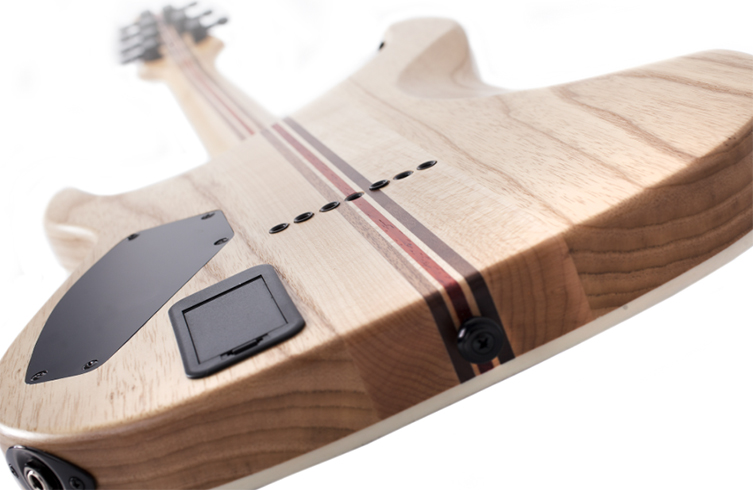 Schecter haven't scrimped on the hardware either. In addition to a quality Hipshot bridge, locking tuners and Ernie Ball compensated nut, there is a set of active Fishman Fluence Modern pickups on board. As with much of the rest of this guitar, this choice is very 'now', with scores of top tech metal guys moving over to Fluence for their extra tonal choices and sharp response. If you want a cutting edge 7 string, this colourful Schecter delivers.
Schecter PT Machine Gun Kelly Signature
This bright pink PT is not for the faint-hearted! The Schecter Machine Gun Kelly PT is simple, effective and loud in all the right ways. The look of the guitar will certainly divide opinion (much like the artist himself), but there's no denying the quality of the build, nor the effectiveness of the design.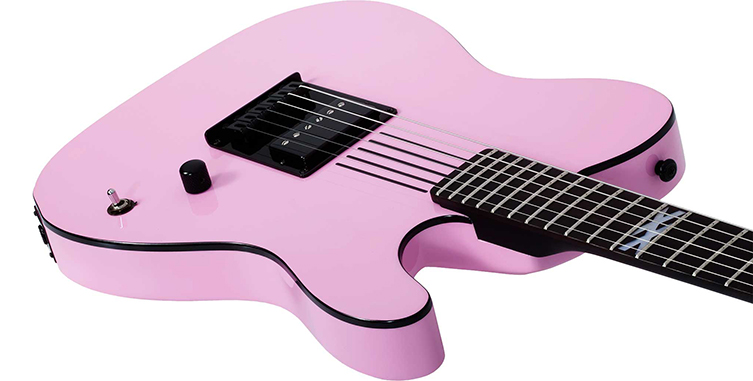 It's a very direct guitar, with a simplified layout that gets straight to business. We have one USA-made Schecter Pasadena Plus humbucker at the bridge, a volume knob and a kill switch. The Ebony fingerboard has, surprisingly perhaps, 24 frets, and also a 14" radius for a decidedly modern feel. Luminlay side dots let you see where your hands are going under dark stage lights, though presumably the guitar's pink finish will help out there too.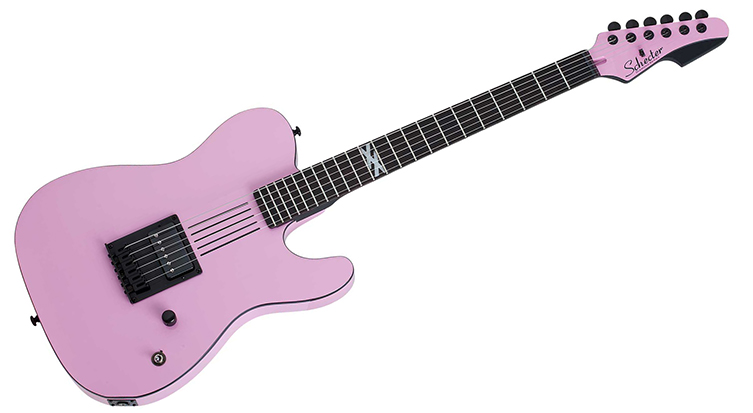 Obviously, this is one of those guitars that may be on the 'niche' sides of things, but there's no mistaking what a capable rock animal it really is. The PT has been a GG favourite for years – how can you not like a turbo-charged tele-style? – and this one is particularly bold.
Schecter Sun Valley Super Shredder Exotic Black Limba
Our penultimate choice for today reminds us strongly of the custom instruments that made Schecter's name in the early 1980s. This Sun Valley Super Shredder Exotic even references the original Van Nuys workshop with the 'Sun Valley' part of the name, so we're on point here!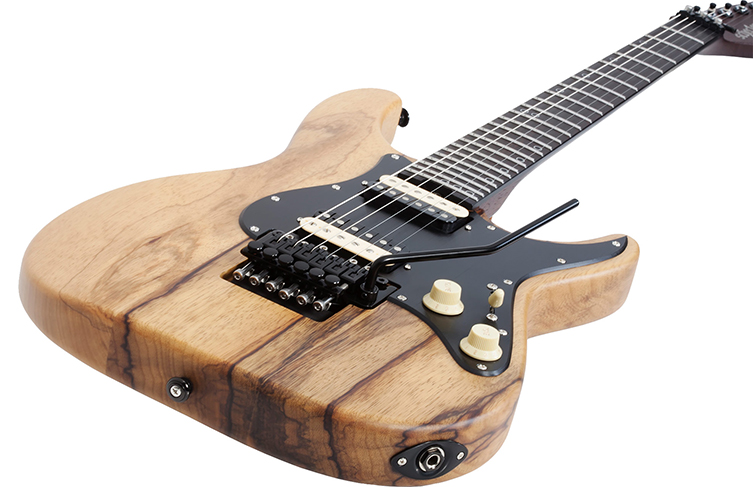 This beautiful guitar uses Black Limba, a West African timber not unlike Korina, for the body. There is stunning streaking throughout the timber, as you can see, and rich tone wood properties, making this an all-round great choice for a guitar body!
The excellent wood choices continue with the neck, which is made from wenge and sports an ebony fingerboard. We've seen a lot of ebony on today's Schecter models, which only makes us smile since it is easily one of the most pleasurable woods to play on, regardless of style. It's tight and bright sounding, with a visual appeal like no other timber.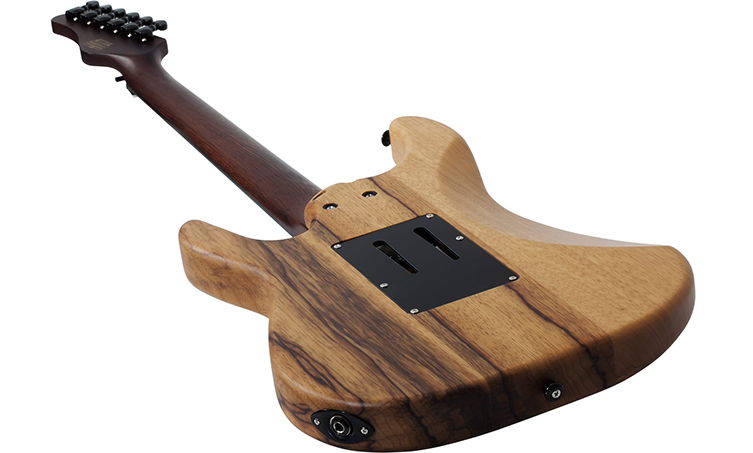 Given that this model is loosely referencing the gunslinging 80s, at least in general design, it seems fitting that it comes supplied with a Floyd Rose tremolo (a Hot Rod model, exclusive to Schecter) and a pair of appropriately-named pickups: a Sunset Strip in the bridge and a Pasadena in the neck. We all know what this Super Shredder guitar is designed for, but it's a proper tone machine in any given style. It's both elegant and outrageous, not an easy trick to pull off!
Schecter C-7 FR-S Silver Mountain
Well, we did say we'd include one gothic monster, and this is pretty much the perfect one! We can almost hear the design meeting for the Schecter C-7 FR-S Silver Mountain taking place: 'Guys, what'll we do for this one?' 'Just throw everything at it!' What a gloriously OTT instrument this is: a 7-string battle beast with a spectacular finish, a Floyd Rose tremolo and a Sustainiac system! Talk about sonic mayhem? This thing is the very definition.

As we've noticed already in this article, Schecter don't hold back on delivering top quality appointments and this Silver Mountain model is no different. It's an ebony fingerboard again, this time with stainless steel frets, which is super-impressive at this price. Stainless steel frets almost never wear out, and are often seen as a real premium up-charge. This is just one of the great features you get on this guitar.
There's the 1500-series Floyd Rose trem, a heavy duty model that's ready to take all of the whammy abuse you can give it. There's the set-neck Mahogany construction with carbon fibre rods going through the neck for even more stability. There's the USA-made Sonic Seducer bridge pickup and, of course, there is the pandora's box of tricks that is the Sustainiac system. This unit, powered by a 9V PP3 battery, will sustain notes, chords and harmonics forever and a day, transforming your whole style and adding a ton of creative potential to your music. If you haven't tried such a device, you'll have a ball when you do!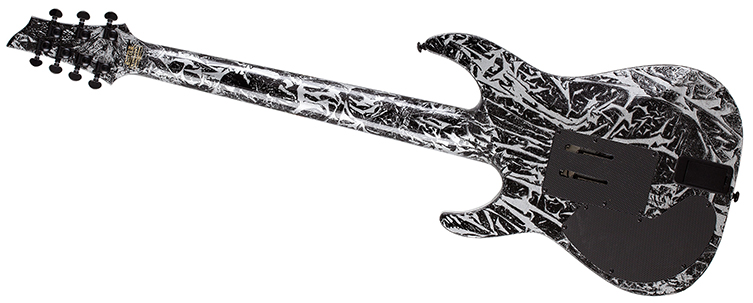 This obviously is not a guitar for blues jamming, but in the appropriate hands, it's a veritable armada of sonic annihilation. Beast Mode activate!
Schecter: The Most Versatile Brand Around
These seven choices here illustrate, to some degree, the level of diversity you can find all under one roof at Schecter. As a brand, they actually go even further into unusual shapes, finishes and designs, but we wanted to focus on areas where they intercept the mainstream at effective and original points.
What we're learned – in fact, known for some time – is that the standard of quality and build is spectacularly high across the board. Schecter may have history as a Californian custom shop but these are all 'standard' factory models, imported from South Korea. These guitars are easily good enough to meet the demands of busy and picky professionals, and they frequently do! Schecter are putting out some of the most inspiring, most competitive guitars in the world right now, and are adding a ton of character and fun to the process! Join the ranks of those who know, and give Schecter guitars your full attention today! You'll find an incredible selection of models at each guitarguitar location, and of course, you can browse our entire stock right here on the site. Spend some time with the most versatile guitar brand around, and find yourself inspired.
Click to View our Huge Selection of Schecter Guitars
Ray McClelland