Artist Signature Guitars: Heavy Styles
Published on 01 November 2021
Here's a question for you: when you are interested in an artist signature guitar, is it because you admire and respect the artist (and presumably want to attain something of their tone and approach) or is it based squarely on the instrument itself?
For example, how many Ibanez JEM owners are not Steve Vai fans? Some signature guitars definitely evoke hero worship more than others, making the whole subject very interesting for guitar fans. Presumably, using the same equipment as an admired artist will get you closer to their sound and vibe, not to mention adding some influence to your own playing, right?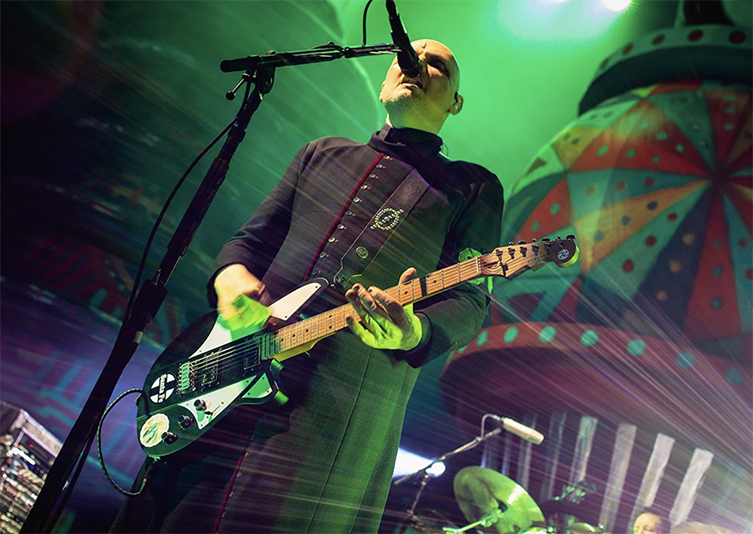 (Photo: Reverend Guitars)
Returning to our initial question, perhaps it's a little of both, particularly with guitars that are somewhat more anonymous in decoration? Ed O'Brien's signature Strat, for example, doesn't even have his name on it, further removing the artist association.
Whatever you think about this particular subject, it's fair comment to say that artist signature guitars are a significant part of the guitar world in general, and has been that ways for many decades. It's always fun to see what a particular player prefers in terms of hardware and finishes. If they play a style similar to your own, you may even have similar ideas about what you want on your instrument.
We love seeing what comes up next, and that's partly why we've started this new blog series on artist signature guitars. In fact, there is such diversity out there, we've decided to tackle the subject in sections, starting today with signature guitars from the heavier, more metal genres.
Signature Guitars for Heavier Genres
Our list today contains signature guitars for artists we consider to be on the heavier side of the spectrum. Heaviness is of course subjective, so whilst Avenged Sevenfold are a world away from Meshuggah, there is enough of a through line to indicate shared influences and so on. We've selected a few that we like, but please understand that this is not exhaustive: there are simply too many options out there! So, guitar fans, put on some intensely riffy music to accompany our adventure into the land of metal-esque signature guitars...

Jackson Custom Shop Adrian Smith 2 Minutes to Midnight
Let's begin this blog with a bang! You don't get bigger metal than 'the Maiden', and so they deserve some special treatment in the signature guitar stakes. How about a master built Adrian Smith signature Dinky from the Jackson Custom Shop, with hand-sprayed art by airbrush maestro Craig Fraser?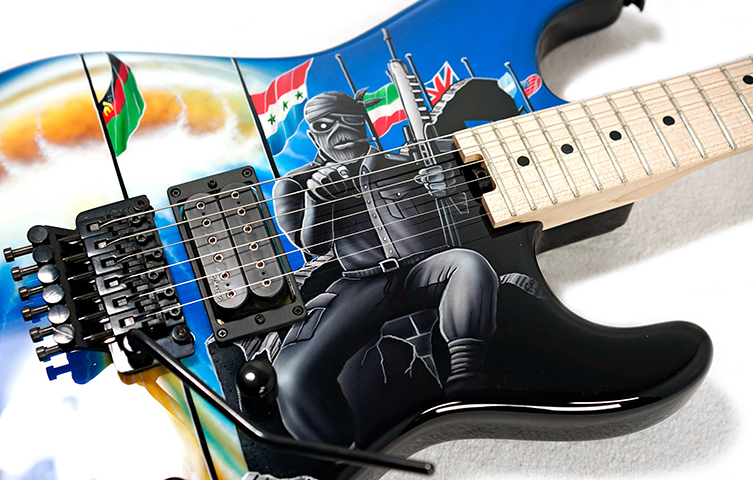 The art is taken from the cover of the 2 Minutes to Midnight single, an early classic for the band. This rare and epic guitar comes complete with a Floyd Rose tremolo and a single DiMarzio Super Distortion humbucker, all you need for dishing out some mayhem! There are only 20 of these beauties in existence. Get yours before the clock strikes midnight!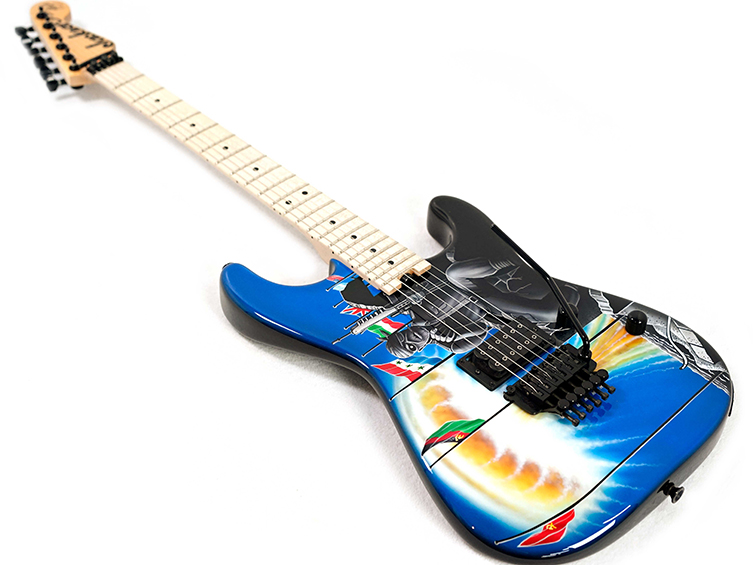 Gibson Tony Iommi SG
The accepted image of Black Sabbath's Rifflord™ is large moustache, black clothes, plastic fingertips and a menacing black SG, often with gothic cross inlays. It comes as something of a surprise to some fans to learn that he actually unleashed most of his unholiest riffs from a Cherry Red P90-adorned SG instead! Gibson knew this, of course, and here is their latest Tony Iommi artist signature model of it.

Tony's original was known as the 'Monkey' guitar since he'd placed a cartoon monkey sticker on it. Since monkey stickers aren't very scary, this signature model comes with said sticker in the case (Gibson have mercifully given you the option of using it or not), and have included all correct mods and details, including a bound fingerboard and chrome covered P90s. Whoever reckons P90s aren't 'heavy enough' needs to go back to Sabbath and take a lesson.
Slipknot Guitars from Fender and Jackson
Undoubtedly modern metal's gruesome twosome, Slipknot's Jim Root and Mick Thompson combine to form one of the deadliest double guitar acts in history. They each have signature axes, with Fender and Jackson respectively. Interestingly, their instruments are pretty different superficially, but somewhat more similar once you get past the look of each.
First up is the Fender Jim Root Jazzmaster. It's about as far away from a traditional JM as you could be whilst still sharing the basic shape. Like Jim's other Fenders (he has a signature Telecaster and a Stratocaster), this Jazzmaster has been stripped of all unnecessary features and decorations, leaving only a volume knob, a selector switch and a set of Root's own EMG Daemonium active pickups. It's lean, utilitarian, and designed to smash planets. Read our exclusive Jim Root interview to hear more!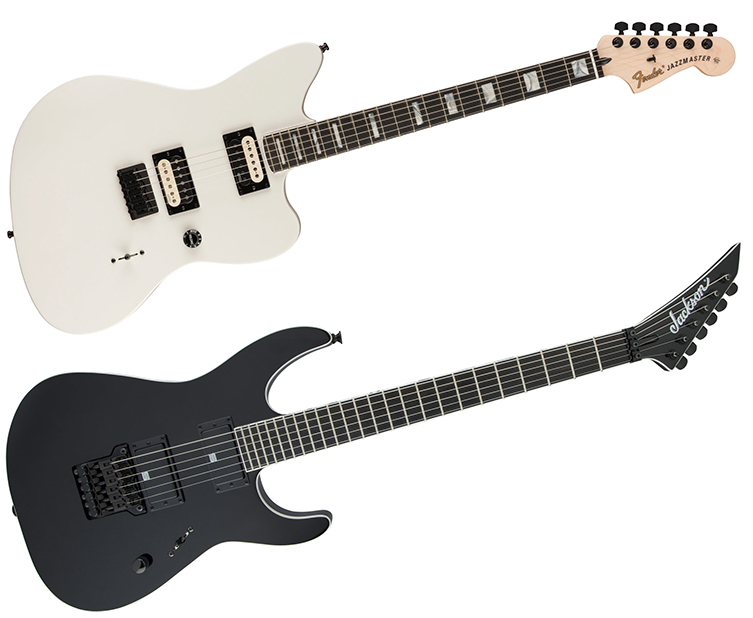 The Jackson Mick Thompson SL2 cruises down a more traditionally 'metal' road with its superstrat body and pointed headstock, but otherwise, it's pretty stripped back, too. Mick favours Seymour Duncan Blackout EMPY active pickups as his weapons of choice, and that bridge is not actually a Floyd Rose tremolo, but a locking HT6 hardtail bridge. A compound radius Ebony fingerboard with 24 jumbo frets ensure that all bases, from low-end riffing to high-fret solo excursions, are deftly dealt with.
Replica masks not included (sigh).
Schecter Synyster Gates Custom
Equally theatrical on stage but diametrically opposite in terms of taste is Avenged Sevenfold's flamboyant lead guitarist, Synyster Gates. A man to whom the term 'extra' means very little, Mr Gates employs a wholly recognisable pinstriped axe from Schecter, a brand who definitely know a thing or two about adding pizzaz to guitars.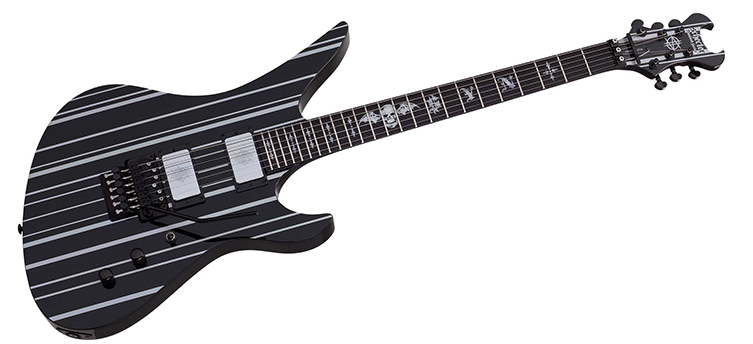 Syn's signature axe is tons of fun: the pinstripes on the finish are silver, in order to presumably reflect more light on stage, and the inlay work on the ebony fingerboard combines gothic script with little bat characters, evoking something of a 'goth-bling' vibe, if such a term can be said to exist. High output pickups and a serious 1500 series Floyd Rose tremolo back up our suspicions that Synyster Gates (real name Brian Elwin Haner Jr) is skilled but not subtle. Who wants subtle in their hard rock anyway?
Reverend Robin Finck Signature
Nine Inch Nails' longtime guitar blaster Robin Finck is associated with loud bursts of futuristic guitar noise and spectral washes of ambient texture. He achieves both with this wonderful Reverend Robin Finck Signature guitar, which is a customised, super-stylish take on their Sensei model.

Made with a Korina body and Ebony fingerboard, the Finck signature has a thick, sustaining tone with a fast attack to boot. A pair of deadly Railhammer pickups bring the heavy, and a simple control section of volume, bass contour (like a high pass filter, it chops the bass out of your sound) and a 3-way selector are all that's required for Finck to wreak unforgettable harm on your ears. In a good way! Judging by the physical ferocity of a typical NIN show, these guitars can clearly withstand quite a bashing, too. For guitar fans who like updated takes on the classics, this SG-like beast is hard to beat. NIN fans, click through to read our exclusive Robin Finck Interview.
ESP LTD Snakebyte
Is James Hetfield the greatest rhythm guitarist in metal? If not, who?
We won't wait for your answer, because it's only going to be wrong. Nobody punches out devastating riffs with as much ease and assurance as Papa Het, and he definitely prefers his ESP guitars to look like this one.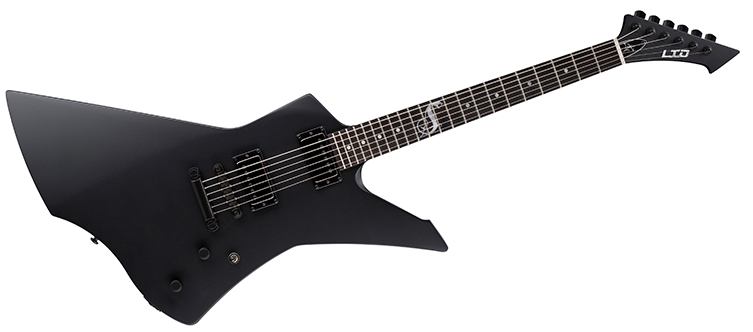 From the mid 80s right up to (presumably) now, a low-slung ESP Explorer-type has been the guitar he's seen with more than any other. The LTD Snakebyte has a pleasingly 'pug-nosed' look with some of the sharper ends chopped off, and James' signature EMG pickup set are installed for maximum pain dispensation. If you habitually place one foot on your monitor wedge, and play using downstrokes only, there's no point looking at any other guitars because this one is for YOU.
Reverend Billy Corgan Signature
Reverend are on a roll with signature artists! Creator of some of the most famous guitar sounds of the 90s, Billy Corgan knows a thing or two about great tone. After a stint with Fender, the Smashing Pumpkins main man has put down some elegant roots with Reverend with this signature model.

Any Smashing Pumpkins signature guitar will have to be able to cover a wider range of tones than usual, and Corgan's spec choices for this guitar are typically well-informed. His signature Railhammer pickups, for example, are high output but have a distinctly P90-ish sound, meaning he can cut through with the best of them, whilst sacrificing none of that famous Pumpkins thump.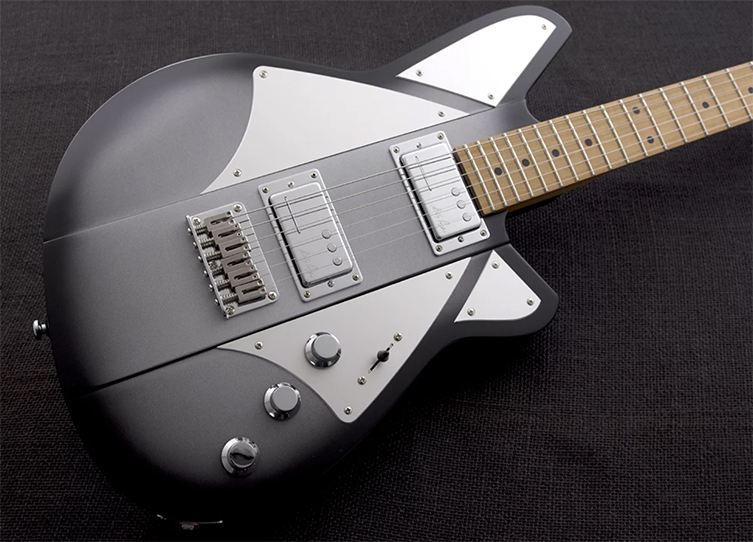 Other cool details include a chambered body (volume and resonance!) and a multi-piece aluminium pickguard. It's rare to find a guitar that doesn't instantly evoke an 'old familiar', but Billy's guitar is a unique design that still feels classic. Good work! For more on all things Pumpkins, click through to our exclusive Billy Corgan interview!
Jackson Chris Broderick Soloist 7
Ex-Megadeth guitar hero Chris Broderick has a relatively unusual signature axe. His Soloist is an offset rendering of the classic 80s shape, and it's also a 7 string! Bridging the gap between hair metal glory and modern day metal machines, Broderick's guitar stands out in a great way.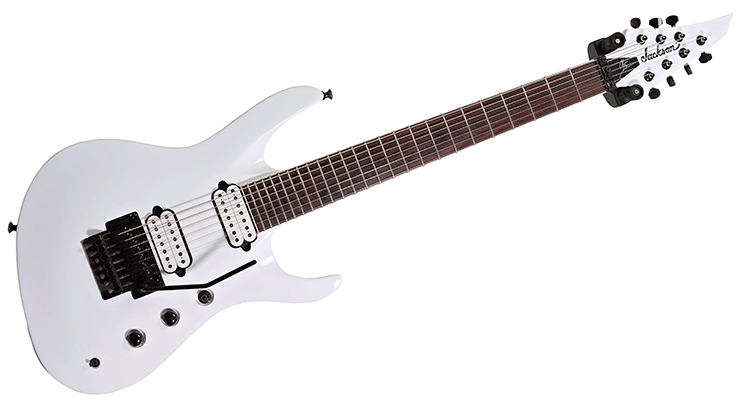 7 string guitars with locking Floyd Rose tremolos are something we don't see too much of these days, and we want to see more! Why shouldn't extended range players enjoy the occasional whammy frenzy? On top of that, there's a built in kill switch too, for real-time stuttering effects. Chris's own signature DiMarzio pickups are bolted directly to the body, a tone trick discovered by Eddie Van Halen. When you have to cover all metal bases on one guitar, this Jackson is surely the choice for you!
PRS Mark Holcomb
Here's another 7 string model, this time for Periphery's Mark Holcomb. That giant of Djent knows a thing or two about huge, contemporary tone, and this PRS SE model is his main tool for the job.

It's a very handsome instrument, with a quilted maple top and ebony fingerboard, but then when are PRS's not gorgeous? Mark down-tunes, so this guitar uses a slightly longer 26.5" scale length to counteract the loss of string tension. He's also a Seymour Duncan endorsee, and his signature Alpha and Omega pickups have been included on this guitar too. It's a lovely thing to behold, with a pretty terrifying tone!
Ibanez FTM33 Fredrik Thordendal
What could be more 'metal' than a baritone 8 string with the nickname of 'Stoneman'? The answer is nothing. Nothing could be more metal than that, and no music is more metal than Meshuggah. It's no secret that we are huge fans of the pioneering Swedes here at guitarguitar, but even we stared slack-jawed when we first laid eyes upon this behemoth!

Obviously not designed for Country covers, the Ibanez FTM33 is purpose-built to deliver the kind of brain-smashingly intense rhythms and solos that Thordendal has been casually throwing out for over three decades now. If it looks big in photos, that impression remains the case in real life: it has a 27" scale length to go along with the oversized 8 string headstock and huge offset Iceman/Firebird-like body. It needs its own stand in our stores, basically.
Sonically, Fredrick's favourite Lundgren pickups are on here, and the 7-piece neck with Ash body wings make for a formidably tight-sounding instrument. It won't help you play the riff to Bleed any better than you could before, but there's no more appropriate an instrument to attempt it on!
Artist Guitars
As you can see, even by gingerly tip-toeing on the edge of this subject, we can understand that it's a vast and sprawling story. We've decided to give 'shred guitars' their own artist blog, for example, since there are just too many guitars available to choose from! What a lovely problem to encounter!
We had to lose some amazing choices from our blog in order to get it ready in time, so there are no guitars for Randy Rhoads, Mark Morton, Bill Kelliher and all of the other great heavy players who deserve their space on here. What we've already selected is a pretty diverse bunch indeed! Thanks for rocking hard with us today, and stop by again for our next slice of Artist Signature guitar action soon!
Until then
Ray McClelland