Yamaha Transacoustics: NEW MODELS!
Published on 09 December 2021
It's time to rethink the whole idea of 'acoustic tone'.
Thanks to Yamaha's pioneering Transacoustic technology, you'll never hear an acoustic guitar the same way again.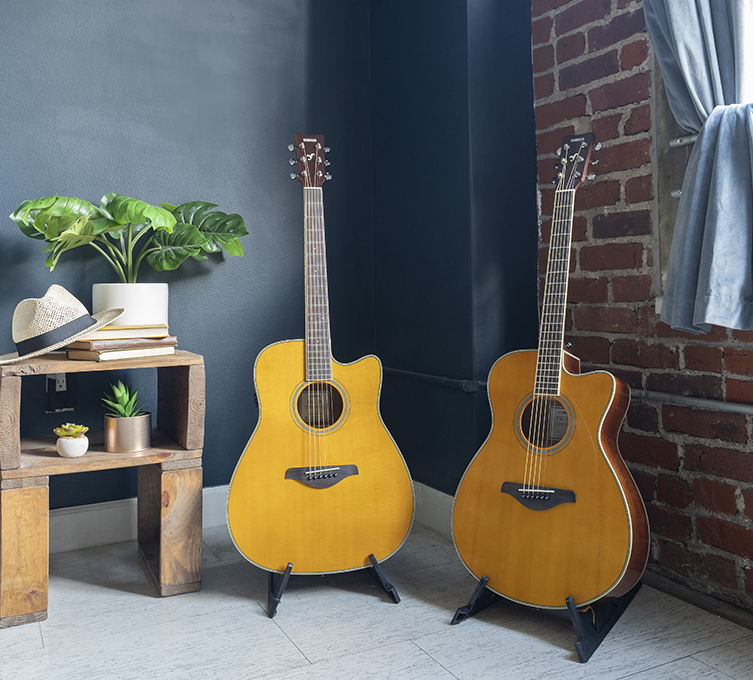 Bold statement? Read on, and as we learn about this game-changing sound technology, we'll also show the BRAND NEW Transacoustic Dreadnought and Concert cutaway models!
Transacoustic: Ambience Built-In
The idea behind the Transacoustic technology is to provide guitarists with beautiful ambience, without the need for an amplifier or any other external sound processing. Onboard every Transacoustic guitar is a System 70 unit, tucked inside the soundhole where you'd normally find an electro-acoustic preamp. This little box uses three discreet controls on the guitar's side to add reverb and chorus to your sound as you play! There's no cabling or speakers, becasue the effects come directly from the guitar, in response to your playing! It's spooky and it works extraordinarily well!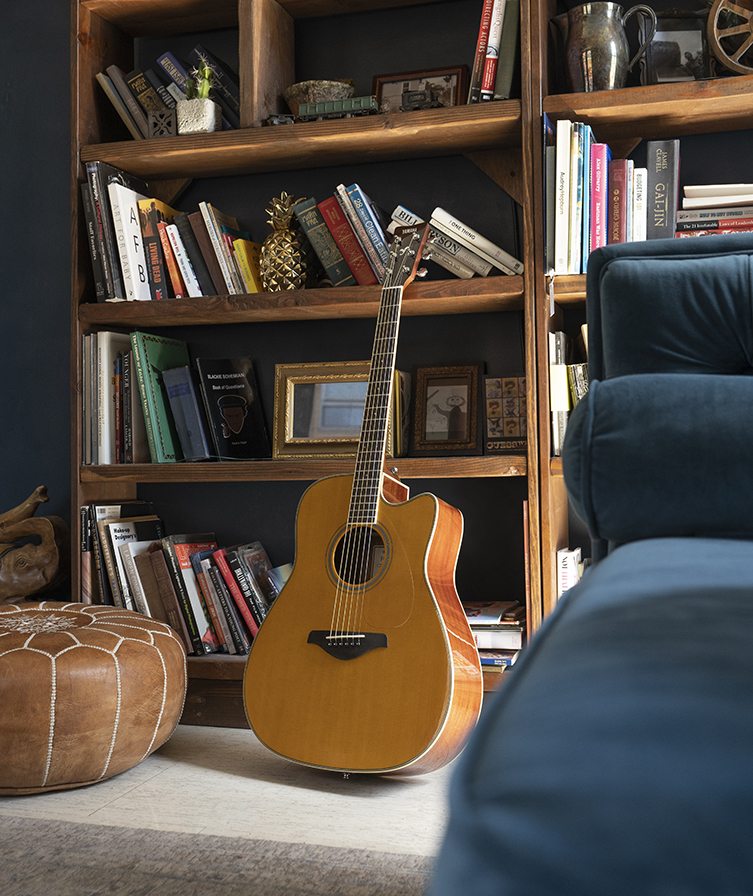 Brighten up any dull or dark sounding room with life and colour just by dialling in a little room reverb, hall reverb, chorus or a mix of both. The Actuator (the box inside the guitar we just mentioned) runs on a pair of AA batteries, and also doubles as a preamp, so you can take the guitar's sound - with the Transacoustic effects applied - out to an amp or mixer with the usual ¼" jack output and play live!
New Transacoustic Models!
Yamaha released the Transacoustic technology a couple of years ago, but the models you see today on this blog are brand new! There is the FGC-TA which is a cutaway dreadnought model, and the FSC-TA, which is a Concert cutaway style. Both share many features, not least the same System 70 electronics, and are available in three colours each.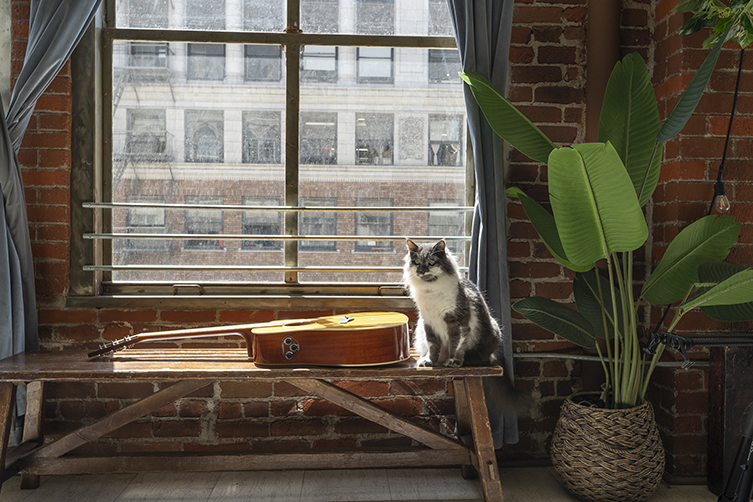 Yamaha FGC-TA
First up, we have the Yamaha Transacoustic FGC Dreadnought. This style of acoustic guitar will be immediately familiar to everybody, of course, and it is built to Yamaha's expected levels of quality. A solid Sitka Spruce top is used for a bright, fast tonal response, and layered mahogany is used for the back and sides.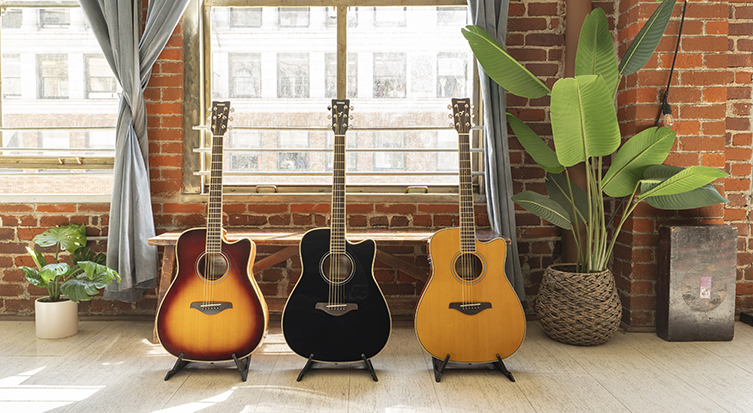 This model is a perfect middle ground for the player who has to cover many bases. Dreadnought bodies put out a lot of sound, with a strong bottom end in particular. Strumming is a very pleasurable experience, particularly with some quality reverb and chorus peppered in from the Transacoustic technology! It's very much an extension of the sound produced by the guitar, rather than something that covers and blankets the tone. These guitars are still very much straightforward acoustic guitars! They just have a little extra dimension to add colour to your playing time.
The Yamaha Transacoustic FGC-TA is available in Black, Vintage Tint (Natural, basically) and Brown Sunburst.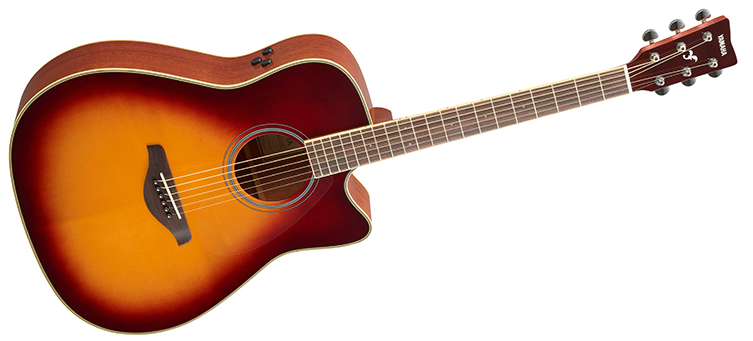 Yamaha FSC-TA
The other model we're checking out today is the FSC-TA, which has a 'Concert' body. What is this? Put simply, it's an ever-so-slightly smaller and thinner body (we are talking a few millimetres here) with a slightly redrawn shape when compared with the squarer shoulders of a dreadnought. It's actually easier to see the difference in the images than it is to describe!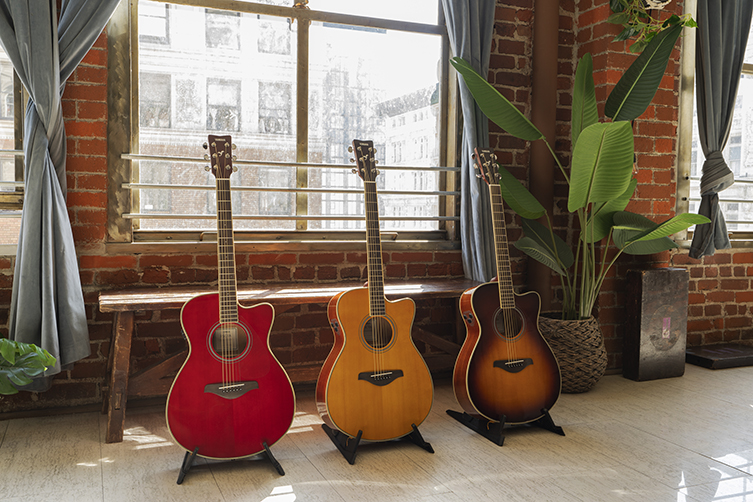 Along with the somewhat skinnier body, the Concert model also features a slightly smaller scale length: 25" instead of the 25 9/16" that the dreadnought has. This means that the concert model will not only feel a little bit different on your lap, it'll also be a little closer in for your fretting hand. All in all, it's a slinkier proposition, and what you may sacrifice in low end, you may make back in playability. It's horses for courses, for sure, but we do love this particular design.
The Yamaha Transacoustic FSC-TA is available in the Brown Sunburst and Vintage Tint finishes, and swaps out the Black colour of the dreadnought for a fetching Ruby Red.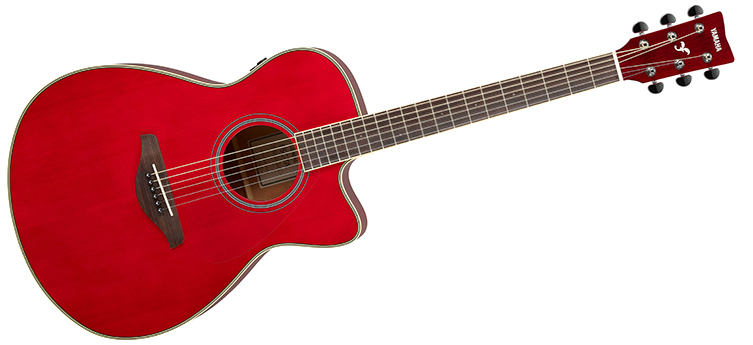 Sonic Inspiration
Transacoustic technology is a marvellous thing to experience first-hand. Your strums and runs have extra life, magically singing from within the guitar's soundhole! We think the main benefit to this technology will be in inspiring players as they practice and write. It's easy enough to plug an electro-acoustic guitar into pedals or plugins, but this is 'in-the-box', as it were, so you can literally have these effects anywhere: in your front room, out in the garden, wandering around in a forest or on the beach (wherever you may take your guitar, basically) and there is no additional paraphernalia to account for, apart from a couple of AA batteries.
Great guitars, with extra magic in the sound department: what more could you ask for?
Click to View our Selection of Yamaha Transacoustic Guitars
Ray McClelland