How Strandberg are Revolutionising the Guitar World
Published on 14 December 2021
Strandberg are revolutionising the guitar world.
The innovations coming from Ola Strandberg and his Uppsala, Sweden-based company have already caused ripples out in the wider market. Huge brands like Ibanez are currently playing catch-up to Strandberg with designs that owe more than a little to the Strandberg Boden, and that's just at face value. Much of Strandberg's significance is revealed upon a slightly closer look, which we'll do today whilst admiring some choice models from our latest delivery of guitars!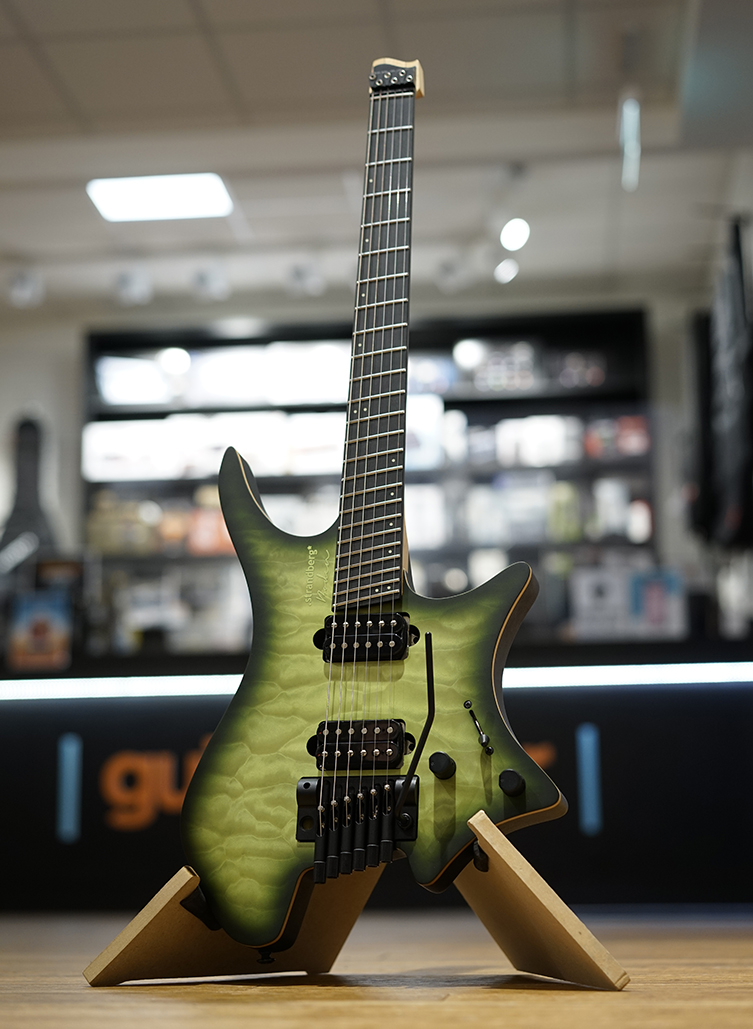 In the Beginning
We've been Strandberg dealers for around 5 years now, and have closely followed the brand as they've developed, introduced artists and gained real traction with the modern progressive, metal and jazz fusion crowds.
Headless guitars with ergonomic bodies are never going to appeal to traditionalists, but increasing numbers of guitar players are looking for a precision tool, made for performance and results. Ola Strandberg set out to achieve this. A software engineer by trade and a luthier during his time off, Ola long-harboured a desire to create an instrument that did away with all unnecessary adornments and appointments, leaving a thing of pure function. This led to him, in 2007, developing the Ergonomic Guitar System, from which the Strandberg Boden followed. Working as much as a problem-solving designer as a musician, Ola created an instrument unlike anything else at the time.
Endurneck
The headless neck is perhaps the first thing to notice about Strandbergs, but it's not until you turn the instrument over that the real gasps occur. Strandberg's innovative Endurneck design makes use of carefully measured flat planes instead of a typical rounded neck carve. This initially incomprehensible idea quickly becomes entirely sensible – indeed, natural – to the player's hand after a few seconds of playing.

The Endurneck is shaped to give your hand the best, most comfortable 'fit' wherever it lands on the neck, so that thumb positions and pivot points are always in just the right place. Also, the Endurneck is specially designed for long sessions of play, so your hand doesn't tire out after an hour or two. It's no coincidence that high-performance players have been migrating across to the brand for this reason, amongst others.
Multiscale
Strandberg's Endurnecks are also what's known as multiscale. That means the lower strings have a physically longer scale length than the thinner strings. This is facilitated by having the frets, the nut and the bridge all sitting at a slight angle, with the measurements calculated to the infinitive degree at the design stage.
Why? Well, it's a matter of keeping the tension of the lower strings tighter so as not to flap, whilst at the same time allowing the higher strings to retain their relative elasticity for successful and comfortable bending. It's the best of both worlds, and makes particular sense when applied to extended range guitars with 7 or 8 strings, as many Strandbergs are.
Whilst Strandberg did not invent the multiscale guitar (that was in the late 70s by John Starrett, we believe), they are the brand who've made such a term normal in today's guitar market. Many companies offer multiscale guitars now, but none of them did that until they saw the success Strandberg had with theirs!
Greater Comfort & Reliability
The Boden body shapes came around as a result of Ola Strandberg's experimentation to find a more comfortable silhouette that took ergonomics into account over superficial looks. The guitars are light, with body chambers for greater resonance and, of course, no headstock! The experience of playing a Strandberg definitely becomes about the player rather than the instrument. New additions to many models include an improved neck heel, and a new arm cut for the best 'body fit' yet.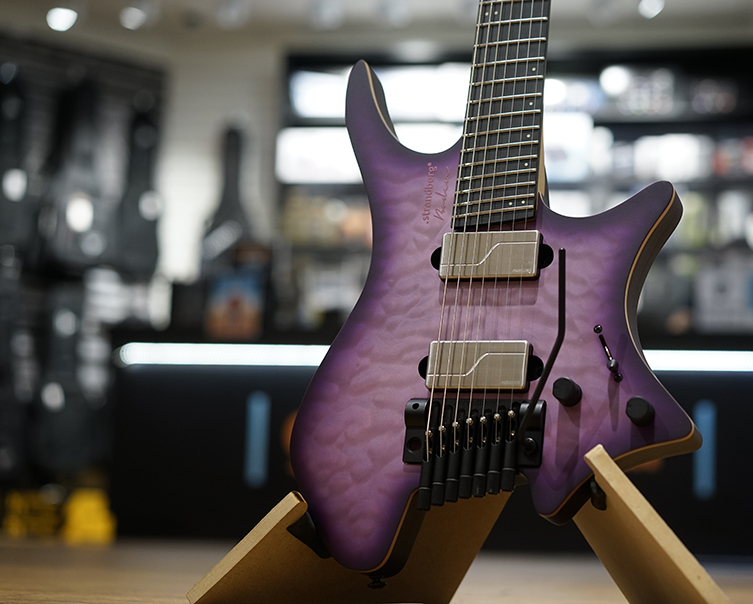 Strandberg Players
As mentioned, Strandberg's artist roster has been heating up in recent times. Modern shred gods like Plini and Sarah Longfield have been long-term devotees, and now modern jazz greats like Susanna Risberg are onboard, as is Scar Symmetry's Per Nilsson, who also played with Meshuggah for 4 years! Clearly, there is a diversity of talent out there who are all interested in Strandberg guitars. The things they all have in common are a priority for being contemporary and for breaking tradition, just like Strandberg themselves.
Our Newest Models
It's time to check out a few of these innovative machines for ourselves, now! Though all of these are Boden models (which is the name of the body shape), they have distinct hardware differences, and are thusly designed for a range of differing styles.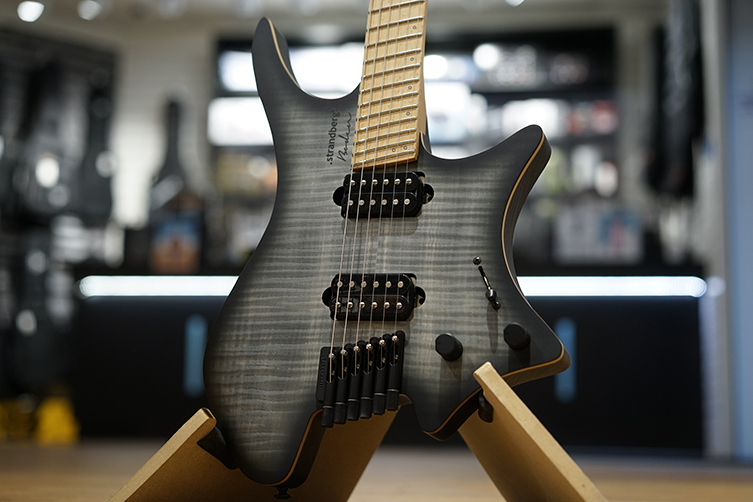 Strandberg Boden Classic NX6
You could hardly call this guitar a Strat copy, but the Strandberg Boden Classic NX6 'quotes' from Fender's icon in its use of a plastic pickguard and Strat-style knobs. Otherwise, it's a Strandberg through-and-through, with an Endurneck that features a multi-scale of 25" to 25.5", and hosts 24 stainless steel frets.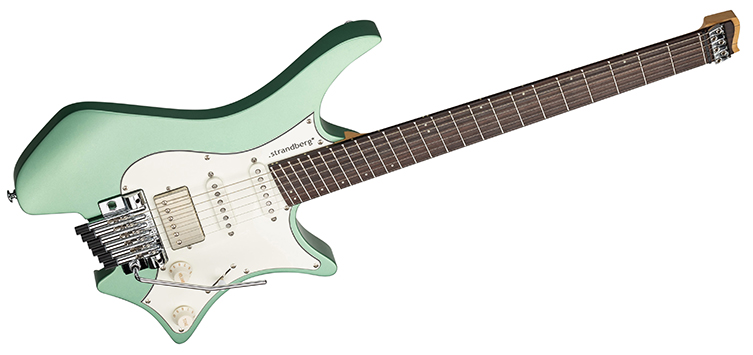 You'll find a set of Suhr passive pickups on here (including a Thornbucker at the bridge) and Strandberg's fantastic EGS Rev 7 bridge. This proprietary design uses self-locking bridge pieces for better tone transfer, meaning you can have a whammy bar that doesn't suck out all of your tone! These little things all add up!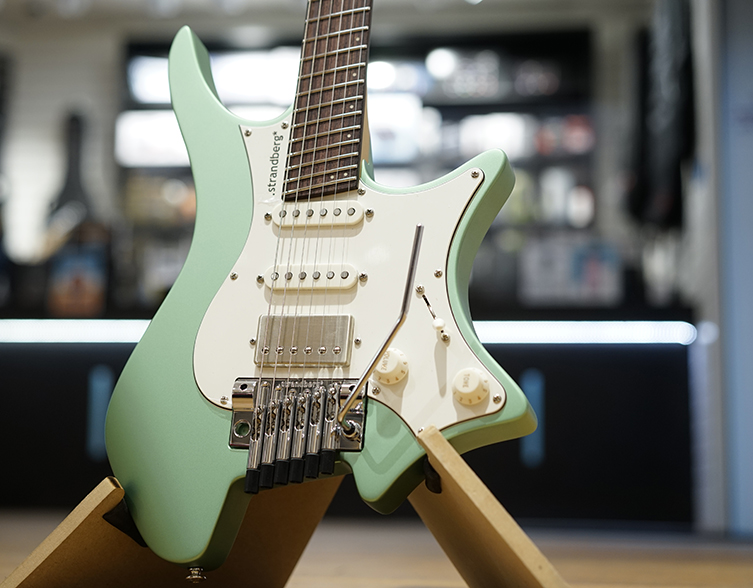 Strandberg Boden Prog NX7 Twilight Purple
Moving in a decidedly heavier direction, the Strandberg Boden Pro NX7 Twilight Purple is the answer to many a modern guitarist's prayers. This is a multiscale (25" – 26.5") 7 string fitted with a set of Fishman Fluence Modern pickups. These active units have multiple tones available, selected by pulling the push/pulls in each control knob.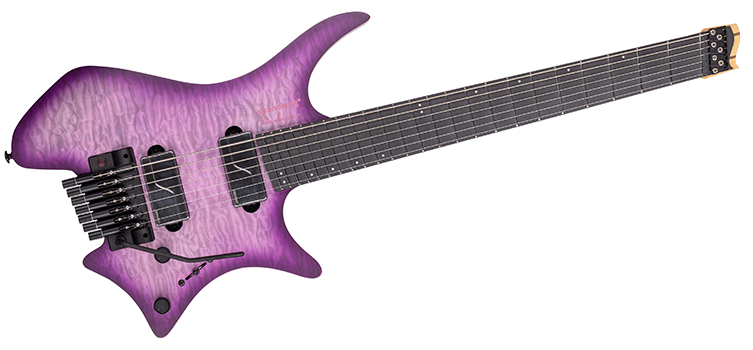 The Rev7 bridge is on this model too, which is great to see on a 7 string guitar. Adjustments are simple to make, and your tone is preserved without loss. For serious noise-makers, this is the cutting edge right here!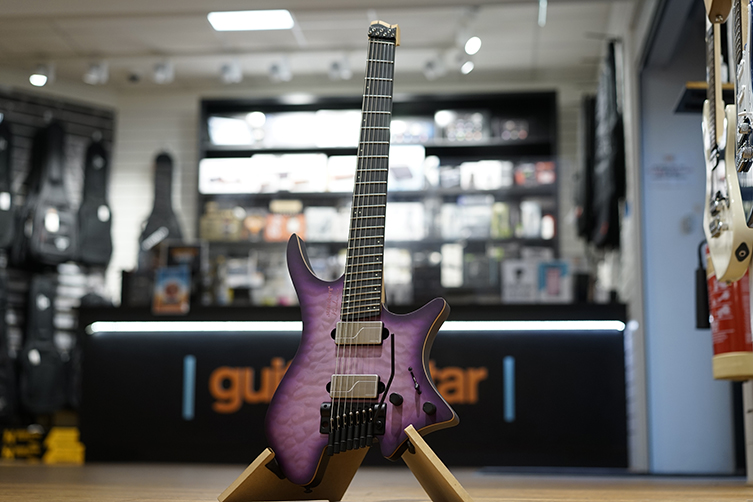 Strandberg Boden Metal NX 8 in Black Graphite
If 7 strings don't quite hit you where it hurts, Strandberg offer the almighty Boden Metal NX 8. This beefy behemoth is an 8 string with an appropriately longer 26.5" – 28" multiscale Endurneck for keeping those low F# notes nice and tight. A 20" radius fingerboard (with 24 stainless steel frets again) ensures that no amount of flamboyant shredding will upset the might of this beast.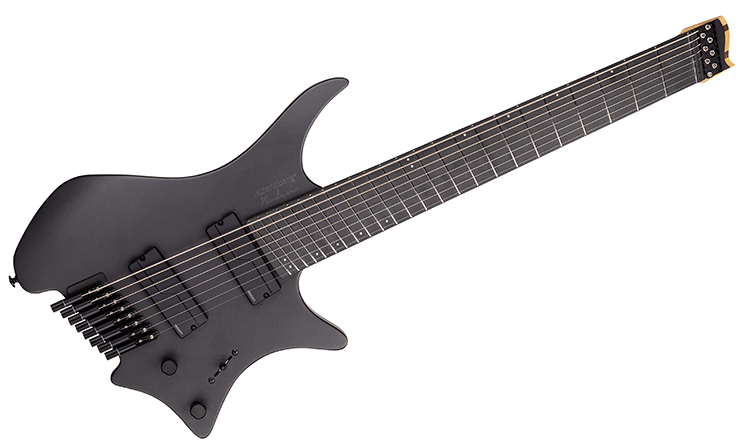 An 8-string set of Fishman Fluence pickups are used here for cutting edge heaviness: use the push/pull functionality to change between hard hitting passive tones and harder active sounds. This guitar is the ultimate riff machine, completely reimagined.
Quality and Innovation
It's fair to say that these are not your dad's guitars, as the saying goes. Strandberg's innovations are partly thanks to modern production methods, as well as good old-fashioned problem solving, They offer a style, feel and experience to the player quite unlike that offered by the big boys, whose designs are all roughly 70 years old now.
Strandberg are doing something that not many contemporary guitar builders have the wherewithal, insight and flat-out guts to do: they are redesigning the electric guitar for players of today. If you are such a player, then maybe it's time for you to try a Strandberg.
Click to View our Selection of Strandberg Guitars
Ray Favourite