Lowden Guitars: A Guide to the Ranges
Published on 10 January 2022
"Woods are the stars of our guitars"
George Lowden
Lowden guitars hardly need an introduction to our guitarguitar customers and friends. The Northern Irish guitar maker has long since staked a firm place at the top of the guitar playing pantheon. Thanks to a potent combination of original design, superlative construction quality and a sense of understated beauty that matches the world-class sound of their instruments, Lowden are one of those rarefied brands that have become aspirational for all acoustic fans.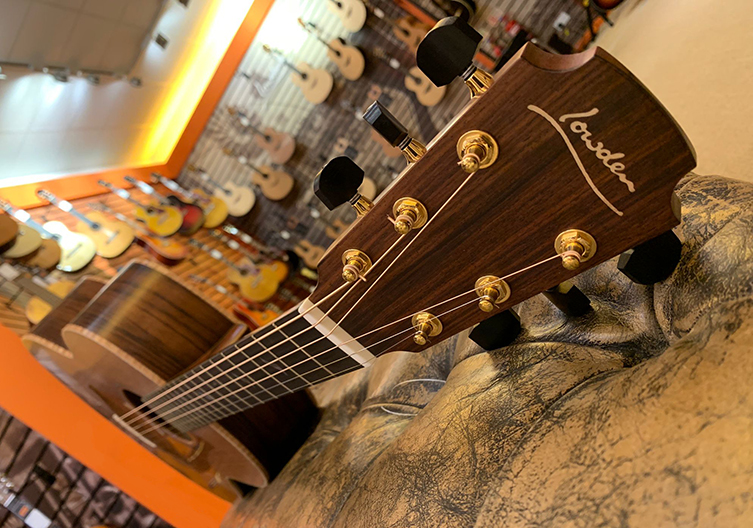 Some of the greatest players in the world play Lowden (Richard Thompson, for example, has a signature model), as do some of the most famous (Ed Sheeran has a whole range!), but they are still a specialised niche brand to many. Their trademark rounded body shapes are immediately distinctive, but lots of people still get a little confused over the models and numbers involved with the various available ranges.
Today's blog endeavours to clear some of the mist surrounding those subjects. Truly, Lowden offer a lot of choice, so we'll keep to the main distinctions and divisions, starting with the body sizes and then looking at the different series and exploring the wood combos a little.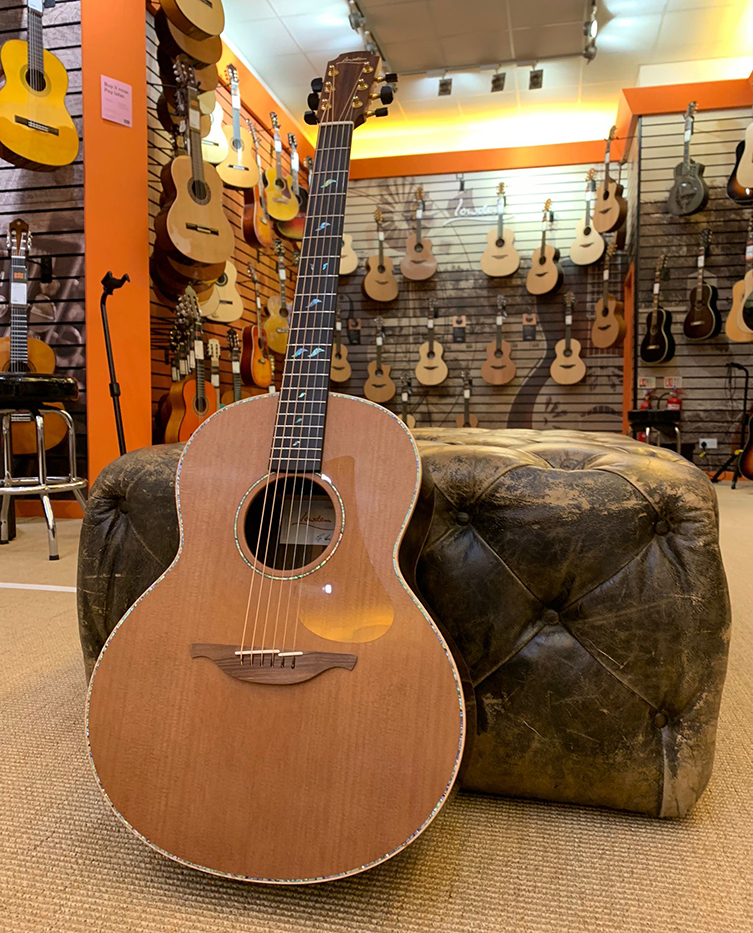 The Lowden Body Shapes
All Lowden guitars share the same distinctive aesthetic. The company largely eschews traditional body shapes in favour of founder Geroge Lowden's own preferred designs. These are all rounder in shape, with wider 'waists' if you will, and a decidedly understated take on decoration. The handmade care is obvious to see though, from the artfully smoothed edges to the hand-applied wooden binding. We'll pick up on these details a little later, but firstly, there are the four body shapes, known by a single letter definition: O, F, S and W.
O - Original. The Original is, as the name suggests, one of the initial styles that George designed when he began back in the mid seventies. We'd say that the Lowden O is comparable to a Jumbo: it's the largest body that Lowden produce and has the biggest, grandest voice. This is a great choice for strummers who want to fill a room with rich sound.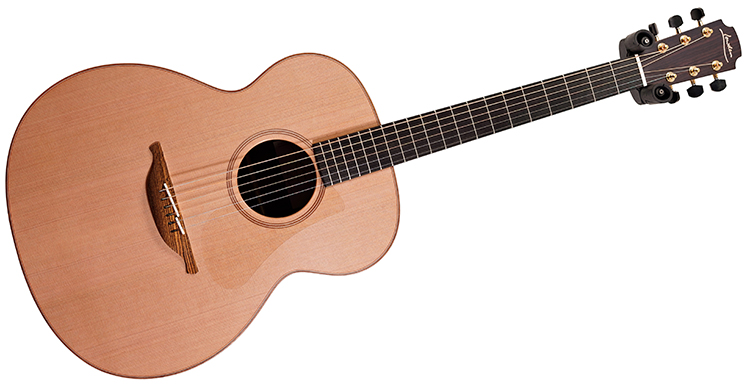 F - The F style is Lowden's 'medium' body size. It's their most popular too, which makes a lot of sense since it sits somewhere between traditional orchestral and dreadnought styles in overall size. This is the Lowden model to try first: it offers a great balance of focus and percussion and will suit fingerpickers and strummers equally.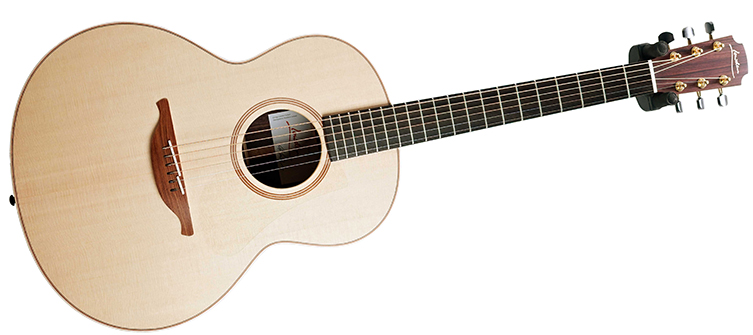 S - The Lowden S is their concert model, and was developed to be the perfect fingerpicker's guitar. Folk players, fingerstyle blues guitarists and others who like to utilise similar methods will find the extra sparkle, focus and tight low end of this design very pleasing.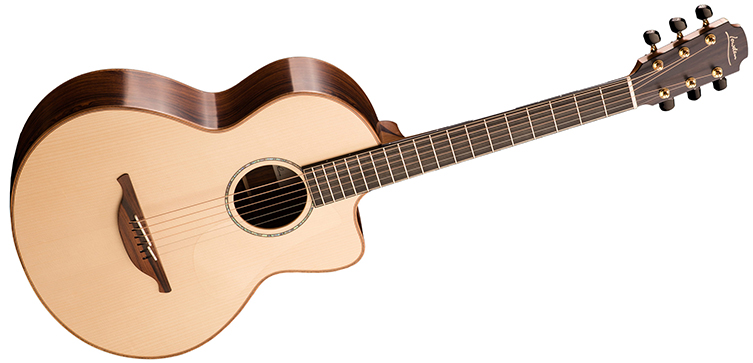 W- The 'Wee' Lowden is a recent addition to the range. It is, as you'd expect, the smallest body sized on offer. Legend has it that the Wee Lowden came around after a small bodied guitar was commissioned as a gift to Ed Sheeran, who has later gone on to collaborate with Lowden on the Sheeran by Lowden brand. Those guitars, though made by Lowden, deserve to be looked at separately, so we'll not include too much of them here, but the Wee Lowden is the brand's equivalent to today's modern parlour or travel guitar.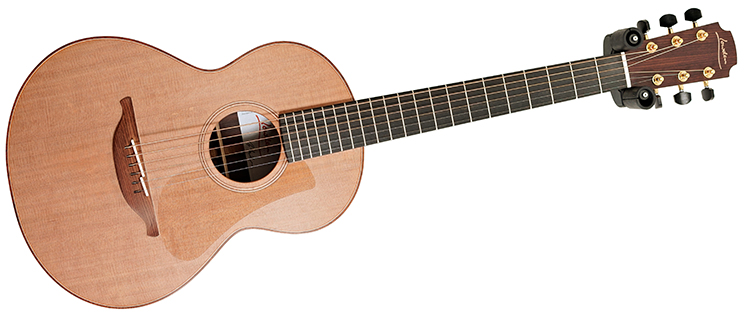 The Lowden Series and Numbers
Lowden guitars are divided into a number of Series, some of which relate to specifications and others to a particular detail or feature (like an artist signature model or a nylon string guitar etc). Here is where it gets a little confusing…some of the numbers directly relate to the woods used, and others numbers can be available in a selection of woods. We'll hopefully make this clearer as we go along, but in the meantime, here are the main Lowden ranges:
Original Series
35 Series
38 Series
50 Series
Jazz Collection
Signature Collection.
There's also the Speciality Collection for limited runs, the 12-fret collection (which is self explanatory) and the electric GL-10 model. For the purposes of this blog, we'll stick to the main output of the company, starting first with the Original Series…
Original Series
The instruments here most closely resemble the initial instruments made by George Lowden back in the mid 70s. "From the very beginning I was determined to develop unique designs and not just copy well known makes", says the man himself, and the guitars issued from his Bangor, County Down workshop all bore that distinctive Lowden curvy style from the beginning.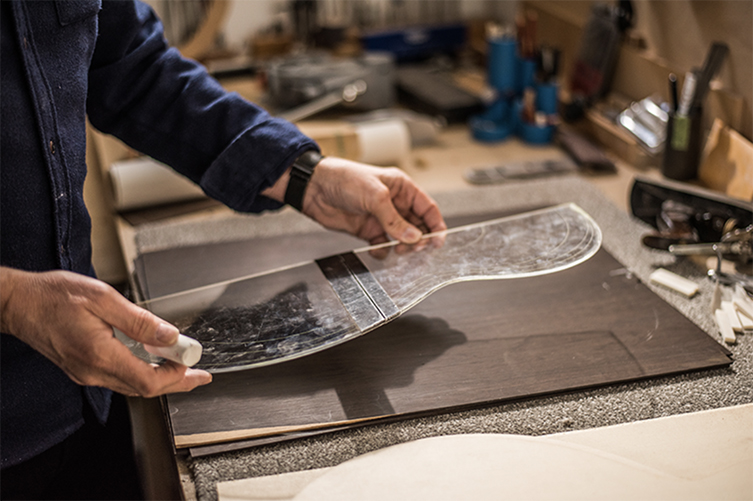 Original Series guitars all feature AAA grade tone woods and George's innovative Dolphin strut profiles inside the soundboard. "Our assembly techniques involve the use of hand tools to improve the quality of all joints and enable the "Dolphin Profile" voicing of the soundboard bracing. This and much much more ensures that sustain, volume and balance are not hindered in any way. No short cuts are possible, just great workmanship and attention to detail!"
Other notables include: wood being used for the purfling, binding and rosette; a split two-piece saddle for tighter intonation; and a set of Gotoh 503 tuners as standard.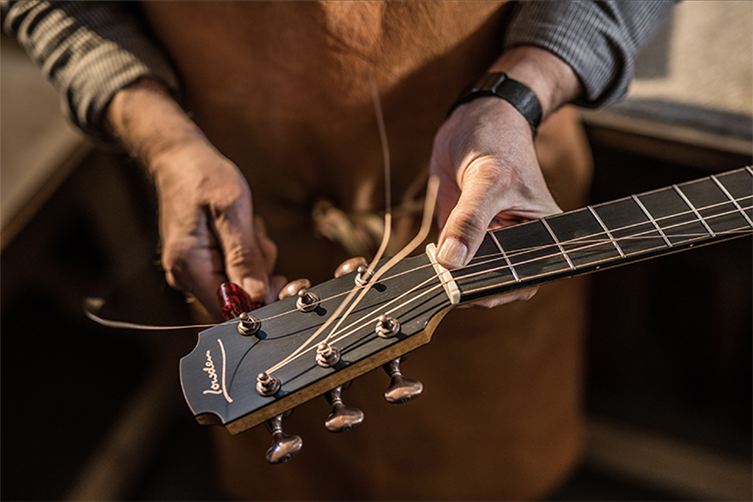 Lowden then numbers their instruments, up until we get to the 35 Series. Here is a breakdown of the woods used, according to their system…
22: Cedar top, Mahogany back & sides

23: Cedar top, Walnut back & sides

25: Cedar top, Rosewoods back & sides (known as the definitive Lowden spec to many)

32: Sitka Spruce top, Indian Rosewood back & sides

34: Sitka Spruce top, Koa back & sides.
So, to put it into an example, a Lowden O22 is one of their Original body shapes (their take on a Jumbo), is made from Mahogany with a Cedar top, and looks like this: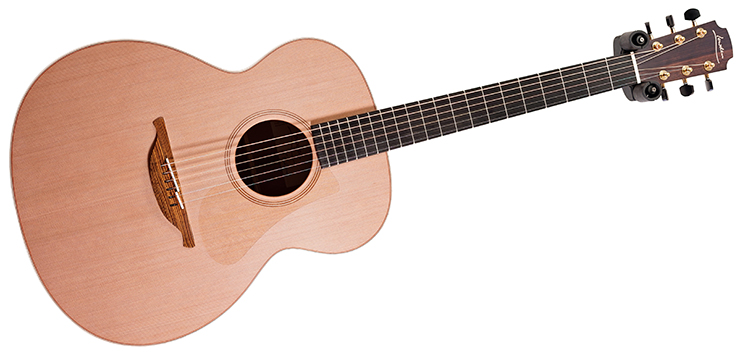 35 Series
The Lowden 35 Series adds some subtle decorative elements. Abalone and wood is used in the soundhole rosette, as well as the purfling on the sides and back of the body. Wood is also used for the fingerboard binding, and the fingerboard itself is made from Ebony. This is all down by hand, using a precis mitre saw and decades of experience! Gotoh 510 gold and ebony tuners are used as a finishing touch.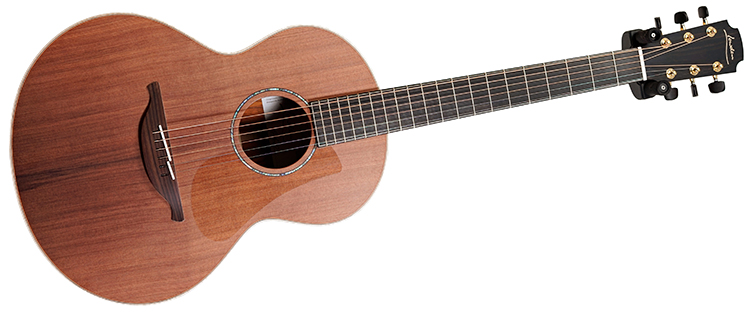 38 Series
The Lowden 38 Series is easy to spot: it's the one with the leaf inlays! Well, leaf-shaped abalone, to be precise. This is the only non-custom Lowden series with this lovely inlay work. Typically, 38 Series instruments have Cedar tops and Brazilian Rosewood back & sides.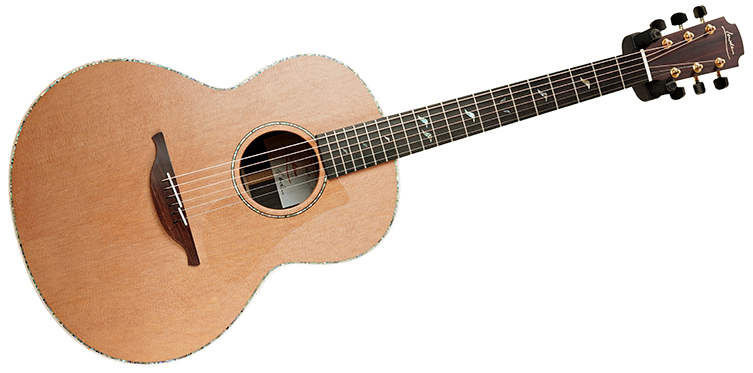 50 Series
The 50 Series is effectively Lowden's Custom Shop. The timbers used on all 50 Series guitars are AAAA grade, so it's the best of the best, in other words! Many inlay packages are available to choose from, including options for headstock overlays and much more. As ever, the details are subtle but stunning when you see them: the fingerboards are extended at the end and curved, for example, and the soundhole edges use figured wood and abalone for a quite beautiful touch. We try to always keep a wonderful selection of Lowden 50 Series guitars in stock.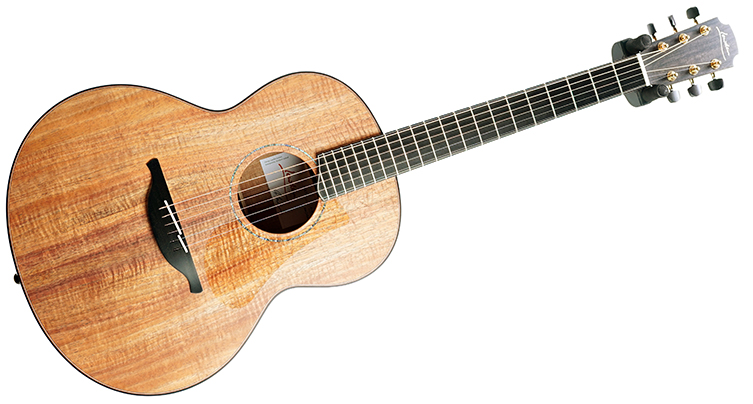 Jazz Series
The Jazz Series is Lowden's range of nylon string guitars. Designed to feel familiar to both classical and standard steel string players, Lowden Jazz models have a 25.59 scale length and are built to be as loud as possible without troubling onstage pickups and mics!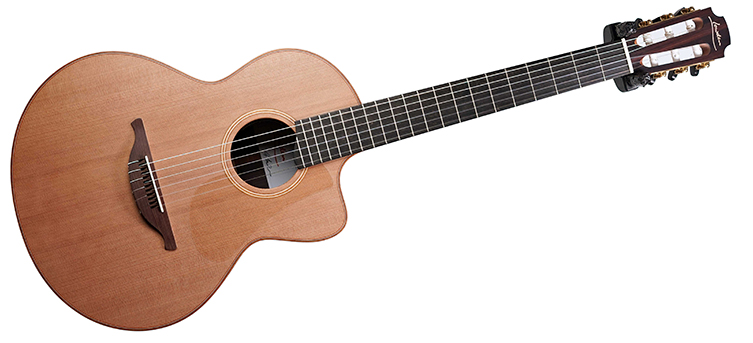 No Compromises
You can feel the passion and commitment residing in every single Lowden guitar. It's not about famous name association or rock n roll mythology, it's all about feeling and experiencing the very best that acoustic guitars can be, with nothing interrupting that. Playing a Lowden guitar is a risky endeavour though, because it'll likely take the shine off all other acoustics you play afterwards! We'd say it is a risk worth taking, though. There really is no comparable experience for the seasoned guitarist, and that's why Lowden are some of the very best guitars available anywhere in the world.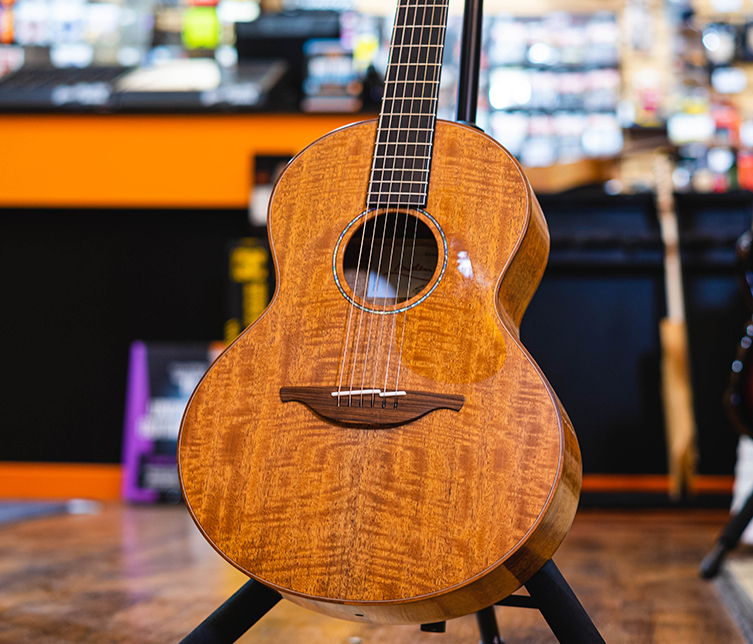 Click to Browse our Extensive Range of Lowden Guitars
Ray McClelland