Top All-Time Gibson SG Players
Published on 23 February 2022
Who are the most iconic and best loved Gibson SG players? The people in this blog!
The Gibson SG is a guitar that crosses boundaries. Capable of handling hard rock as well as any Les Paul, it also benefits from a sweet, eminently useful clean tone that has helped put the SG into perhaps more genres than any other Gibson guitar.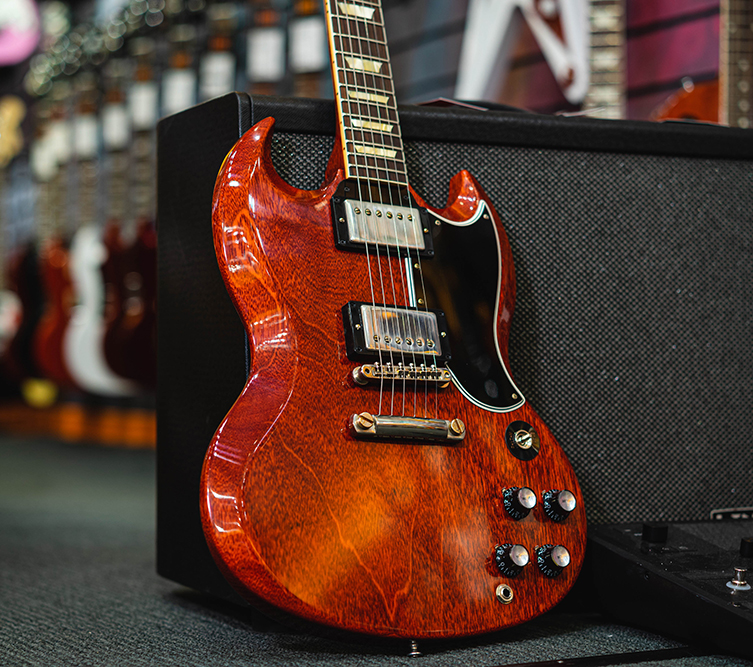 That being said, hard rock is its home, and as we take a trot through today's SG Hall of Fame, you'll notice a high percentage of hard rockers in there. It could be those devilish upper horns, but filthy riffs and a nasty attitude seem to be home turf for the SG. However, the guitar's inherent versatility proves itself in several of our other choices, as you'll see as you follow us through this tribute to the model's best-loved practitioners.
As ever, the list is in no order of 'merit', so there's no number 1 here: all of these artists blaze equally with talent, invention and inspiration.
Angus Young
There's hardly a name more synonymous with the Gibson SG than 'Akka Dakka's lead axe man, Angus Young. How many Cherry Red SG's have been sold over the years to AC/DC fans thanks to this hard rock schoolkid? He's a true icon, in a world where that term is recklessly thrown about. Even your gran knows who Angus is!
Any standard AC/DC live set will contain more riff-filled belters than the majority of other bands' entire careers, and Angus's raw rock crunch just wouldn't be the same without his SG. Young plays a selection of SG models, but he does seem to favour the '61 variety..
We've recently been extremely impressed with the brand new Epiphone 1961 Les Paul SG Standard Aged Sixties Cherry. This beautiful model distils a lot of the vintage charm beloved of SG aficionados and puts it into a very affordable package.

Tony Iommi
Endlessly influential and defiantly individual, Black Sabbath's riffmeister is another living legend who chooses an SG for his art. His style of riffing is entirely different to the likes of AC/DC, and has spawned entire genres of heavy music. His tone, too, is a constantly shifting thing, but it always buzzes with unholy energy. Iommi's doom-laden riffs are so good, it sometimes feels like he's written all of the good ones already and left noe for the rest of us!
It's a well-established tale now, but it's worth mentioning that a big part of his sound was the result of a workplace accident. Iommi shaved the tops off his fingers in a sheet metal factory accident, necessitated extra light strings and downtuning to make his fingers able to cope.
We most associate Iommi with a black SG encrusted with crucifix fingerboard inlays, but his actual primary recording axe was a P90-loaded SG Special, known as 'Monkey' thanks to the addition of a particularly un-metal monkey sticker. Gibson now offer this (it's available in a lefty model!) as a Signature model, the Gibson Tony Iommi SG.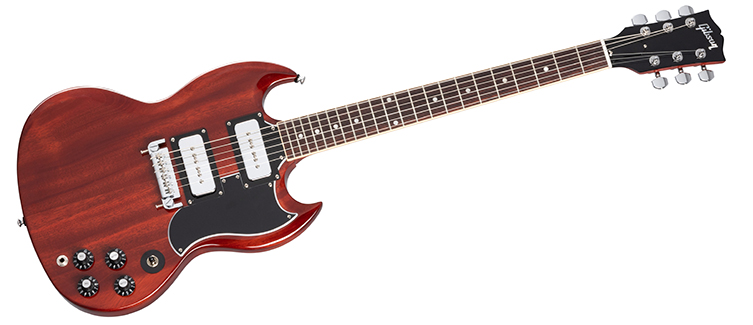 Frank Zappa
Composer extraordinaire and arch iconoclast Frank Zappa was a famously gifted guitarist, and was closely associated with several heavily modified SGs. Though he was well-known for spotting other similarly talented guitarists and having them join his band (Adrian Belew and Steve Vai spring to mind), on record it was often Frank himself who dealt the guitar damage.
Our favourite example of Zappa unleashing the fury is on Willie the Pimp, from his album Hot Rats. This extended wah-fest is ample proof to anyone that Zappa was an endlessly inventive player.
Derek Trucks
Derek Trucks is one of those 'guitar player's guitar players', an artist revered by his fellow musicians but not perhaps a household name like some others. It's a shame, since he's easily one of the most gobsmacking guitarists on the planet. Check out his epic, flawless slide playing on any Derek Trucks Band record, and also during his stints with the Allman Brothers band (not exactly easy shoes to fill there!) and another ongoing project with his wife, Susan Tedeschi.
Trucks is a long-time SG user, and favours Open E tuning in order to deliver his superlative bottleneck slide playing.
Robbie Krieger
Constantly mentioned in 'most underrated guitarists' lists, the Doors guitarist is another fan of slide playing, though his technique couldn't be more different than Derek Trucks'. Krieger's fingerstyle playing (a crossover from his classically-trained flamenco technique) is immediately distinctive, as are his swooping, atmospheric slide parts. In the studio, he used both an SG and a Les Paul Custom, but live, it was a pair of SGs (one with humbuckers, the other with P90s) all the way.
The Doors were one of those bands where every member held their own corner, so it's high praise to Krieger that his inventive writing and playing rubbed shoulders with Ray Manzarek's genius keyboard playing and Jim 'Lizard King' Morrison's effortless charisma.
Sister Rosetta Tharpe
Nobody rocked a white SG Custom quite like Sister Rosetta Tharpe. Her music and performances blended the spirituality of gospel music with the reckless abandon of rock 'n' roll. Her vibe was to bring her music ('the light') into clubs and venues ('the darkness') in order to joyfully preach her message of spiritual redemption, and tear out some raw, proto rock/blues in the process. Her influence is impossible to underestimate, and she will be forever the primary purveyor of the 3-pickup SG Custom. 'Iconic' doesn't even begin to cut it.
Brent Hinds
Mastodon are a force to be reckoned with. Nearly all fans of heavier music are united in their approval of these Atlantean masters of metal, such is the quality control of their output. All four members contribute to the songwriting, and three of them are co-lead vocalists!
Brent Hinds, the more overtly lead/solo orientated of the two guitarists (check out our exclusive interview with Mastodon's other guitarist Bill Kelliher) is regularly seen using an array of beautiful SGs. Hinds tunes to D Standard, with occasional forays as far as a low A for the bottom string on songs like Where Strides the Behemoth. Who needs a 7 string?
Dewey Finn/Ned Schneebly
Underrated and undeniably influential, rock star and substitute teacher/guru Dewey Finn is the real deal. His inspirational lessons to privileged kids in the art of rock 'n' roll are amongst the most valuable of their type, and when he straps on his cherry red Gibson SG, he's able to slay everyone in the house.
The name 'Ned Schneebly' (or Mr S for short) is actually something of a stage name for Finn, originating from a work-related misunderstanding. Still, the name stuck, and Schneebly is now a household name.
Any resemblance to actor Jack Black is purely coincidental.
Other Great SG Users
Maybe wonderful players have picked up the Gibson SG over the years and made incredible music with them. Here are just a few more of these artists:
Eric Clapton (his 'The Fool' painted Cream-era SG is a classic)

Gary Clarke Jnr

Jerry Garcia

Kirk Douglas (insert Spactacus joke here)

James Iha

Al Jourgensen
The enduringly edgy vibe of the Gibson SG lives on. Today, there is an abundance of SG-related riches available from both Gibson and Epiphone. Join these legendary players by making your own musical journey on an SG too!
Ray McClelland