The Sounds of Simon Neil from Biffy Clyro
Published on 24 February 2022
Mon the Biff!
Sorry, we just had to get that out of the way.
Biffy Clyro have released a brand new documentary called "Biffy Clyro: Cultural Sons of Scotland" which follows the bands journey as they adjusted to a global pandemic, all the while having an album ready to be released to the world.
It provides a rare look into camp Biffy…and of course, a great look at some of the gear the Biffy boys use, to which of course we were buzzing to see!
Let's take a look at the gear Biffy frontman and guitarist Simon Neil uses, and some ways that you can get the tone yourself!
Simon Neil
The enigmatic frontman, with the always changing hairstyle can always be seen front and centre wielding a Fender Stratocaster.
Simon Neil and the Strat have been synonymous with each other since Biffy got started back in 1995. These guitars have almost become the secret ingredient to all of Simons' angular and abrasive riffs that can cut through even on the biggest stages in the world.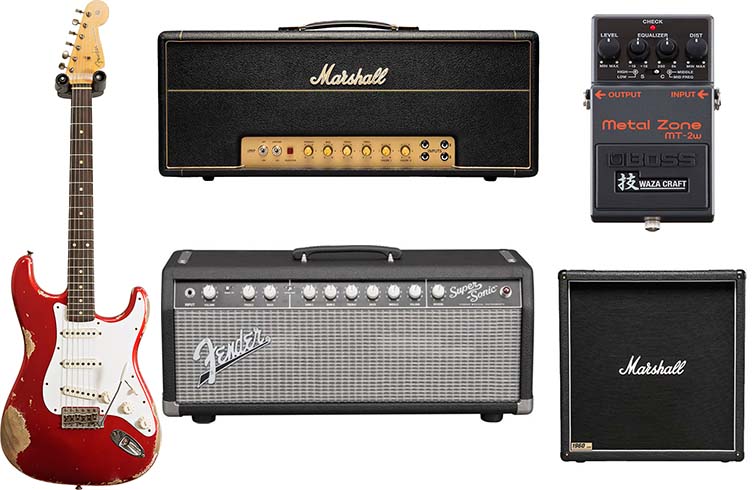 Simon has a plethora of Fender Custom Shop Strats in a variety of different colours and tunings to cover Biffy's impressive back catalogue. He tends to go for '60s inspired strats that are loaded with Texas Special pickups…played with a strap as high as possible of course.
For those slightly more tender moments Simon has been seen playing semi hollow guitars like Gretch and a Gibson ES-335, and he has been seen playing Takamine and Taylor acoustic guitars.
He then goes through a number of pedals. A few selections currently in his chain:
Audio Kitchen The Big Trees Preamp
A mix of delays including the Boss DD-3 and an MXR Carbon Copy
Earthquaker Devices Sunn O))) Life Pedal Fuzz
His own signature Gone Fishing Effects Booooom / Blast Fuzz & Distortion
And…the notorious Boss MT-2 Metal Zone
Let's focus on that last one for a moment.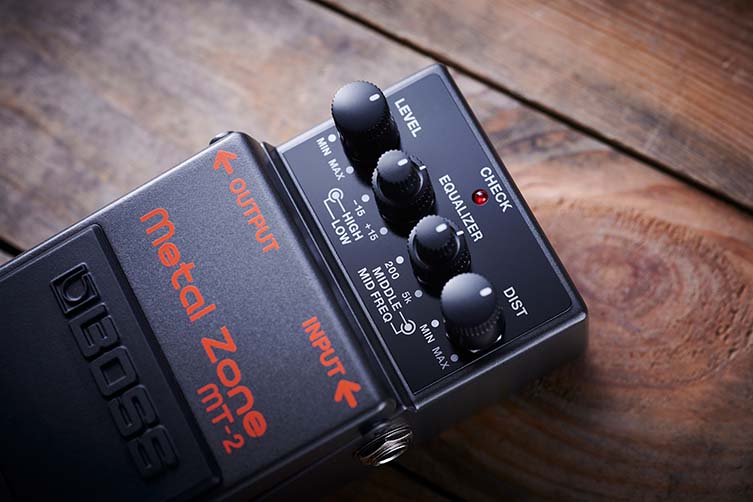 A lot of us will have had some experience with a Metal Zone at one point in our life…if you are anything like us it would have been in your teenage years, plugging into a small practice amp and ramping the distortion all the way up!
Simon has been using the Metal Zone since day 1 with Biffy, it has allowed for those huge shifts in dynamics that are all over Biffy's back catalogue. It takes some real guts to play a single coil strat through a Metal Zone at full pelt, hats off to you Mr Neil.
When it comes to guitar amps, Simon has used a huge amount of different amps and at one point was using as many as 4 onstage all at once! No wonder his sound is so colossal!
At the moment, he has stripped it back a little for the "Celebration of Endings" tour.
Fender Super Sonic Head
Marshall Plexi 1959SLP 100W Tube Guitar Amp Head
Several 4x12 Marshall cabs
For his clean tone Simon goes through just the Fender Super Sonic. He then adds in The Big Trees pedal for his "medium" tone, which is clean but with a little crunch, and then for his "house falling down" tone (his own words), he kicks in the Marshall and Metal Zone…audio bliss!
To replicate this monster rig, granted it isn't the most complex, but it certainly is loud! More than likely a little too loud for us who don't have stadium shows to flex our tone muscles at. Let's take a look at some other alternatives so you can achieve his sound at home.
Medium Rig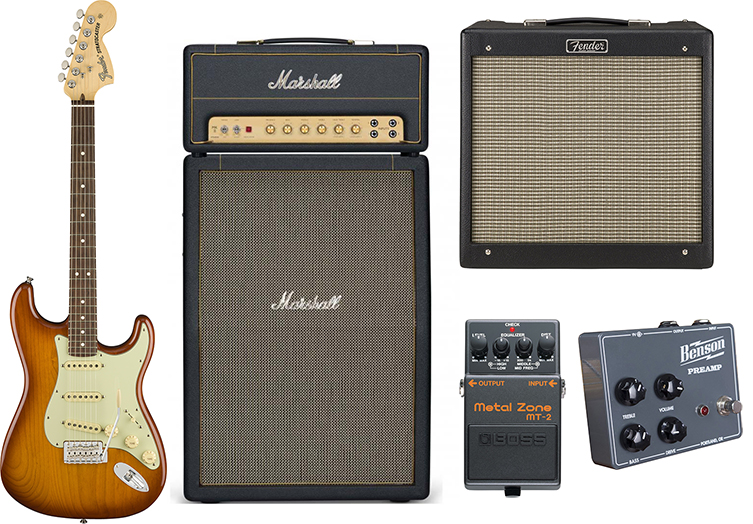 We gotta have a strat…
The Fender Performer Strat is a great option, as it is a US made guitar and features the Yosemite pickups which are the spiritual successors to the Texas Special models. Simon tends to prefer strats with Rosewood fingerboards so it's all just about the colour you would like!
Amp wise you have a few options. If you want to go all out you can get a couple of home friendly amps, get yourself an ABY switching box and a few extra cables and you can have a 2 amp rig. We'd suggest the Marshall SV20H Studio Vintage 1959SLP 20W Valve Head and any matching Marshall cab, and a clean focussed Fender amp, like the Tonemaster Deluxe Reverb or even a Blues Junior will get you that great clean tone.
Pedal wise, you can use a number of preamps to achieve the "medium" tone mentioned earlier, the Benson Preamp is a fantastic pedal that can really help shape your tone and bring everything up that little notch.
Small Rig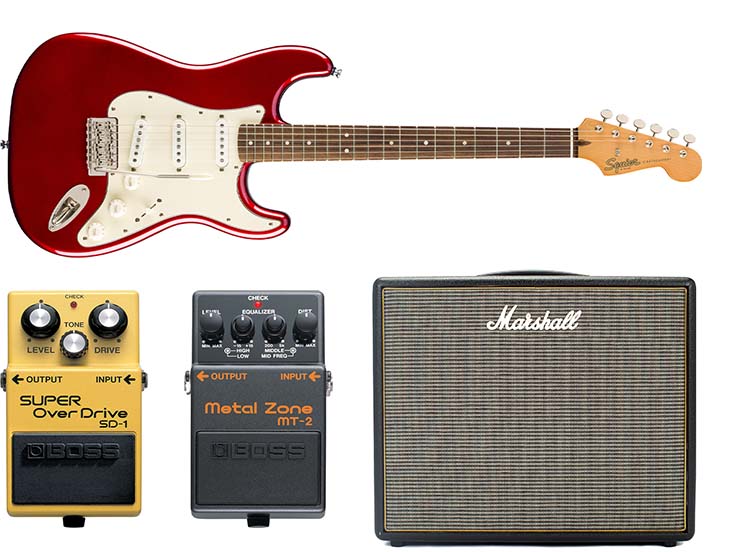 For those not wanting to go through several amps and the cable management that's included let's look at a smaller, space and budget friendly set up.
For the strat let's use one of the budget friendly Squier Classic Vibe 60s Stratocaster, optional red finish to match the look of the now unfortunately discontinued Squier Simon Neil signature model.
Amp wise we can opt for a single Mashall Origin 20 combo. This amp not only has a great sound but it can be reduced down in wattage to keep your neighbours happy while you blast out some monster riffage.
This amp does have a footswitchable "boost" option so the need for another pedal for the "medium" tone isn't essential, but if you want a few extra toys something like the Boss SD-1 with the gain low or the Electro Harmonix Crayon 69 with it's treble and bass controls can allow for in depth tone adjusting.
Let's not forget the secret sauce too…gotta have a Metal Zone!
Now, the setups on this list aren't some "Golden Rule" that you have to follow, this will definitely get you in the ballpark to start blasting out some iconic Biffy riffs. The passion and ferocity that Simon Neil plays with though…that's up to you to work on!
What's your favourite Biffy riff? Have you made your own set up inspired by Simon Neil? Let us know on our Facebook, Instagram and Twitter pages!