The History of Charvel: The Shred Legend
Published on 08 March 2022
When we think of what was popular in the 80's where does your mind go?
Big hair? Shoulder pads? Portable walkmen?
Well, if we are talking guitar culture, there is one key part that helped shape an entire genre and revolutionised the game…and no we aren't talking about Keytar! (no disrespect to the keyboard players out there!)
We are of course talking about the superstrat!
What is a superstrat?
For those who don't know what a superstrat is let us quickly explain…
A superstrat was essentially a term given to any model of S-type guitar, either Fender or otherwise, that had been heavily modified with a combination of anything including high output pickups, locking tremolo systems and anything to suit the ever developing rock, metal and shred scenes at the time.
Players can be traced back to the mid 70's, where the first few sightings of superstrats appeared in the hands of Richie Blackmore and Michael Hampton of Parliament Funkadelic, but it was truly popularised by the one and only EVH in the form of his Frankenstrat… and the rest, was history.
Who are Charvel?
Before they were one of the top names in guitar manufacturing, Charvel began life as a guitar repair and modifications workshop in the mid 70's. They would take on jobs from artists and larger companies due to their amazing and futuristic (at the time) approach to the electric guitar. One such customer was the aforementioned Eddie Van Halen, who bought the parts to make his Frankenstrat from Charvel!
After being purchased by Grover Jackson at the tail end of the 70's, a guitar revolution was born and superstrats could be obtained by anyone with even the most budding of shredders!
The story of Charvel & Jackson's entangled history is fascinating, but that is a story for another time, let's check out some guitars shall we?!
DK24/22
Kicking off our look at the Charvel line, let's dive right into the DK series. The DK (which stands for Dinky, originally a Jackson design) is a S type body (no shock there) with a slightly smaller than normal size, deep cutaways for optimal access to the higher frets, a flame maple bolt on neck, high output Seymour Duncan pickups in a number of configurations, locking tuners as well as the option for a gotoh floating bridge, hardtail or the always fun Floyd Rose locking trem.
The numbers after the name refers to the amount of frets that certain model has.
DK24 = 24 frets
DK22 = 22 frets
Not only did they revolutionise a model of guitar that was the key tool throughout 80's rock and metal music but Charvel also popularised another game changing component of guitar manufacturing…the compound radius.
Compound Radius?
To put it as simply as possible, the radius of a guitar refers to the curvature of a guitar's fingerboard. Vintage guitars tend to have a smaller radius between 7.5" and 9.5" resulting in a rounder fingerboard, whereas most modern radii range between 10" and 16" resulting in a much flatter board.
There are no hard and fast rules to say which radius is best, but usually, when it comes to rock and metal, the flatter the board, the better. Most of the time, shred players will lean towards the higher radius as it allows for much easier lead playing at the top of the board.
Charvel has featured a compound radius on most of their necks for most of their storied history. The compound radius of a Charvel neck is 12"-16", essentially combining the best of both and allowing for a slightly rounder neck nearest the nut, for chordal and riff playing, and SUPER flat at the part nearest the body, for optimal melt your face off lead playing!
San Dimas Style 1
The San Dimas Style 1 is a call back to the original superstars Charvel were producing in the 80's. Named after its original birthplace of San Dimas, California, these models have the more classic "hot rodded Strat" look to them, with the more rounded edges of the body, 22 frets on a bolt on neck and Floyd Rose locking trems. Loaded with a less high output set of Seymour Duncan pickups for a little more variety in tone, this doesn't mean these guitars can't go to 11 though! Quite the opposite actually!
So-Cal Style 1
The one that started it all.
An easy way to identify a So-Cal from a San Dimas is that the So-Cal pays homage to the original modded Strats that Charvel got their start with, most notably the addition of a pickguard.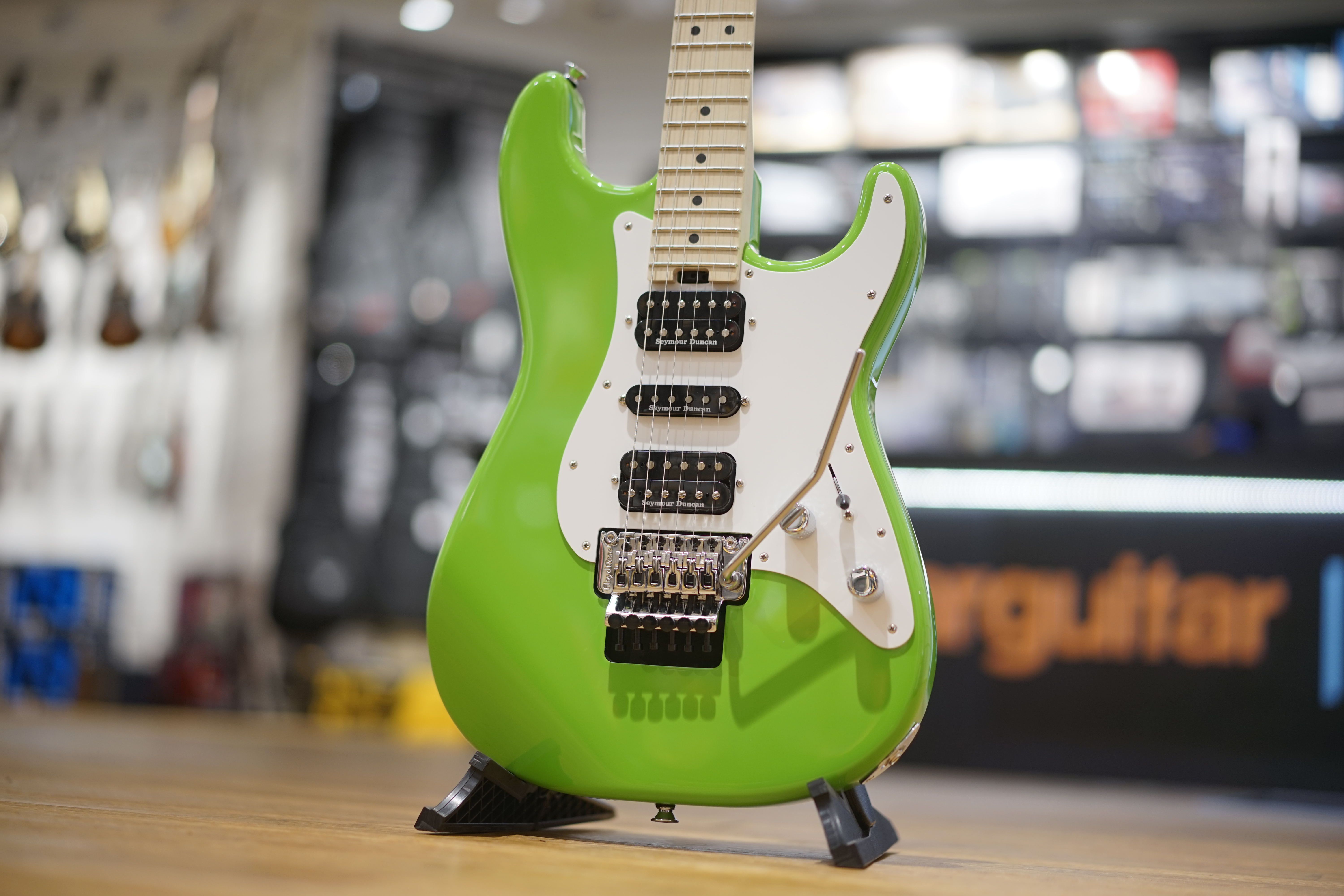 Notable players of the So-Cal are Steve Vai during his time with David Lee Roth, also famously used to record the Crossroads guitar battle solo, and Jake E Lee who played with Ozzy Ozbourne during the Bark at the Moon era. Both guitars are currently in the Charvel roster.
Charvel also has a few other guitars in their roster including a T-type guitar with all the same hot rodded features as the previous models we have talked about called the Style 2, which are available in both a So-Cal and San Dimas variation.
We are so chuffed to see Charvel back in the conversation when it comes to modern guitars, as their innovation over 40+ years ago can still translate to players from all genres to this day.
What is your favourite Charvel guitar? Find us on social media and let us know