How can a DAW controller take your home studio to the next level?
Published on 21 March 2022
Have you ever dreamed of owning a fully analogue recording setup? The idea of being surrounded by a wall of hardware that makes your home studio look like the cockpit of Millenium Falcon is an enticing fantasy. So why don't more people do it? Simply put, it is hard to justify when you can cram all of that gear into a piece of software, saving space, time, and money.
But, you don't have to fully bury your urge for a bit of fader action. There is a way of getting the best of both worlds.
Enter the DAW controller.
There are a variety of manufacturers with several takes on the daw controller. In this article, we will be taking a closer look into Icon's updated range.
What is a DAW controller?
A DAW controller allows you to externally control digital audio workstations such as Logic Pro, Cubase, and Pro Tools. By taking parameters out of the box and laying them out in hardware format, you create a more tactile mixing/recording experience.
Forget those little bubbles of rage as you desperately scroll through the software, trying to find the correct tracks to arm before you record. Now you can go directly to the record button, smash it, and you are away. It is hard to write a heartfelt banger when you are filled with the rage that some DAW interfaces can induce. A controller does away with all that and gives direct access to the bits you need.
Are they easy to set up?
Luckily in most situations, Icon has already mapped out the controls for you. Controls are already mapped out for all of the following software, so it is as simple as a quick download, plugin, and go. It is worth noting that these controllers use high-speed USB 2, so they will be compatible with almost all systems.
DAW's that have been mapped
How can it help you in your home studio?
As well as looking insanely cool, there are a plethora of additional benefits one of these external controllers can bring to your setup.
Firstly there is automation. Automation allows you to virtually program parameters within your DAW. If that sounds like a bunch of gobbledygook, do not stress. A simple and common form of automation is volume automation. In essence, an Icon controller will allow you to record volume changes throughout a song. For example, if you want to push the guitar up in the chorus, you can record a pass pushing up the motorised fader for the guitar track in that section.
You wouldn't paint with your ears, so why mix with your eyes? DAW controllers can completely change your perception of mixing audio. We have all had that embarrassing moment when we realise the compressor we have been tweaking for the past fifteen minutes has not been engaged. A controller creates an environment where you can close your eyes and really listen to the changes you are making. Sometimes the settings you enter will look weird, but no one is looking at your eq settings when listening to the finished song. At the end of the day, if it sounds good, then it is good.

Another handy feather in the bow of the Icon range is its ability to expand with your studio. We like to tell ourselves that "this is the last piece of gear I will buy", but deep down, we know we are lying to ourselves. Before you know it, your quaint home studio has grown into a colossal setup that would make Hans Zimmer jealous. With that in mind, it is worth noting that each one of the Icon units can be expanded up to 32 tracks.
Let's take a closer look at each of the units and investigate which might work best for your setup.
Icon Platform
The Icon Platform M+ Control is a compact unit with a stripped-back control set. The Platform M+ will allow you to quickly integrate an external controller into your workflow with its easy-to-understand layout. The eight motorised faders will give a tactile mixing experience, whilst the full transport section (Sart, Stop, Record, and Navigate) will provide you with the tools you need to increase the pace of your recording secession vastly.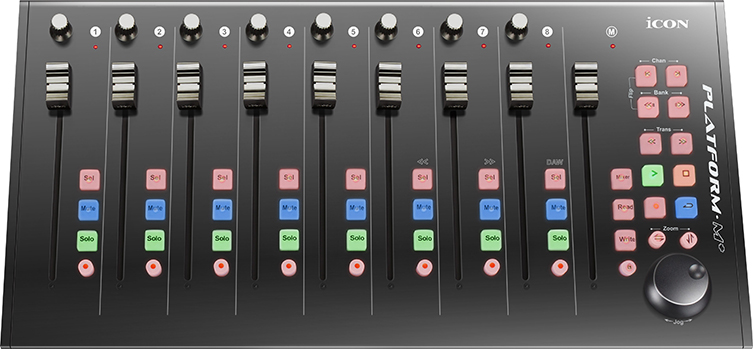 As previously mentioned, each unit is expandable, and the M+ Control can be expanded in several ways. If you want to increase the information available outside your daw, then the Platform D2 is your module. The Platform D2 is a large backlit LCD that will show channel name, control values, and other parameters for each channel. If it is more tracks you need, then the Icon Platform X+ will be the module in which to indulge.
Icon Pro
The Icon Qcon Pro G2 Control Surface may be the correct option for something more substantial. This unit gives you additional control with its increased amount of soft gel backlit assignable buttons. The unit also gives you more visual feedback with an led transport strip to display time and location in the project, as well as the backlit LCD strip that feeds back parameter information. Another helpful visual cue is the 12-segment LED meters which display audio level per track.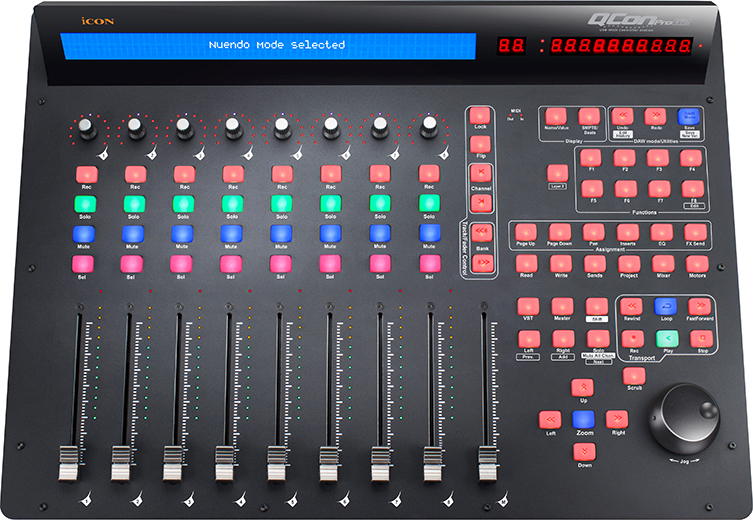 DAW controllers are intended to give you a frictionless way to control your recording session. One of the ways you can achieve this with a Pro controller is through the addition of foot controls. On the back, Icon has given you two inputs for foot pedals. So now you can have both your hands on your guitar ready to play and when you are ready, simply start the recording with a quick stomp of the foot.
This unit is expandable with the addition of the Icon Qcon EX G2 Control Surface.
Icon Qcon Pro X
The Icon Qcon Pro X Control Surface is the top of the line model reserved for those looking for ultimate control of their sessions. This controller's layout is the most remnant of the mixing consoles you will see in studios the world over. The large dedicated meter bridge and two LCDs will immediately draw your eye's attention.
The buttons have also been upgraded to a hard plastic that lets off a satisfying click when engaged opposed to the soft gel buttons used on the previous models. These buttons are still backlit, making them easy to see in the dark environments in which musicians choose to dwell.
Expandable with the addition of the Icon Qcon Pro XS, the Pro X line gives you the maximum amount of control and feedback in the Icon range.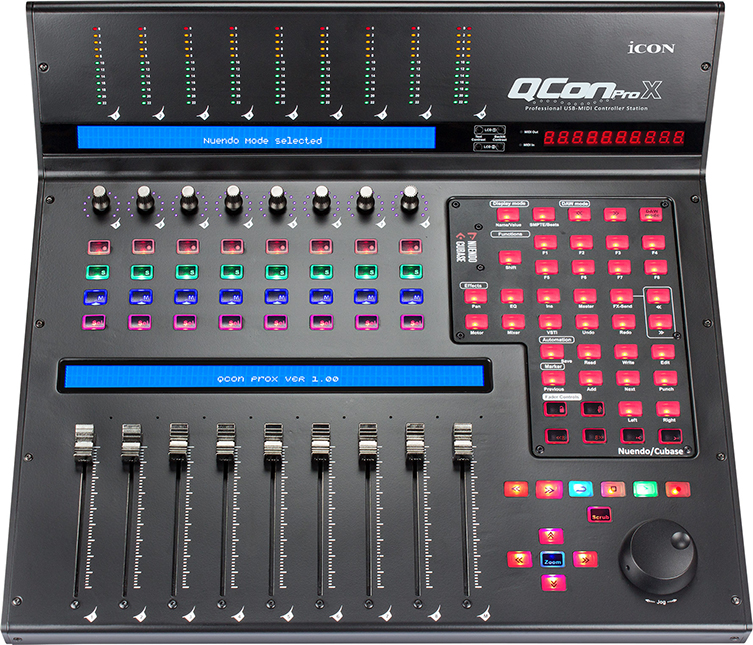 If you are looking for the next upgrade in your recording setup, then an external controller can be a great way to enhance your home studio experience. Whether it be through the additional ease of direct access to specific parameters, the human element added through automation, or a more tactile mixing experience, an Icon controller is undoubtedly worth a space on your desk.