Vintage Vault: 1963 Fender Stratocaster
Published on 19 April 2022
"We grew pretty fast, because in 1955 we had about 50 employees, but by the end of 1960 we were up to well over a hundred. We built more buildings, and we leased another 6,000 square feet in '60. Then we had a new warehouse and sales office - a 38,000-square-foot, one-story building with about 11,000 square feet of office space and a recording studio where musicians could come in and record for free on Ampex machines. By the end of 1964 we were occupying 27 buildings. We were bursting at the seams in those days, with about 500 employees in the manufacturing proper, and six hundred in all".
(Leo Fender)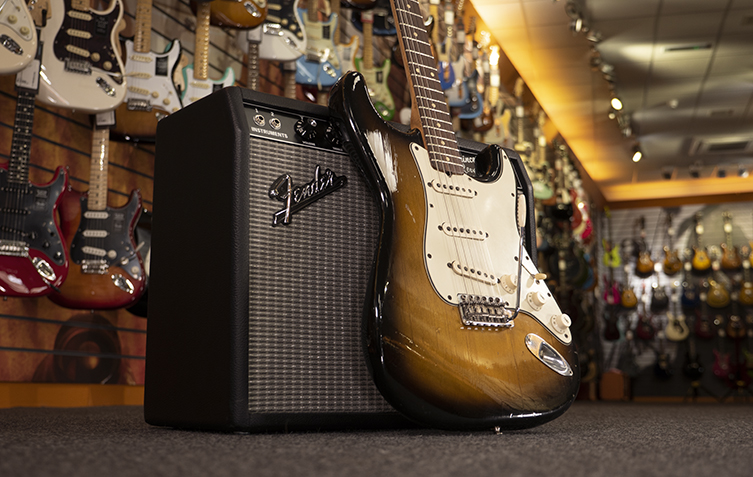 We recently had a vintage 1963 Strat for sale. This sort of thing does not happen very often these days. When it does - as true disciples of the guitar - we wanted to make sure everybody got to have a good look at this piece of living history whilst it was still around, and it's a good thing we did, because it sold mere days after this very article was written!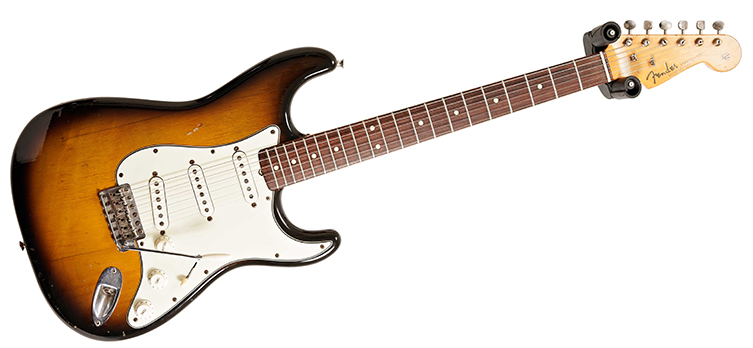 If you love guitars of any description, the notion of an actual vintage Fender Stratocaster is exciting, to say the least. Whether you're an acoustic guitar fan, a Gibson aficionado or a shred-head, you'll still most certainly appreciate the idea of a genuine, early Sixties example of the most famous guitar in the world. A golden era Strat.
How could you not?
The Fender Stratocaster
The term 'iconic' gets thrown around a lot (not least by us) but in this context, we think it's permitted: there really isn't an electric guitar more iconic than the Fender Stratocaster. It's the most copied guitar in the world, a historical treasure and a sonic chameleon which simultaneously fits into every musical genre and yet sounds remarkably distinctive.
From Buddy Holly to Buddy Guy, Stevie Ray Vaughan to Iron Maiden, the Fender Strat has more than proven itself as one of the world's primary tools of expression.
Since its inception in 1954, relatively little about the Stratocaster has changed, which of course is testament to how much of a bullseye Leo struck with his initial design. The curves, the bolted-on neck, the three pickups and the tremolo: it's practically a blueprint for the electric guitar, even more so than Fender's equally game-changing Telecaster. Over the years, a myriad of changes have been brought back and forth to the design, such as neck shapes, fingerboard radii, pickup choices and different bridges, but any guitarist time-warped from the fifties into today would instantly still recognise Fender's finest.
Our 1963 Strat (we'll continue to refer to it as 'our' Strat even though it's away) is a wonderful example of some of these changes, actually. Let's have a brief recap on how things were for the Strat in the early 60s, before checking out our '63 in a little more detail…
The Strat in the Sixties
The early 1960s seems like a time that existed only partly in reality. The Space Age, the glamour of the Kennedy administration, the promise of a beautiful, innovative post-war era where a new tomorrow was possible, all accompanied by wild-looking cars and Rock n Roll music...it's evocative, to say the least! The Strat was of course attached to all of this, but it wasn't all bright-eyed optimism. By the end of the 50s, Buddy Holly was gone and Elvis had joined the army. Rock n Roll was struggling and needed somewhere to go.
Surf music provided a particularly vivacious response. Californian surf culture and Fender Strats seemed like a match made in heaven, and bands like the Ventures, Dick Dale and the Beach Boys helped develop both the sound and image of the Strat through association. The actual genre of Surf music was only briefly huge, and in fact had been all but forgotten by the mid 60s, until Quentin Tarantino's retro-centric tastes brought back the twang in 1994's Pulp Fiction.
Speaking of twang, 1960 brought another Strat-toting guitar hero to the fore. A red Strat, to be exact, accompanied by a pair of black-framed glasses and a dapper suit, which is surely all you need to mention in order to conjure the enduring image of Hank Marvin, whose melodic and wistful sound changed the world. Nowadays, the sound of The Shadows evokes feelings of quaint nostalgia - of simpler, less complicated times (which of course they weren't) - but at the time, he became the hottest and most influential guitar player on the planet. His Fiesta Red Strat (a custom order which is famously known - whether it's true or not - as the first one in the UK) is still a style highly requested by Hank's legion of admirers to this very day, making him easily as big an influence on a certain generation as Jimi Hendrix was on the subsequent one.
Most guitar fans know the Strat today by retrospective terms: we talk about a 'fifties strat' and a 'sixties strat', implying differences that have become ingrained due to Fender's own reissue program. A fifties Strat has a maple fingerboard (back then, the frets were hammered directly into the neck rather than a separate fretboard), a single ply pickguard and specific finishes like Sunburst and Fiesta Red, the custom Dupont care colour we all know from Hank Marvin's famous Strat. No, it's not Flamingo Pink: Hanks' guitar merely faded a little over the years!

A Sixties Strat, by comparison, is known for having a rosewood fingerboard, a more distinct sunburst colour and a slightly hotter tone. These conventions, used in all of Fender's reissues, are of course based on reality as the Strat developed from its inception to its 60s iteration a few short years later. The sunburst of the 50s Strats did originally have red in between the amber and the dark brown, but it faded quickly to the now recognised 'Two-tone Sunburst' or 'Brown Sunburst', so Fender used a stronger, more opaque paint for their red in the 60s, along with a full-on black outer shade instead of dark brown. The amber colour in the centre of the burst was simply a dye over the timber in the fifties. 60s Strats had a sprayed amber coat in addition to the dye, for an altogether bolder look.
There are some other differences relevant to the Strats of the sixties, and we'll pick some of them up as we take a closer look at our 1963 Strat!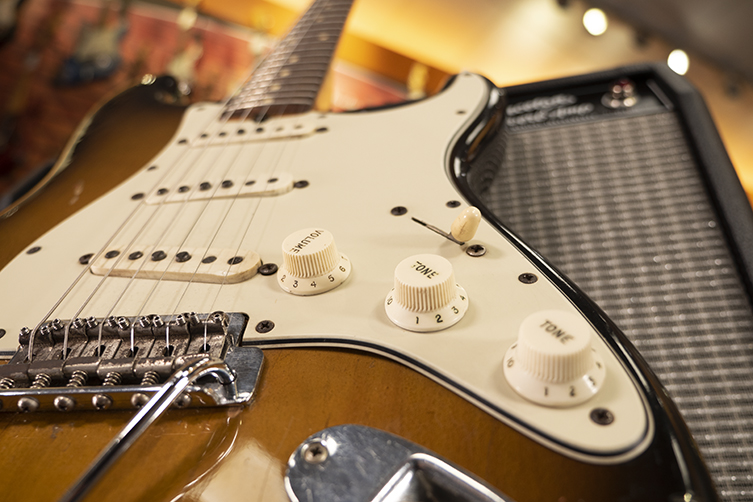 Our Strat
The wonderful instrument that we recently had in stock is a fine example of what we'd call a 'player's guitar'. It's a '63 model, original apart from the refinish and some small maintenance modifications. What would these be?Here's a list of the work that had been carried out over the years:
A set of replacement tuners (the original tuners were included inside the case),

A refret,

A replaced nut,

A 5-way selector switch in place of the original 3-way,

Finally, a replacement volume knob. The original was also included inside the case along with the tuners.
This Strat sported the slightly revised body shape that Fender guitars used in the early 60s. A casual eye wouldn't notice it, but those famous curves were ever-so-slightly less pronounced than on earlier examples. Fender do go back and forth with this, but it's a good way to help date the instrument. As mentioned, the guitar had been refinished, with a polyurethane clear coat sprayed atop the original three colour sunburst.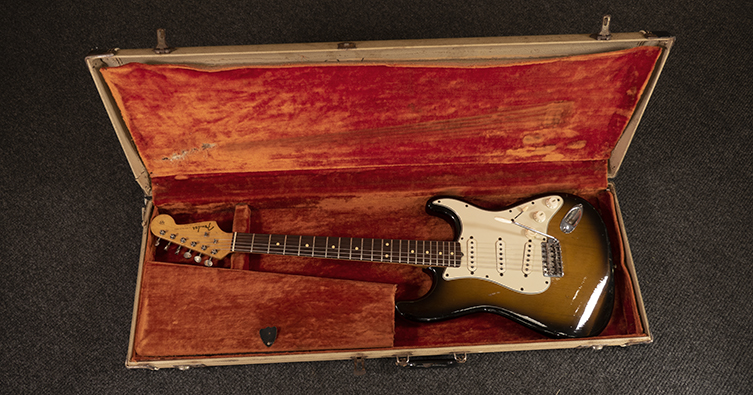 You'd see the famous 'Spaghetti' logo on the 'Pre-CBS' sized (i.e. not 'big') headstock. Although Fender fans tend to think of the large headstock as a 70s thing - mainly due to those reissue conventions again - it actually appeared on the Strat soon after Leo sold up to CBS in 1965! Our 1963 Strat was very close to the revered '62 model, so it bore the same standard-sized headstock.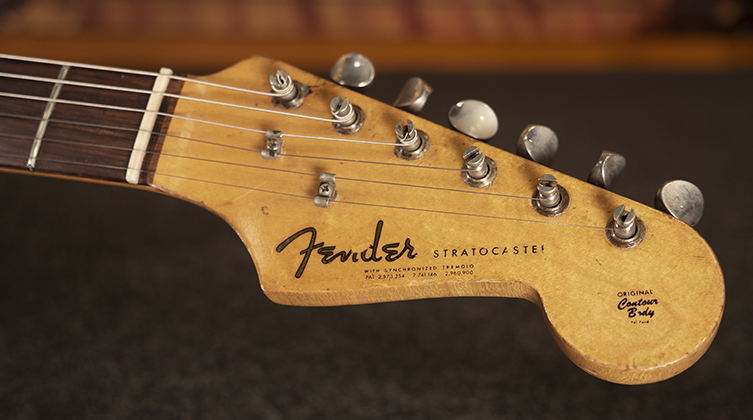 In fact, the whole notion of a '62 Strat being different or singular in some way is almost arbitrary: Fender could well have decided on 1963 as their touchstone for a Sixties Strat: the two years offer nothing significant in terms of differences. As such, the original '63 model had clay dots on its rosewood fingerboard, as the pearloid variants didn't happen until the following year. The board itself was a veneer, which tallied up with history too, since Fender introduced this feature later on in 1962. Our strat had been refretted, as you'd expect on an instrument that's been played and loved for nearly 60 years! Guitars like this don't want to be in museums, they want to be on stages!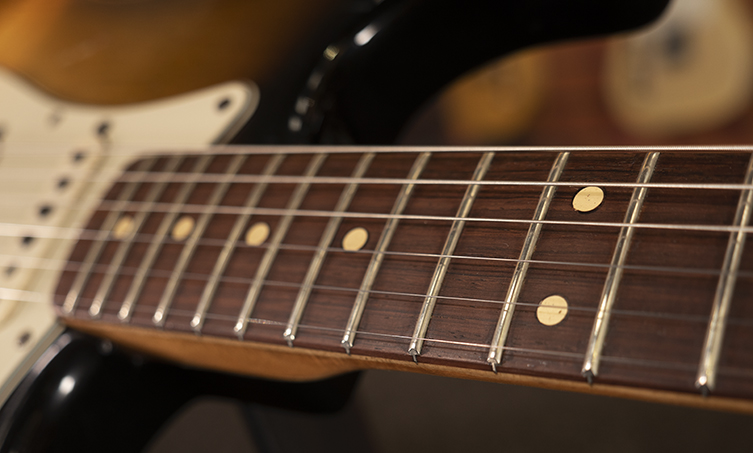 As for the pickups, these are 'black-bottomed' single coils. Sadly, we don't have a picture to show you today, but they were checked and identified as original 63 units: again, Fender didn't change up the pickups until 1964, when the 'gray bottom' single coils appeared. Again, this difference is more referenced in terms of dating the instrument rather than implying any specific tonal preference. Still, these are the original pickups, which is fantastic!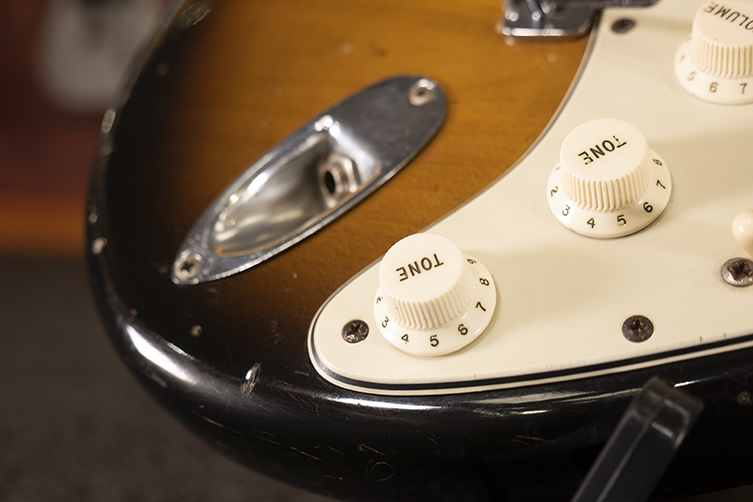 The Genuine Article
Vintage guitars are only going to become rarer and rarer. With every decade, these original Fenders are harder to locate, as more and more are locked away in bank vaults for posterity. No amount of skillful ageing work can beat an actual, real vintage Fender guitar. If it's authenticity you seek, it doesn't get much more authentic than a Fender Strat that's been around since before Mankind landed on the Moon!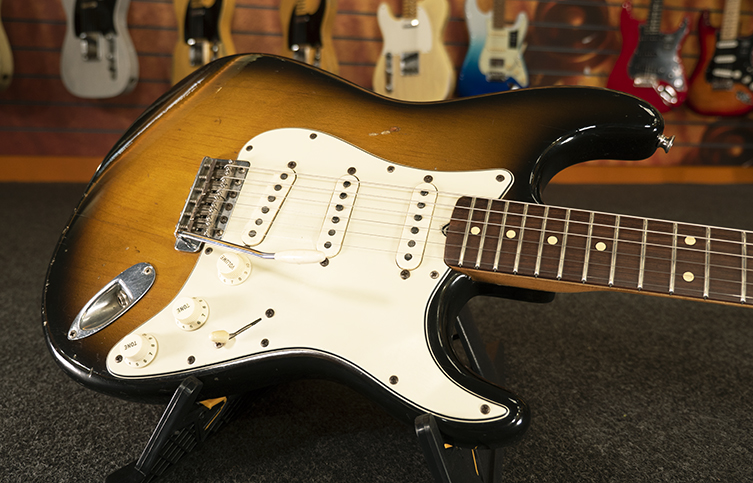 Our 1963 Strat now has a new owner, who will no doubt enjoy its authentically vintage feel and tone. It's a rare guitar indeed! We hope you enjoyed our little tour through history with it, and trust that you'll join us again in the future for another Vintage Vault experience!
Ray McClelland