Gibson Custom Shop Murphy Lab
Published on 04 May 2022
Do you like your guitars to show signs of a life well-lived? A few scars from adventures on the road, with some wear, tear and a lot of love mixed in? You're far from the only one! It seems that we guitar-loving types definitely approve of visual 'evidence of use' on our most beloved axes.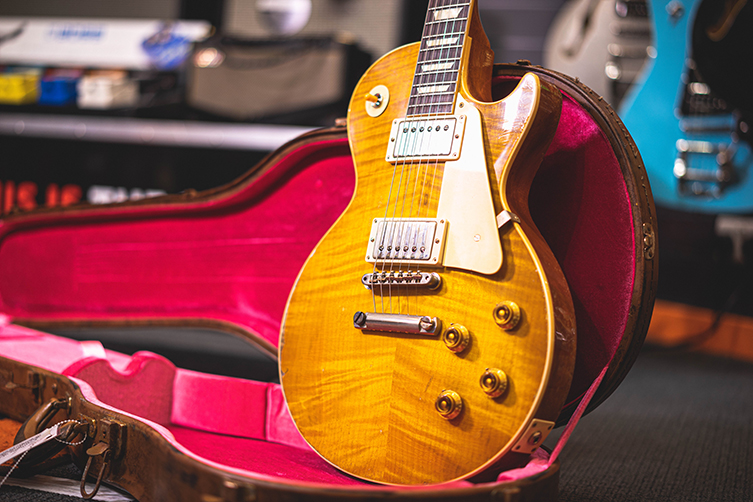 This is true of decades-old guitars that have picked up these details over a lifetime of gigging, but it's equally true of guitars that are fresh from the workshop! For over twenty five years now, the whole subject of 'relic' guitars - the notion of authentically yet artificially distressing new instruments - has been a thing. There are a number of reasons for why we like our new guitars to not look quite so new, and we'll look into that a little bit today, as we focus our attention on the impressive work carried out by Gibson Custom Shop's special 'Murphy Lab' department. These were heralded a year or so ago and we were so excited to bring them to you. Since then, our excitement has only increased, due to how amazingly well these guitars have turned out to be! They are easily the most desirable Gibsons we've had in years. Have a read of our celebratory blog today and have a good look at some of the prized pieces that have moved through our stores recently. Don't forget to click through at the bottom to view our current selection!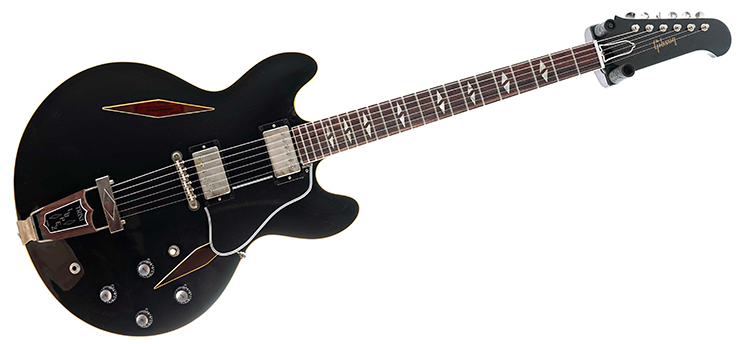 What is the Murphy Lab?
So, the Murphy Lab. We've looked at this briefly before, but it's definitely worth reacquainting ourselves with the whole notion of the Murphy Lab. Tom Murphy has been a famous 'distresser' of guitars for decades now, working out of his home workshop on very limited runs of instruments that were primarily Gibsons. His knowledge of finishes and the authentic techniques behind ageing them quickly earned him a reputation around guitar circles. He made the most convincingly believable relic work on such guitars new or old, so much so that many celebrity players personally shipped him their guitars to work on.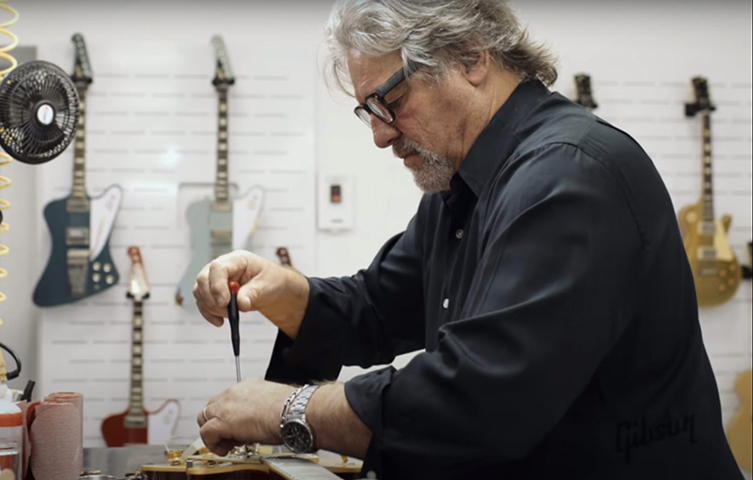 In short, a guitar aged by Tom Murphy was a real event, and owning one was an extra level of prestige for collectors and players alike.
This exemplary work continues in the Murphy Lab, a division within the Gibson Custom Shop. This team - all trained and supervised by Tom Murphy - are tasked not with building the guitars but adding the final distressing work to selected Gibson Custom Shop guitars. Tom himself is an active part of the team, and no Murphy Lab guitar makes it out of his workshop without his direct hands-on inspection and approval. We think it was an excellent, insightful move on Gibson's part to bring Tom into the fold and elevate his work to where it belongs, at the very top of the Gibson Custom Shop tree.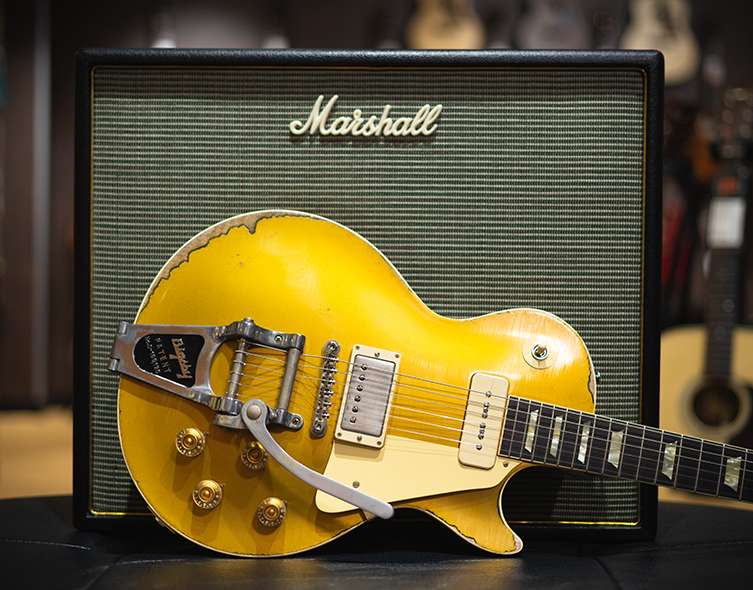 So, the Murphy Lab do not make instruments. They are a special division of Gibson's Custom Shop. The Custom Shop makes the best examples of Gibson guitars that exist in the world today, with the best materials, woods and handcrafting. Some of these superb guitars then make their way to the Murphy Lab, where that extra light & magic is applied. These then become Gibson Custom Shop Murphy Lab guitars, and the results are quite incredible.
Historical Models
Gibson, like most heritage guitar companies, base a lot of their output on what we call 'golden age' guitars. These are the most widely revered examples of the craft and are correspondingly the most expensive. We're talking about the mid-to-late 50s and the late 60s mainly, and of course, we're referring to Gibson's star model - the Les Paul - alongside other legitimate classics like the SG, Designer (Flying V, Explorer etc) and ES models.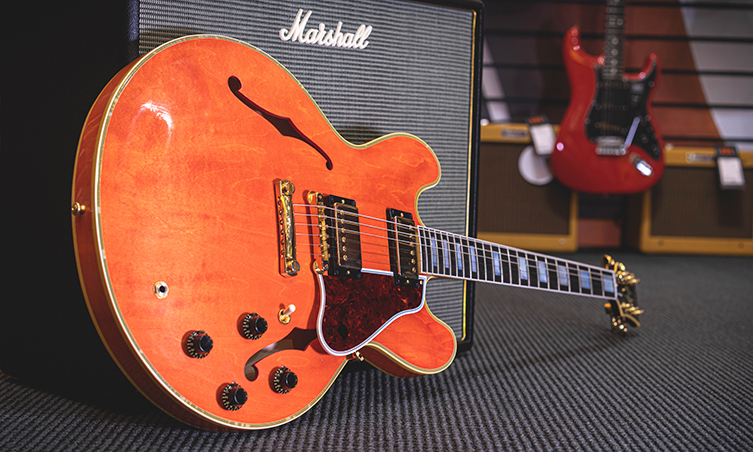 Now, over the decades, Gibson have tried out a range of more contemporary, non-heritage models too, but we guitarists habitually return to those golden classics. These, then, are the models given the Murphy Lab treatment. It makes sense, since the whole premise is to replicate a heavily used guitar that's well over 50 years old: it would hardly make sense to offer an aged instrument that's only seen a few years of active service!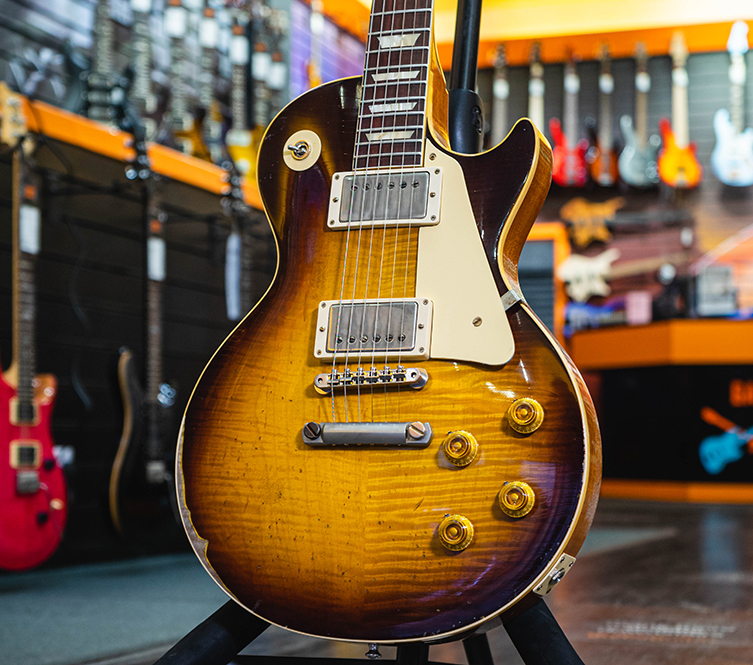 Therefore, Custom Shop recreations of the oldest, most classic and desired Gibsons are the ones used in Murphy Lab projects. You'll find '59 Les Paul Standards, '57 Goldtops, Sg Customs, ES355 models, LP Customs and some slightly more esoteric numbers such as the fabulous Trini Lopez, which is now a revered model thanks to Dave Grohl's exhaustive patronage. These guitars will all be available in a degree of distress that's carefully mapped out to four distinct levels…
Four Levels of Ageing
These Murphy Lab Gibsons are offered, as we mentioned, in four particular stages of artful distress: Ultra Light Aged, Light Aged, Heavy Aged and Ultra Heavy Aged. All of these guitars feature the VOS treatment that Gibson have used on certain models for many years now. VOS stands for Vintage Original Sheen, and is a part of the finishing process that adds a slightly matte patina to the lacquer. It's a beautiful finish to touch as well as see, and we've been big fans of its subtle aesthetic for a long while.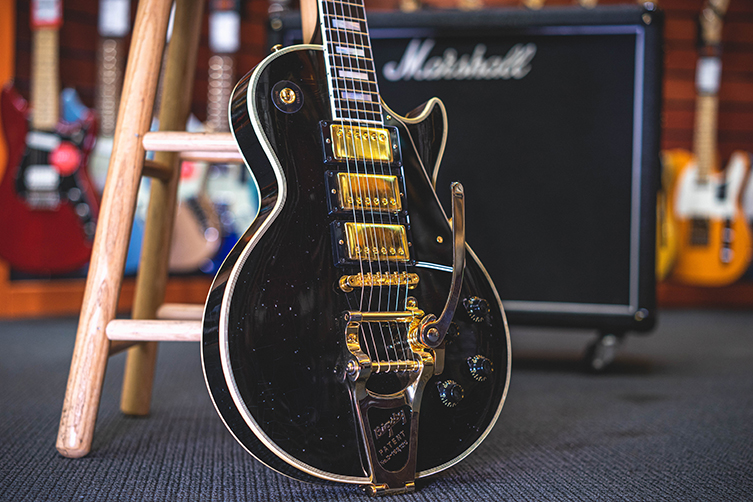 So, the levels of distress increase with each corresponding category, as you'd expect. Ultra Light Aged refers to an instrument that's been kept mainly in its case for decades, with only a very small amount of wear to certain areas, and minimal checking of the body's finish. Ultra Heavy Aged, by comparison, has very noticeable levels of wear, buckle rash, heavily aged hardware and has lots of checking across the body's finish. The two levels in between offer corresponding levels of erosion and 'battle damage'.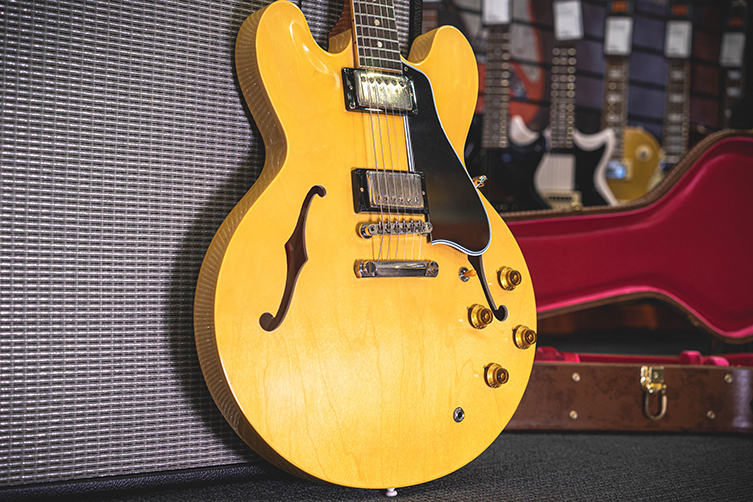 All of the distressing is sympathetically applied in order to look and feel as authentic as possible. We'd say there is a sensibility and level of restraint in evidence throughout the many examples we've now seen, in order to provide instruments that are to all intents and purposes exact vintage replicas, rather than absurd, over-the-top conversation points. The checking is extraordinarily convincing, as is the tarnished metal work: we've been lucky enough to handle some genuine vintage Gibsons over the years and we'd say these are almost indistinguishable in terms of authenticity.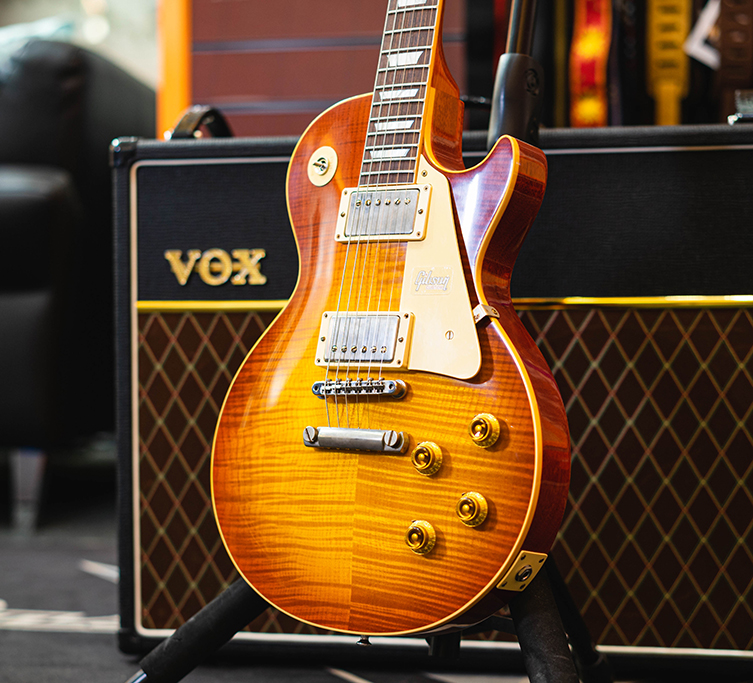 Who Are Gibson Murphy Lab Guitars For?
We mentioned there how these Murphy Lab guitars are effectively vintage replicas. This gives a strong hint towards who these guitars may be well-suited to. Players lucky enough to own a vintage Gibson guitar will be keenly aware of the value attached to such an instrument. It's one of life's quandaries: when you finally own an exceptional instrument, you want to take it out and enjoy it in the context to which it belongs - a stage! However, it's often just not feasible to bring a vintage guitar to a gig or tour (unless you are Kirk Hammett of course) due to prohibitive insurance costs and the dangers of theft and damage.

This is where these excellent Murphy Lab instruments come into their own: they are still a considerable investment, but they are eminently 'safer' to gig with for those who don't want to risk their museum-piece Gibsons. Something like a Custom Shop Murphy Lab '59 Les Paul Standard will get you as close as it is humanly possible to achieve - with the correct neck profile and wear, and the correct sounding pickups and overall look - to the vintage original, and it's a fraction of the cost.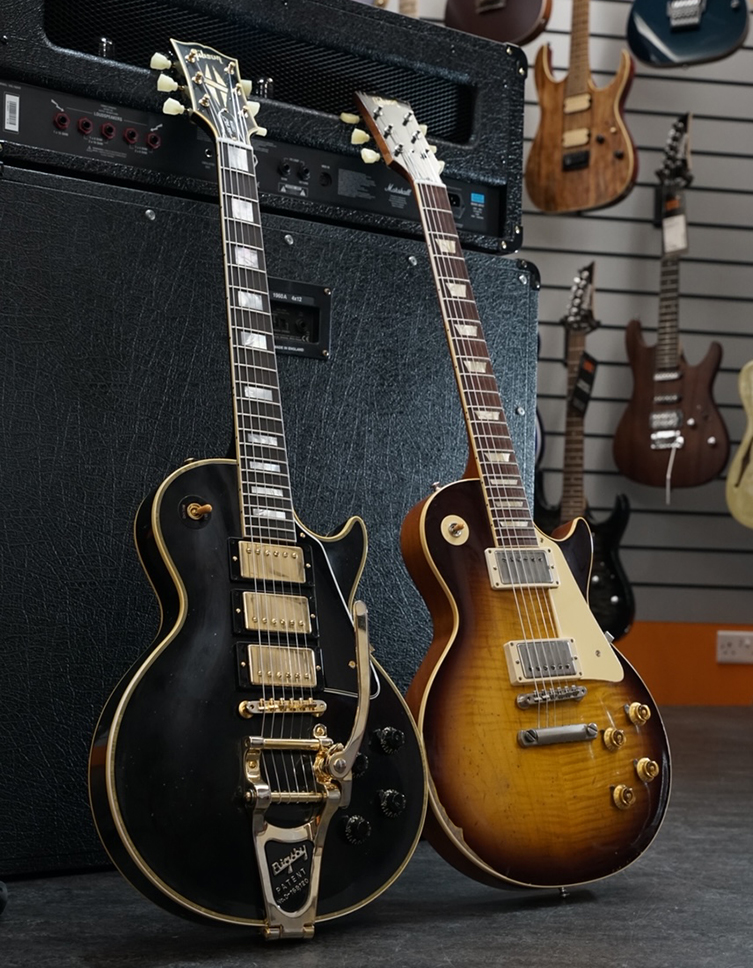 On that note, another person who'd want one of these guitars is a seasoned, informed guitarist who understands that the mythology behind vintage Gibsons is actually fact, and they want to have some of that for themselves. Forgetting the fact that these are new guitars, they are '59 Les Pauls and '62 SG Customs in every single way except age, and even that element is perfectly, meticulously recreated.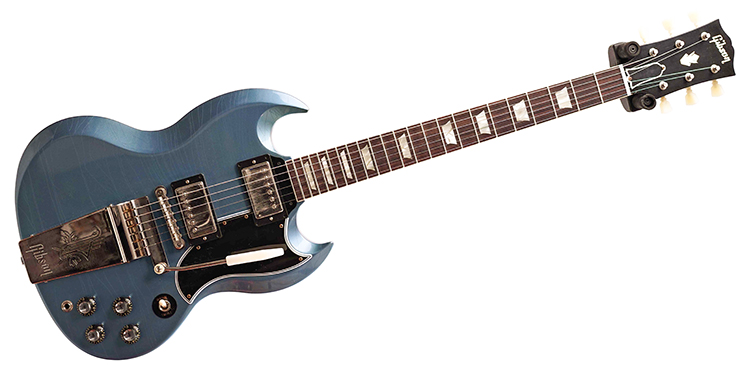 Collectors will love these Murphy Lab instruments, too. No matter how prized your guitar collection may already be, the addition of such an exquisite Gibson Custom Shop guitar will serve as a most impressive centrepiece. It's genuinely hard to tell them apart from actual 60 year old guitars. Let's face it, getting hold of an actual '59 or '60 Les Paul Standard is an almost hopeless task these days, and if you are able to source a legit example, the current asking price for such a guitar is somewhere between £100k-£200k by conservative estimates. Being able to afford that is its own subject, but even finding one is a Herculean task. Thus, these phenomenally put-together Custom Shop replicas, complete with Tom Murphy's peerless distressing, make the Murphy Lab series a very exciting, and very necessary prospect indeed.
Click to View our Selection of Gibson Custom Shop Murphy Lab Guitars
Ray McClelland