Legends of Gretsch: Top Gretsch Players
Published on 04 May 2022
Gretsch make the most stylish guitars ever. That's not an opinion, it's a fact! Their timelessly classy curves, art deco details and hot rod-inspired colours have been a lynchpin for the more aesthetically minded guitarist since forever. As we know, popular music is a visual medium as much as it is sonic, and whilst Grestch have their own famous tone that's loved the world over, people listen with their eyes. To be a Gretsch legend, you not only have to sound awesome, you have to look iconic and you have to understand the power of a good pose as much as a well-aimed riff.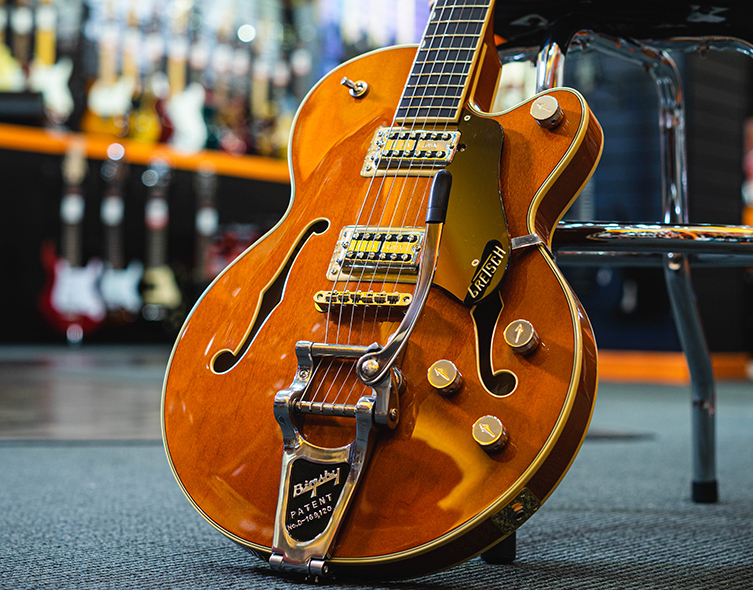 Today, we celebrate the players out there who rock a Gretsch like nobody else.
Chet Atkins
Chet Atkins is almost like the grandfather of electric guitar, given how pervasive his influence has been on those who came after him. Chet wrote hits, he collaborated with other musicians (Glen Campbell and Tommy Emmannuael are two diverse examples) and he taught the world how to be fingerpick. Gretsch honoured him with several of his own 'Country Gentleman' signature guitars, many of which are a permanent part of the catalogue. He's rightfully revered as one of the greatest guitar players ever, in it's because of his accessibility rather than his gobsmacking chops. As quintessential to Gretsch as Slash is to Gibson.
Duane Eddy
The original badboy cowboy swagger belongs to Duane Eddy, whose outlaw persona shines through every low down note he's ever played. Utilising a low slung Gretsch baritone, his twangy, echoey tones (achieved with the help of a 2000 gallon water storage tank) shot to the top of the charts, with seminal tunes like Peter Gunn (you definitely know it) eventually earning Duane a Grammy award. Too mean for surf, Duane is a whole subgenre of attitude unto himself.
Brian Setzer
In a competition to determine who has the biggest quiff, Morrisseyr would have to get in the ring and duke it out with Brian Setzer, such is the height of his carefully brylcreemed barnet. This guy is rockabilly through and through, and together with his band the Stray Cats, has done more to put that sound on the map than nearly anyone else.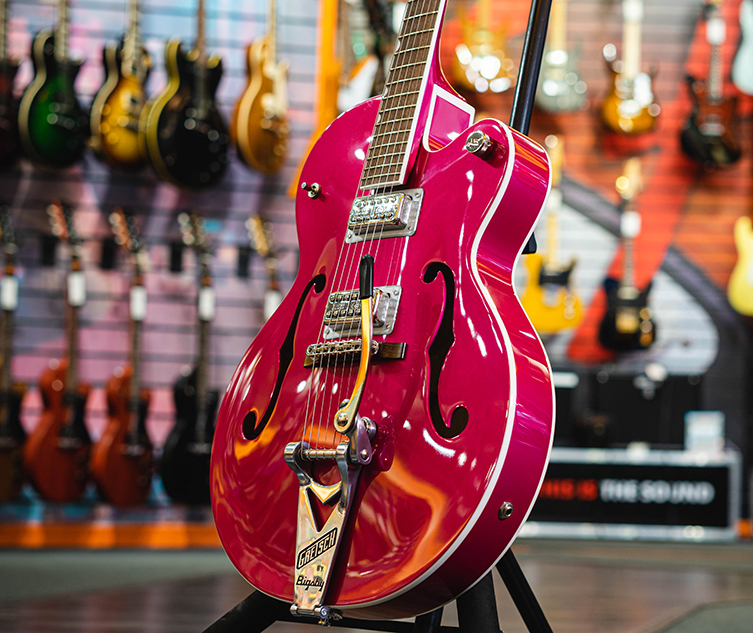 Setzer's playing is like his clothes - flash yet accessible, loud yet tasteful - and his numerous signature Gretsch models have appeared in a veritable rainbow of colours over the years. What do they all have in common? They are all big, loud and impressive. What else is there?
Billy Duffy
Bleach-blonde hair, cut-off denim jacket and a low-slung White Falcon: Billy Duffy was easily the popular face of Gretsch in the 80s. Like a guitar-toting He-Man, Billy brought power, class and finesse to a hard rock world filled with neon superstrats and hairspray. His commitment to the White Falcon continues to this day, as he clearly understands just how powerful and totemistic the image is. An enduring legend.
Malcolm Young
Riff machine Malcolm Young was probably the most no-nonsense rocker who ever lived. Sticking to the back area of the stage, he kept his head down, his guitar loud and his riff arm in perpetual motion. In early days, Young actually used a White Falcon before moving on to his famous (and increasingly knackered-looking) double cut Jet. His brother grabbed most of the attention, but Malcolm was the rock-solid engine room that spat out those unforgettable riffs. His sound was loud and crunchy but never too distorted, which may be something of a tone-secret for those who wish to follow in his footsteps. Respect!
Bo Diddley
When you have an actual rhythm named after you, you know you're onto something! Bo Diddley was a suave, mercurial character who knew how to pen hits and take names. He's famous for playing a rectangular Gretsch - which is awesome in itself - but he also rocked a Jupiter model, which later on became Reverend Willy's own Billy-Bo signature guitar.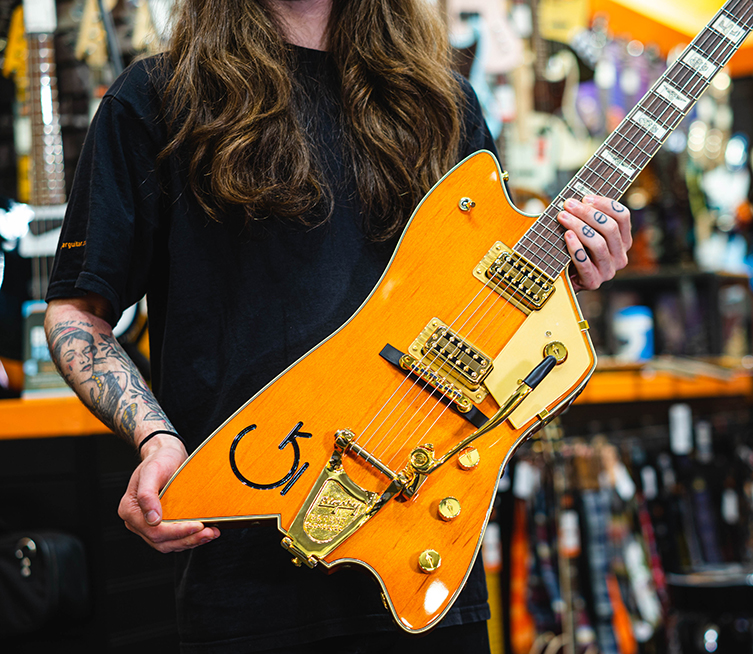 When Billy Gibbons picks up on it, you know it's cool, and Bo was the coolest.
Chris Cornell
Chris Cornell was an absolute powerhouse: an artful writer, a brilliantly unorthodox guitarist and a supersonic vocalist. Throughout his Soundgarden years and solo albums, he often used a selection of Gretsch guitars, including sparkle-finish Duo Jets. Superunkown, perhaps his finest album, was recorded using only a Gretsch Silver Jet and a Jazzmaster for nearly all of the rhythm parts and riffs. Anyone doubting the rock power potential of Gretsch should give this record a spin and learn.
Versatility Built In
What's interesting to note in this brief list of great Gretsch players is how diverse it is. There's a wealth of genres and timelines represented here, and each player is using their Gretsch in pretty different ways. Given how specific sounding they are known to be, it's interesting to see how well Gretsch guitars fit into these disparate musical environments. From the early era twang of Duane Eddy to the grunge fuzz of Soundgarden, it seems that there's far more to Gretsch than just indecently good looks. If you haven't yet encountered this brand in a big way, maybe now is the time to embark on your own Gretsch odyssey.
Click to View our Gretsch Selection