Meet Your Maker: Mayones Guitars Factory Tour
Published on 06 October 2022
2022 marks 40 years of Mayones Guitars. When this family company first started in a small garage in Gdansk, little did they know they'd go on to become one of the world's most sought after boutique guitar brands played by some of the biggest names in rock music.

Behind the Iron Curtain
From that small garage to the world's stage, the story of Mayones guitars reads like a rockstar biography. Beginning in the early 1980s, the young company was faced with more than its share of challenges. Poland was still well & truly in the grip of Communism and struggling at the time under martial law; sourcing materials & components was nearly impossible, and so was importing from abroad.
Luckily for us though, the Dziewulski family were as resourceful as they were inspired: using magnets found in furniture, or children's train sets to salvage parts to use in winding pickups. They even cooperated with military suppliers to buy broken switches and other parts to use in their guitars! The enormous political and social changes of 1989 saw the team at Mayones finally able to build on their vision and grow the brand, striving towards crafting the very best quality instruments they could produce. A testament to their tenacity and devotion, Mayones are today one of the most highly prized boutique guitars on the modern market.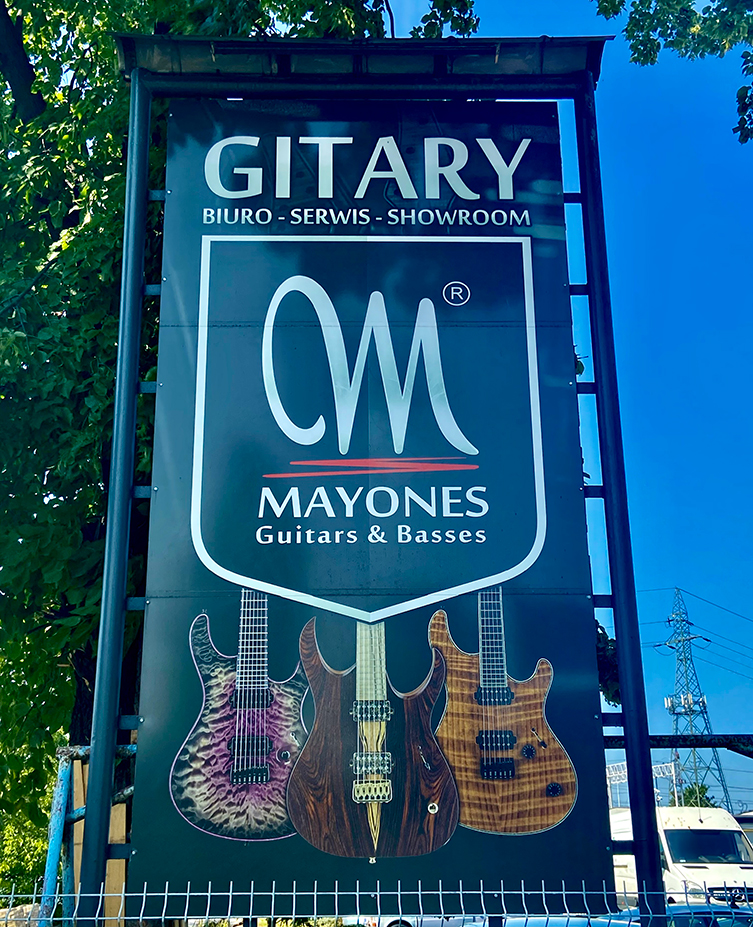 Best Flavour
There is very little information to be found when it comes to the history of the brand's name. It is a somewhat common practice for guitar luthiers to call their wooden creations after their last name: Leo Fender, Paul Reed Smith and Orville Gibson to name a few. This was not the case with Mayones! Legend has it that in the early days of guitar production, before the brand was fully formed, Mr & Mrs Dziewulski colaborated with a friend nicknamed 'Mayonnaise' - simply because he loved adding this creamy sauce onto virtually everything he ate! Having no other ideas, they used the name as a temporary fix - and the rest is history. A light-hearted name that stuck and surely stands out on the market. Irresistible touch!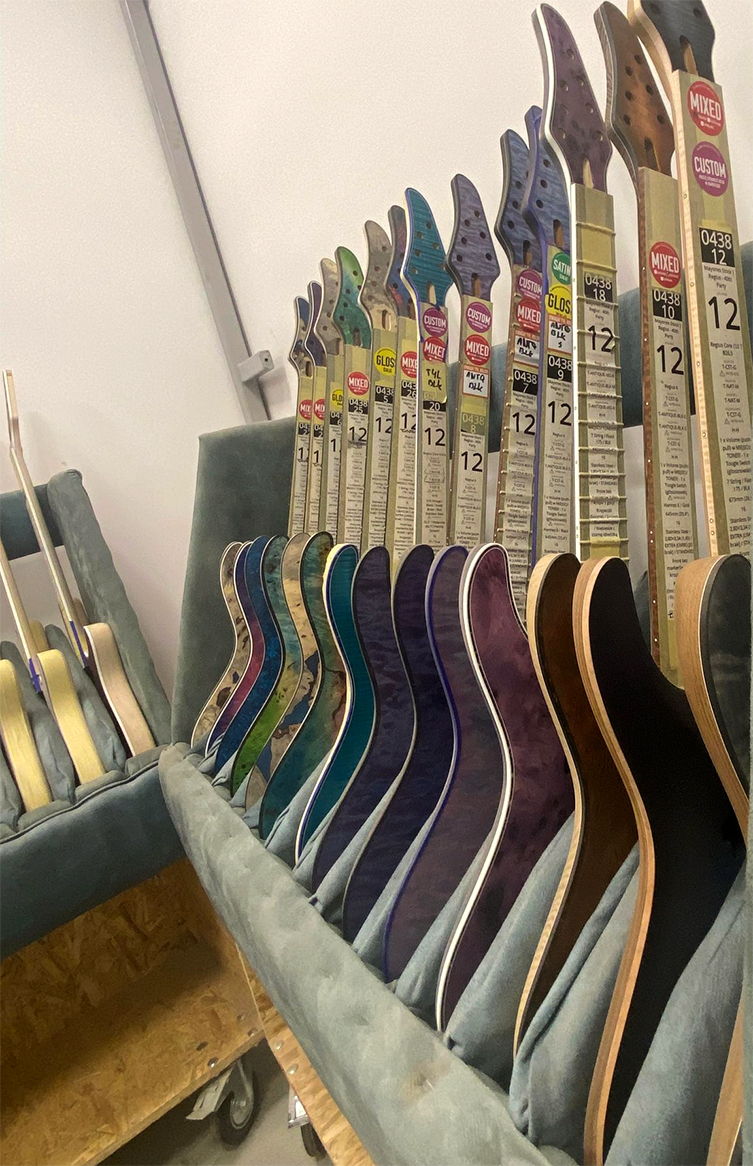 Authenticity, Innovation, Passion
Mayones' authenticity doesn't end on the name itself. Every instrument is designed, handcrafted, painted & Q-C'd in Gdansk, Poland by a small team of 40 people. Nearly all of the staff are local to the Gdansk-Gdynia-Sopot Tricity area. These luthiers, engineers and designers work faithfully along with directors, marketing and sales team, fulfiling world-wide orders on a daily basis.
Recognisable headstock designs, radiused body construction, dual action truss rods and stainless steel frets are features relative to the whole brand. The luthiers express their visions through a careful selection of only the finest tonewoods, ethically sourced from certified sustainable North American suppliers.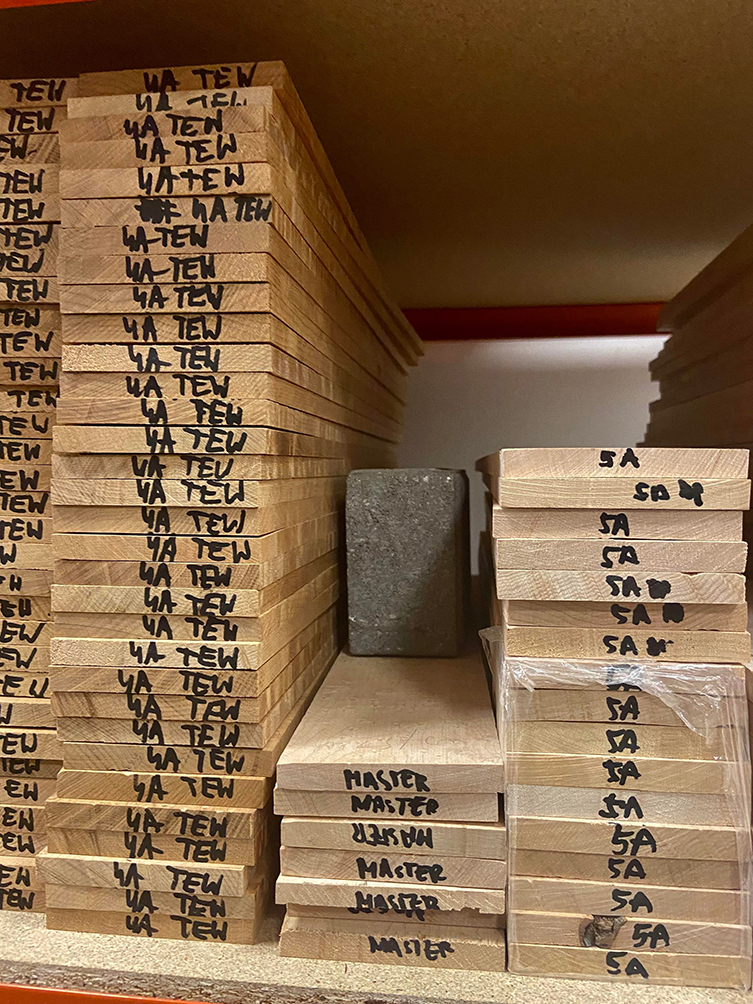 Delivered in whole chunks, these are then intricately cut onsite to fit desirable bookmatched tops, which is something only a few boutique builders do. Mayones use wide selection of timbers and tonewoods: eye poplar, swamp ash, black limba, wenge, 5A flamed maple, pale moon ebony, master grade buckeye burl….to name a few examples.
On top of that, Mayones also has their own proprietory take on torrefied wood called T.E.W. (tonally enhanced wood).
Head-turning tops are yet another feature of Mayones guitars. They acquire their unique finishes via one of the two most effective colour application methods: airbrush (for mono-coloured opaque tops and bursts) or traditional staining (multicoloured tops and fading). Whether it's a traditional look or funky neon burst, these guys have a knack of making the wildest ideas not only doable but tasteful. The pictures here are only half the story...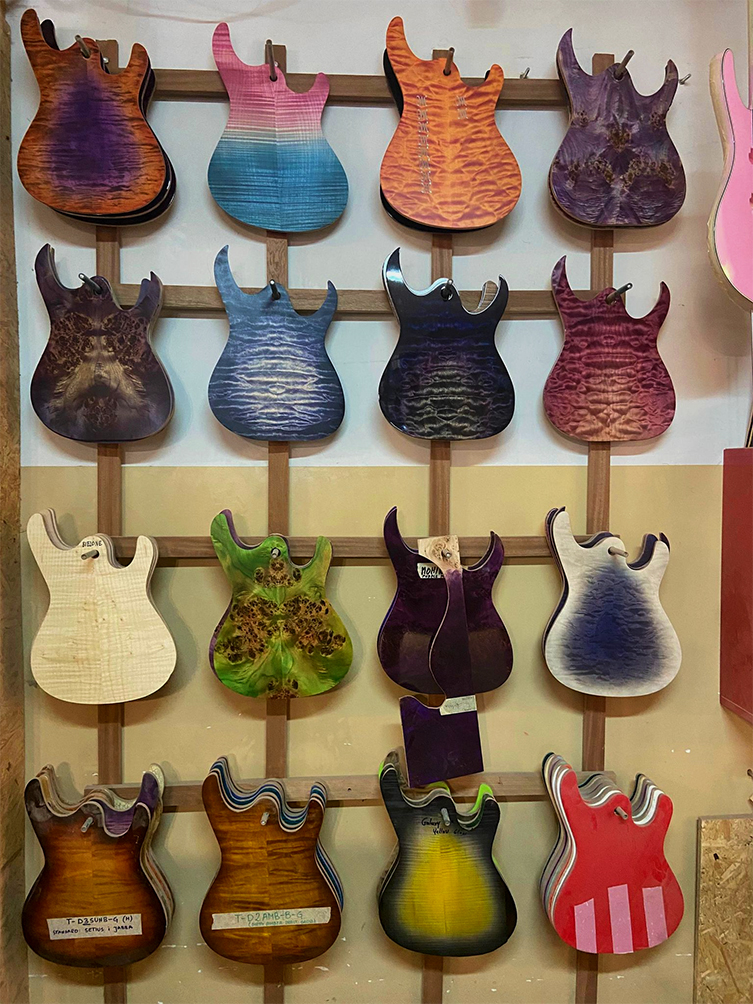 To top it all off, since 2013 each and every single Mayones instrument gets its final setup by PLEK machine. This revolutionary diagnostic tool allows for precision and accuracy outwith the ability of human hands and eyes. PLEK scans the neck whilst checking the fretboard and frets are perfectly levelled in order to produce immaculate intonation and playability across the entire construction, leaving no room for errors.
Although a boutique, small batch brand, Mayones makes an impressive 100 instruments per month, with production of one instrument taking 8 to 9 months from start to finish. Current waiting time estimate for new orders is 15 months. The Mayones guitars you can try and buy from our stores today were ordered well over a year ago! Each fresh delivery is as exciting for us as it is for you!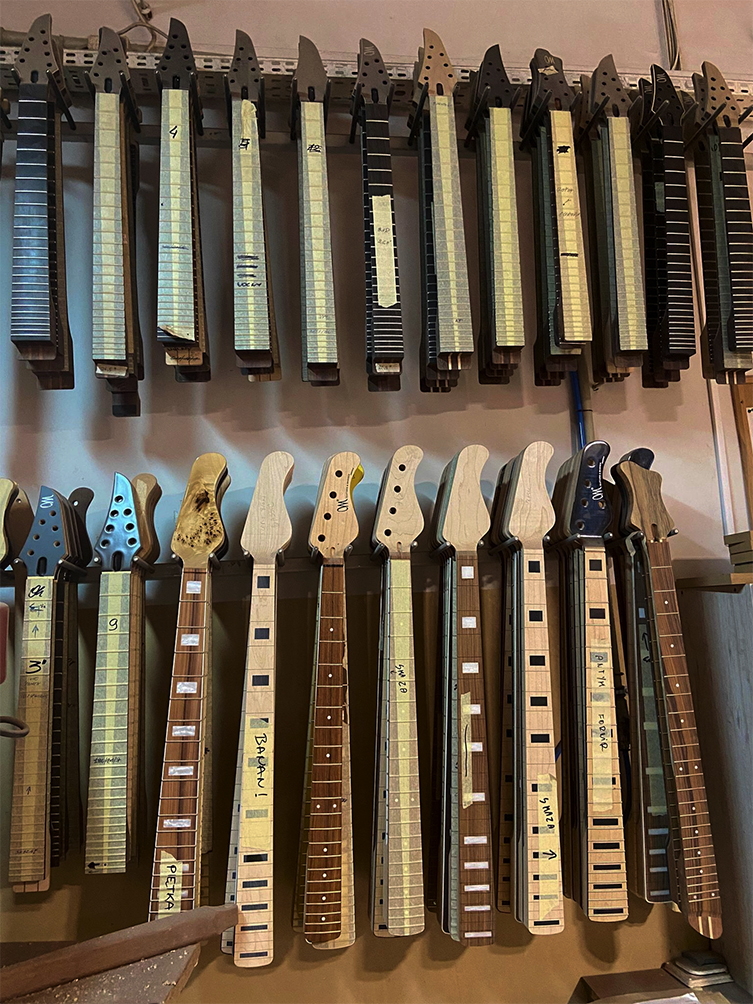 In the words of comapny's director, Dawid Dziewulski: "when you hold a Mayones, you hold forty years of determination and love, made in an authentic way with passion". We couldn't agree more!
40th Anniversary Batch
Four successful decades on the music market means business: to mark this occassion Mayones have delivered a limited run of 40 uniquely designed spectacular anniversary models. Each guitar in the range is entirely unique and is built from a list of specs that include the finest tonewoods, matching headstocks on certain models, premium pale moon ebony fretboards, custom tuning machines and 40th Anniversary truss rod covers. These guitars are one-off and in extremely high demand!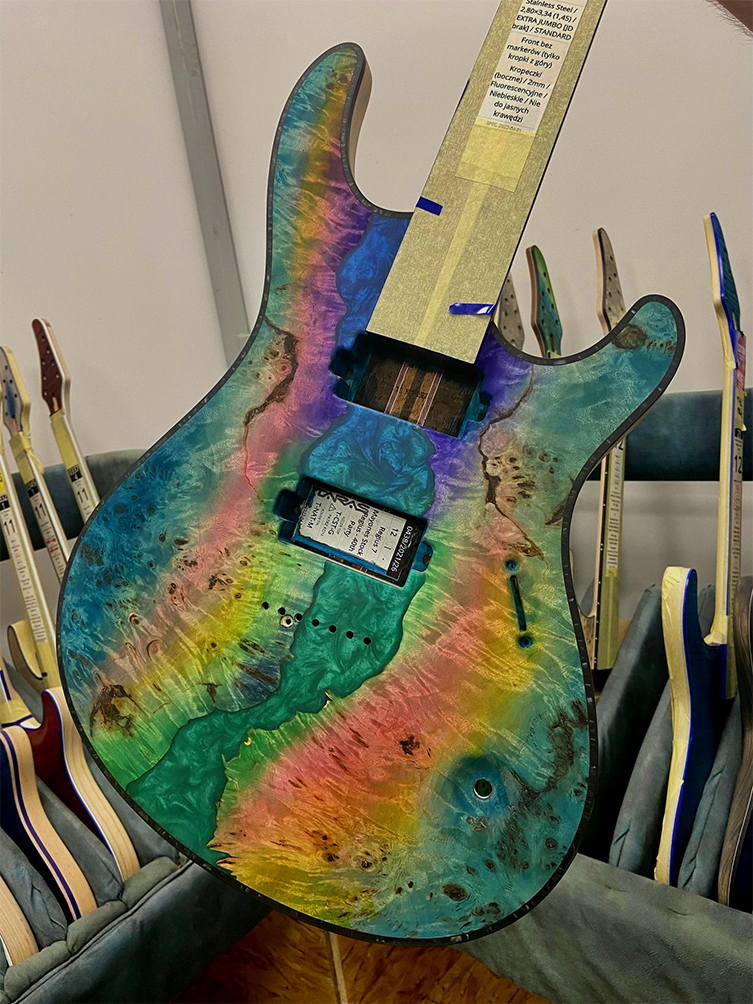 The Sound of Modern Times
So, who is a Mayones instrument for, you may ask? Known for their use of heavy duty, high-output Bare Knuckle pickups, the first thing that comes to mind, naturally, is that Mayones is made for hard rock and heavy metal music afficionados. You're totally right, but you're also in for a surprise! Whilst their compoud necks, sleek bodies and smooth Hipshot bridges may seem suggestive, the truth is that Mayones covers a full spectrum of musical genres. You can use it to play virtually anything from jazz to pop to djent! The company's current artist roster says it all: with bands such as Monuments, Architects, Polaris or Infected Rain, we righteously associate those guitars with shredding but when we look further we are graced with an array of smoothest jazz musicians: Martin Gudics, PJ Dinz (Jota Quest), Hadrien Feraud as well as experimental composers such as phenomenal Mohini Dey. Will you join them?
The Pickups
Only the world's best pickups make it to Mayones guitars: Seymour Duncan, DiMarzio, Fishman, EMG...you name it, your Mayones can be equipped with it. Added to the lineup are British made Bare Knuckle TKO pickups voiced exclusively for Mayones, as well as the company's very own invention: The Velvetrone. Never forgetting the importance of the beginnings, Mayones harkens back to its DIY roots when Halina Dziewulska single-handedly wound the company's first pickups combining unique methods and parts. And today, the Velvetrone pickups reflect just that: hand-wound, designed and built in-house, created to match the standard of the instruments themselves.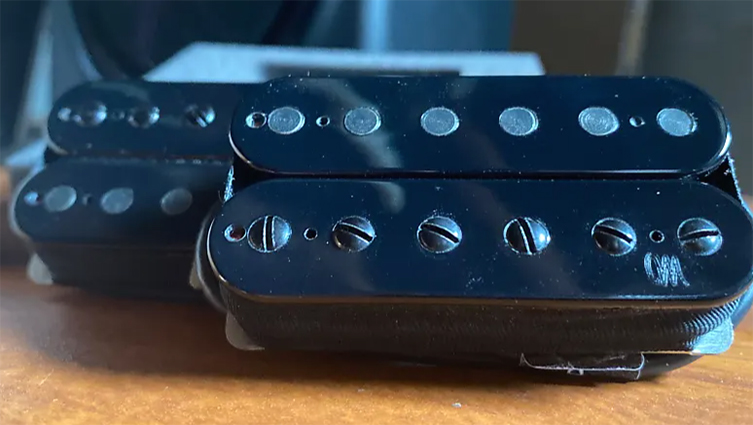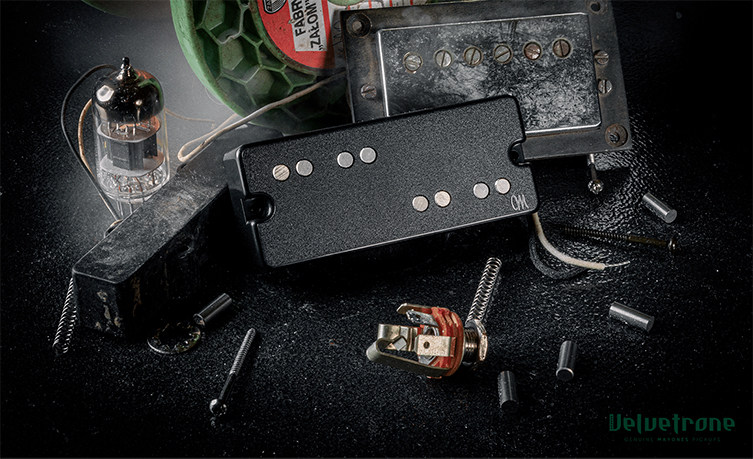 Sustainability With No Compromise
Sustainability is a big deal for Mayones. Following the example of Taylor Guitars, Mayones started using lighter coloured ebony on their instruments which was previously undervalued in the guitar building industry. To ensure the company's dedication to ethical wood sourcing doesn't end there, Mayones came up with a rather revolutionary idea: minimalize the waste content by utilizing leftover wooden pieces into more products. And we're not talking cheap equivalents built in overseas factories. We're talking superb quality wooden accessories (pick holders, phone stands and key rings) as well as fully professional instruments in miniature versions, made in the same one Polish factory! That's how Cali bass was born. Built from leftovers of high standard woods, Cali is a half-scale bass that makes for a perfect travel companion for a touring musician.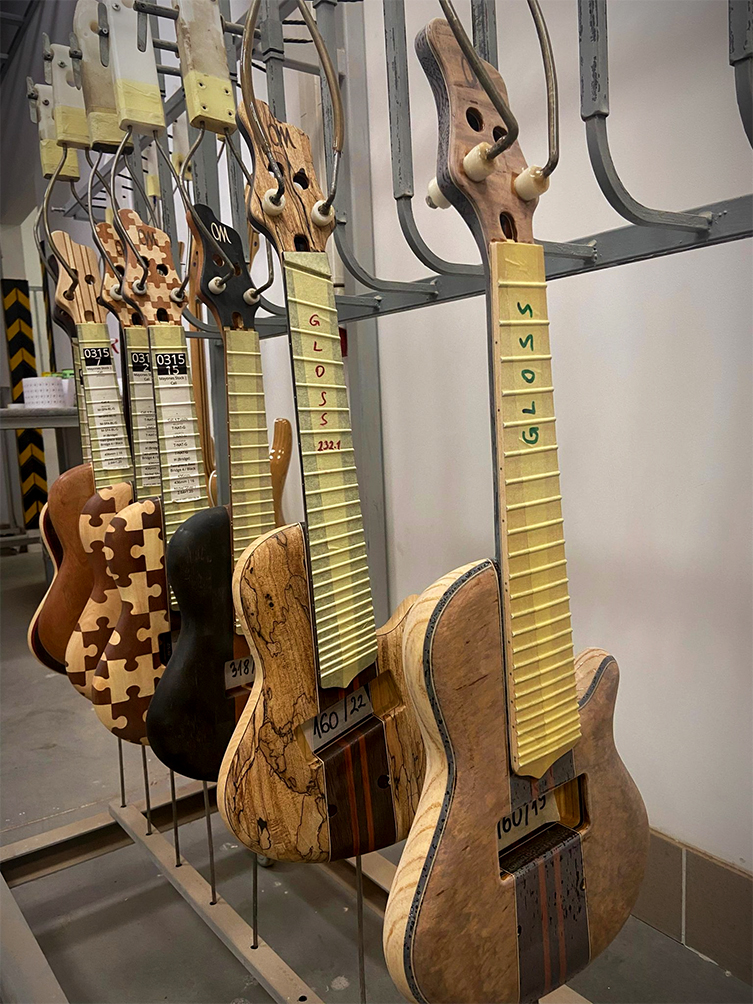 The Future is Mayones
When we visited the Mayones headquarters and factory this summer, it was a privilege to witness a moment in time where history is being made. We took part in the factory floor tour where we were shown a little of what happens behind the scenes, from wood library room to assembly point to final quality control room. We were then honoured to meet the legendary female boss, Halina Dziewulska, who invited us for a chat in her office over a cuppa. We talked the early 80s Polish Rock scene and how it influenced the company's beginnings, we talked the challenges of a female working in guitar industry, and about Mayones' current and future goals.
40 years on, Mayones is only just beginning. It's blooming. Stepping into another decade, forever ahead of its time, ahead of the game.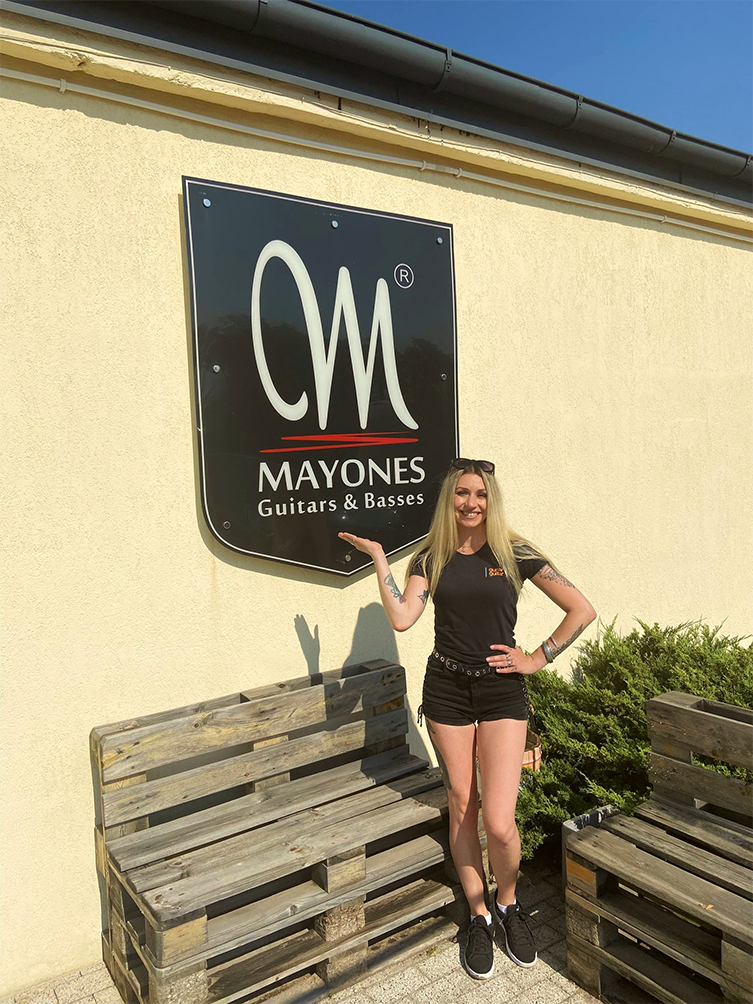 Shop Our Full Range of Mayones Guitars
Photography: mayones.com and Anna Gembal-McLaughlin.
Written and edited by Anna Gembal-McLaughlin, Gdansk - Glasgow 2022.