Adam Goldsmith Clinic at guitarguitar Camden
Published on 13 December 2022
Have you ever wondered what it takes to become a session guitarist?
We've got you covered.
One of the most in-demand session players from the UK, Adam Goldsmith, will be joining guitarguitar for a clinic!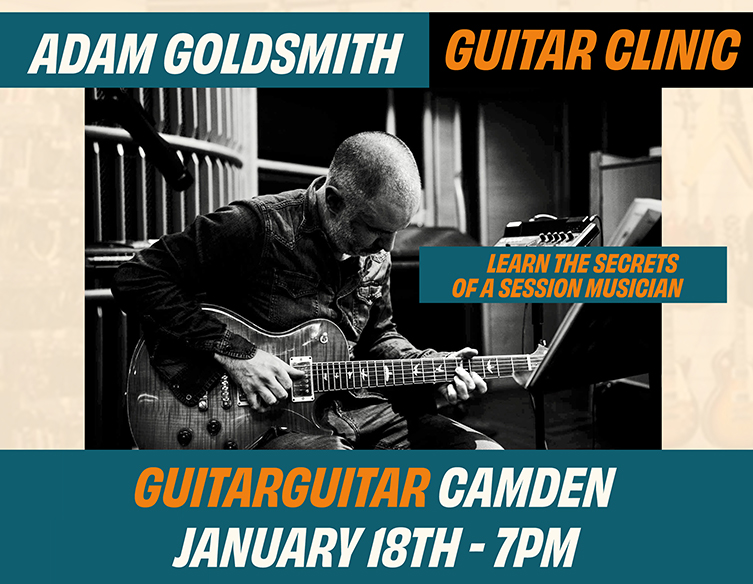 Since graduating from the Royal Academy of Music, Adam has worked on a number of music projects. Frequently hired to play on live tv shows, tours, recording studios for well-known artists, as well as film scores, Adam has solidly established his position within the music industry. You can find his name on credits for TV productions such as: The Voice (part of the House Band), American Idol Big Band (pre-records), Dr Who (Adam is the guitarist when the Doctor is playing!), Hollywood blockbusters (Les Miserables, Bridget Jones's Baby), BBC Symphony Orchestra, live/studio recording guitarist for the likes of Rod Stewart and Gloria Estefan and many more!
On top of that, Goldsmith specialises in online session work, and has played on tracks for producers all over the world. Adam is endorsed by D'addario strings and Hamstead Amps and is also a regular contributor to Guitarist Magazine.
The Details:
We are thrilled to announce we will be hosting a guitar clinic with Adam Goldsmith!
It will take place on Wednesday the 18th January at 19:00 at guitarguitar Camden.
Fear not if you can't make it in person - this event will be livestreamed via our Facebook page!
(19:00 hrs start at https://Facebook.com/guitarguitaruk).
Adam will give a brief story of his career and will be focusing on what it takes to become a session musician. He'll cover things like how to get started, what skills are a must and what are the differences between playing in a band vs playing for a session. Adam will play through a few tracks, too. There will be a Q&A on music business and his gear and the audience will have a chance to ask any questions that will bring them closer to the secrets of a session guitarist! This clinic is free but it's in high-demand so book your slot asap!
*This event is now sold out.
If any orders are cancelled, tickets will be available via the link below