D'Addario World String Change Day at guitarguitar Glasgow
Published on 16 May 2023
Is there something better than the feel and tone of a freshly re-strung guitar?
Us guitarists know the answer and love nothing more than a shiny new set of strings on our axe.
So much so that the world leader in string innovation - D'Addario - made it a global celebration and announced the 6th of June as the #WorldStringChangeDay !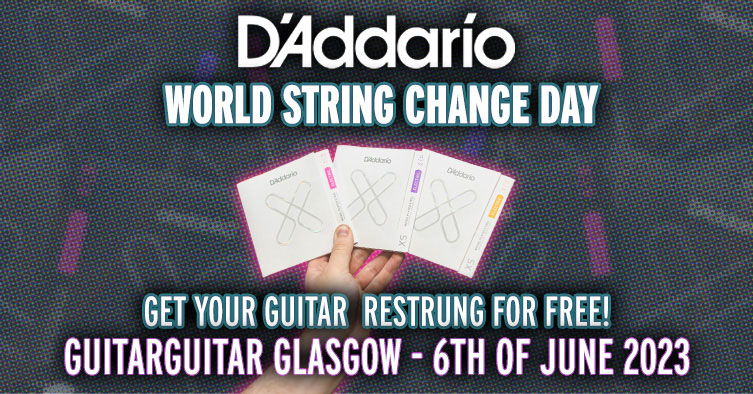 Here at guitarguitar we love nothing more than to participate in all things guitar and never miss an opportunity to turn it into an event for YOU.
So, we have teamed up with our good friends at D'Addario to bring you a full day of FREE re-string!
The Details
We are buzzing to announce that on the 6th of June D'Addario experts will join us at guitarguitar Glasgow during the shop opening hours to host World String Change Day. They'll offer a free re-string service on a one-to-one basis where they'll pick the right gauge of their latest XS coated strings adjusted for your needs, guide you through the process, show you some simple fretboard maintenance tips and products and talk about the importance of keeping your instrument in top shape.
To get your guitar re-strung with D'Addario experts, all you need to do is phone or e-mail guitarguitar Glasgow and our Staff will allocate you a slot.

There's no better time to refresh your instrument than World String Change Day!
*please note: we will only provide restrings on electric guitars and steel-string acoustic guitars at this event.*
But that's not all… To finish off the World String Change Day celebration with a bang, Sophie Burrell will host a guitar clinic in association with D'Addario in the evening of the 6th June. For more details and booking information, visit this link.