Fender Custom Shop Roadshow at guitarguitar
Published on 16 October 2023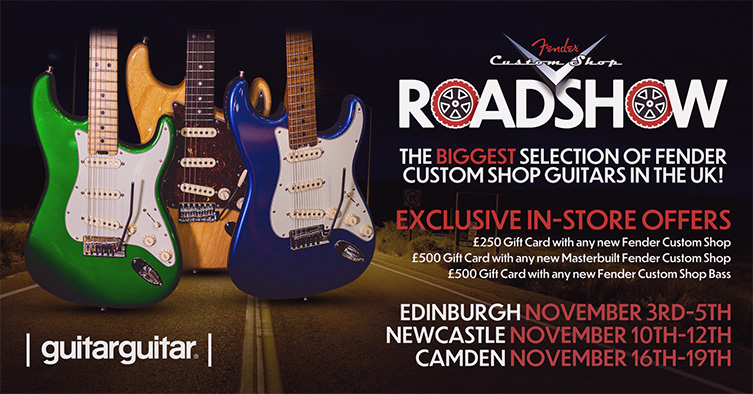 Calling all Fender fans, players and enthusiasts - your time has come!
We are thrilled to announce that the ultimate Fender Custom Shop Roadshow is coming to three guitarguitar locations this November!
If you've been dreaming of immersing yourself in a Strat-o-sphere of Leo's finest designs, then this is your sign.
What to expect?
Welcome to Fender paradise! Browse the biggest selection of Custom Shop Fender guitars and basses in the UK: from Limited Editions, Elite, Vintage Custom to Dealer Select and Masterbuilt models, play the Fender of your dreams, chat about the brand with our expert staff and like-minded people.
Let the true spirit of rock & roll take you away and live the dream!
In-store only deals
Get £250 Gift Card when you buy any new Custom Shop Fender

Get £500 Gift Card when you buy any new Masterbuilt Custom Shop Fender

Get £500 Gift Card when you buy any new Fender Custom Shop Bass
And more! We can't wait to welcome you.
The Details
Our Fender Custom Shop Roadshow will take place at three guitarguitar locations across the following three weekends:
guitarguitar Edinburgh 3rd - 5th November
guitarguitar Newcastle 10th - 12th November
guitarguitar *Camden 16th - 19th November
(*with an exclusive Master Builder Clinic - click HERE for more details.)
Each Roadshow will run during the store opening hours (10:00 am - 5:30 pm Friday & Saturday and 11:00 am - 5:00 pm on Sunday).
No tickets needed, just come along! See you there!