Becky Baldwin Bass Clinic at guitarguitar Glasgow
Published on 18 October 2023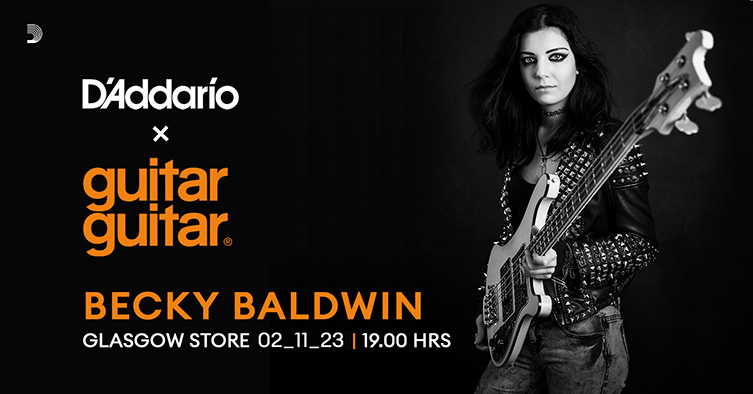 If there's anything that could compete with the energy and badassery of girls playing guitars then it could only be one thing: girls playing bass!
In fact, bass is just cool. Whether you're a beginner, professional or you simply like the low frequencies, you'll be thrilled to hear about our next event: one of the busiest rock bassists in the UK, Becky Baldwin, is coming to guitarguitar Glasgow for an exclusive bass clinic!
Who is Becky Baldwin?
A fusion between Lemmy Kilmister and Kim Gordon, Becky is a Birmingham-based bass player who can put on one hell of a show!
BIMM Bristol alumni, Becky holds BA hons in Professional Musicianship and has taken her bass journey into a full-blown career. Since graduating in 2012, Baldwin has co-founded a specialist private music tuition company, Bristol Rock Centre, who run a teaching and rehearsal studio and she has also aided exam board 'Rockschool' in the writing and proofing of tuition/exam books.
On top of that, this Rickenbacker slinging artist has toured all over Europe, USA and Mexico, performing an impressive 100 gigs per year and she's contributed to many session recordings at world-renowned studios such as West Triad Studio in Venice, California.
Becky is currently on bass duties in two alt rock bands, Hands Off Gretel and her own group Fury (which she manages), runs her own Patreon page and offers tuition, session and depping work. Endorsed by D'Addario, Neural DSP and Darkglass Amps, it's safe to say Becky's only just warming up and is on the fast track to bass stardom.
What to expect?
Becky will host a rare bass clinic which will be focused on… you guessed it, all things BASS! Becky will talk about her career as a bass player, touching on her experience in the music industry, her practice routine and her current rig. She'll offer advice on how to master the instrument whether you're thinking about picking it up or already are a player looking for inspiration. Becky will demonstrate her skills via play-throughs of some of her band's tracks. She'll be happy to answer any questions from the audience and take photos upon the end of the clinic.
The Details
In association with D'Addario, Becky's bass clinic will take place at 7:00 pm on Thursday, the 02nd of November, at guitarguitar Glasgow and will run approximately 90 minutes.
This is an extremely popular and in-high demand artist so be sure to secure your free tickets asap!
P.s. Don't worry if you're not local and simply can't make it - we will Livestream the entire clinic to our Facebook page!