Suhr Iso Boost Buffer/Booster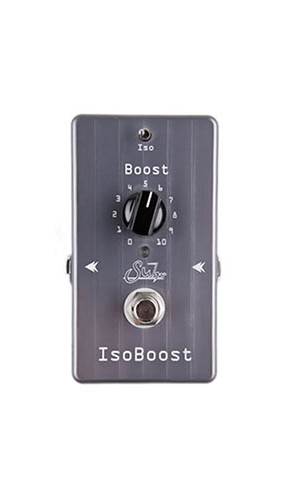 £129.00
Order now for Delivery on Sunday
Make 3 payments of £43.00

No fees.
Learn more
Recommended Bundles
Manufacturer's ID: ISO BOOST
What we say:
Suhr have put a lot of thought into the design of their electronics range and one such usual design is this Iso Boost/Buffer. It's a great, transparent clean boost that pushes your signal by up to 20 decibels AND it provides a discreet buffered lift to your overall signal path. This is useful for guitarists who utilise a number of pedals between their guitar and amp: you do lose a little signal strength with each pedal you add to your chain it can be detrimental to your hard-earned tone! If you need a good clean boost anyway, it makes great sense to investigate this clever design!
Specification
As a clean boost, the Iso Boost can vary from unity (buffered) to +20dB of gain. The pedal also has unique features such as remote on/off via the FxLink offered on all Suhr pedals and a battery monitor feature that alerts the unser to low battery conditions. Also, if the battery is too low for the circuitry to operate properly, the battery monitor will automatically switch the pedal to true bypass.

Expand the functionality and the audio quality of your rig with the Iso Boost at the front end with beautifully transparent buffered signal along with the clean boost found on our popular Koko Boost. Whether you have a simple rig of just a few pedals in front of the amp or a complex rig featuring a half-dozen or more pedals, the Iso Boost will maintain the integrity of your guitar signal while providing a very musical sounding boost that will add versatility to your rig. You just may find the Iso Boost the one indispensable component to keep your rig in tip-top condition.