TC Electronic Ditto Looper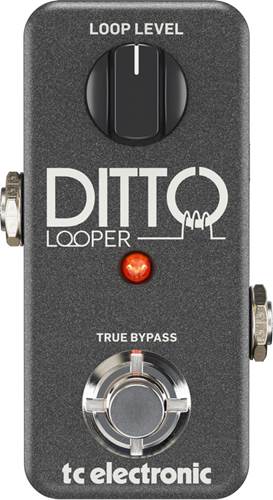 This product is currently not available.
Customer reviews
Overall Rating 4.9 (

70

reviews)
Just what I wanted to try. No problems
simple to use, lovely construction
christopher d. - 22/10/2020
Lovely thanks I?m going to enjoy this when I get home
Easy to use and a fantastic addition to my chain of effects!
Simple and easy to use well made piece of kit
Just for fun ! Perfect for experimenting
easy to use, very compact
Amazing little unit. Really easy to use and great features. My first looper. I don't need to look any further.
I can't rate this item myself but my son was very pleased with it once he got used to using it.
Simple, easy to use and great quality sound.
Perfect item for me, performs its task perfectly without any superfluous bells or whistles.
Great once a problem with my electrics was sorted!
All great! Great great great
It's food, not brilliant.
Great price and product. Easy to use and cheap p&p
Compact and easy to use, great fun.
Does what it says it'll do. Now to practice to make perfect!
Not sure if i have it set up properly. I haven?t had time to call or visit the store to find out.
Really good looping pedal. Worth the money
Brilliantly simple to use with great online support
Great piece of kit. Simple to use and works exactly and intuitively as you'd expect.
Great piece of kit for the price.
so easy to use it's just plug and play
this product was recommended by my guitar teacher , its solid, great build quality and a great tool to have to practice with ,wish id known about it ages ago , great for making your own backing tracks.
Product works perfectly and I'm glad I purchased it
If your play guitar on your own a lot it's a must have. Hours of fun and the quality is unreal!
Brilliant! amazing practice tool.
In love, used to have a boss loop station which was too big and expensive. To be able to play freely and easily, 2 buttons to control it is a permanent addition to my pedal board rig.
Does what it says on the tin
Great product, works like a dream straight out of the box & completely intuitive
I bought a looper, I bought a looper, I bought a looper, I bought a looper, I bought a looper, I bought a looper, I bought a looper, I bought a looper, I bought a looper, I bought a looper, I bought a looper....
Simple, but effective.. Every guitarist should own one!
excellent product for the money
Nice product for a bit of fun, good quality casing.
brill. just what my practice needed.
Easy to use looper that does what its meant to, cant fault it for the price its excellent.
Great product.....very pleased.
Christmas gift, not yet used. Reviews, however seem positive.
The looper is great, just as advertised. Pity I had to submit a new order for a power supply for it before I could use it.
Very pleased with product works fine.
Couldn't wait to try it. Couldn't put it away, love it - every guitar player should get one.
Excellent product. just a shame I bought it just before the newer version of the product went in the sale. never mind.
so simple to use and very well built. the sound quality is awesome but if you run a noise pedal at the front of your chain, you need to turn this off or you can't hear the playback.
Rated at 10, does exactly what it says.
The TC Ditto Looper pedal is a fantastic product, an essential piece of equipment for any guitarist who has an interest in making their own music. Very intuitive and easy to use.
Excellent product, simple to use and amazing sounds, no loss of tone.
product excellent very good value for little price
Well made and simple to use, just right for me !
Great, just what I was looking for. Perfect for practice or live playing.
Bought as birthday present. My husband delighted with it.
Great little gadget. Will use this a lot!
Great pedal, it's exactly what I wanted.
An truly outstanding product. Money very well spent.
Magic until the drummer joins in and messes up the timing.
Absolutely superb bit of kit
Simple to use! Goodvrepro quality. Small space so good for crowded pedalboard
Show more reviews
You might also be interested in...
Keep up with our latest offers, news & events