Yamaha PSR-A3000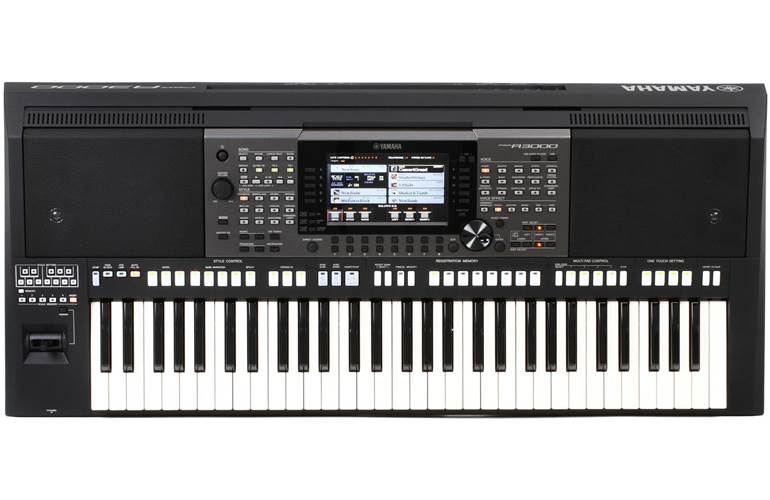 RRP
£1,633.20
Save £284.20
£1,349.00
Order before 3PM for Delivery Tomorrow
Recommended Bundles
Manufacturer's ID: PSR-A3000
What we say:
Yamaha's PSR-A3000 is a powerful piece of hardware with an international selection of sounds for all kinds of exotic music production.
The A-3000 is a 5 octave digital workstation with a colour screen, a large amount of buttons & controls and built in speakers for instant plug-in-&-play satisfaction!
This keyboard differs from the rest of the PSR range in its world music focus: you can utilise controls on the left of the front panel to change sale tunings and allow for microtonal variations on the keyboard, perfect for playing authentic middle eastern and Arabic musical styles as well as Baltic music. Many of the song styles are what is referred to as 'Oriental' but it helps to think a little more broadly than that. Syncopated rhythms and relatively unusual instruments are available to spice up your songs and an assignable Joystick is available to mimic instrument inflections as well as control filters and mutes etc. With a little foresight, you can be very expressive with this!
There are 997 voices and 58 kits including 171 Oriental voices and 25 Oriental Kits. You can add Distortion and Reverb to these voices too, opening up your sonic palette a little with some professional results.
A-3000 will be the perfect instrument for musicians looking to create entire pieces of music using instruments from all over the world. You certainly get all of the usual pianos, organs, strings and so on but the potential here for more Eastern and Far Eastern musical styles is great.
Specification
Features
997 Voices, 58 Drum/SFX kits, and 480 XG voices. Including 171 Oriental Voices and 25 Oriental Kits.
107 Super Articulation Voices, including Oriental Super Articulation Voices.
400 preset Styles, including all-new DJ Styles and Oriental Styles.
Assignable joystick for more dynamic live performance. Assign combination of parameters such as Filter, and Style Track muting.
Scale Tuning and Scale Setting Buttons support any type of tuning.
New Arpeggio function gives you instant access to a library of phrases.
Time stretch, pitch shift, and vocal cancel function are added to USB audio playback.
Re-design of sound system with new speaker enclosure, new Master EQ and Master Comp. function brings you powerful sound.
Various effects, including Real Distortion and Real Reverb, can be applied to your performance.
Drum Setup function in Style Creator for editing the Drum kit for Style Performance
Brings the reality to your performance
The new Oriental Super Articulation Voices reproduce the actual instrument's unique characteristics such as vibrato, tremolo and more. Other voices have also been enhanced for even greater realism. For example, a new feature called "Mono Legato" allows you to play trill phrases without using the joystick, perfect when playing with Oriental string instrument Voices. The sound system in PSR-A3000 has also been refined, delivering a more powerful and punchy sound than ever before.
Joystick & Live Control function
PSR-A3000 is equipped with a joystick which provides intuitive control of pitch and modulation. Now you can play with rapid trills, dynamic pitch bends and finely-nuanced modulation all from a single, easily-configured, controller.
In addition to essential parameters such as Pitch Bend and Modulation, other features such as Filter, Style Track-Mute and more can be assigned and changed in an instant, making it really easy to add a unique flair to your performance!
Make the Original contents with Yamaha Expansion Manager
Have you ever wanted to play with more than just the preset sounds? You can now create your own original Voices and Drum kits using Yamaha Expansion Manager! Simply use samples from your own library (.wav, .aif, .aiff, .sf2) and edit a range of parameters on your computer using Yamaha Expansion Manager. You can even create and share your own original content with your friends!
You can also choose content from various Expansion Packs and create your own pack selection to install in your instrument.
Add a flavour to your performance with audio feature
If you're enhancing a live performance with audio backing tracks from your music library, the time stretch, pitch shift, and vocal cancel functions of the USB audio player will add depth and versatility to your performance. You can also connect your Audio player to the Aux input terminal to add an additional element to your performance.
The Audio Link Multi Pad function enables you to link your own audio files (sound effects, vocal phrases, etc.) and trigger them from the Pads as you play.
Color Display
For simple intuitive control of the powerful features and capabilities of this advanced keyboard, the PSR-A3000 comes equipped with a large color LCD that allows you to monitor the status of your instrument at a glance, and gives you easy access to valuable performance functions.
Drum Setup function for your Style performance
With Style Creator, you can edit the parameters of a Drum kit in detail, change the drum parts using Voices from the various Drum kits or even use your own from Yamaha Expansion Manager. This means that you can personalize playing with Styles by using your own unique Drum kit!
Yamaha Authorised Dealer
guitarguitar proudly stock a wide range of Yamaha musical instruments and sell throughout the UK and the EU/EEA. We do not supply Yamaha musical instruments outwith the EEA