Suhr Dual Boost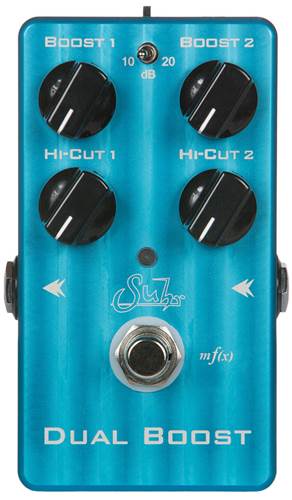 £129.00
Order before 3PM for Delivery Tomorrow
Recommended Bundles
Manufacturer's ID: PD-DUAL BOOST
What we say:
Suhr are making some of the best stomp boxes available at the moment. This Dual Boost is an interesting take on an effect we all need at some point!
This robust unit houses two separate boost circuits, each with their own boost level and Hi-Cut. Suhr's 'mf(x)' technology allows you to switch between these modes by holding down the on/off switch for a s brief second. You can set up one boost for your clean sounds and another for a solo boost, all within the one pedal! A mini-toggle lets you pick between a boost range of +10dB and +20dB for either more 'squash' or more headroom.
This Dual Boost preserves your signal transparency and just boosts what you have, like a great Boost pedal should!
Specification
Constructed with the goal of delivering unrivalled sound quality, in an easy to use package, the Dual Boost pairs the highest quality components with an on-board charge pump circuit that delivers a pure audio path, superior dynamics, and wide dynamic range, all from a single 9-volt battery or 9-volt regulated power supply.
The Dual Boost features two independent modes, (each with their own Boost and Hi-Cut controls), a global Boost Range switch (+10dB/+20dB), and our proprietary mfx (Multi-Function Technology) switching.
No matter what your needs may be, the Dual Boost offers a comprehensive solution to preserving and boosting your signal without changing or colouring your original tone.
Main Features:
Dual Channel Clean Boost/Buffer/Line Driver
Independent Boost and Hi-Cut Controls
Selectable Global Boost Range Switch (+10dB/+20dB)
Ultra Low Distortion, Low Noise Components Selected For Superior Signal Transparency
Internal Charge Pump - Increased Headroom and Dynamic Range
Assignable Bypass: Buffered/True Bypass