Was
£1,999.00
Save £100.00
£1,899.00
Available to Order
Stock expected 30th September 2021
Frequently Bought Together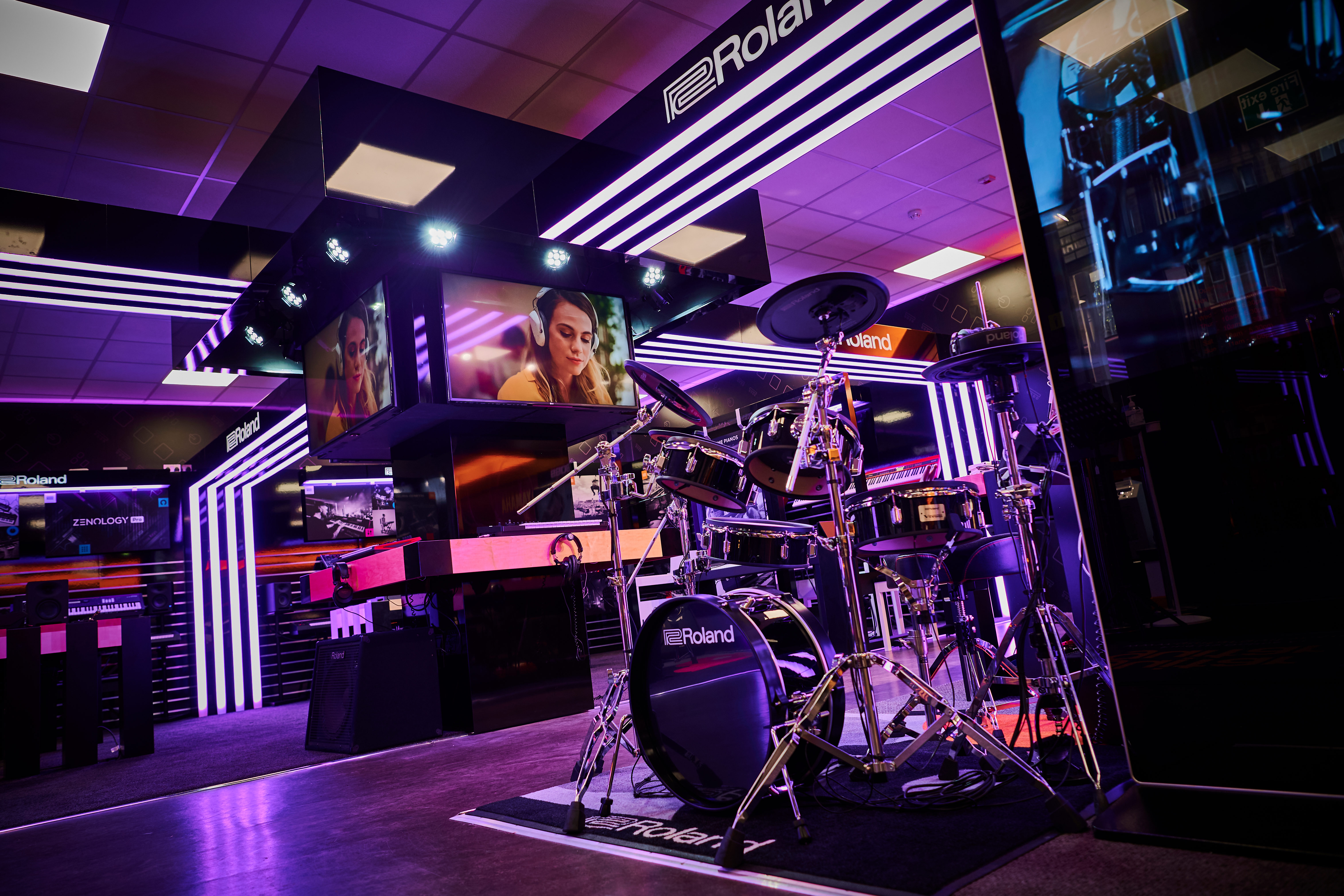 Try it now in our Glasgow Roland Store
This item is set up and ready to try at the only Roland Store in Scotland. Based in our Glasgow premises, you will find a huge selection of Roland and Boss gear that's ready to demo. Plus, you can get the expert advice you need from our in house Roland Senior Product Specialist.
Manufacturer's ID: RD-2000
What we say:
At A Glance:
The Roland RD-2000 is professional level stage piano designed with power in mind. RD-2000 combines their V-Piano and SuperNATURAL sound engines to create the best possible piano and instrument voices. Plus with the fantastic feeling Wood and Plastic Hybrid Structure, RD-2000 is like taking a master built piano with you to every gig and rehearsal.
Placing true power at your fingertips, RD-2000 strives to meet your needs as a professional player. With acute tone sculpting, as well as the ability to layer sounds and create zones and scenes, everything you need as a player is met with this powerhouse keyboard
Features We Love:
V-Piano
Created to be a true virtual piano, every nuance of an acoustic piano has been digitally recreated in spectacular detail. The benefit of this is a vibrant and alive sound that naturally evolves with your playing just like an acoustic instrument does.
SuperNATURAL
With acoustic instruments sampled in high-quality audio, SuperNATURAL gives you a full and rich tone that only acoustic instruments possess. However, while most manufacturers settle for giving you purely sample-based sounds, Roland recognised that there is still something lacking from an acoustic instrument sampled at different velocities. The subtle characteristics created from moving parts, and strings and notes that resonate even when not being struck, create a much bigger picture than what's captured with audio sampling. These intricate characteristics have been synthetically recreated to enhance the character of each voice and the result is a rich and organic tone that's full of character and charm.
Zones and Layering
One feature that's unique to the RD-2000 is its ability to layer and split up to 8 sounds internally or externally via MIDI or USB. Create layers for interesting textures or map specific sounds to the keyboard zones so you don't need to change patches mid-song. This feature also integrates with Apple MainStage, giving you full control over your favourite soft instruments as well as the ability to blend them with the RD-2000's internal sound and use the RD-2000 as your audio interface.
Highlights:
Studio quality sounds that evolve with your playing
Stunning Hybrid Structure keybed
MainStage Integration
Multiple pedal options including use with triple and expression pedals
What's Included:
RD-2000 Stage Piano
Owner's manual
Power cord
Damper pedal
Specification
Keyboard
PHA-50 Keyboard: Wood and Plastic Hybrid Structure, with Escapement and Ebony/Ivory Feel (88 keys)
Sound Generator
2x Independent Sound Engines
Sound Engine1: V-Piano Technology
Sound Engine2: SuperNATURAL
SuperNATURAL Piano
SuperNATURAL (E.Piano, Clav)
Virtual Tone Wheel Organ
PCM Sound Generator
Max. Polyphony
V-Piano Technology Sound Engine: Full Polyphony
SuperNATURAL Sound Engine: 128 voices
Parts
16 parts (Max 8 parts are used in the PROGRAM)
Tones
1,100 tones Over
Program
300
Scene
100
Effects
Modulation FX: 4 systems, 62 types
Tremolo/Amp Simulator: 4 systems, 6 types
Reverb: 6 types
Delay: 5 types
Sympathetic Resonance (Only for SuperNATURAL Piano)
3-band Compressor
5-band Digital Equalizer
AUDIO FILE PLAYER FORMAT
Audio Files (WAV format, 44.1 kHz, 16-bit linear)
RECORDER SECTION
File FormatAudio Files: (WAV format, 44.1 kHz, 16-bit linear)
External Storage Device: USB flash drive (supports USB 2.0 Hi-Speed flash memory)
Rhythm Pattern
200 patterns
Controllers
Slider x 9 (with illumination)
Knobs x 8 (with illumination)
Pitch Bend/Modulation lever
Modulation Wheel x 2
Display
Graphic LCD 256 x 80 dots
Connectors
MAIN OUT (L/MONO, R) jacks: 1/4-inch phone type
MAIN OUT (L, R) jacks: XLR type
SUB OUT (L, R) jacks:1/4-inch phone type
NPUT jack: Stereo miniature phone type
Pedal (DAMPER, FC1, FC2, EXT) jacks: TRS phone type
MIDI (IN, OUT1, THRU/OUT2) connectors
USB (COMPUTER) port: USB type B
USB (MEMORY) port: USB type A
PHONES jack: Stereo 1/4 inch phone type
AC In jack
Number of USB Audio Record/Playback Channels
Signal Processing: 24-bit
Sampling Rate: 192 kHz, 96 kHz, 88.2 kHz, 48 kHz, 44.1 kHz
Record: 2 channels
Playback: 2 channels
Power Consumption
23 W
Accessories
Owner's manual
Power cord
Damper pedal (capable of continuous detection)
Width
1,412 mm / 55-5/8 inches
Depth
367 mm / 14-1/2 inches
Height
140 mm / 5-9/16 inches
Weight
21.7 kg / 47 lbs 14 oz
Firmware Update Ver.1.51 introduces the following features
"V-Piano Technology" tones were added.
"Startup Mode" was added to the setting parameters.
"Slider Mode" was added to the setting parameters.
"ROTARY Type2" was added to the Tremolo/Amp Simulator types.
Support was added for Axial RD-EXP05 / RD-EXP06 importing.
Remote control of the Organ Harmonics bar and Percussion via Control Change messages from an external MIDI device is now possible.
The Auto Off function was improved.
Support was added for Axial RD-EXP series importing
Support was added for importing multiple programs by specifying a range.
Support was added for SCENE UP/DOWN in "Assigning Functions to Pedals."
A Program Display Size parameter supporting expanded display of programs was added to Setting Parameters (System).
When a tone or program is registered in a Scene, the number and name are input into MEMO.