Apogee Control For Elements Series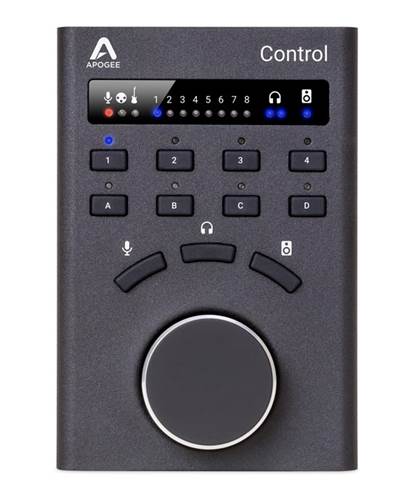 £189.00
Order before 3PM for Delivery Tomorrow
Manufacturer's ID: APO0060
Sometimes, it just feels right to have hardware control at your fingertips – we know, we pioneered this approach with Apogee Duet. With the Apogee Control hardware remote, you have 8 buttons and a control knob that you can configure to control a wide range of settings. Apogee Control hardware remote connects directly to your Mac using a simple USB cable.
Specification
Hardware remote accessory for Symphony I/O Mk II, Element series I/O interfaces, and Ensemble Thunderbolt
Sold separately
Symphony-inspired Control Knob plus Input, Headphones and Speaker control knob focus buttons for lightning access to input and output levels
8 user-assignable buttons offer a wide variety of functions:
Analog Input control – input type, 48V, soft limit, group, polarity
Analog Output control – mute, dim, sum to mono, speaker set selection, reference level
Engage Talkback
Launch Control software app
Connects to Mac with supplied USB cable
Compatible with Symphony I/O Mk II, Element 24, Element 46, Element 88, and Ensemble Thunderbolt audio interfaces
Apogee hardware control is integrated directly into Logic Pro X
If you are using an Ensemble or Element series interface, you can adjust hardware input parameters directly from the Mixer view in Logic Pro X, including mic pre gain, input type selection, 48V phantom power, direct monitoring and more. This simplified user experience helps you focus on a single session window when recording, and offers comprehensive visibility and control of input parameters.
Easily eliminate recording latency with Direct Monitoring in Logic Pro X
Apogee's Ensemble Thunderbolt and Element Series audio interfaces now offer Direct Monitoring support in Apple's Logic Pro X (10.3.2) that easily eliminates recording latency with the simple click of a button. Pressing the new "Direct" button causes your monitoring signal to come directly from the hardware input, bypassing any I/O buffer or plug-in induced latency. The new feature makes it possible to end distracting input delays for the performer without having to constantly change audio monitoring preferences or interact with a separate low latency monitoring mixer.
 Control Apogee hardware and Logic Pro X from an iOS device
Apogee hardware input controls are also accessible through the Logic Remote App on iPhone or iPad, enabling Apogee users to wirelessly adjust their input levels and settings from anywhere in the studio. Drummers can adjust mic pres without having to get up from behind the kit, engineers can do a line check while still setting up mics, and home musicians recording themselves can switch between a microphone and directly connected instrument without having to be in front of their computers.