TC Electronic Flashback 2 Delay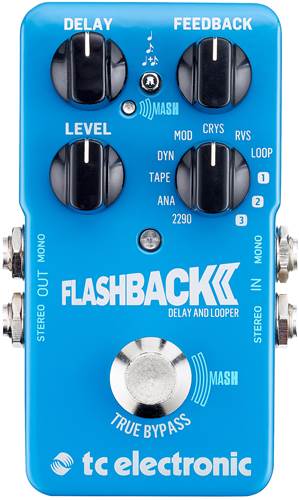 Image Gallery

This product is currently not available.
Customer reviews
Overall Rating 5 (

21

reviews)
Absolutely beautiful piece of equipment. It actually makes me sound like I know what I?m doing. It helps produce the most beautiful tone with my tele.
Jacqueline D. - 15/9/2020
Easy to use and sounds good
Not bought a pedal like this before. Boundless possibilities in a small package, especially the mash button. TonePrint updates mean more sounds can be added using the app. Well built in a sturdy metal casing.
Even better than I thought. Wasn't sure if I should go for one of the Boss delay pedals or this one, but I'm glad I did because the MASH makes it well worth it (worth researching if u don't know what it is as I didn't and was blown away)
Good and versatile delay that can give a variety of sounds with almost limitless tweaking available from the app that accompanies it allowing you to create and add your own sounds to the pedal as well as many created by other professional musicians in touring bands and on youtube
Great sounding delay with so many options, toneprint slots also allow for use of simple flangers and choruses which is good for a small pedalboard
Excellent delay pedal. Worth the Toneprint feature alone.
Great delay pedal does all the basics excellently and has some left field sounds to play with too.
Excellent pedal. Easy to operate and TonePrint download via pickup works brilliantly, even if the pedal is in an effects loop.
Awesome pedal....lov3 the reverse delay and really just touching the surface.
Very versatile piece of kit, already got a great sound dialed at home and I've barely tapped it's potential.
Great sounding pedal with loads of usable options.
An excellent pedal. Toneprint is an ingenious addition to pedals.
Great pedal great sound cheers
Fantastic range of good quality sounds, some of which I?ve yet to discover. Solidly built too.
Great little pedal very happy with it
Excellent pedal and delivered quickly.
What a fabulous little pedal. You can really tweak the settings to achieve the sound you want. I'm looking for a country sound and combined with the compressor and the overdrive am getting there..Lots of fun..! Feels like it's good quality with a solid feeling to the knobs and dials.
Show more reviews
You might also be interested in...
Keep up with our latest offers, news & events