Tech 21 Acoustic Fly Rig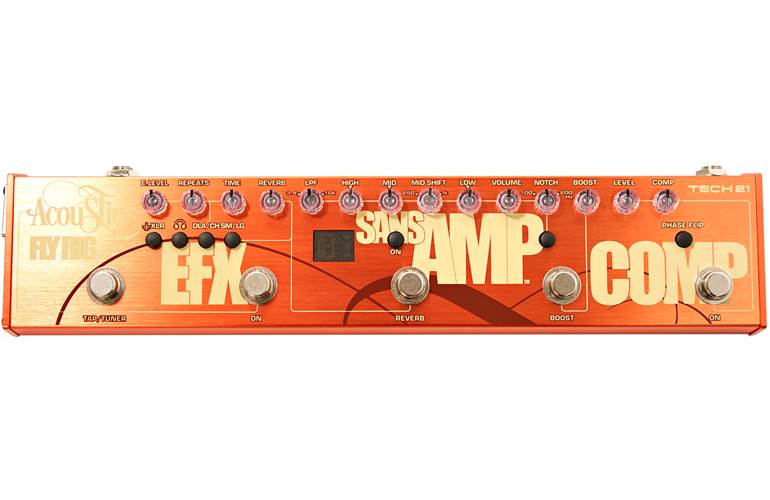 £259.00
Order before 3PM for Delivery Tomorrow
Make 3 payments of £86.33

No fees.
Learn more
Manufacturer's ID: AFR5
What we say:
Tech 21's Fly Rig concept has proven to be particularly popular: it's such a good, simple idea that we can't understand why we haven't seen more of this sooner!
The Fly Rig is basically a DI box with Tech 21's innovative Sansamp technology and a handful of essential effects thrown in to give guitarists their entire sound without any need for amps and additional pedalboards. These portable boxes of tricks fit into most normal guitar gig bags and allow you to turn up at a gig anywhere in the world, plug in and play with world class analog tones that respond realistically and captivate totally.
Such has been the success of Tech 21's Fly Rig electric guitar models, they have sensibly expanded to offer a model for gigging acoustic players too. Featuring the same robust metal box as the rest of the range, the Acoustic Fly Rig is designed to give acoustic players great 'plugged' tone, whether for live performance or indeed in a studio setting.
The main effects on here include the Sansamp itself, a boost, compressor, reverb, delay/chorus and a chromatic tuner. These are arranged sensibly on the front panel and have dedicated controls to allow precise sculpting of tones.
The Sansamp section gives you an active EQ for powerful tone shaping; the boost has up to 12dB with an extra boost in the mids and the compression is a deliciously old-school FET design for analog warmth.
The ambient effects are high quality and realistically usable and there's a tap tempo switch which also doubles for the tuner.
All of the switches are made of high quality, silent metal parts for a smoother performance. The output is a balanced XLR for a stronger, quieter signal.
Even the power supply automatically switches itself between 100-240v so you don't have to worry about that, no matter where in the planet your gig is! Just attach the appropriate generic travel adaptor and you're done! For musicians on the go, this type of detail is both essential and a real sigh of relief!
Acoustic guitarists will do themselves huge favours by having one of these Fly Rigs in their case or gig bag. Great tone guaranteed anywhere in the world? Yes please.
Specification
SANSAMP 
The all-analog SansAmp is, of course, its center point. Sweepable, semi-parametric, active EQ controls provide professional grade tweakability for any situation. There's a Notch Filter, sweepable from 70Hz to 350Hz, designed to diminish the sensitivity for feedback caused by the resonating, low frequencies of acoustic guitars. A Low Pass Filter, sweepable from 16kHz to 1.5kHz, rolls off undesirable frequencies and artifacts.
BOOST
Independent Boost function, up to approx 12dB, for solos. Includes a wide mid-range boost for improved clarity. 
COMP
COMP, for compression, utilizes old school, all-analog, FET-based technology, which is inherently warmer, more transparent and musical.
REVERB
Dedicated Reverb function emulates the rich ambiance of open spaces, ranging from room to hall. 

DLA/CHR
DLA emulates a warm sounding analog delay. It features Time and Repeats controls and dedicated Tap Tempo footswitch. CHR is a preset chorus based on pitch-shifting technology for a more natural, 
12-string-style sound. 

TUNER
Chromatic Tuner is within the EFX section. You simply hold down the TAP/TUNER footswitch to engage the Tuner, which simultaneously mutes the signal path.
OTHER FEATURES:
•  Phase Flip switch flips the signal 180 degrees in phase to help combat feedback
•  1/4-inch 1megOhm input 
•  XLR output with ground lift
•  1/4-inch low impedance output
•  Headphone button switches the 1/4" output into headphone mode
•  Rugged, all-metal housing
•  Metal footswitches and jacks
•  Silent-switching, custom footswitch actuators
•  Utilizes included 9V DC power supply, 200mA.