Roland TD-17K-L V-Drums Kit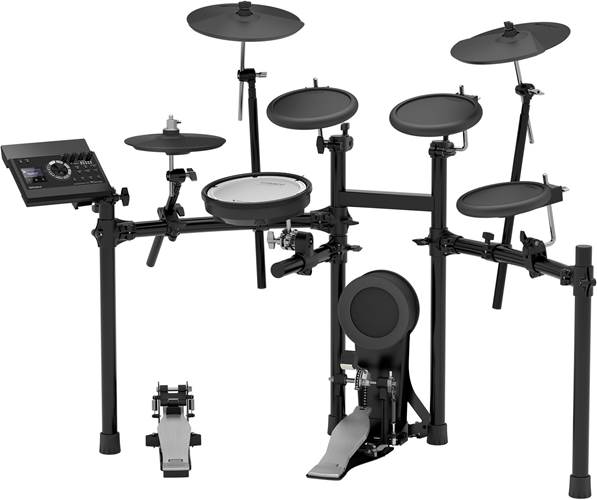 £899.00
Available to Order
This product is temporarily out of stock
We currently have it on order with our supplier. Place your order and we will email you when we have an estimated delivery date.
Frequently Bought Together
Manufacturer's ID: TD-17K-L
The TD-17K-L is excellent for serious players who are on a tight budget; with flagship TD-50 sound quality, newly developed pads, sample import and deep editing for custom kit creation, and onboard training tools to sharpen your skills – all infused with the legendary V-Drums feel, expressiveness and durability.
Specification
The Roland TD-17 series, the latest addition to the acclaimed V-Drums lineup. Combining flagship-level sound with newly developed pads, the TD-17K-L kit delivers an experience that's authentically close to playing acoustic drums, accurately mirroring the physical movement, stick coordination, and hand/foot control that every drummer needs. TD-17-L module also includes integrated access to an array of motivational coaching functions. For home-based players who are serious about taking their drumming to the next level, there's no better choice than a TD-17 series kit.
When using a TD-17 series instrument, drummers can play with the same techniques they'd use on acoustic drums, freely and without compromise. At the heart the kit is the new TD-17-L sound module, which provides a superior drumming experience with advanced Prismatic Sound Modeling inherited from Roland's top-of-the-line TD-50. Its sounds faithfully reproduce the character and tone of acoustic drums, with lightning-fast response time, wide dynamic range, and natural tonal changes that vary depending on where and how hard the pads are played.
But wait, there's more! The new KD-10 kick pad is also included, combining rock-solid feel with a noise-reducing design that offers quiet operation while playing at home. The KD-10 can be used with any standard kick pedal, and is large enough to fit both beaters of a double kick pedal.
The TD-17-L module includes 50 ready-to-play kits suitable for any music style, plus a wide range of easy-to-use training functions that encourage skill development and make practice fun and productive. Players can improve their time with various Coach Mode exercises, use the warm-up menu to work through a daily exercise routine, and capture progress with the onboard recorder. The TD-17 also integrates with Melodics for V-Drums, a Windows/Mac software application that offers a growing selection of free drum lessons to develop rhythm, timing, and muscle memory.
TD-17K-L
Sound Module: TD-17-L x 1
Snare: PDX-8 x 1
Tom: PD-8A x 3
Hi-hat: CY-5 x 1
Hi-hat control pedal: FD-9 x 1
Crash: CY-8 x 1
Ride: CY-8 x 1
Kick: KD-10 x 1
Drum Stand: MDS-4V x 1
User Benefits
Natural, rich and dynamic drum sounds, inherited from flagship TD-50 sound engine
Learn expressive foot control and pedal technique with the KD-10 Kick pad
Two crash cymbals and expansion possibilities support your individual playing style and performance
Improve your sense of time with Time Check and Quiet Count as part of Coach Mode
Warm-up menu provides a basic daily exercise routine to help your playing progress
Choose a kit that matches the tune or style you're playing, from 50 premium preset drum kits
Adjust the ambience of each kit to match the venues you perform at
Customize the preset drum kits to match your preferred drum sound
Import your own samples for a drum sound that matches the original recording
Develop your playing and timing with free to download 'Melodics for V-Drums' software (PC/Mac)
*Please note: Pictured kick pedal is not included