TOURTECH TT-22M 5 Piece All Mesh Electronic Drum Kit (Ex-Demo)
Ex-Demo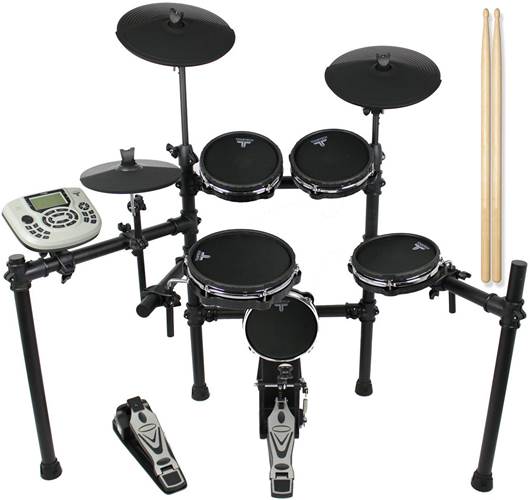 Image Gallery

This product is currently not available.
Customer reviews
Overall Rating 4.9/5 (

32

reviews)
Very pleased with the drums . Great sound in default setting , and there are so many different sounds and effects you can use with them if you wish to do so .
not had the kit long but seems well made the manual that comes with it could be a lot better a lot lot better
Such a good price of kit, nice a neat set up and great sound.
Good price, good feel, easy to put together and use. Sound is a bit sub par but for the price good. I'm using it as a midi input and with a better sound library, and it sounds and feel amazing. Really responsive and capable of wide dynamic range and picks up quick drum strokes. Great buy. Really loving it.
Had a dm10 about 5 years ago and sold it to move house. I was on edge buying a brand that's not so popular and cheaper than my previous kit but I honestly can't fault it and I'll will put it out there that it sounds and plays much better than the dm10.
Easy to set up and use, the frame is already assembled so was just a case of unfolding, adding the drums & cymbals, connect to the "brain", tighten everything up & off you go!!
Great kit for the price. Just since it's not a roland I guess theres not much help online for tutorials. Using it with logic can be complicated if you want all the functions to work properly as remapping the midi input isnt as easy as it seems. Default sounds are ok at best but what do you expect for the price. But really glad you get mesh heads
Great kit, just love it..
Great kit. Sounds brilliant. Good value.
Easy set up. Sounds great.
Pretty kit, easy to assemble and sounds great.
The build quality is excellent and it has features normally found on more expensive models.
Love this kit. Did a lot of research on it, and when I saw Al Murray and Steve White recommended it, I was sold.
Seems good for the price.
Great service fast delivery quality product
I can't begin to tell you how good this kit is for the money. I had purchased a Simmons SDS8 Kit when they first came out way back in the mid eighties. That was expensive and nothing like playing a real kit, more like playing a kitchen work surface. The TT-22M with its mesh skins that you can tighten just like a real drum gives you the authenticity of playing s real kit. And the sounds, wow! So many different quality drum sounds programmed into the brain. Easy to use and select. If I had a criticism of this kit it is that sometimes, when you strike the cymbal for a crash, it registers a more of a quieter splash sound than the crash you required. I was wondering if maybe I had a fault with the crash cymbal sound. Overall though if you are looking for a kit that produces a quality sound an authentic feel at a price you would expect to pay a lot more for then look no further. Fantastic for sticking a set of headphones on and playing away to your favourite tunes. I haven't amplified this kit yet, looking forward to getting a good amp so I can replicate the sound I get through my headphones. I would like to gig this kit so a quality sound is important. I will spend some time getting the right amplification for this. In conclusion, if you are a beginner just starting out or a seasoned pro, the Tourtech TT -22M is an exceptional piece of technology at a very affordable price. You could spend a great deal more for something that doesn't feel or sound any better. I was dubious at first but I am delighted that I decided on the TT -22M. You won't regret it.
Excellent electric drums, girl friend only just started to discover their potential.
Mesh drum skins plus many drum sound options.
Mesh drum skins plus many drum sound options.
Bought this drum kit for my son. He loves it and all the family are playing it
Show more reviews
You might also be interested in...
Keep up with our latest offers, news & events