JHS Pedals Whitey Tighty - Mini Compressor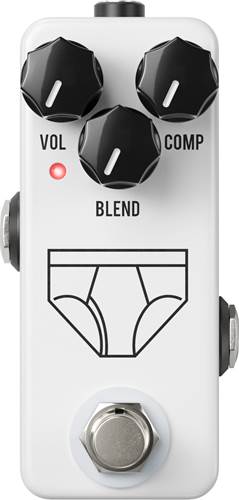 £130.00
Available to Order
This product is temporarily out of stock
We currently have it on order with our supplier. Place your order and we will email you when we have an estimated delivery date.
Recommended Bundles
What we say:
At A Glance:
The Whitey Tighty by JHS is modern take on the classic compressor pedal. With a great tone, all analog signal path and true bypass in a compact form, the Whitey Tighty will be an essential part of your sound, even on the most cramped pedalboard.
Features We Love:
Who's It For?
The Whitey Tighty will be your go to compressor for all situations. Looking to smooth out your tone for some 80s style cleans? Or how about to tighten up your lead tone? Or even a way to drop your overdriven channel down a little like you're rolling off the volume on your guitar? The Whitey Tighty handles it all! With three simple controls, it has been engineered to offer the best possible tone with the minimum amount of tweaking, so getting a great sound is effortless!
Blend Knob
The Blend knob is essentially a mix between your non-effected tone and the fully compressed tone, allowing you to smooth out the peaks and blend in a bit of the natural tone to cut through.
Analog
The fully analog signal path means that there is no digital conversion of your tone at any point. It's your true tone from the gutiar to the pedal to your amp.
Pros:
True bypass means your tone is completely untouched when the pedal is not in use
It's an easy to understand compressor with a great tone
What's Included:
Whitey Tighty - Mini Compressor
Specification
The Whitey Tighty is a FET compressor that has three simple controls: Volume, Compression, and Blend. The Volume control gives you the ability to set your volume at unity gain or slightly boosted to make up for any perceived loss from the compression. The Compression knob controls the amount of compression for everything from a subtle smoothing of your tone to a pleasing squash that's perfect for country, blues, pop, and rock. Use the Blend knob to dial in the right amount of clean tone along with your compressed signal. This allows you to retain some of the natural feel of your clean tone while giving you the studio-quality compression that brings your sound to the next level.