JHS Pedals Active A/B/Y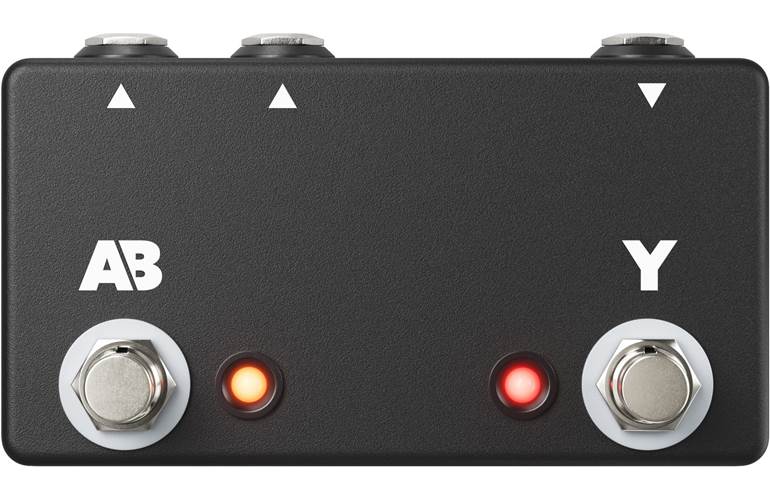 £125.00
Order now for Delivery on Sunday
What we say:
At A Glance:
The Active A/B/Y from JHS is an ingenious little pedal that really simplifies the problems and signal logistics of multi-amp rigs. One line in, two lines out, and go between on, the other or both - simple! Plus, thanks to JHS' typical top quality build and components, it does it perfectly cleanly and quietly too.
Features We Love:
Simple setup
Plug your instrument cable or patch cable into the input, and connect the 2 outputs to the amps, interfaces, mixers of your choice, or anywhere else your signal needs to go. No worries!
Easy Functionality
2 footswitches; A/B lets you select between one output or the other, as indicated by the red/green LED, while Y lets you select both outputs at once for full stereo output.
Clean, Silent Sound
Thanks to JHS' usual attention to build and components, the Active A/B/Y is built with an output transformer, eliminating the need for a ground lift, and FET transistors for completely silent switching.
Pros:
Simple, intuitive setup
Easy and effective to use
Build and components ensure no extra noise is introduced to your signal
What's Included:
Specification
Just plug in your instrument cable (or patch cable) into the input, then use the outputs to send signal to any combination of amplifiers, interfaces, mixing board, or anywhere else you want to send your signal. Once hooked up, use the left footswitch to select between A and B channels. When the LED is red, the A channel is engaged. When the LED is green, the B channel is engaged. Hit the right "Y" footswitch, and BOTH channels are engaged for full stereo output. Because the Active A/B/Y has an output transformer on one of the outputs, there is no need for a ground lift as the transformer eliminates any hum.
With an output transformer, FET transistors for completely silent switching, the capability to use one or both outputs simultaneously, the JHS Pedals Active A/B/Y will be the one pedal that you can never leave home without!