Matthews Effects Whaler Fuzz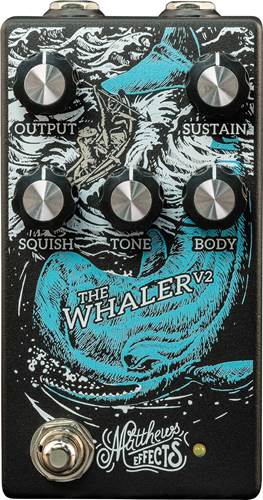 £189.00
Order before 3PM for Delivery Tomorrow
Recommended Bundles
Manufacturer's ID: Whaler
The Whaler V2 is a original 5 knob fuzz pedal. Take your guitar from a Velcro monster of the depths to a massive attacking beast of the sea. Built on a desire to find that elusive tone that is always taunting us, the Whaler is a unique pedal that is capable of more than just a great fuzz. Dive into its deceptively simple controls for a deep wealth of sounds that will leave you constantly finding new ways to use it.
Specification
WHATS NEW IN THE V2
improved and redesigned "Sustain control
additional gain stage for higher gain than V1
New/improved PCB design
A UNIQUE ORIGINAL FUZZ DESIGN
With the whaler we wanted to create something that was unique but could still capture our favorite tones. We set ourselves adrift on our breadboard with no particular design direction but a hunger for the unknown. We built the fuzz through experimenting with every component and stage and sound we could create without going down the traditional path.
DYNAMIC TONE CONTROL
The Whaler's eq section starts with the "Tone" control, which when turned clockwise, gives you more highs and less lows. As you turn counter clockwise you get more lows and less highs. A simple enough eq that is made dynamic by the addition of the body control which lets you sculpt your mid response. Scoop them completely out or dial in a heavy mid eq. Between the two deceptively simple eq controls you can create a wide range of tones.
SCULPTING YOUR FUZZ
To create different fuzz and gain tones use the "Sustain" and "Squish" controls. The "Sustain" lets you dial in how hard your signal is hitting the front of the circuit letting you choose between a wide range of dirty drive and thick fuzz. The goal here was to give you more than just one useable sound and create something that can forever be a useful tool in your collection.
The "Squish" control lets you change the positive bias to different gain stages at different degrees with the simple turn of the knob. This has the effect of changing the characteristic of the gain. Go from a ripping velcro gated sound to a more open traditional fuzz.
IMPROVED AND REDESIGNED "SUSTAIN CONTROL
I wanted to broaden the dynamic range of the sustain control so I redesigned it from the ground up. It is completely different than the previous sustain control. It lets you dial in the same tones as before but now you have a much wider range to play with. You can even clean up the whaler and tune it into a pushed tube drive tone.
ADDITIONAL GAIN STAGE FOR HIGHER GAIN THAN V1
For the V2 we wanted to put even more gain at your fingertips! We added an additional gain stage that can really thicken up your fuzz tone giving you a wider gain range than ever before with the whaler!
BUILT IN USA QUALITY CONSTRUCTION
Rick Matthews obsesses over every last detail to make the highest quality and intuitive pedals available. This commitment to detail is on full display with the Whaler V2. Its wide range of dynamic fuzz tones make for a pedal that is sure to be a lifelong tool.
High-grade components selected for their superior sound and response
Top-mounted jacks make pedalboard placement effortless
Soft-touch footswitch will last for years
Includes Matthews Effects limited 5-year warranty