Daredevil Bootleg Dirty Delay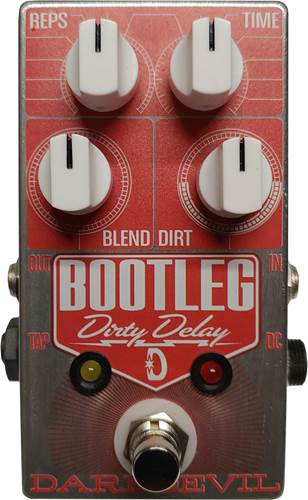 £229.00
Order now for FREE Delivery on Wednesday
3-Year Warranty Included
We're the 1st, and only, UK guitar retailer to offer a 3-year warranty as standard. Buy with confidence today. Learn More
Make 3 payments of £76.33

No fees.
Learn more
Manufacturer's ID: DBDD
What we say:
At A Glance:
The Daredevil Bootleg Dirty Delay is a digital delay that utilizes the Princeton 2399 Echo Audio Processor IC to emulate the old school tape and analog delay sounds of old that we all know and love.
The interesting addition of the 'Dirt' knob drives the repeats making them brighter as they tail off: the opposite from an analog delay!
Features We Love:
The Sounds!
The 'Dirt' knob is the MVP of the Bootleg Dirty Delay for sure! Driving the repeats into self oscillations and tweaking the knob creates some crazy sounds that will send shivers up your spine, or just roll it back and enjoy some prime vintage feels!
Tap Tempo!
An essential feature of any modern delay I'm sure you'll agree and Daredevil don't disappoint! They have included an input jack for a momentary switch on the left hand side so you can keep the repeats in check.
Supreme build!
True bypass, built like a tank and absolutely nowhere near as noisy (or expensive) as a vintage echo unit, you can enjoy endless repeats and stomp on this pedal all day long safe in the knowledge of its excellent build quality!
Highlights:
Old school analog/tape vibes with some interesting tone choices.
Tap tempo so you'll never drift out of time as long as you can stomp on it.
Fantastic build quality and rugged construction.
What's Included:
Daredevil Bootleg Dirty Delay
Specification
True Bypass, Hand Wired, runs on only an external 9V power source.
2.1mm center pin power supply, negative ground. Current draw is ~25 mA
TAP TEMPO FUNCTIONALITY:
Tap tempo will set the delay interval. Only 2 taps within range are required to set it.
The delay interval will be averaged over the last 5 active (in range) taps.
The max range of quarter note taps is 560ms, or ~108bpm.
If the tap interval is larger than 560ms (<108bpm), the tap interval will automatically half in value (e.g. eighth notes)
For example, tapping at 600ms between taps (out of delay range) will automatically set the delay to 300ms.
Therefore, tapping invertals from 38ms to 1.12 seconds will register as a tap.
The saved tap values (used to average the last 5 taps) will reset after 1.12 seconds of inactivity. Any tap interval longer than 1.12 seconds will be ignored and reset the saved tap values