Roland RP701-DR Dark Rosewood Digital Piano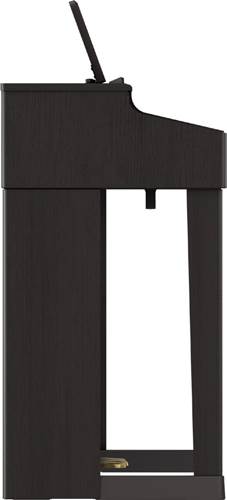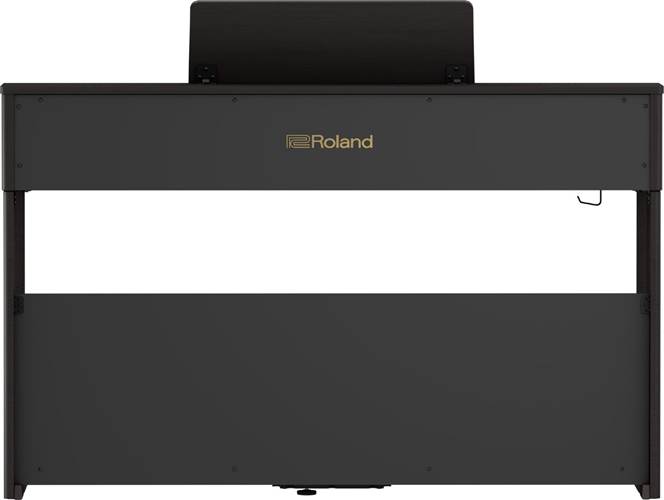 ---
RRP
£1,176.00
Save £77.00
£1,099.00
Available to Order
Place your order today and we will email you when we have an estimated delivery date.
3-Year Warranty Included
We're the 1st, and only, UK guitar retailer to offer a 3-year warranty as standard. Buy with confidence today. Learn More
Manufacturer's ID: RP701-DR
Whether you'd like your children to learn or you're returning to the piano yourself, the RP701 has the sound, feel, and looks for the whole family to enjoy. Sound quality and keyboard feel are the two most important factors when learning to play, and this affordable digital instrument offers bright, rich tone courtesy of Roland's SuperNATURAL Piano technology, plus our highly playable PHA-4 Standard keyboard for the authentic feel of an acoustic piano. The RP701 is also designed to be so intuitive to use that even younger players can jump in right away. Easy-to-read icons and a clutter-free front panel ensure that the focus is on playing and enjoyment, not reading the owner's manual. And with built-in Bluetooth connectivity for streaming music from your smartphone and accessing a world of apps, there's always something new to try and keep everyone motivated. Fill the room with music via the powerful onboard speakers, sharpen your skills in private with immersive Headphones 3D Ambience, or simply appreciate the traditional look of a high-class piano that brings a note of sophistication to your home.
Rich expression from Roland's SuperNATURAL Piano technology
All the feel and touch of an acoustic piano with the PHA-4 Standard keyboard and Progressive Damper Action pedal
Classic design with elegant front legs and sophisticated curves
Headphones 3D Ambience for an immersive and realistic playing experience when practicing with headphones
Intuitive display with easy-to-use icons, which are hidden when not in use
Connect to your smartphone via Bluetooth audio and play along with your favourite songs
Compatible with Roland's Piano Every Day app, which encourages learning pianists to practice more often
Specification
| | |
| --- | --- |
| Piano Sound | SuperNATURAL Piano |
| Max. Polyphony | 256 voices |
| Tones | Total 324 Tones |
| Keyboard | PHA-4 Standard Keyboard: with Escapement and Ivory Feel (88 keys) |
| Pedal | Damper (Progressive Damper Action Pedal, capable of continuous detection) |
|   | Soft (capable of continuous detection, function assignable) |
|   | Sostenuto (function assignable) |
| Speakers | 12 cm (4-3/4 inches) x 2 |
| Rated Power Output | 12 W x 2 |
| Headphones | Effect: Headphones 3D Ambience |
| Touch Sensitivity | Key Touch: 100 types, fixed touch |
|   | Hammer Response: 10 types |
| Master Tuning | 415.3--466.2 Hz (adjustable in increments of 0.1 Hz) |
| Temperament | 10 types (Equal, Just Major, Just Minor, Pythagorean, Kirnberger I, Kirnberger II, Kirnberger III, Meantone, Werckmeister, Arabic), selectable temperament key |
| Effects | Brilliance, Ambience |
| Piano Designer | Lid |
|   | String Resonance |
|   | Damper Resonance |
|   | Key Off Resonance |
|   | Single Note Tuning |
|   | Single Note Volume |
|   | Single Note Character |
| Internal Songs | Total 377 songs |
|   | Listening: 10 songs |
|   | Ensemble: 30 songs |
|   | Entertainment: 20 songs |
|   | Let's Sing with DO RE MI: 30 songs |
|   | Lesson: 287 songs (Scale, Hanon, Beyer, Burgmuller, Czerny 100) |
| Playable Software | Standard MIDI Files (Format 0, 1) |
|   | Audio File (WAV: 44.1 kHz, 16-bit linear format, MP3: 44.1 kHz, 64 kbps - 320 kbps, requires USB Flash Memory) |
| Recordable Software | Standard MIDI Files (Format 0, 3 parts, Approx. 70,000 notes memory) |
|   | Audio File (WAV: 44.1 kHz, 16-bit linear format, requires USB Flash Memory) |
| Bluetooth | Audio: Bluetooth Ver 3.0 (Supports SCMS-T content protection) |
|   | MIDI: Bluetooth Ver 4.0 |
| Compatible Android / iOS Apps (Roland) | Piano Every Day |
|   | Piano Designer |
| Convenient Functions | Metronome (adjustable Tempo/Beat/Down beat/Pattern/Volume/Tone) |
|   | Dual |
|   | Split |
|   | TwinPiano |
|   | Transpose (in semitones) |
|   | Speaker volume and Headphones volume automatically select function |
|   | Volume limit function |
|   | Speaker Auto Mute |
|   | Panel Lock |
|   | Auto Off |
| Cabinet | Music rest: Fixed angle, with Music holders |
|   | Key cover: Slide type, with Classic Position |
| Display | Graphic OLED 128 x 64 dots |
| Connectors | DC In jack |
|   | Input jacks: Stereo miniature phone type |
|   | USB Computer port: USB B type |
|   | USB Memory port: USB A type |
|   | Phones jack x 2: Stereo miniature phone type, Stereo 1/4-inch phone type |
| Power Supply | AC adaptor |
| Accessories | Owner's Manual |
|   | Leaflet "USING THE UNIT SAFELY" |
|   | The collection of scores "Roland Piano Masterpieces" (CHINA only) |
|   | AC adaptor |
|   | Power cord |
|   | Headphone hook |
| Width | 1,366 mm / 53-13/16 inches |
| Depth | 463 mm / 18-1/4 inches |
| Height | 1,027 mm / 40-7/16 inches |
| Weight | 46.0 kg / 101 lbs 7 oz |