Ableton Live 11 Intro (Download, serial number only)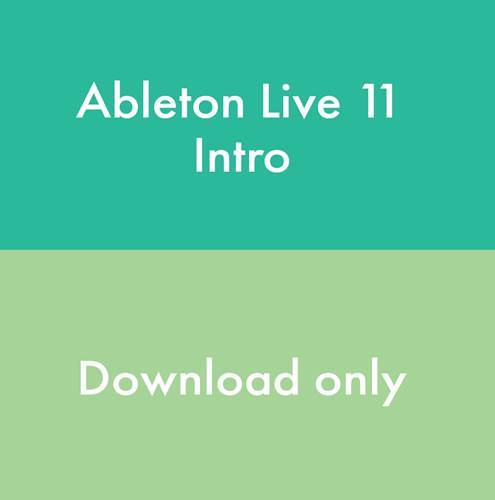 £69.00
Available to Order
Place your order today and we will email you when we have an estimated delivery date.
Manufacturer's ID: 88548
Ableton Live 11 Intro is a fast, fluid music creation and performance software. Use its timeline-based workflow or improvise without constraints in Session View. Advanced Warping lets you change the tempo and timing of any audio in real-time without stopping the music. Record virtual instruments, drum machines, guitars or audio from the real world. Capture MIDI notes after you've played them, turning your most spontaneous ideas (and happy accidents) into music.
This latest generation of Live Intro adds some great new features, including audio comping, MIDI polyphonic expression, tempo following and note and velocity chance.
Download Only - Not Boxed Product
This is a download only version. Content downloadable from the Ableton website. Customers will receive serial numbers via email within one working day of purchase date.
Please note: once ordered these serial numbers are non-refundable.
Specification
Audio and Midi Tracks
16
Send and Return Tracks
2
Mono Audio Input Channels
8
Mono Sufio Output Channels
8
Bundled Sounds
1500+ (5+GB)
Bundled Software Instruments
4
Audio Effects
21
MIDI Effects
11
Windows System Requirements
Windows 10 (Build 1909 and later)
Intel® Core™ i5 processor or an AMD multi-core processor.
8 GB RAM
1366x768 display resolution
ASIO compatible audio hardware for Link support (also recommended for optimal audio performance)
Access to an internet connection for authorizing Live (for downloading additional content and updating Live, a fast internet connection is recommended)
Approximately 3 GB disk space on the system drive for the basic installation (8 GB free disk space recommended)
Up to 76 GB disk space for additionally available sound content
MacOS System Requirements
OS X 10.13 or later
Intel® Core™ i5 processor
8 GB RAM
1280x800 display resolution
Core Audio compliant audio interface recommended
Access to an internet connection for authorizing Live (for downloading additional content and updating Live, a fast internet connection is recommended)
Approximately 3 GB disk space on the system drive for the basic installation (8 GB free disk space recommended)
Up to 76 GB disk space for additionally available sound content