The Big Sale - Up to 60% off
"Give your guitar the love it deserves at any of our 6 locations"
Product overview
When it comes to guitars, one thing is for sure - a great playing instrument beats a poorly playing one every day of the week. It doesn't matter if your guitar is worth a hundred pounds or a thousand pounds; if it doesn't feel and sound good, then it may as well be either.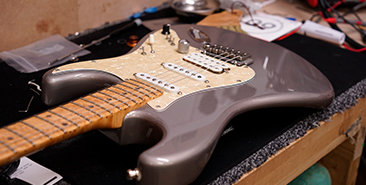 In order to get the most from your instrument in terms of tone and playability, you have to take care of it. Sometimes we can all be a little passive about our gear and forget to wipe it down after a gig, or put off changing our strings for just another week longer, or even just not bother to put it back into its case when we're done practising. This won't do any harm if it just happens on the odd occasion, but over time if we continue to do it and don't keep an eye on the health of our instrument, we're likely to run into some problems.
Time, dust, sweat, and fish and chips grease are a perfect recipe to ensure your guitar starts to suffer from a dull finish, unresponsive mechanics and horrible fret buzz. If you find you're guitar isn't quite behaving in the way you'd like it to, then why not give it to us and we'll give it a full check over, clean up and restring for you? We might not be able to make it look as good as new, but we'll do our best to get it back to the excellent playability it deserves.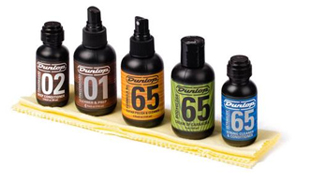 If you feel like treating your instrument to an in store service, it couldn't be easier at guitarguitar. Simply bring it in to any of our UK wide stores and ask a member of staff about having your guitar serviced. We'll talk through the process with you and ask you a few questions about your playing style and how many hours roughly you play per week. From this we'll be able to advise on the right string brand and set-up to suit you best and then we'll get the service booked in accordingly for you. Simple.

Our in-store service includes:
Advisory Chat
We'll discuss the use and application of your instrument to help us better understand the best kind of string to use for you. Alternatively, if you know exactly what you want then just let us know and we can skip this stage.

Structural assessment
We'll take this opportunity to check over your instrument for any obvious issues that may cause difficulty in properly maintaining full functionability of your guitar and advise as needed.

Fingerboard cleaned and conditioned.
All grime and dirt removed thoroughly. fingerboards are then cleaned and rehydrated using lemon oil or polish. (depending on the wood)

Fret Polish
Every fret will be carefully polished using two different grades of grit fret cloth and buffed to a mirror finish to extend the life of your frets and ensure your string bends are silky smooth.

Restring and tune
We'll restring your guitar using your chosen brand of string, stretch the strings in for you to help them bed in quickly and then tune the instrument to the correct pitch, ensuring your instrument sounds bright, fresh and new.

Playability Check
At this stage we'll check your string height, truss rod and intonation, then provide advice and options to help you get the very best from the playability of your instrument.

Intensive Instrument Polish
Full instrument wipe down and clean up using professional wax and guitar polish to restore surface scratches and add a resistant protective layer.