Suhr Guthrie Govan Personal Guitars Auction
Published on 18 August 2015
We are excited to be auctioning off six of Guthrie Govan's personal Suhr guitars on behalf of Suhr guitars.

These guitars are in fact owned by Suhr themselves and since Guthrie Govan is no longer an endorsee of Suhr, we have been tasked with finding new homes for them.

These have all been used in live performances and recordings, and viewed millions of times on YouTube!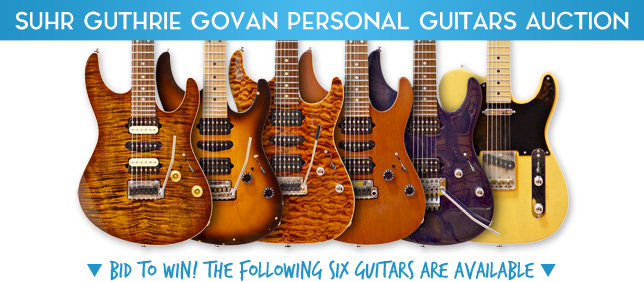 Each instrument has a minimum starting bid, and the winning bidder will have to complete payment within 48 hours of the auction ending.
Bids should be sent by email stating the guitar you are bidding on, your name & contact phone number to premier@guitarguitar.co.uk
Each guitar will ship to the winning bidder in the case that was supplied to us when sent to us by Suhr. We have not changed anything - even the strings! This is a great opportunity to own an iconic instrument that has been owned and played by a true virtuoso.
10% of the proceeds from the auction of each guitar will go to Nordoff Robins Music Music Therapy In Scotland.