How to sequence Traktor with an Arturia Beatstep Pro Midi Map
Published on 12 October 2015
Why use the Beatstep Pro with Traktor?



The Beatstep Pro by Arturia is the perfect controller for performing DJ's who want to sequence sounds, loops and patterns inside Traktor enhancing their DJ set by implementing their own creativitiy.



Traktor's Remix Decks offer this unique chance of creativity to any DJ set, however you can't sequence the sounds inside only trigger pre-made loops. The Beatstep Pro is a sequencer powerhouse allowing 3 sequencer engines to run independently of each other via usb midi. With the built-in controller editor of Traktor we have scripted this functional midi mapping to allow unique sequencing control of Remix Deck Slot triggering and an additional concept of Track Deck Cue Point playability.

Synchronised Tempo with Traktor's Clock via USB
Mute each Engine/Sequence
Create new sequences on the fly
Record you own live jam sequence
Control each of the 4 Decks when in Remix Deck Mode (Top 4 slots only)
Perform and sequence DECK A & DECK B Cue points with pitch
Control DECK C & D Remix Slot Filters, Volume and Mute

Imagine being able to programme and sequence your own drum grooves, create additional percussion, new basslines, melodies all on-the-fly inside Traktor alone, to play over or in the mix with your playing tracks - thus making your DJ set truly unique and only limited by your imagination.


FEATURE 1 - SEQUENCE YOUR CUE POINTS



Configured only for DECK A and DECK B Control is the ability to play and perform the selected cue point using the two synth sequencer engines inside the BeatStep Pro. You can use the pads to jam the cue point like a one shot sample at different pitches (just like playing it on a keyboard scale) and then even better, record or sequence what you play.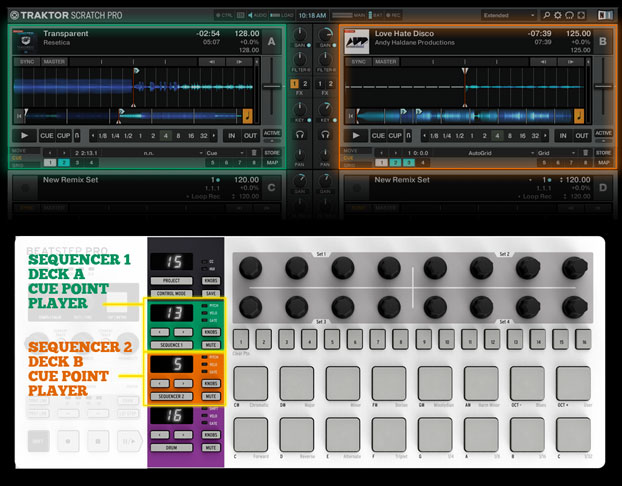 What could be sequenced with cue points?
Create your own monophonic bassline or arpeggio from the sound of a cue point in a track
Create a new monophonic melody from an assigned cue point in a chosen track
Mashup vocal stabs or hits
FEATURE 2 - SEQUENCE THE REMIX DECKS

Only the top 4 slots of each remix deck can be played and sequenced at anytime. This still allows for up to 16 slots between 4 decks to be triggered. But more than most only DECK C and DECK D will probably be used to incorporate a total of 8 sequenced slots into any DJ set such as: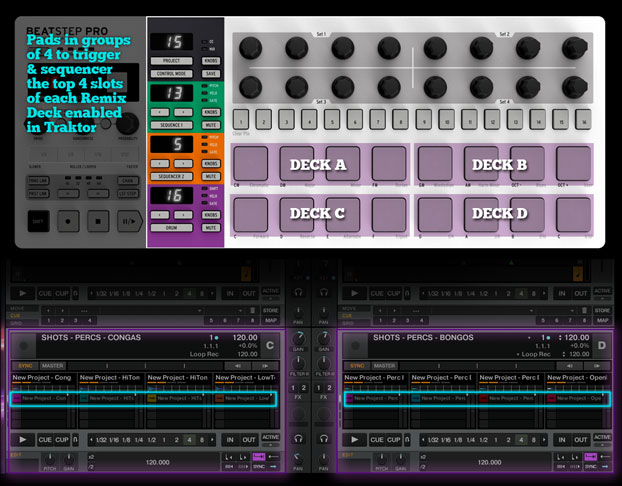 Play & sequence your own percussion sounds into your DJ Set live
Build up your own drum grooves to implement into your set
Use any one shot sounds available to you, drums, hits, stabs, vocals

To enable the Beatstep Pro with Traktor Pro, it is required to have the latest version of Traktor Pro (v2.10) with the Beatstep Pro updated to the latest firmware.

You also need to download our FREE pack to configure both Traktor Software with the Beatstep Pro which includes two files, one for the Arturia Midi Control Center which configures the Beatstep Pro via a designated template, and the other to be imported into Traktor Pro's Controller Editor to link the two together.

STEP 1 - Import the Arturia Midi Control Center Template

Connect Beatstep Pro via USB
Launch Arturia Midi Control Center
Click 'Import' under Local Templates
Import the Template file we provided in the pack
Send the Template to the Beatstep Pro Memory Slot of your choice


PLEASE NOTE: MAKE SURE THE BEATSTEP PRO MIDI CHANNELS ARE SET TO...


SEQUENCER 1: CH. 5
SEQUENCER 2: CH. 6
DRUM SEQUENCER : CH. 10
CONTROLLER: CH. 16


STEP 2- Import the midi mapping .TSI file

Launch Traktor Pro Software
Locate Controller Editor in the Preferences Window
Click 'Import' button at the bottom of the Window
Import the provided .TSI file for Traktor in our FREE Pack
Select 'Beatstep Pro' as both the In-Port and Out-Port alongside the 'Device' list in controller manager.



DOWNLOAD THE FREE PACK BELOW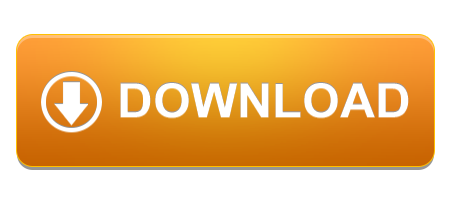 DOWNLOAD MIDI MAP CONFIG PACK
(FREE) FOR TRAKTOR & BEATSTEP PRO.
FOLLOW US ON TWITTER FOR UPDATES: @gtrgtrdigital

FOLL US ON FACEBOOK PAGE FOR UPDATES: facebook.com/guitarguitardigital