Shred Frenzy: The Jems of Steve Vai
Published on 02 February 2018
As we recently celebrated the arrival of the latest in the JEM bloodline (the limited edition pink and yellow Ibanez JEM Jnr guitars), we've taken a brief and celebratory look at this most idiosyncratic of guitar ranges, beating the odds to be a popular and successful model for over 30 consecutive years.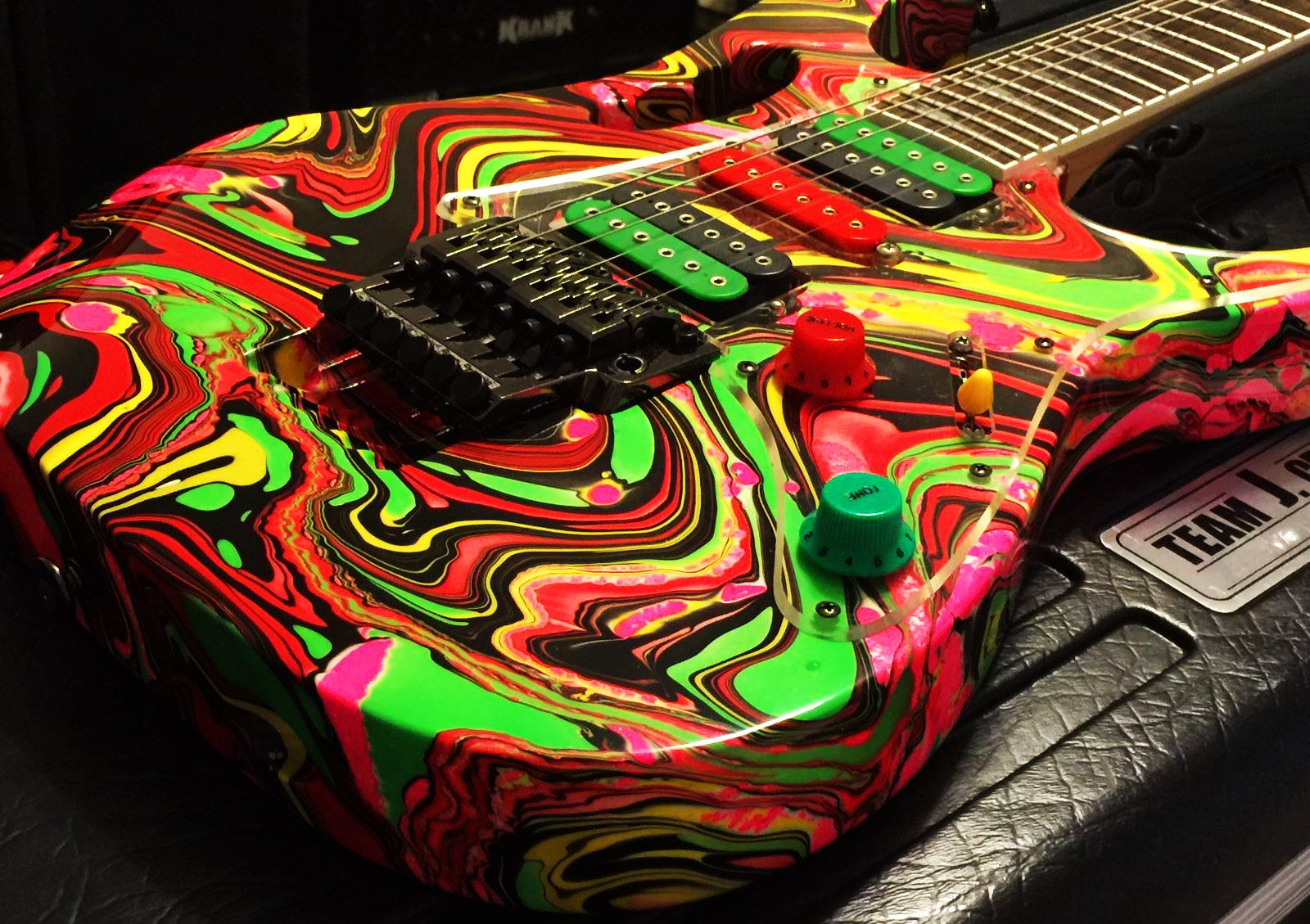 For decades now, fans of pyrotechnic and exotic guitar playing have worshipped at the Temple of Vai. Steve Vai, the larger than life 'Noo Yoiker' with the otherworldly chops and a distinctly risky sense of style is undeniably one of the greats of athletic guitar playing. More than most others, Vai has stood out because of his jaw-dropping out-of-the-box playing as well his eccentric persona.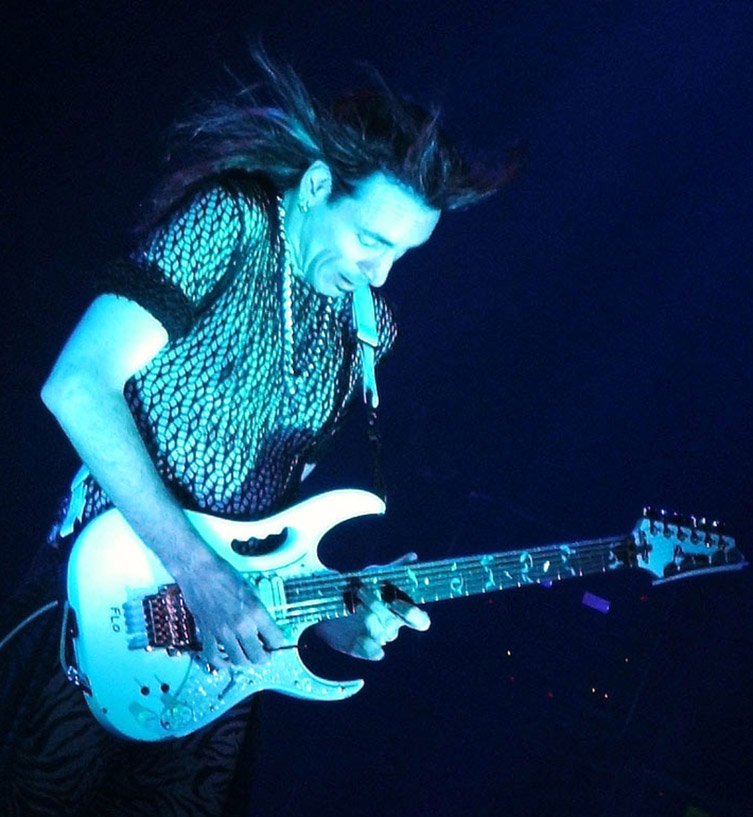 Nearly as famous as Vai himself is the Ibanez JEM guitar he designed back in 1987. Even though the concept of a hot-rodded S-type guitar was fairly standard fare by then, none of them had a carrying handle cut into the upper bout! The infamous Monkey Grip was only one of a good few innovations relative to the JEM: Steve also required extensive routing behind the bridge to allow him to perform outrageous levels of upwards bending with the whammy bar: thus was born the Lions Claw. The upper horns were aggressively sculpted to allow fantastic upper fret access. A distinctive and beautiful Tree of Life inlay was placed right up the entire length of the fretboard. Sounds like too much? Yeah, on paper it does but something about the overall aesthetic of the JEM just works: as we mentioned, they've never been out of production since they were released (not even the Gibson Les Paul can boast that!) and it isn't just the legion of Vai fans who love it; this unusual instrument has gone on to become a highly regarded modern classic.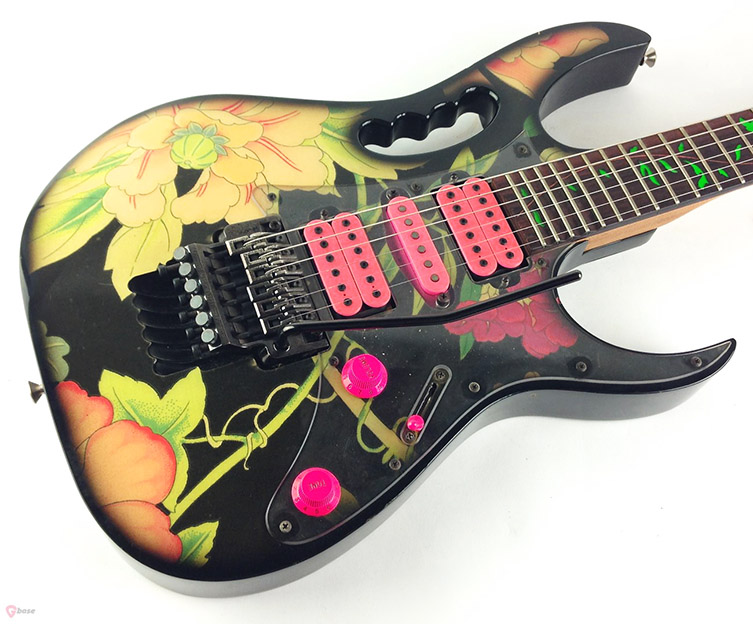 The JEM has come a long way in its three decades of living, with increasingly bonkers custom finishes all seemingly trying to out-do the last in terms of outlandishness.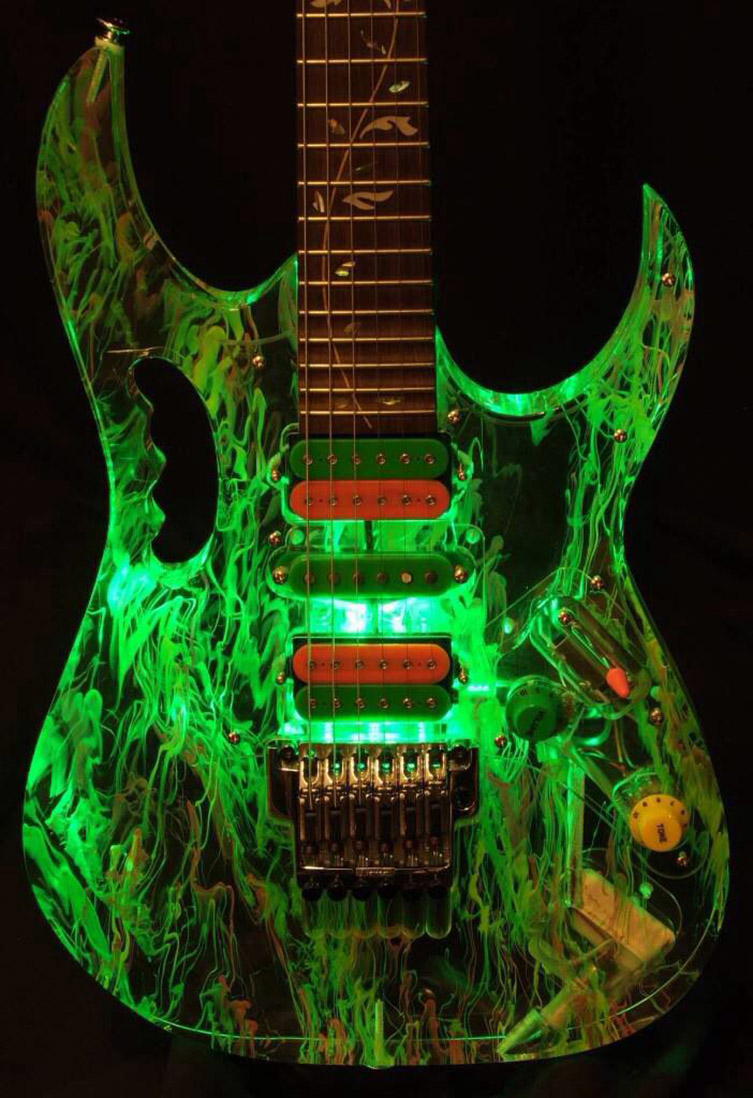 Finishes over the years have included relatively sober Loch Ness Green (with Disappearing Pyramid inlays, naturally) Floral (using actual pieces of flower-patterned material rumoured to be from the Vai family's own curtains…), the stained and blowtorched BSB model, the cracked mirror, the sea foam green, the neon swirl, the plug-in-light-up-neon-anniversary model and the most far out, at least conceptually: the swirl finish DNA model with some of Steve's actual blood mixed into the red paint!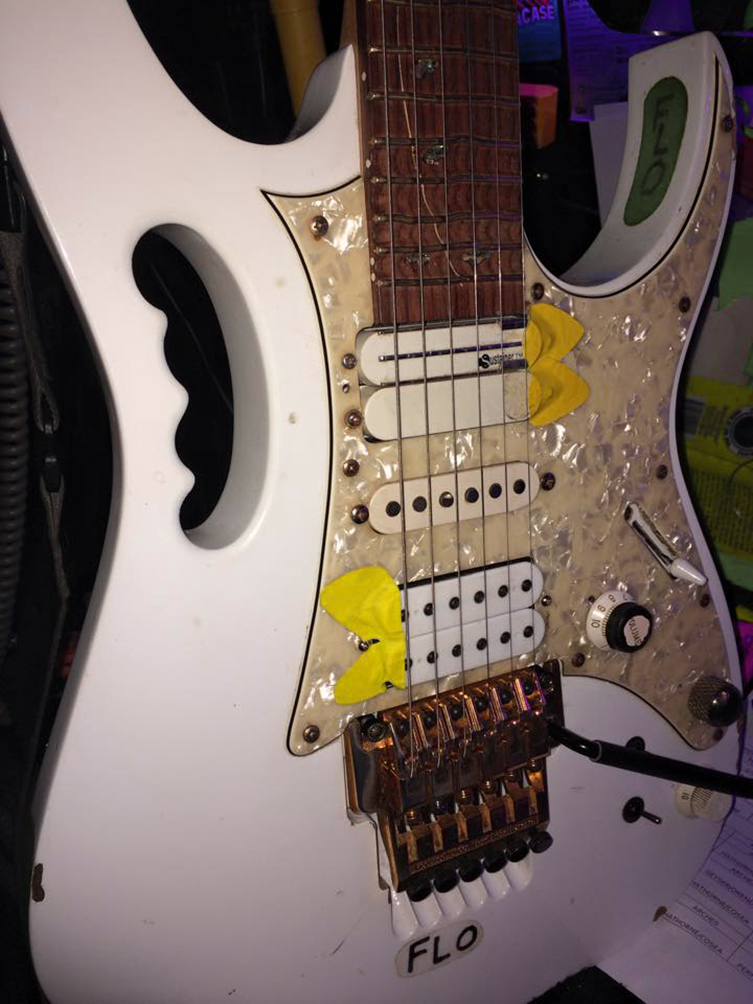 The most famous JEM is the white-with-gold model JEM7V, dressed up like Vai's personal two favourites, nicknamed EVO and FLO. Accordingly, there has nearly always been a white JEM available in a number of price points to cater to iconoclastic guitarists of all wallet types. Talking of which, it's high time we spoke of the newest ones!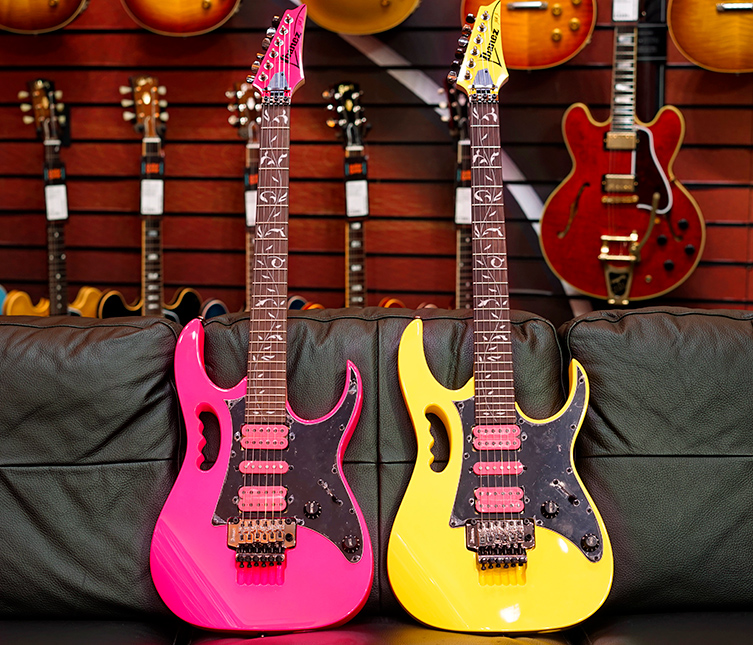 The JEM has come a long way in its three decades of living. There have been more affordable models for a while but these Jem Jr models, in particular, have us excited! They have the same LOUD Yellow or Pink finish from those awesome 1987 models and they also have the full Tree on Life inlay to accompany the Monkey Grip and Lion's Claw: in other words they are genuine JEMs! We won't pretend we can play note-perfect renditions of 'For the Love of God' but you can bet we'll be getting some practice in now that these great guitars have landed in our stores and website! Remember: these are available in limited numbers so don't hold off if you're a JEM fanatic!