These are the Best 1/2 and 3/4 Size Guitars (Electrics and Acoustics)
Published on 19 December 2018
So, you are looking for a guitar that needs to be a little smaller than standard.
You're not decided on whether it's to be an acoustic guitar or an electric, but you now a full-sized one is too big for whomever is intending to play.
We've got you! This blog is for you! You may be a little bewildered at the selection of disparate products out there, so we've made this guide ot help make sense of things a little. You may be buying a child their first guitar, or you may be looking for something small and portable to have as an easy 'go-to'. Read on!
This list contains a small selection of guitars that are 1/2 and 3/4 sized. What does that mean, though? Well, it doesn't mean the size of the enitre guitar, weirdly enough! Some of these guitars are much smaller than 'normal' examples, and others are just a touch smaller overall. The '1/2' and '3/4' refers to the length of the fingerboard, and is normally measured in inches. Standard fingerboards tend to be between 24.75" and 25.5".
Plus, some of these little guitars just look awesome. Great looking guitars are more likely to be picked up and played, frankly. Each choice today is a quality guitar though, with parts and construction that are more than up to the task.
Here, then, is our shortlist of 1/2 and 3/4 sized guitars, both electric and acoustic!
Squier Mini Stratocaster
First off the starting blocks is the Squier Mini Stratocaster. Squier are Fender's official little brothers and this pint-sized electric guitar is based on Fender's world-famous Stratocaster. This is a guitar for mini Hendrixes everywhere! The Squier Mini has a ¾ sized body and a neck that's shortened from the usual 25.5" scale length to a much more manageable 22 ¾". Future Rock Legends of all sizes will find this little guy easy to handle.
The Squier Mini Stratocaster is a popular choice for seasoned players who want something little and portable to take around with them. People who travel a lot for work seems to really like these, for keeping in the truck or car boot!
We normally keep the Squier Mini in a range of finishes, so there is a choice there hopefully to suit everybody. It's cool, it's classic and it has three single coil pickups onboard (just like a full-sized Strat) to bring those famous twangy tones!
Brian May Mini
How cool is this? It's a kid-sized version of the one and only Brian May Red Special! The Queen legend famously built his own guitar from his Dad's mantlepiece (raging) but you need not risk the wrath of Dad: simply go for this ready-made, pint-sized Mini May Red Special!

It has the same outline, the same cool Cherry and Black styling and it even has a very proper looking silver 'Tri-Sonic' single coil pickup. There is even white binding around the edges! Class! We reckon Bohemian Rhapsody won't be too much of a stretch after a few months' diligent practice on this little beast!
The scale length (by that we mean the measurement of the 1st to 12th fret, a way of determining the overall length and feel of a neck) here is similar to the Squier Mini. The Mini May even comes with a padded gig bag, making this not only a fantastic purchase but also a great shout for adults looking for a travel guitar that's a bit of a talking point!
Jackson Minions
'Wow' is what we said when these first showed up at guitarguitar. Shrunken down, bright neon coloured Jackson guitars, with shapes taken directly from the famous Hard Rock brand's most out-there 80s models. These things are loud in more ways than one! Jackson has always been the go-to choice for shred guitarists who like to make a bold statement. Jackson have shrewdly figured out that the boldest Rock Stars are always kids and have therefore seen fit to provide them with guitars worth staring at! These beauties below are Jackson Minion Rhoads, based on the classic Randy Rhoads model. Jackson offers range of models and colours, all with quality hardware and great features like 'Sharkfin' fingerboard inlays! Rock till you drop!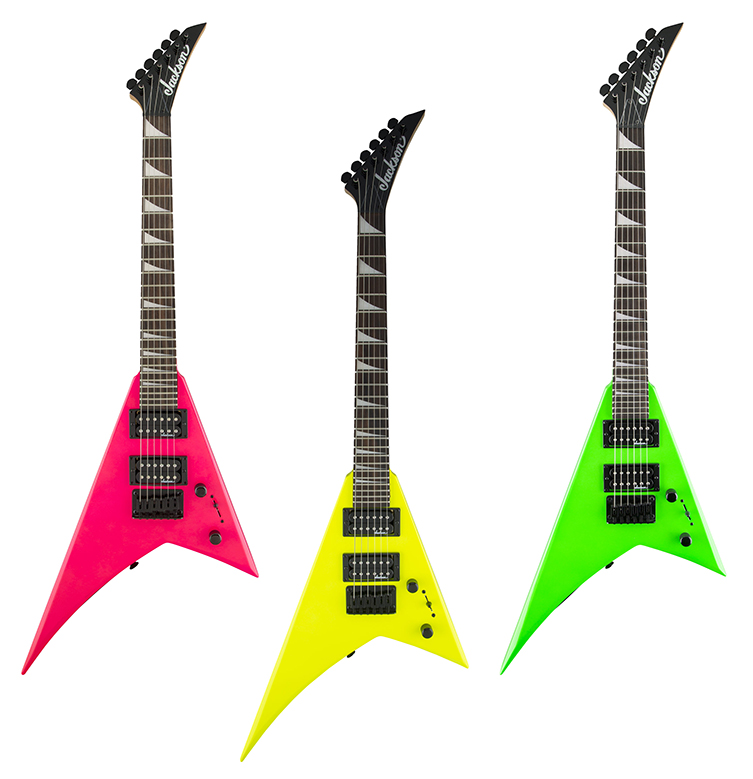 Blackstar Carry-On Travel Guitar
Amp specialists Blackstar have recently brought this innovative instrument onto the market, and we love it! Designed specifically as a travel guitar, the Blackstar Carry-On Travel Guitar features a cool single cutaway body, a small 20.7" scale length and a nice sounding mini humbucker pickup for powerful rock tones. This guitar has been designed in conjunction with enduring British legends Gordon Smith, so there are decades of know-how behind this!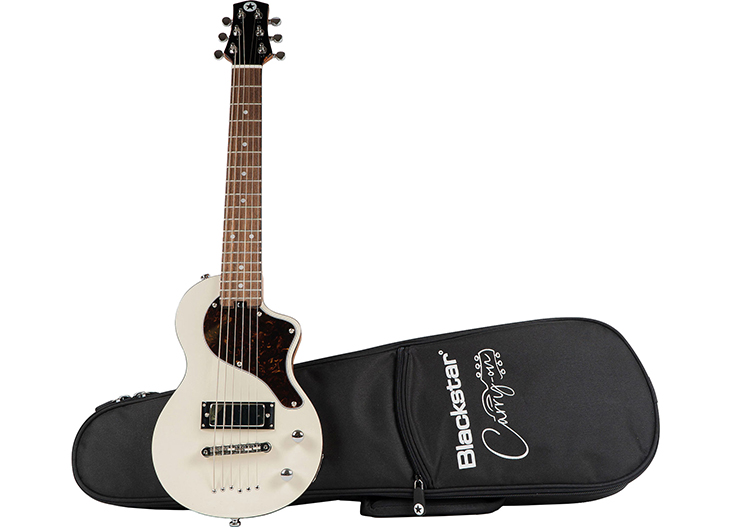 The Blackstar Carry-on is available in Black or White, both with a cool tortoiseshell trim, and comes with a purpose-made soft case. Very cool and truly portable, this is a pro guitar, just made to smaller proportions!
Valencia Classical Guitar
From one side of the guitar world to its exact opposite! If acoustic guitars are more the flavour to go for, Valencia have some very affordable nylon string models for you in not only ¾ size, not only ½ size, but also ¼ size versions! These are designed in the traditional Spanish style and are the perfect choice for small players who maybe aren't ready for the sore fingers that result in rocking out on steel strings. These Valencia guitars have narrow necks too, in order to appeal specifically to beginners.

Adam Black 0-2T
If steel strings aren't a problem, though, this Adam Black guitar is a fantastic choice. It is great value for money as it, like the Brian May and Blackstar guitars, comes with a fantastic soft gig bag for carrying it around. Indeed, as the name suggests, this guitar is designed as a Travel guitar for adults but we feel it is equally valid as a great choice for little strummers. It's comfortable, well-made and will remain useful as a portable guitar when the child grows and requires a full-sized guitar as their main instrument.

Final Thoughts
The most important factor when buying a child a guitar is to get them something they actively want to pick up and mess around on. The goal here is to keep them away from their tablet or Xbox! If they stare at Youtube videos of wild rock stars all day long, a nylon string acoustic may not be the thing to go for! In that same vein, if the child is perhaps unsure about the guitar and is only causally interested, it makes sense not to dive in and spend hundreds. In that case, an affordable nylon string classical is a great entry point. We've put this list together to show you the extremes of what's out there and what kind of choices you have available to you.
You know your child best of course. We are here to help though! All of our staff have plenty of experience helping young players connect with their first guitar so don't hesitate to contact us and chat with the staff.
We hope you have fun checking out these awesome down-sized axes. Fun is what it's all about and each of these will make a fantastic gift to begin learning with!