Top Picks for Beginners: Tiny Terrors - 1/2 and 3/4 size Guitars
Published on 19 December 2018
So, it's Christmas! You're looking for gifts for a small-ish child and they've made hints about wanting a guitar. Clever kid! This blog is for you parents and guardians who may be a little bewildered at the selection of disparate products out there.
First off, it's totally a good idea for kids to be playing guitar. We firmly believe, here at guitarguitar, that some people are just born to Rock. Catch them at an early age and you can nurture that prodigious ability to the good of all mankind. But how? Well, with one of a carefully picked selection of small-sized guitars from guitarguitar of course! We've long known the benefits of letting the kids rock out with wild abandon on guitars downsized especially for them: it's their first set of wings and a way to unleash creativity.
Plus, some of these little guitars just look awesome.
So, here a are short selection of some super-cool mini guitars that are all currently available from us. Being Christmas time though, this can all change in the blink of an eye so do please move with relative haste once your mind is made up. Each of these guitars has its own unique vibe. Check these out and let the inspiration flow!
Squier Mini
First off the starting blocks is the Squier Mini. Squier are Fender's official little brothers and this pint-sized electric guitar is based on Fender's world-famous Stratocaster. This is a guitar for mini Hendrixes everywhere! The Squier Mini has a ¾ sized body and a neck that's shortened from the usual 25.5" scale length to a much more manageable 22 ¾". Future Rock Legends of all sizes will find this little guy easy to handle.
We currently have the Squier Mini in three finishes so there is a choice there hopefully to suit everybody. It's cool, it's classic and it has three single coil pickups onboard (just like a full-sized Strat) to bring those famous twangy tones!
Brian May Mini
How cool is this? It's a kid-sized version of the one and only Brian May's Red Special! The Queen legend famously built his own guitar from his Dad's mantlepiece (raging) but you need not risk the wrath of Dad: simply go for this ready-made, pint-sized Red Special!

It has the same outline, the same cool Cherry and Black styling and it even has a very proper looking silver 'Tri-Sonic' single coil pickup. There is even white binding around the edges! Class! We reckon Bohemian Rhapsody won't be too much of a stretch after a few months' diligent practice on this little beast!
The scale length (by that we mean the measurement of the 1st to 12th fret, a way of determining the overall length and feel of a neck) here is similar to the Squier Mini. The Mini May even comes with a padded gig bag, making this not only a fantastic purchase but also a great shout for adults looking for a travel guitar that's a bit of a talking point!
Jackson Minions
'Wow' is what we said when these first showed up at guitarguitar. Shrunken down NEON Jacksons, with shapes taken directly from the eccentric company's most out-there 80s models. These things are loud in more ways than one! Jackson has always been the go-to choice for shred guitarists who like to make a bold statement. Jackson have shrewdly figured out that the boldest Rock Stars are always kids and have so seen fit to provide them with guitars worth staring at!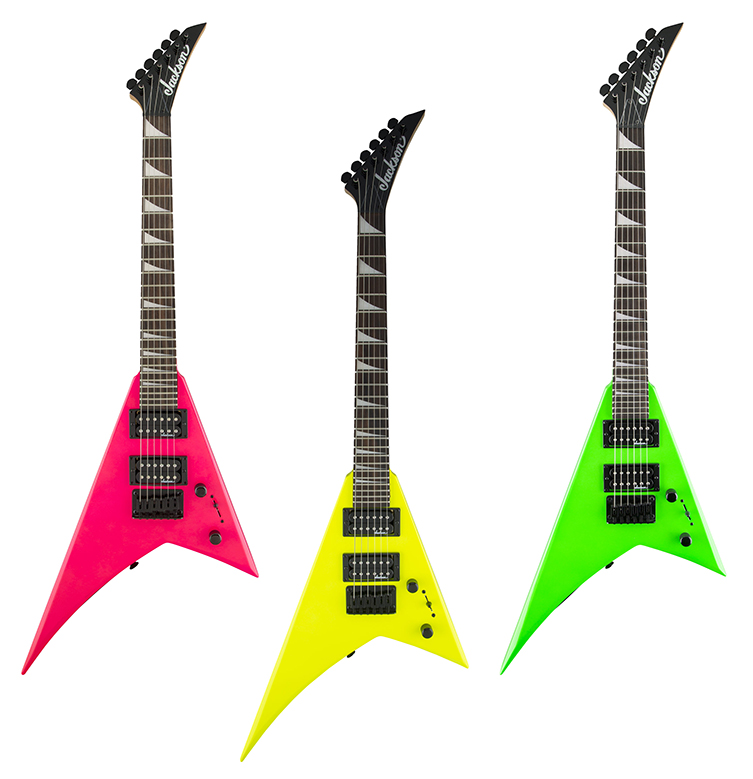 We currently have RR (the really pointy one) and DX (the marginally more sensible one) in stock in a choice frankly brilliant colours like Neon Pink, Neon Green and, yes, NEON Yellow! They are pretty excellent guitars, too: the pickups sound great, the fretwork is really good and the neck feels great.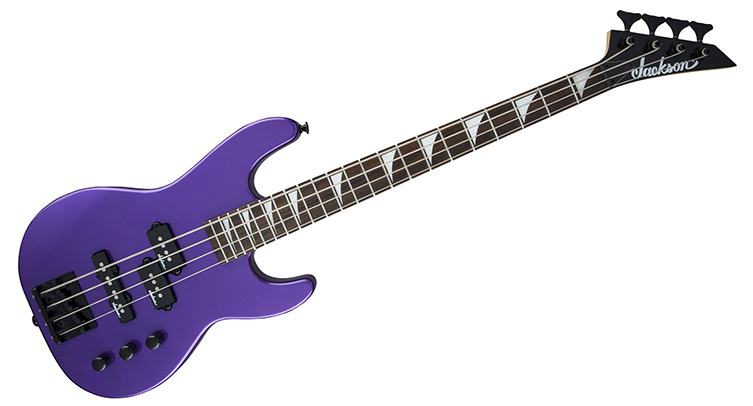 Jackson have not left bassists in the lurch, either. The Minion range incudes Short Scale Basses like the CB in those same eye-poppingly intense colours! We want them all.
Valencia
From one side of the guitar world to it's exact opposite! If acoustic guitars are more the flavour to go for, Valencia have some nylon string models for you in not only ¾ size, not only ½ size, but also ¼ size versions! Yowsers! These are designed in the traditional Spanish style and are the perfect choice for small players who maybe aren't ready for the sore fingers that result in rocking out on steel strings. These Valencias have narrow necks to appeal specifically to beginners.

Adam Black 0-2T
If steel strings aren't a problem, though, this Adam Black guitar is a fantastic choice. It is great value for money as it, like the Brian May guitar, comes with a fantastic soft gig bag for carrying it around. Indeed, as the name suggests, this guitar is designed as a Travel guitar for adults but we feel it is equally valid as a great choice for little strummers. It's comfortable, well-made and will remain useful as a portable guitar when the child grows and requires a full-sized guitar as their main instrument.

Final Thoughts
The most important factor when buying a child a guitar is to get them something they actively want to pick up and mess around on. The goal here is to keep them away from their tablet or Xbox! If they stare at Youtube videos of wild rock stars all day long, a nylon string acoustic may not be the thing to go for! In that same vein, if the child is perhaps unsure about the guitar and is only causally interested, it makes sense not to dive in and spend hundreds. In that case, an affordable nylon string classical is a great entry point. We've put this list together to show you the extremes of what's out there and what kind of choices you have available to you.
You know your child best of course. We are here to help though! All of our staff have plenty of experience helping young players connect with their first guitar so don't hesitate to visit us at your nearest guitarguitar and chat with the staff.
We hope you have fun checking out these awesome down-sized axes. Fun is what it's all about and each of these will make a fantastic gift this Christmas!